The Van Aken District: Why You Need To Enjoy A Day Here
This blog contains affiliate links. I may earn a commission if you use these links to make a purchase. You will not be charged extra. As an Amazon Associate, I earn from qualifying purchases.
The Ohio. Find It Here. Foodie Road Trip
I'm back again to bring you another Ohio themed post in partnership with Ohio. Find It Here. This time, I took inspiration from the Ohio. Find It Here. Foodie Road Trip! There are some incredible places to eat in Ohio for all you foodie's out there, and Ohio. Find It Here. has curated a list of impeccable local restaurants all over the state. Today, I'll be sharing all about The Van Aken District and a few other stops on their list. I hope that you will be inspired to try something new and support local businesses!
The Van Aken District
The Van Aken District is an outdoor shopping center with apartments above the shops. There are some freestanding restaurants in the district as well. One such restaurant is Michael's Genuine, which I wrote about in another post you can read here.
Read More: The Ultimate Ohio Weekend Itinerary For Your Best Christmas Yet!
The Van Aken District Market Hall
Over the weekend, my husband, Alex, and I decided to head over to Van Aken and spend a few hours trying some new restaurants and enjoying The Van Aken District. The Market Hall in The Van Aken District is set up as a European style market with many different restaurants available throughout. It reminded me a lot of visiting the Time Out market in Lisbon, Portugal, which I loved!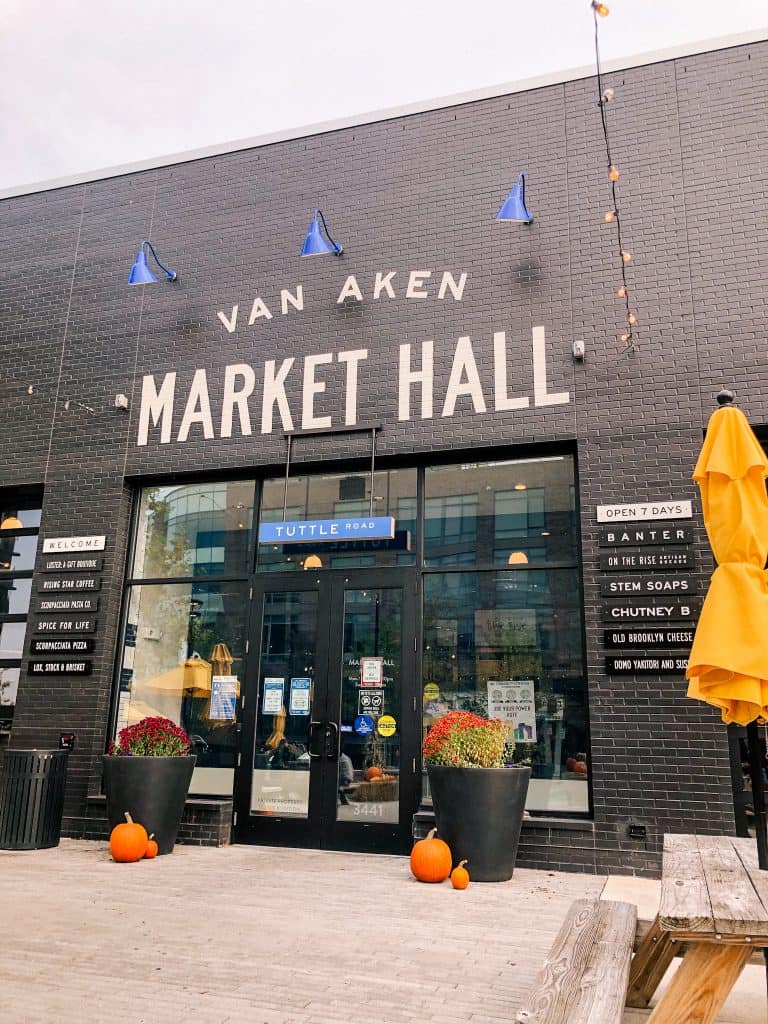 Read More: Group Travel: 10 Reasons Why You Need To Try It
DORA At The Van Aken District
The district has also closed off an area of the road to create a DORA – Designated Outdoor Refreshment Area. They have set up a nice area with extra picnic tables, spread out to maintain social distancing protocols. It's a really cute area and a great way to help their customers visit The Van Aken District Market Hall while still feeling safe.
A Foodie's Paradise At The Van Aken District
Now, let's talk about what you're really here for…the food! There are about 20 or so options to choose from between the individual restaurants and The Market Hall. Plenty of choices to make even the pickiest of eaters happy, I'm sure! I love that everyone can choose what to eat based on what sounds good to them but you can still sit together. Like a food court at the mall, but make it classy!
Read More: How To Support Women-Owned Business With A Day Trip To Cleveland
On The Rise at The Market Hall
Alex and I arrived in the early afternoon on Saturday. I was worried that it would feel too busy, but I actually felt quite comfortable and everyone was being very respectful of each other's personal space. We decided to start at On The Rise, a European style bakery. We ordered an almond croissant and a scone. They were both so delicious that we ended up stopping back at the bakery again as we were leaving to take a couple of cookies home with us!
Brassica – Eastern Mediterranean Cuisine
Our second stop was to Brassica, which has a Chipotle-style set up with a Mediterranean flair. You can choose between a pita sandwich or a salad bowl with rice. Not wanting to completely spoil our appetites too soon, we opted to split a salad with chicken, hummus, and lots of yummy toppings and sauces. I've been wanting to try Brassica for quite some time, and I am happy to report that it lived up to my expectations! I love Mediterranean food and Brassica tasted so fresh and delicious. I'm excited to go there again and try a pita sandwich next time I visit The Van Aken District.
The Craft Collective at The Van Aken District
After Brassica, we needed a little food break, so we ordered a couple of beers from The Craft Collective and enjoyed some time relaxing on their patio. The weather was so lovely over the weekend and I am going to miss these warmer days as we head further into fall and winter! We have to soak up the sun while we can here in Northeast Ohio, am I right? Anyways, at The Craft Collective, you can order a myriad of local craft beers, as well as a selection of mead and ciders. We were both in an IPA kind of mood and ordered one of their selections from Butcher and The Brewer. So refreshing!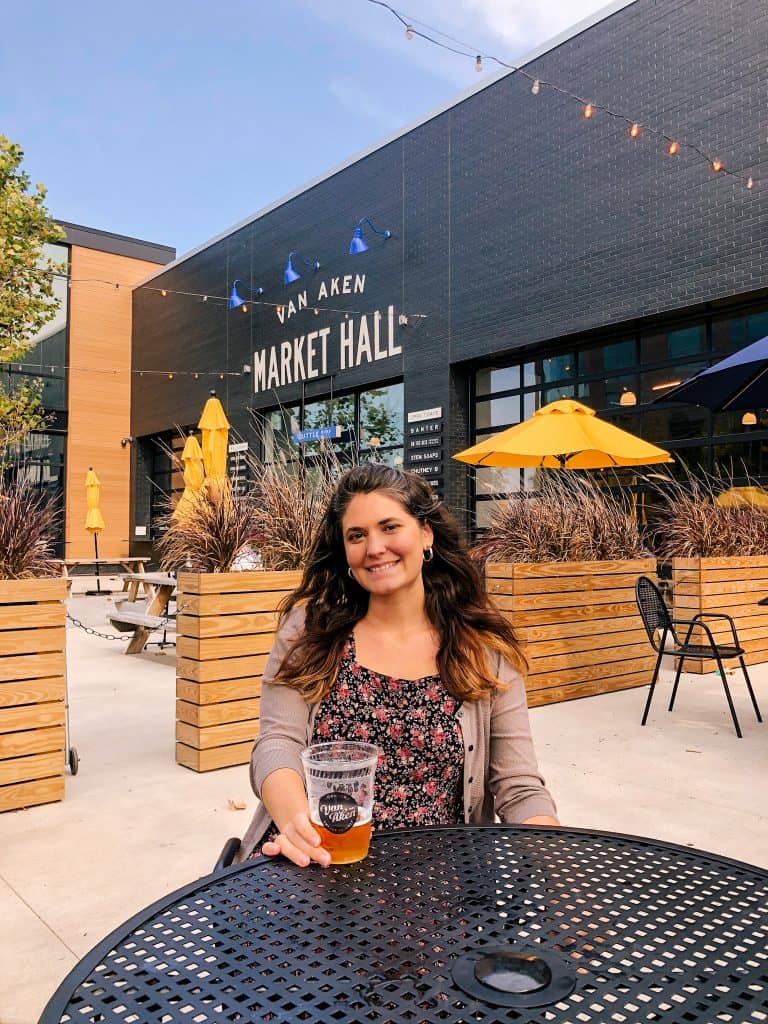 Manifest at The Van Aken District
Next, we decided to take a little walk around The Van Aken District. I love all the small local shops that can be found there. It would be a nice place to start your Christmas shopping and support local businesses this year! I love Cle Clothing Co, of course, and they have a location there. I also really enjoyed visiting Manifest for a pedicure a while back! If you are nervous to visit your local nail salon because of COVID, check out Manifest! Even before COVID, the owner was already challenging industry standards for sanitary salon practices. I love that there is a garage-style glass door that they keep open on warmer days which is even better now with social distancing concerns! There's also a small bar where your significant other can hang out while you get your nails done too!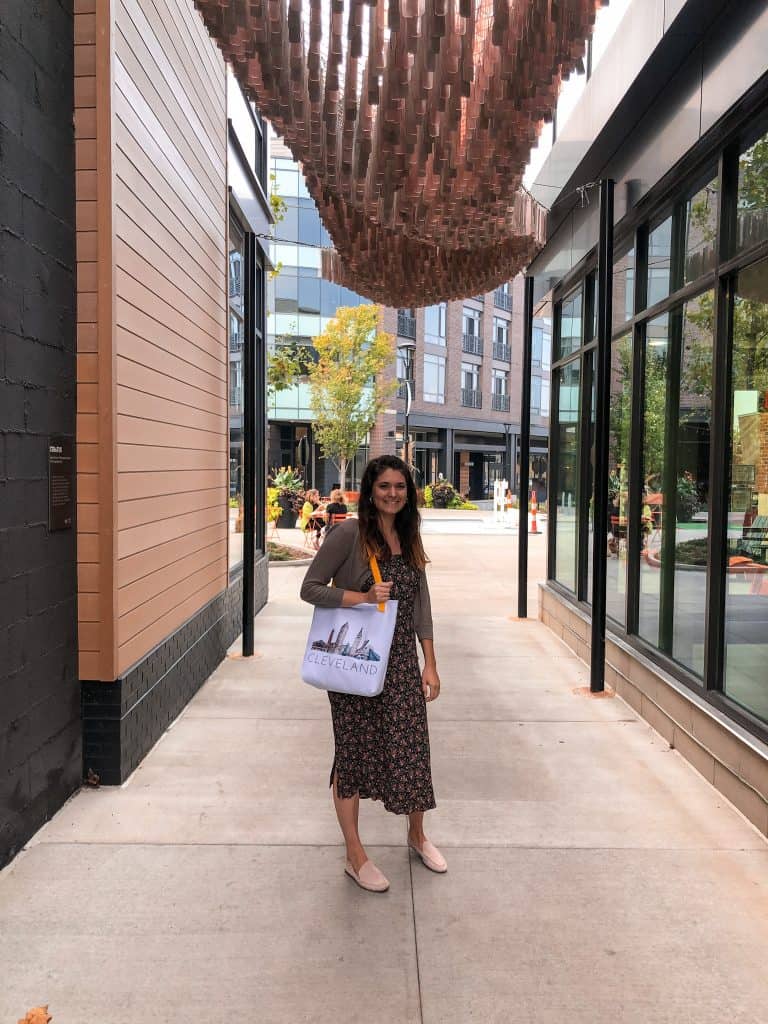 Read More: Shop Small: Cozy Quarantine Loungewear
Domo Yakitori & Sushi at The Market Hall
Once we walked around and explored The Van Aken District a bit more, we were ready for our next round of foodie fun! It has been FOREVER since we had sushi so when we saw Domo Yakitori & Sushi, we knew we HAD to order some! I went with the Spicy Salmon Roll and Alex ordered a Rainbow Roll. They roll everything fresh, so while we waited for our order we walked around the inside of The Van Aken District a bit more. As we explored, I noticed this fun sign and seating area with a sentiment that feels perfect for this year, "Everything's gonna be alright".
We also found some Kitty Paw Seltzer from Seventh Son Brewing that I haven't been able to find anywhere and have wanted to try. We bought some to bring home and picked up a couple of Cokes from Lox, Stock, and Brisket to eat with our sushi. Y'all this sushi was GOOD! So fresh and yummy. Especially after not eating any sushi in so long.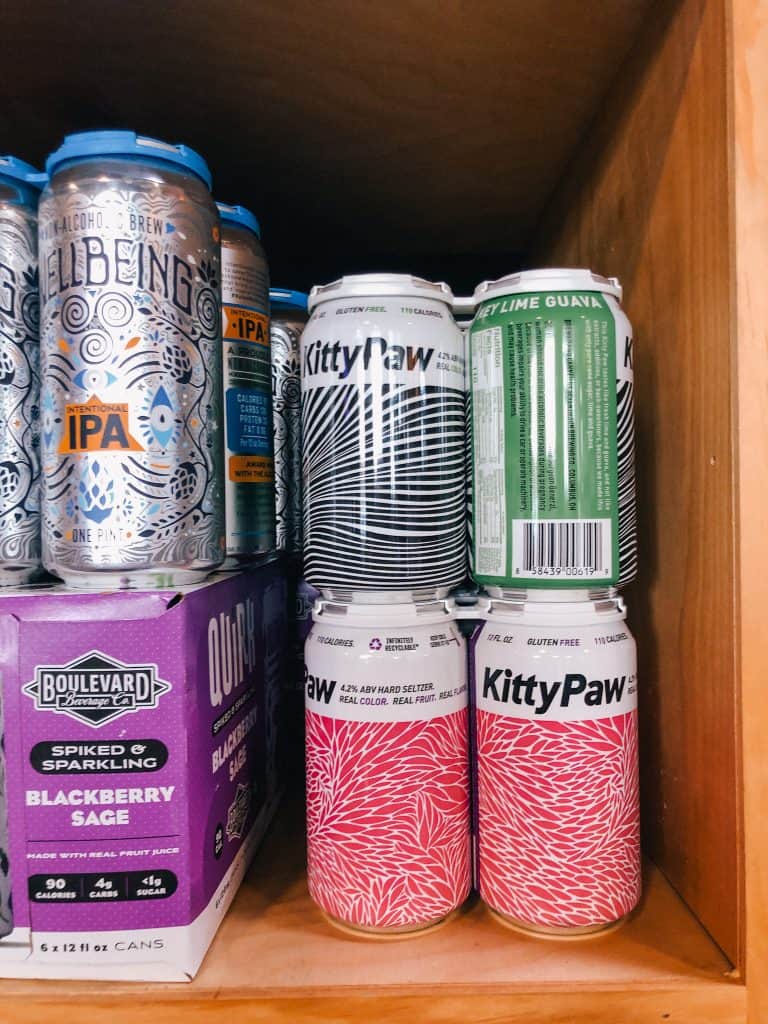 Read More: A Romantic Staycation At Gervasi Vineyard
Nature's Oasis at Van Aken
Post sushi, we were pretty full! We were also running low on groceries so we made a quick stop to Nature's Oasis to pick up a few essentials to hold us over to our next grocery haul. I love that Nature's Oasis carries so many local brands. It makes it really fun to shop around there.
Mitchell's Ice Cream in The Van Aken District
We were also thinking about stopping at Mitchell's Ice Cream because it is our favorite, but two relatively large groups got in line before us so we decided to try again next time. Mitchell's Vegan Chocolate ice cream is my personal favorite and this lactose intolerant girl so appreciates having a great dairy-free option!
Read More: The Best Escape Into Nature With Getaway Cabins
Garden City in Van Aken
The final stop we had planned to make was to Garden City, which is a new rooftop bar that looks like it has a really cool vibe. Unfortunately, it was closed for a private event while we were there, but we will be back soon I'm sure! And it's great to know that hosting an event there would be a possibility too!
Foodie Road Trip
We went home feeling full and happy to have a day well spent at The Van Aken District & Market Hall. I highly recommend visiting if you can make a trip there soon! It is a fun destination on the Ohio. Find It Here. Foodie Road Trip and made their list for good reason. There are some incredible places to try and we just scratched the surface! I'd love to try Scorpacciata Pasta Co. next time and also love that they have a Rising Star Coffee there too.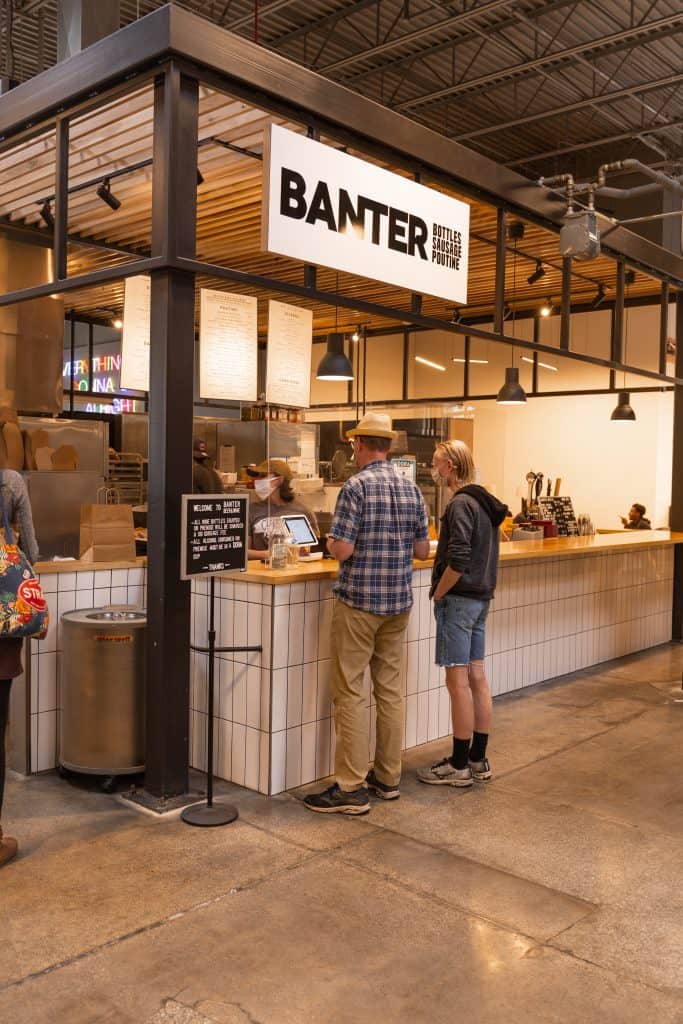 Read More: How To Spend The Perfect 3 Days In Geneva-On-The-Lake
Other Stops On The Foodie Road Trip
There are two other stops in Cleveland on the Foodie Road Trip! One of which is Sauce The City and I have mentioned them on my blog before because it is one of my favorite places to eat in Cleveland! Check out my review of Sauce The City here. Their Hot Chicken Sandwich is insanely delish!
The third Cleveland Stop on The Foodie Road Trip is Larder Delicatessen and Bakery. This local spot has been on my list of places to visit for a while so I know we will stop there soon! When we do, I'll update this post and share what we think! I've heard rave reviews about it from many people so be sure to check it out if you're in the Ohio City area.
Read More: Try These Amazing Black Owned Businesses In Cleveland
Foodie Road Trip Stops In Amish Country
There are also two stops in the Foodie Road Trip located in Ohio's Amish Country! Alex and I recently made a little trip to Dwell Box Treehouse Village in Amish Country and loved spending a little bit of time in the area. To get your fill of Amish delights, Der Dutchmen and Guggisberg Cheese are a must-visit!
Read More: Everything You Need To Know About Dwell Box Treehouse Village
Ohio. Find It Here. Road Trips
So, which restaurants sound best to you from this delicious Ohio adventure? Ohio. Find It Here. has some other exciting Road Trips curated on their site that you should check out too! So far, I have made a few stops along the Charming Towns Road Trip, Women In History Road Trip, Lover's Lane Road Trip, and now, the Foodie Road Trip! I'd also love to try the Scenic Route soon! Which Road Trip sounds the most fun to you?
---
Read More…
Pin It or Share With A Friend…