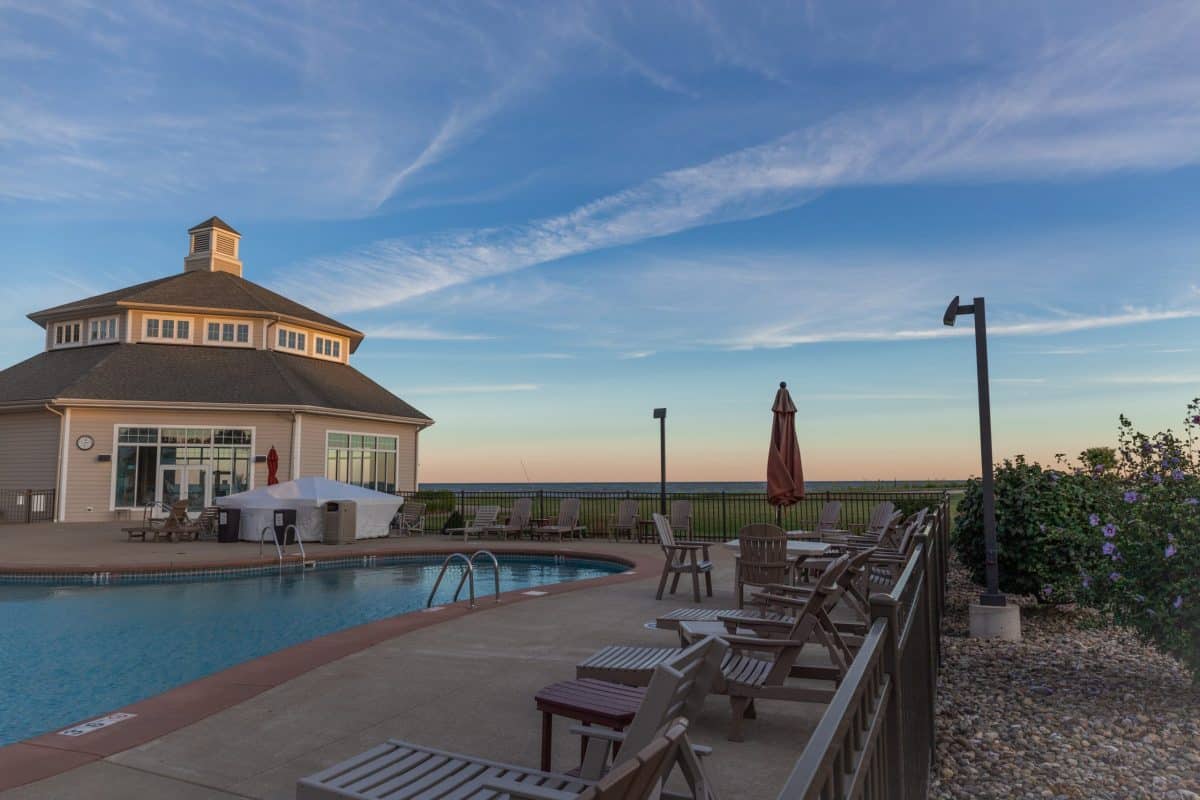 How To Spend The Perfect 3 Days In Geneva-On-The-Lake
This blog contains affiliate links. I may earn a commission if you use these links to make a purchase. You will not be charged extra. As an Amazon Associate, I earn from qualifying purchases.
This year, I have really been craving time on the lake. When I had the opportunity to partner with Ohio. Find It Here. on another road trip post, I knew that I needed to visit somewhere on Lake Erie. Luckily, Geneva-On-The-Lake, Ohio is one of the destinations on the Charming Towns Road Trip by Ohio. Find It Here. and it made for a great Ohio staycation for us! I will be sharing how to spend the perfect 3 days in Geneva-On-The-Lake including where to stay, what to do, see, and eat while you're there! Thanks to Ohio. Find It Here. for sponsoring this post.
One thing that I love about living in Ohio is being close to Lake Erie. I definitely took living in such proximity to one of the beautiful Great Lakes for granted growing up. Now that I am an adult, I think it would be really difficult for me to live anywhere that isn't close to the beach – whether that be a lake or ocean. It is a part of me now and I just can't stay away!
A Perfect 3 Days In Geneva-On-The-Lake
Because of COVID-19, we had to cancel our family reunion trip back in March. We were supposed to split our time between Anna Maria Island and Sanibel Island, Florida and I was so missing my beach time! I'm so glad that we chose to visit Geneva-On-The-Lake. It definitely gave me the beach fix that I was looking for!
Even though Geneva-On-The-Lake is not super far from home, it felt like we had gone away on a real vacation. It was our first trip in 8 months that was for more than one night! It felt so good to be on vacation after staying home for so long. We had the most wonderful time spending 3 days in Geneva-On-The-Lake! I want to share our itinerary with you in hopes that you might be able to get away too!
---
Things To Know Before Spending 3 Days In Geneva-On-The-Lake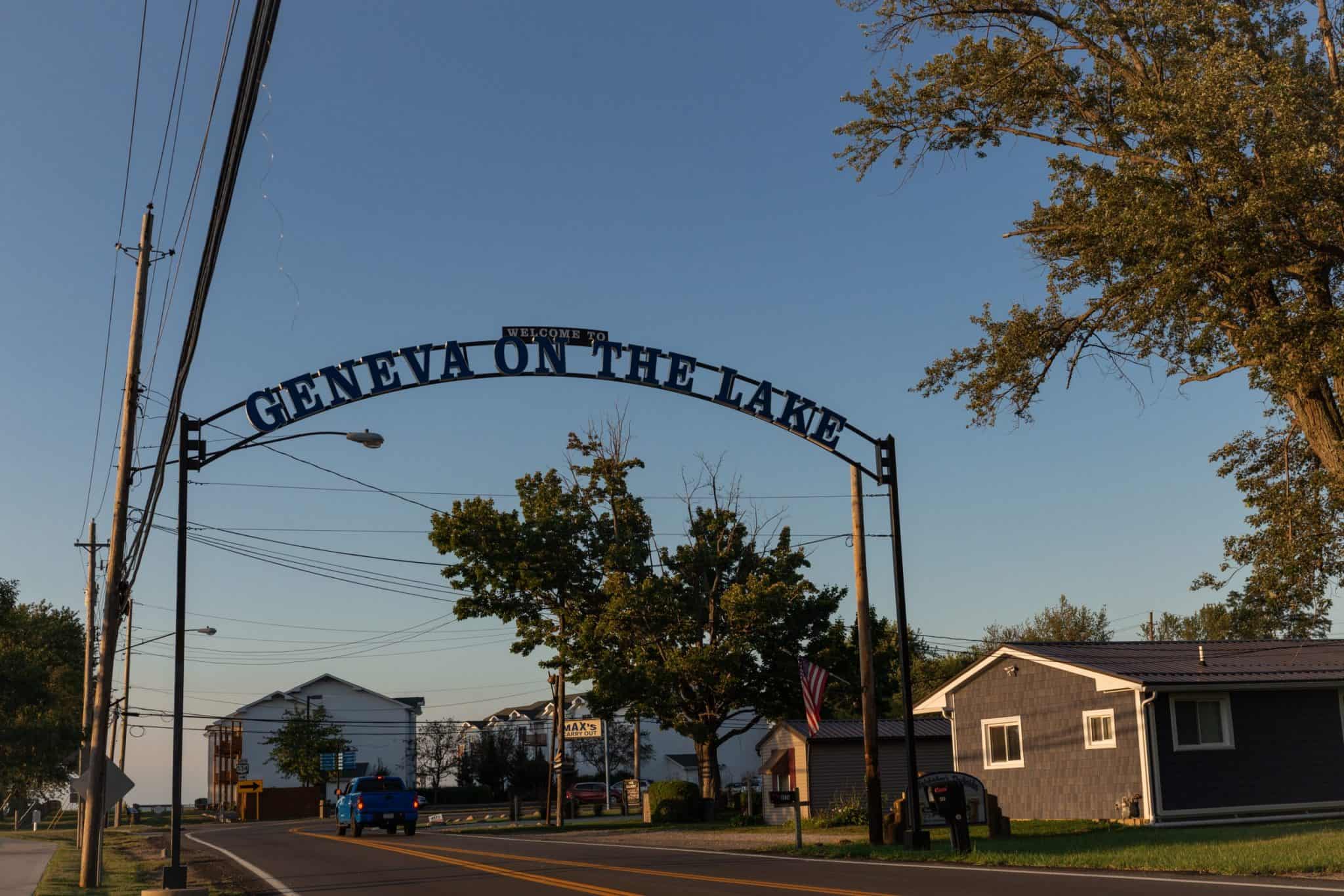 How To Get Around
Geneva-On-The-Lake is very walkable. You can also rent bikes or a golf cart to help you get from point A to point B. It's easy to drive as well or sign up for a winery bus tour if you plan to visit a few of the wineries. (Please, drink responsibly and never drive drunk!)
Where To Stay During Your 3 Days In Geneva-On-The-Lake
There are many options for accommodations in Geneva-On-The-Lake, but here are my recommendations…
What To Wear
Geneva-On-The-Lake is pretty casual for the most part, but we like to dress a bit nicer. You can definitely get away with shorts and a t-shirt though if that is more your speed! I packed a nice, flowy dress for the winery day, white jeans, a sweater, and a few nice tops.
Helpful Tips For Your 3 Days In Geneva-On-The-Lake
Geneva-On-The-Lake is famous for The Strip with many historic and charming local businesses and restaurants. Most of them are only open on Saturday and Sunday so keep that in mind while planning your trip.
If you want to visit the more popular wineries, like Debonne and Laurentia, go early! That way, you can beat the rush and enjoy your time with fewer people. It also makes it easier to be socially distant from others.
---
Things To Do During Your 3 Days In Geneva-On-The-Lake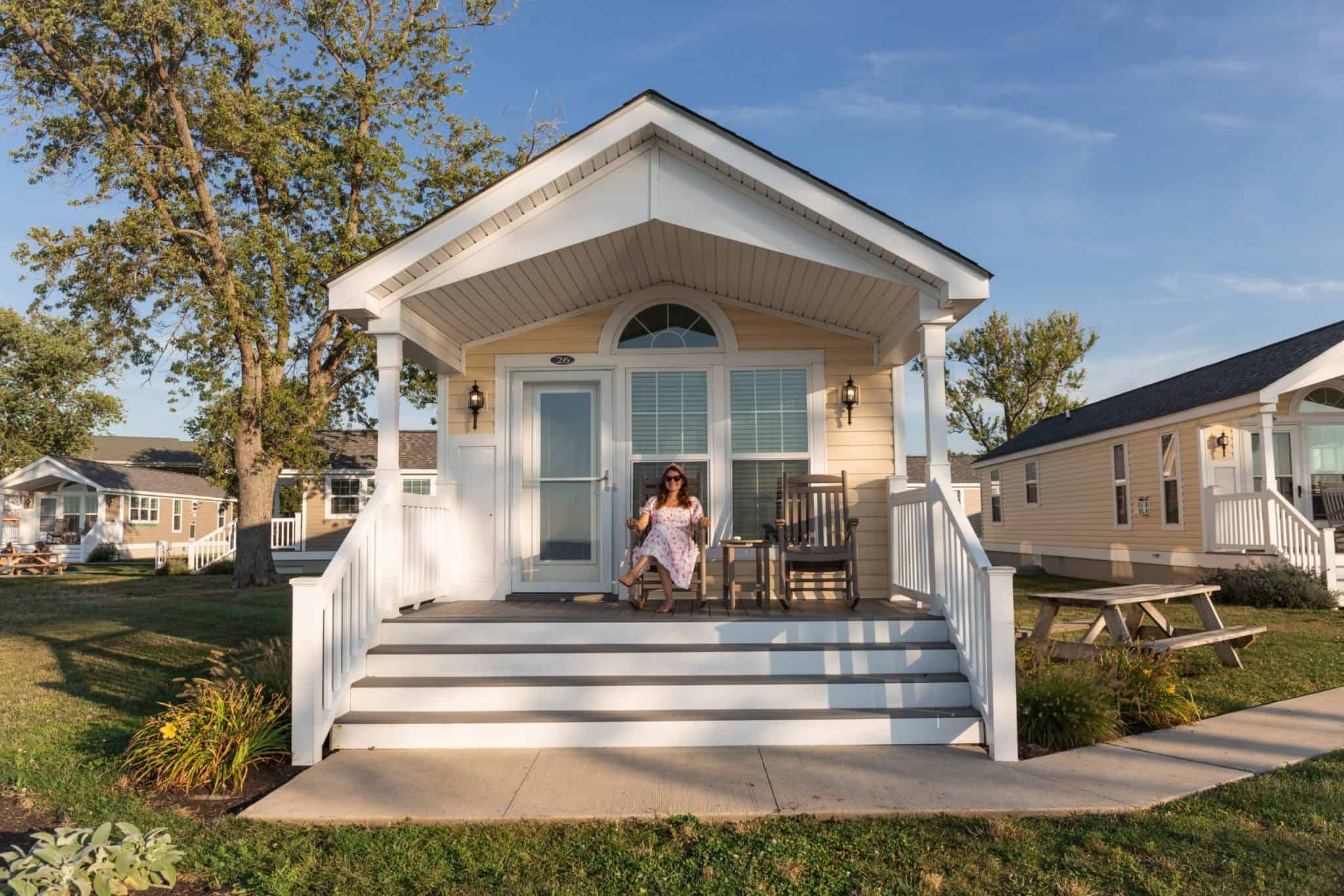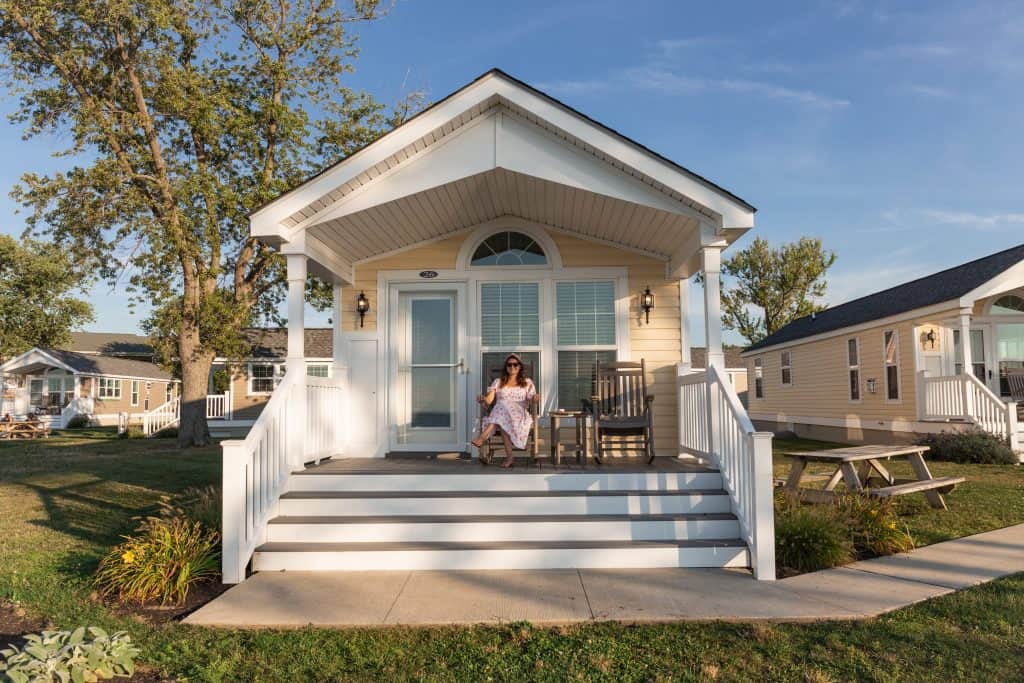 Day 1: The Lodge at Geneva-On-The-Lake and Geneva State Park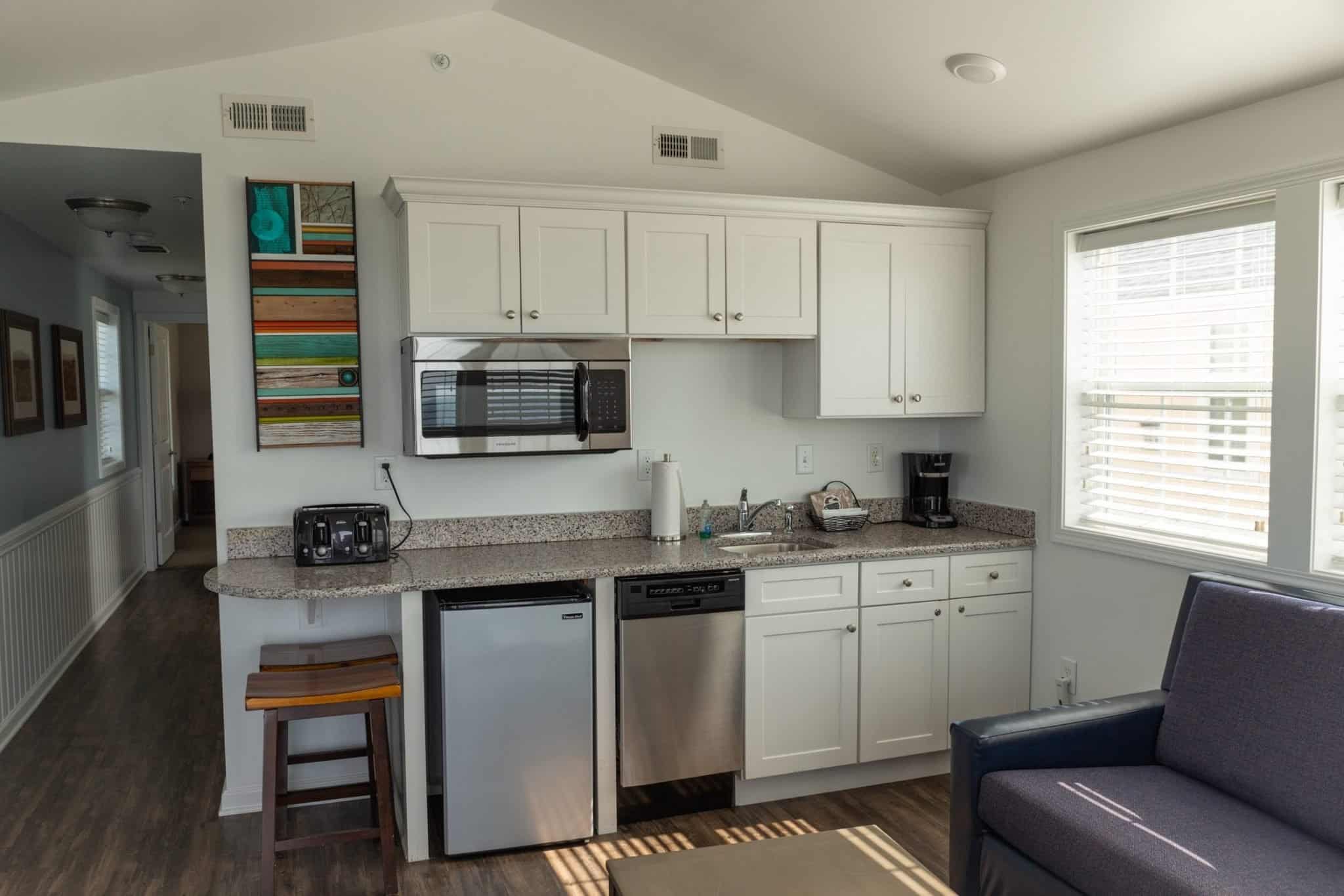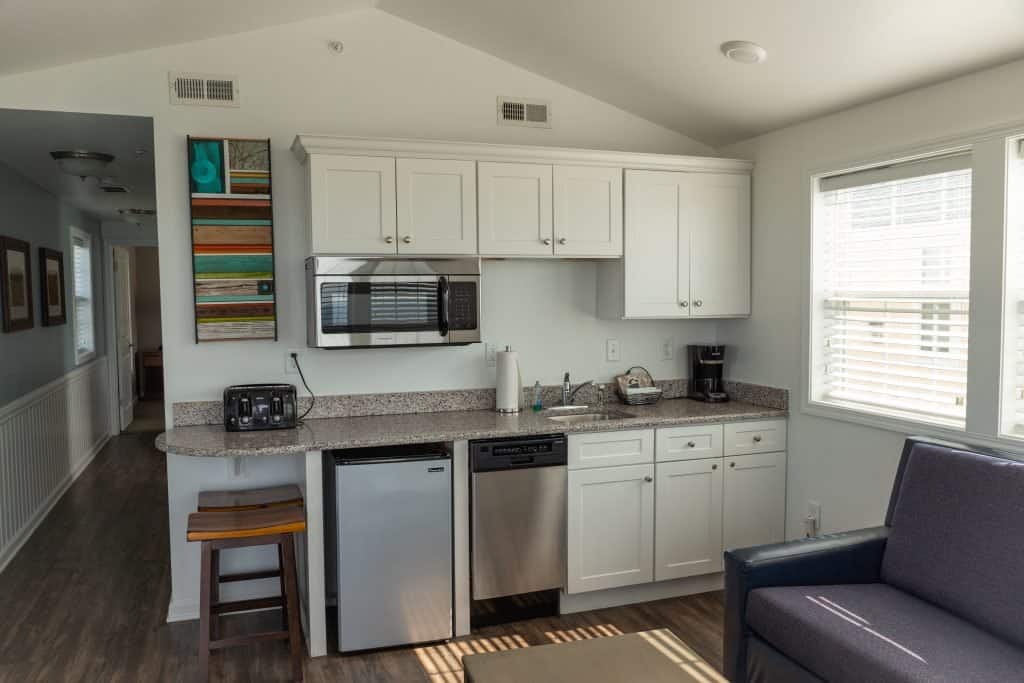 Afternoon
Check-in and get settled into your hotel! We chose to stay in a Cottage at The Lodge at Geneva-On-The-Lake. I liked that they were all individual cottages so we would have our own space. Like I said before, I really wanted to stay right on Lake Erie and our cottage was about as close as you can get to the water!
Once you unpack, take a walk around and explore! I like to get my bearings when visiting a new place, so we walked the hotel property, along Lake Erie, and into Geneva State Park. There's an entrance to the park just to the left of the lodge.
Evening
After exploring, we went to dinner at Horizon's restaurant at the lodge. We sat on the patio and ate at a restaurant for the first time since March! I didn't realize how much I had missed it until we were sitting there, eating a delicious meal, and looking out at Lake Erie. It was great to feel normal again for a moment, but we definitely were taking every precaution to feel safe.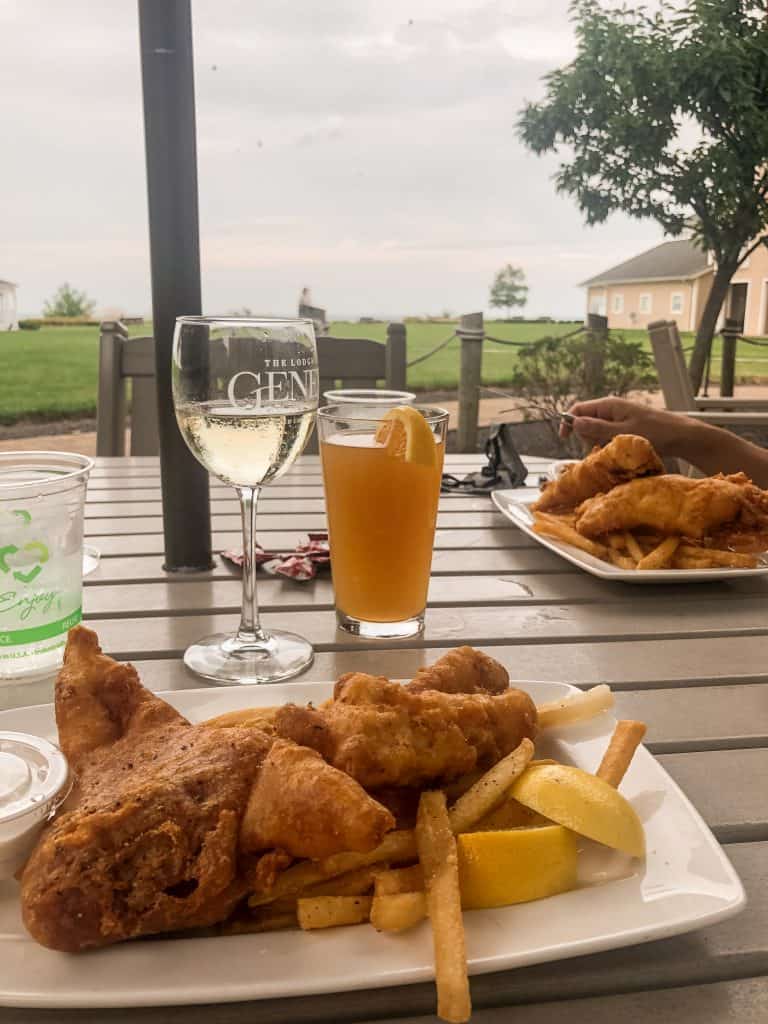 Once we had stuffed ourselves with our fish and chips dinners, we decided to watch the sunset from our cottage porch. I will never get sick of sunsets and dreamy cotton candy skies! We had an early night as we were not used to being out and about and felt pretty tired.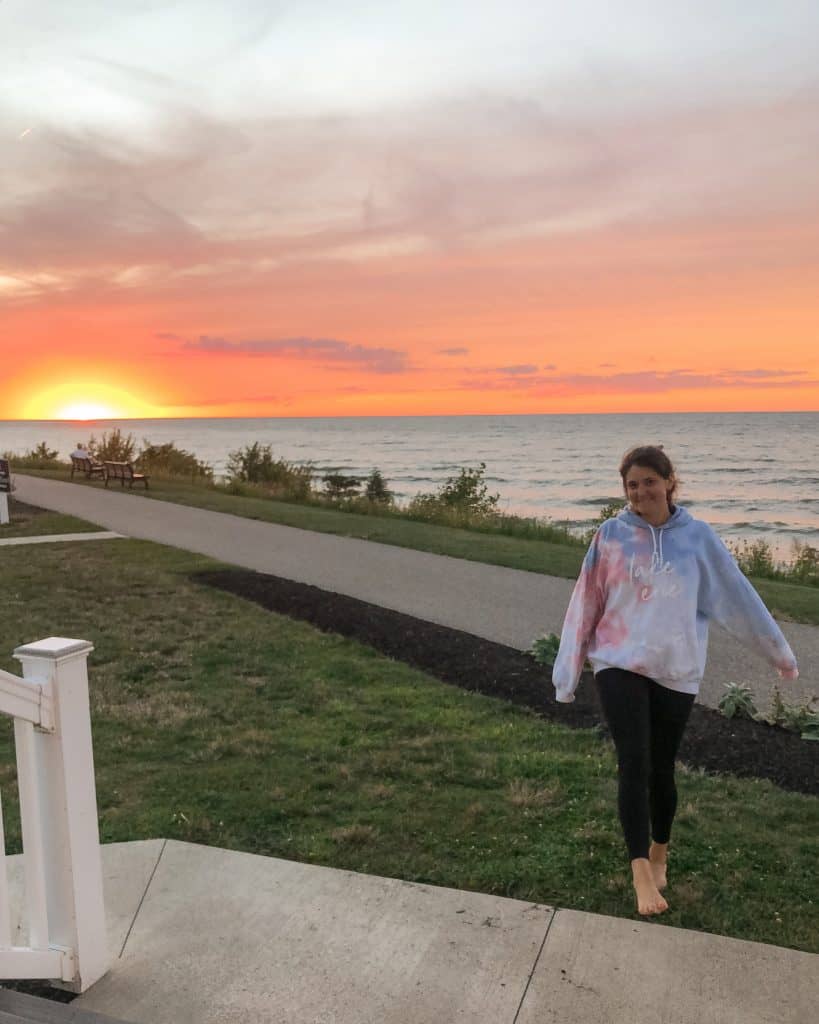 ---
Day 2: The Strip and Geneva-On-The-Lake Wineries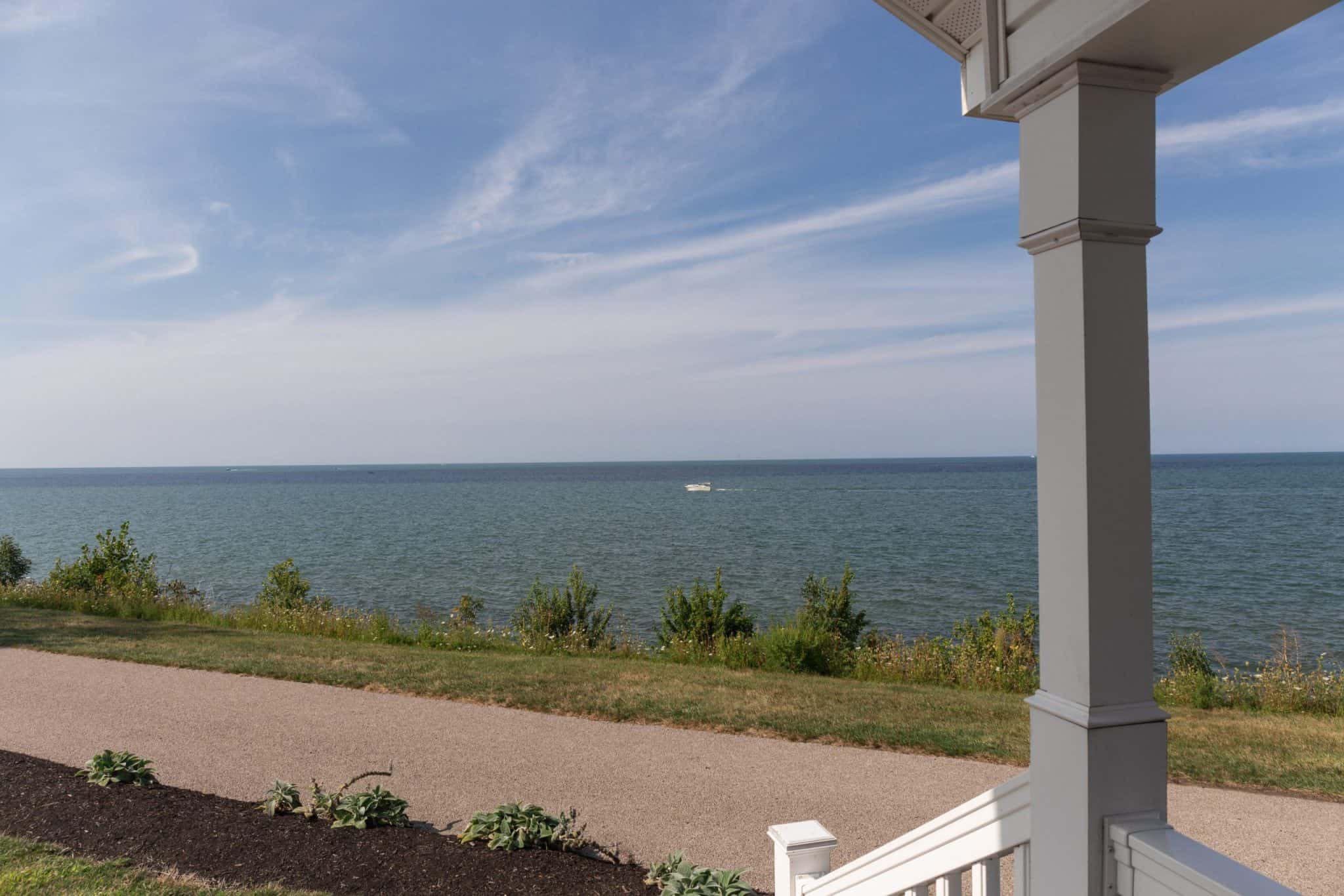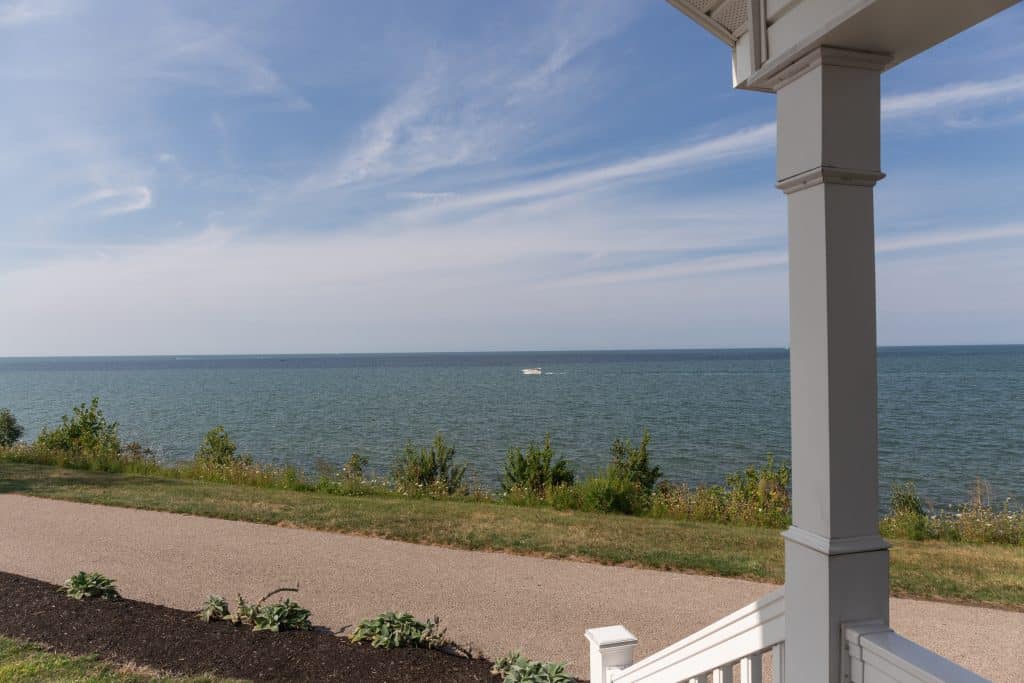 Morning
After going to bed early, we woke up feeling refreshed and excited for our first full day in Geneva-On-The-Lake. We had brought some breakfast food to make in our kitchenette and drank our coffee on the porch while admiring the views. There's something so peaceful about drinking coffee outside in such a beautiful setting. Yet another reason why I need to live near the water someday! Horizons Restaurant also offers breakfast at the hotel if that is more your speed.
Once we got ready, we walked over to the lodge to pick up our golf cart for the day. The Lodge at Geneva-On-The-Lake was nice enough to give us a complimentary rental for the day – thank you! I highly recommend renting one because we had so much fun driving it around and it was super convenient.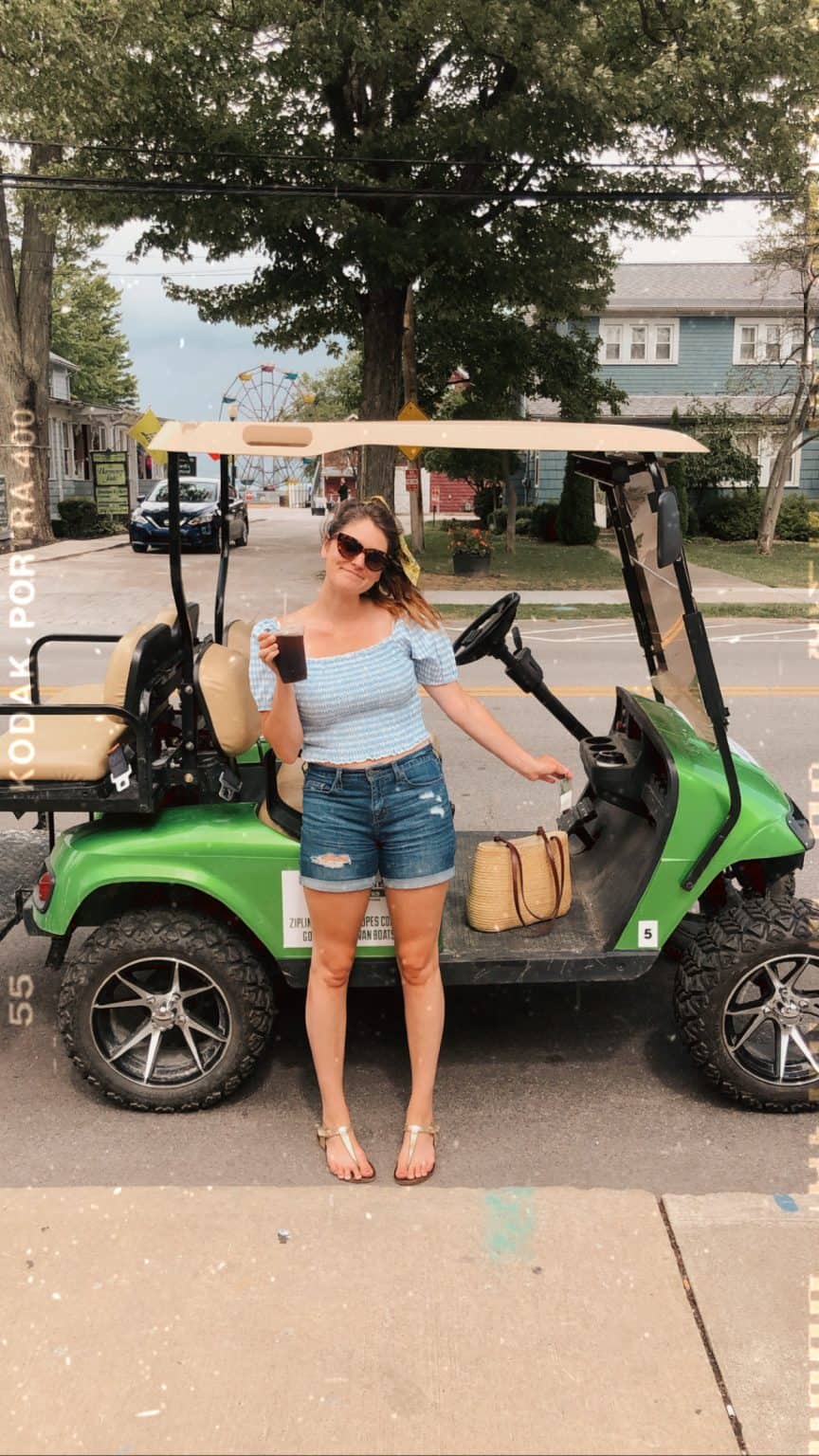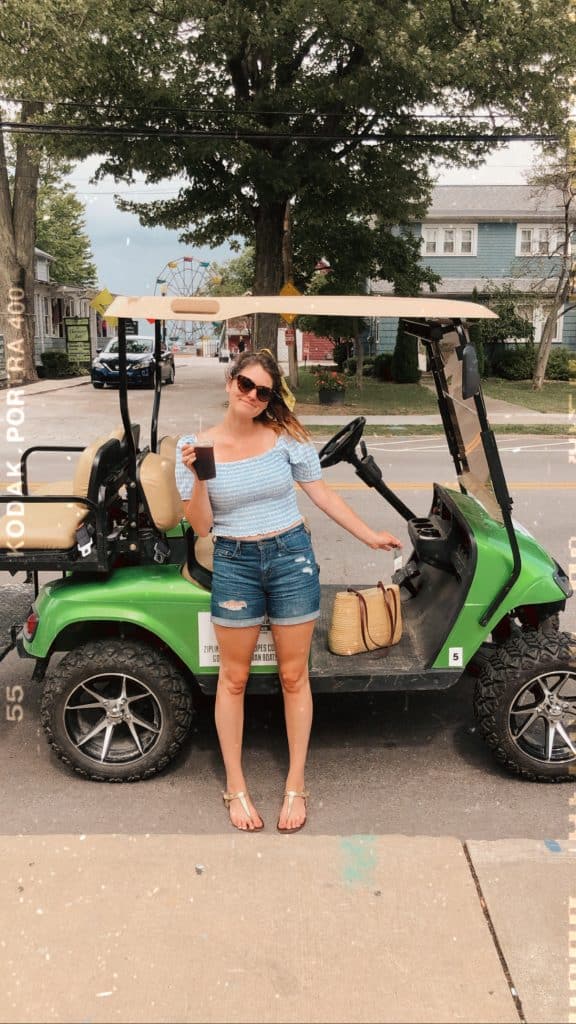 Afternoon
We drove it over to The Strip and ended up having lunch at Ruff Life On The Lake on their patio. It is actually a cafe and dog boutique, and doggy daycare! We don't have a dog but it was still a cute place to eat and if you do have on its obviously very pet friendly…they even have a dog menu!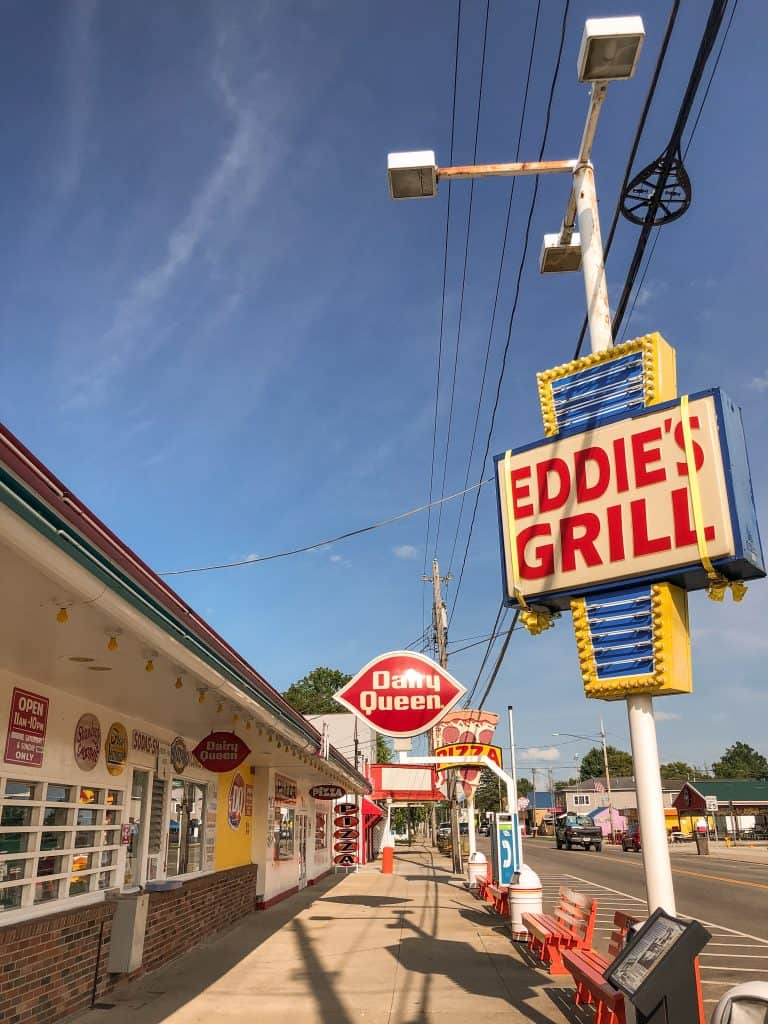 Next, we decided to grab a coffee from The Corner Coffeehouse to-go before visiting the Old Firehouse Winery. I chose to do their dry and specialty wine tasting and we ordered some fries too. They were delicious! It was nice to sit on the patio and hang out for a while.
It started to rain as we were wrapping up at the Old Firehouse Winery, so we decided it would be the perfect time to go back to our cottage and relax for a while before dinner.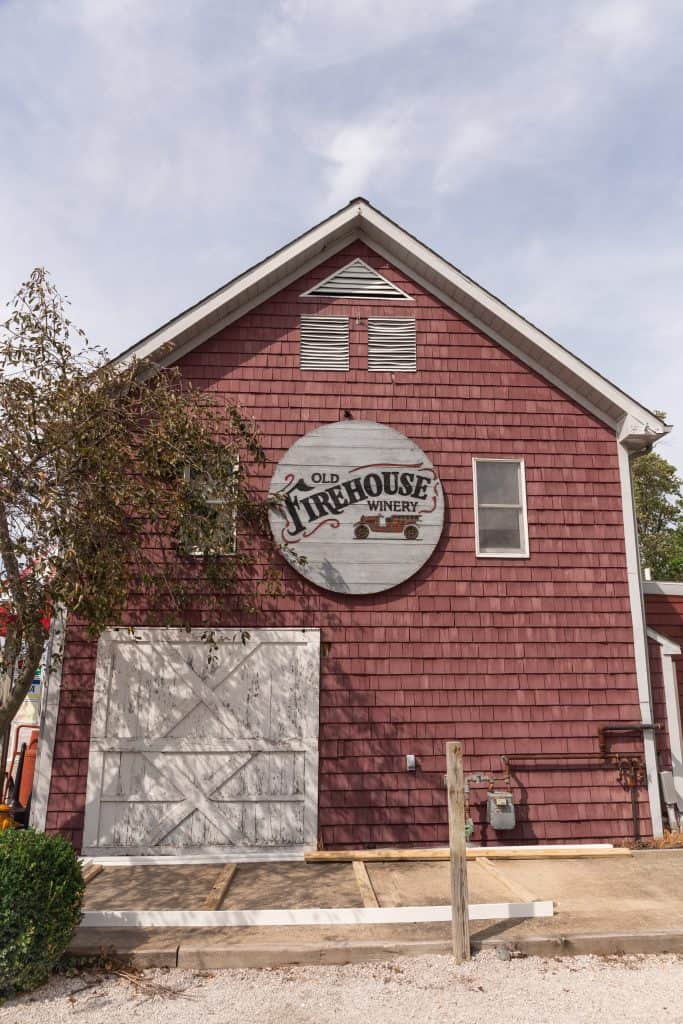 Evening
Luckily, the rain stopped and we had a beautiful evening on the patio at The Lakehouse Inn Winery. You can eat inside at Crosswinds Grille, but we have not been ready for indoor dining just yet. We ordered a pizza and drinks from the outdoor bar to eat on the patio. The Lakehouse Inn has some stunning views of Lake Erie and we had the best time hanging out there for the evening.
Next, we went back to our cottage for *you guessed it* yet another gorgeous sunset! It was one of those incredible sunsets where everyone was outside admiring the view and friends all over Northeast Ohio were sharing their amazing sunset shots online. It was one of those memories you won't quickly forget.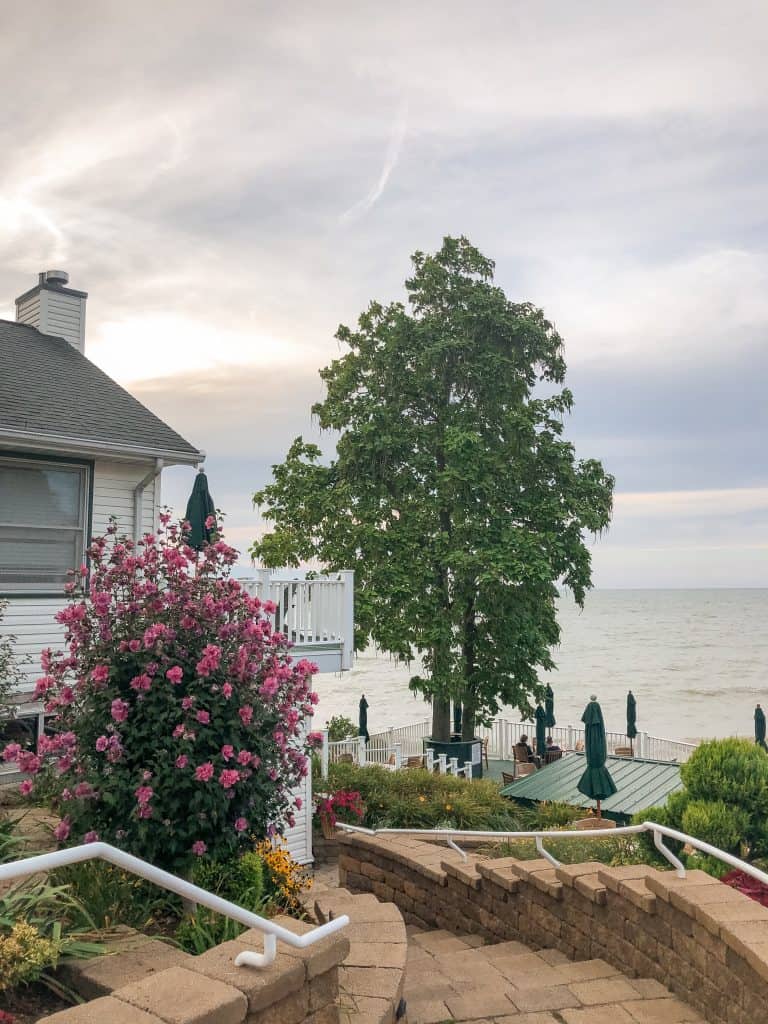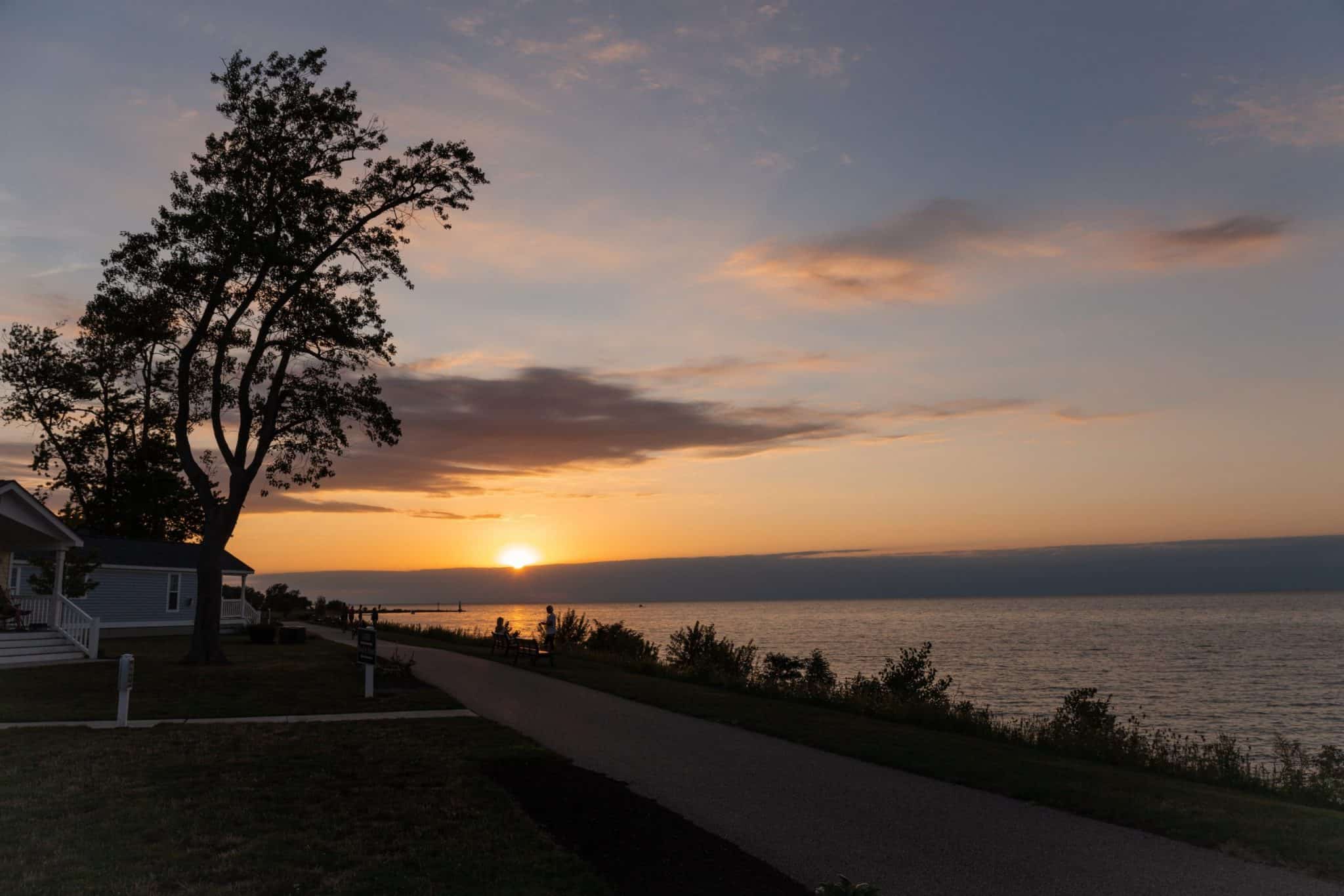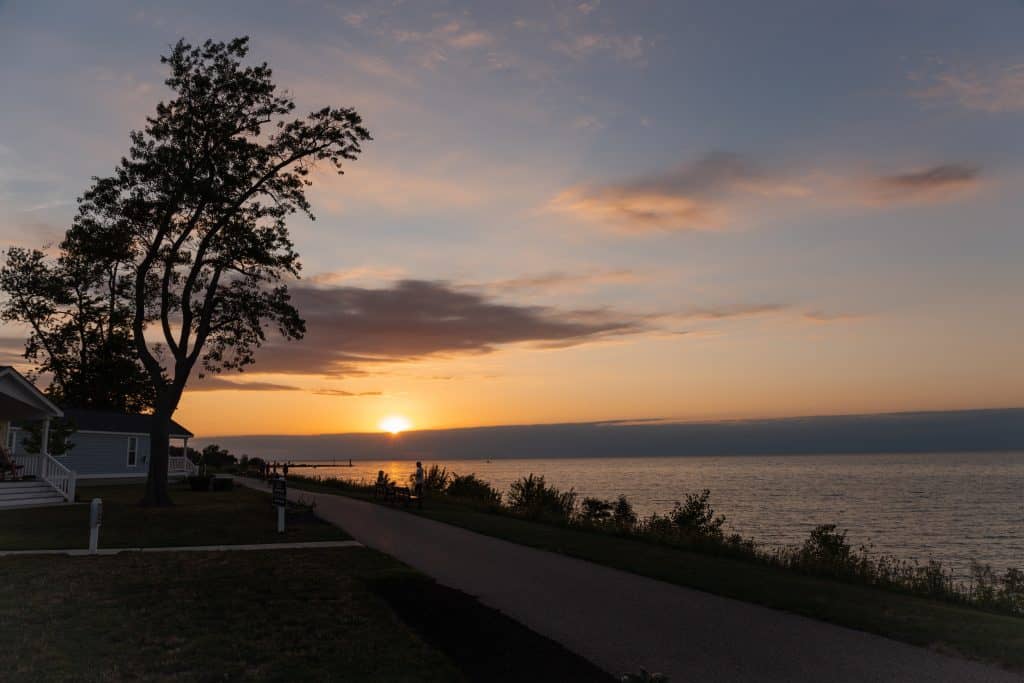 ---
Day 3: Visit The Grand River Valley Wineries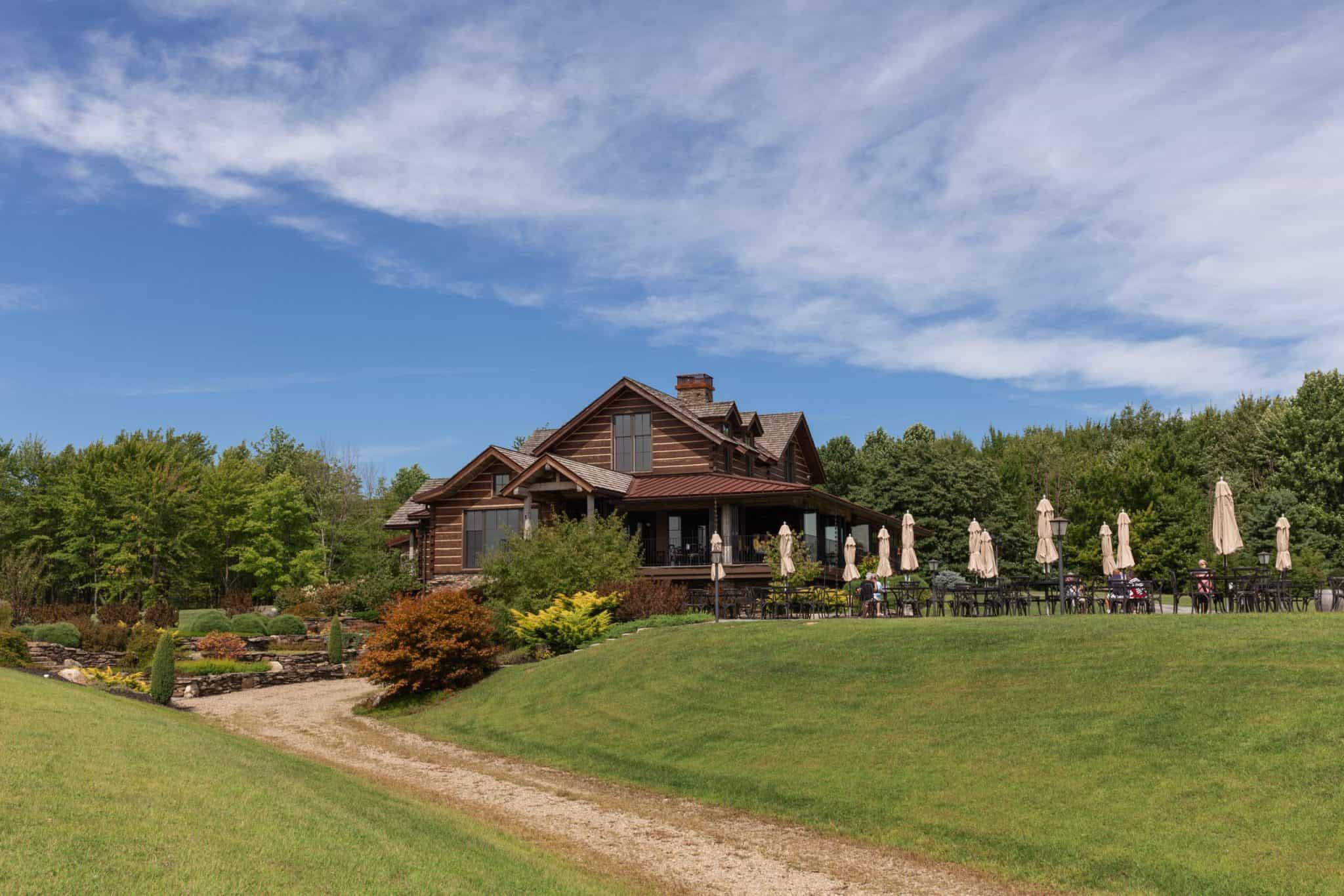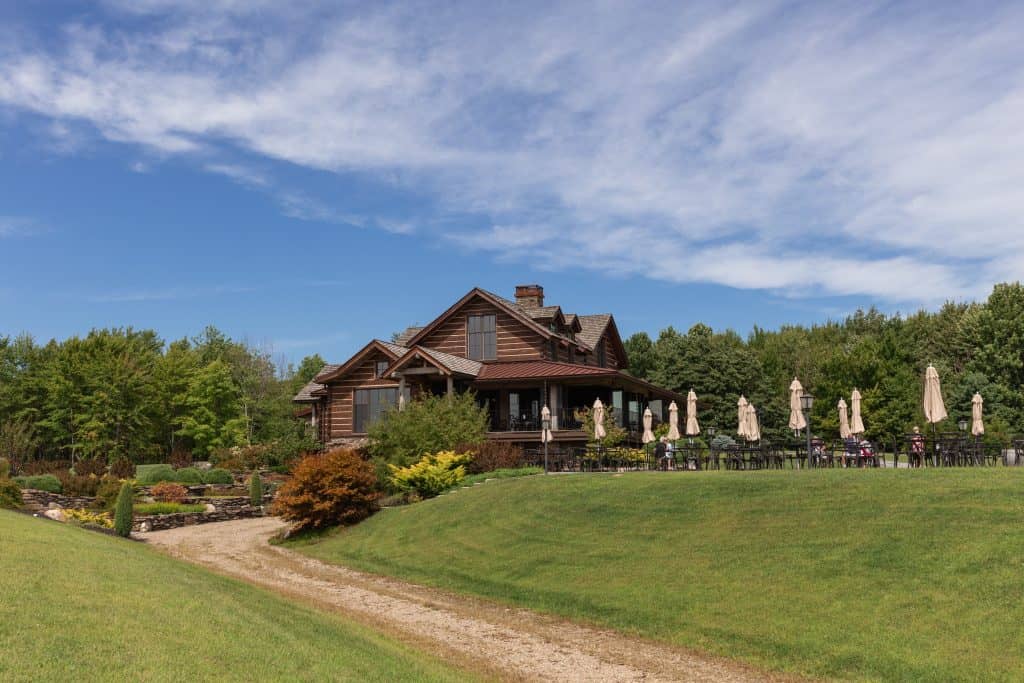 Morning
On the final day of our 3 days in Geneva-On-The-Lake, we visited the pool at The Lodge before getting ready for the day. There are outdoor and indoor pools so take your pick! By the time we were ready, it was almost lunchtime. We planned to visit a few Geneva wineries and decided to go to Laurentia Winery first. You can sign up for a winery bus tour through The Lodge but we didn't end up doing that this time.
Laurentia Winery was about a 20-minute drive from Geneva-On-The-Lake. Laurentia was stunning and we were very impressed with their COVID-19 policies and we really enjoyed our time there. We ordered 2 of the daily specials and a glass of wine for a light lunch.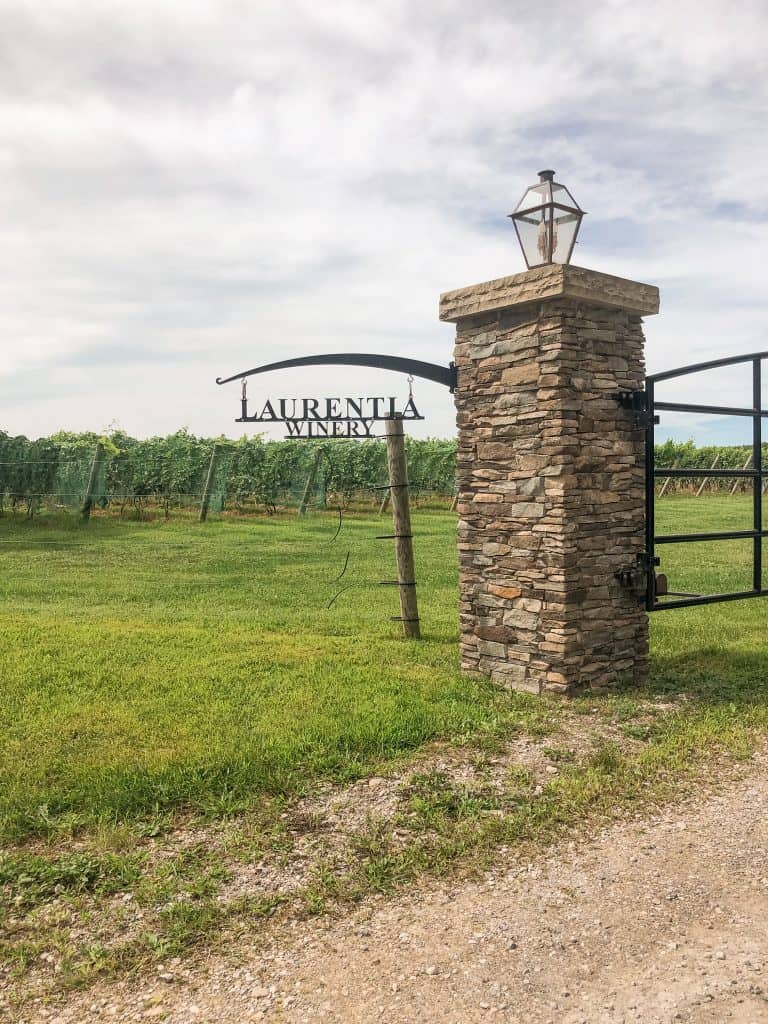 I ordered the Shrimp and Scallop Picattta and Alex ordered some Pork Medallions. For our wine choices, I had to try the Laurel Blanc (obviously!!) and Alex had some Riesling. We both loved our choices and the fact that our wines were on the drier side. I love exploring Ohio's wine country but sometimes the wine is very sweet, so Laurentia was a great discovery for us!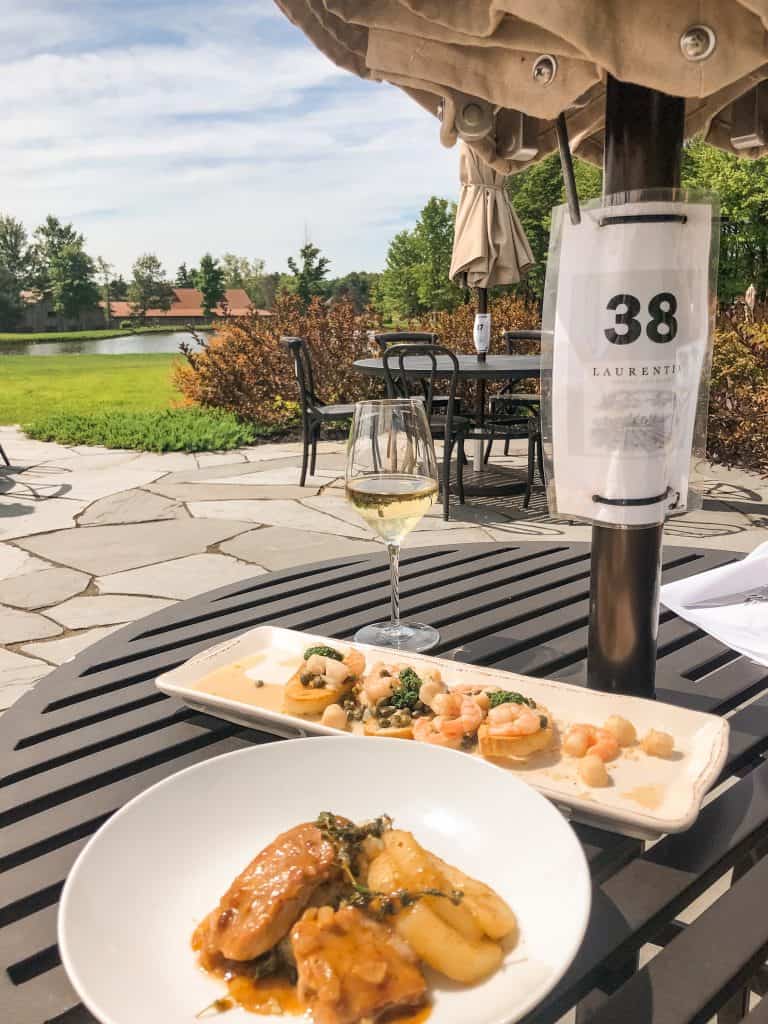 Afternoon
Stop 2 for us was Debonné Vineyards. We know that this is one of the most popular wineries in the area so we wanted to go earlier in the day before the evening rush. Alex did the dry red wines tasting and I did the dry whites. We had the best spot too, sitting under a little gazebo overlooking the vineyard with views of the whole winery and gardens outside.
Evening
We had intended to go on to M Cellars as well, but we decided to spend some more time back at our cottage and have another dinner at Horizons Restaurant at the lodge. We just wanted to have a relaxing last night before going home the next day. Next time we visit the wineries in Geneva, we want to try M Cellars, South River Vineyard, and Laurello Vineyards. If you want to hear more about the wineries in Geneva, check out my Friend's podcast episode about it!
Going Home After Your 3 Days In Geneva-On-The-Lake
I definitely recommend that you wake up early to catch the sunrise as well! It was such a peaceful experience to sit and watch the sun come up on our last morning at the Lodge. Check-out isn't until 11 am but we had to head out early for work and I'm so glad we did or I probably wouldn't have seen a sunrise during this trip. Photos just can't do it justice – it was so beautiful!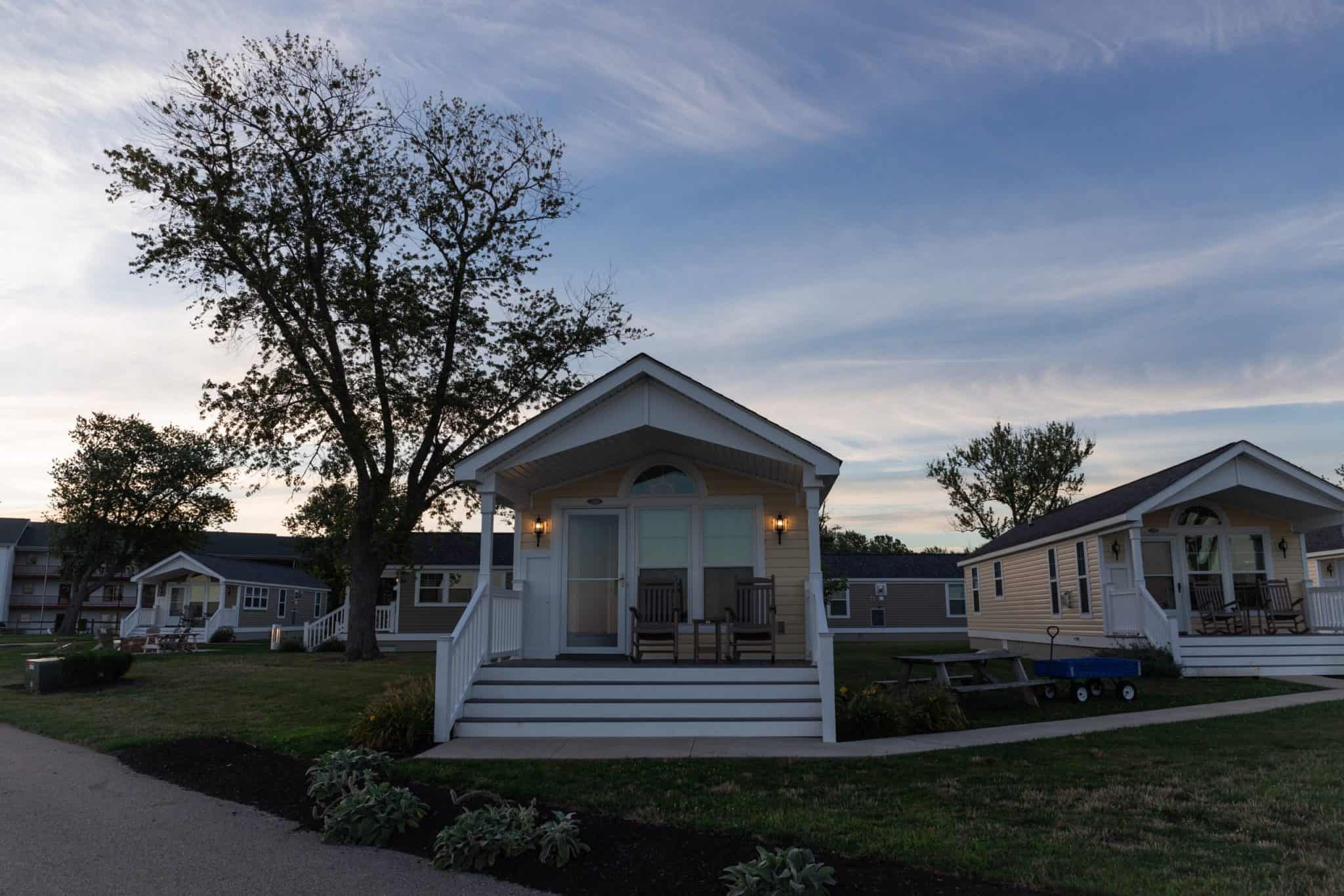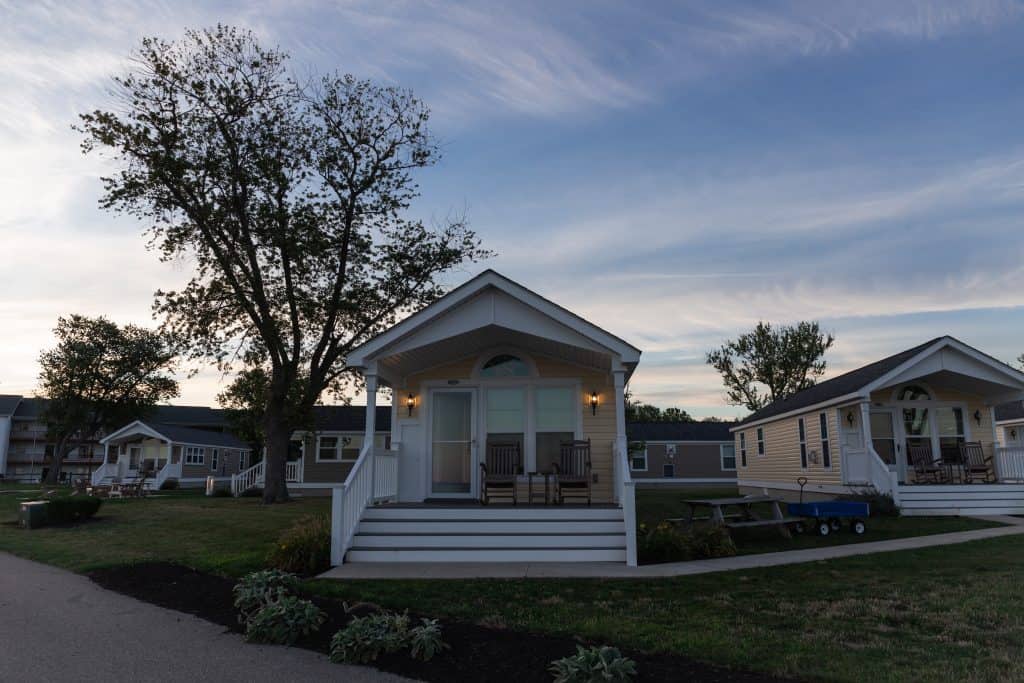 ---
More Things To Do During Your 3 Days In Geneva-On-The-Lake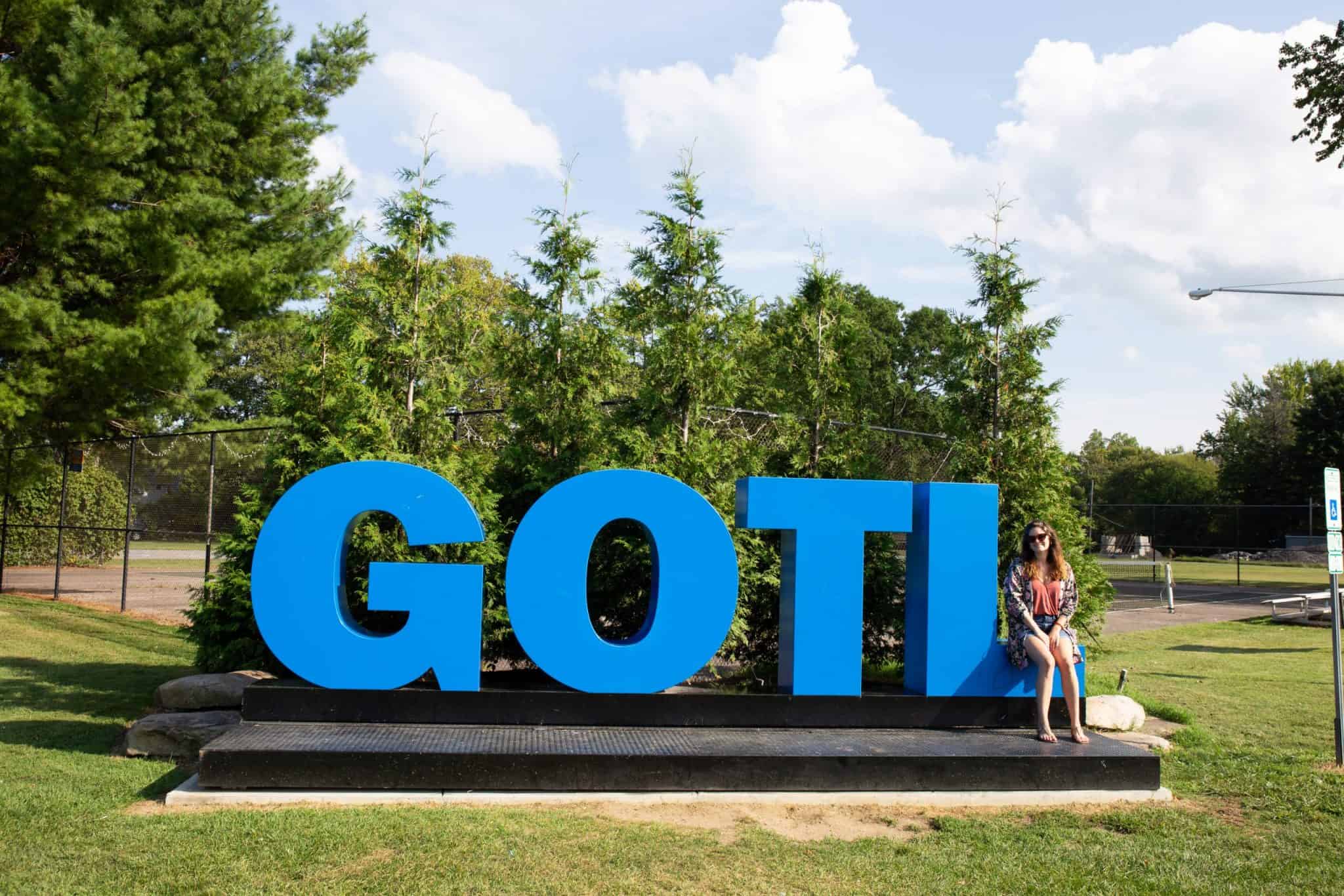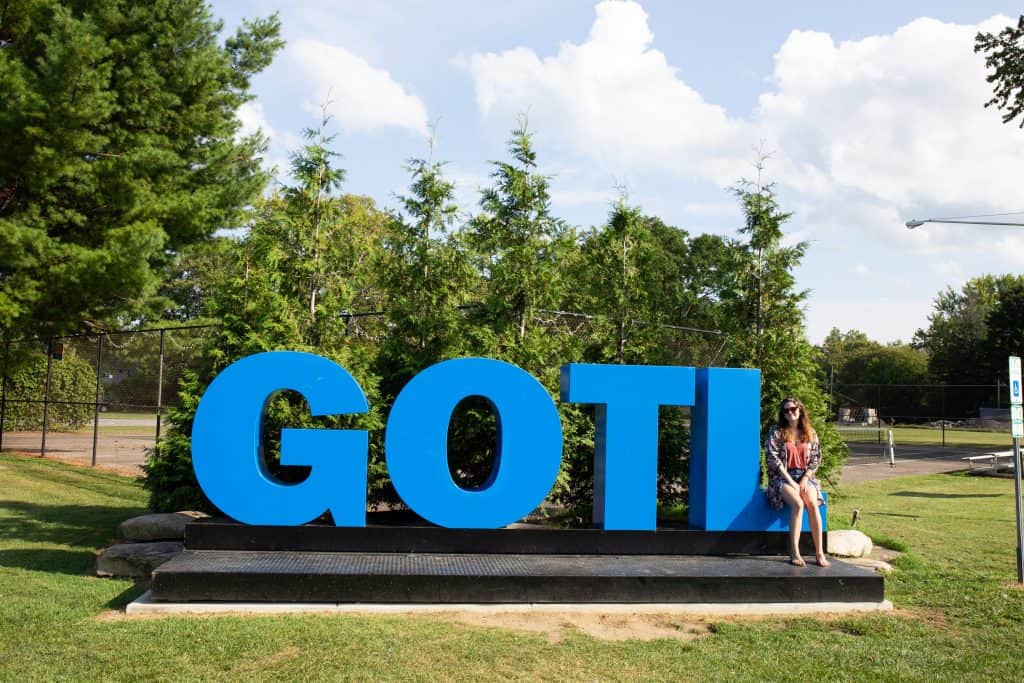 Madsen Donuts – serving donuts for the past 80 years, seasonal
Eddie's Grill – 50's style fare, open daily Memorial Day – Labor Day, Weekends starting on Mother's Day Weekend
Alison's Mini-Golf – est. 1924 and the oldest miniature golf course in America
GOTL Brewing Company – open year-round
Lake Erie Canopy Tours – aerial adventure park
Pucker Up Candy Shoppe – open May – October
We had the best time spending 3 days in Geneva-On-The-Lake and I know you would too! Leave me a comment below with any questions you may have, or let me know what your favorite things to do in the Geneva-On-The-Lake area! And definitely check out the Charming Towns road trip by Ohio. Find It Here. for more Ohio travel inspiration!
---
Read More…
If you enjoyed this article, consider reading Escape Into Nature With Getaway Cabins, Everything You Need To Know About Dwell Box Treehouse Village, or one of my most recent blog posts below!
Pin this post for later…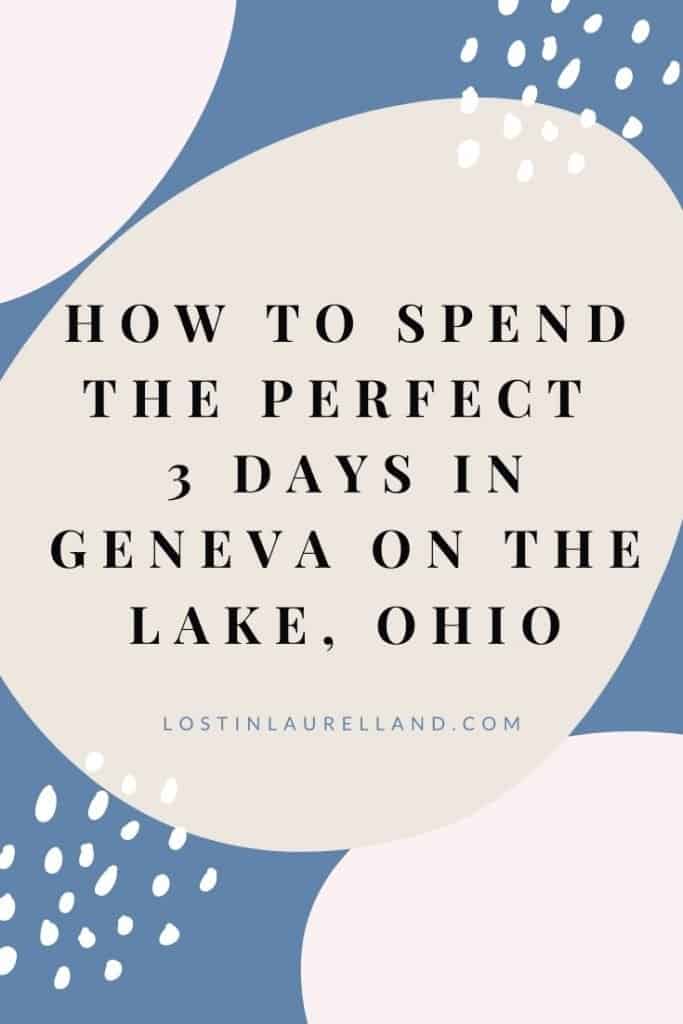 ---