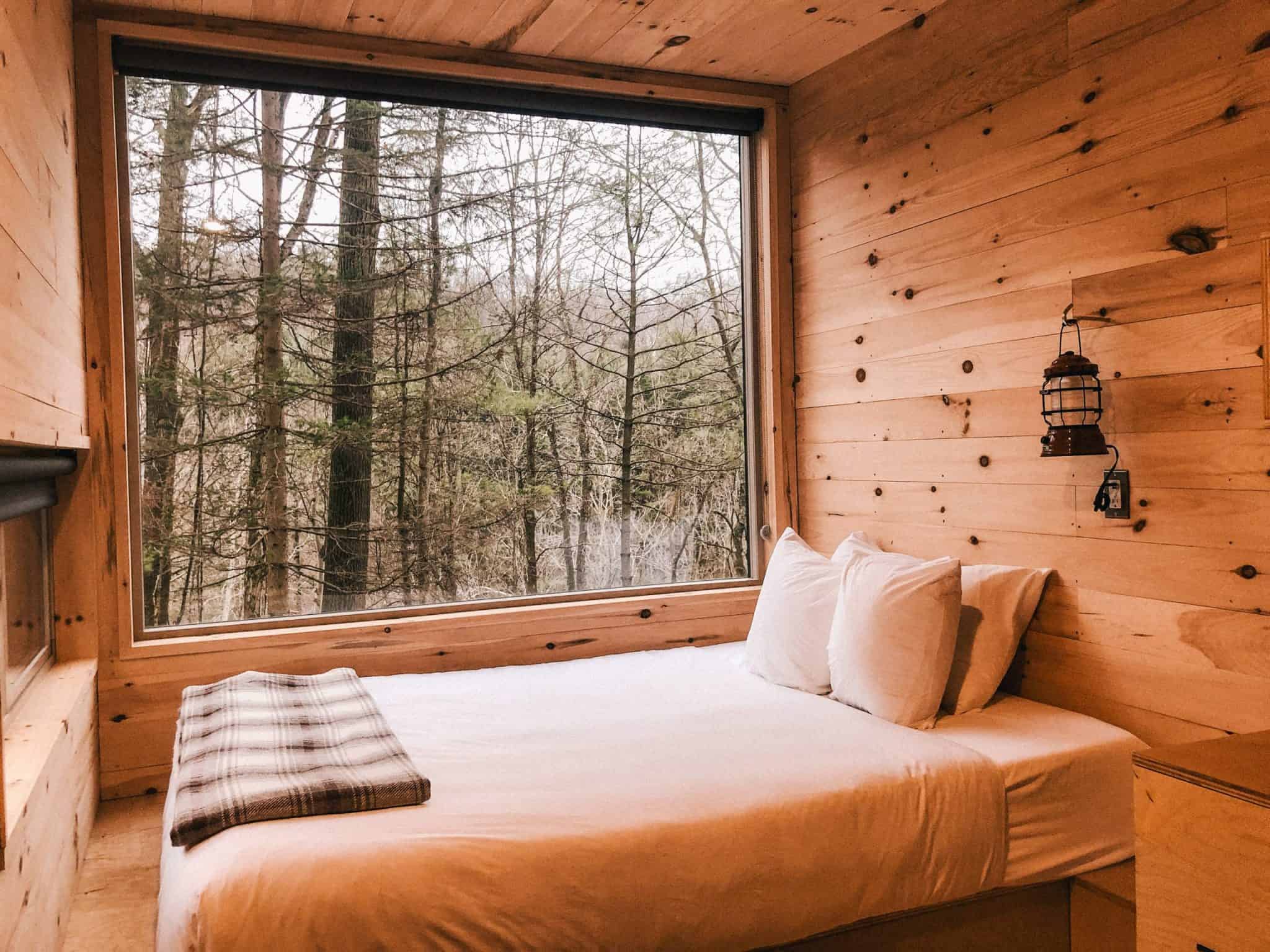 The Best Escape Into Nature With Getaway Cabins
This blog contains affiliate links. I may earn a commission if you use these links to make a purchase. You will not be charged extra. As an Amazon Associate, I earn from qualifying purchases.
This past December, my husband and I felt like we needed to take a break from all of the busyness of the holiday season. We were overwhelmed with work, Christmas festivities, and holiday shopping, but we didn't have a lot of time to do a big trip. Because of this, I thought it would be a great time to escape into nature and try out a Getaway cabin for a night. I am so happy that we decided to take the time out of our hectic schedules to getaway! Here is a little review of our romantic getaway cabin in Ohio!
A Romantic Getaway Cabin in Ohio
Getaway has cozy tiny house-like cabins nestled away into nature just a short drive outside of 12 major cities (and counting!). Since we are Cleveland natives, we visited Getaway Beaver Creek outpost, which is conveniently located between Cleveland and Pittsburgh. The Getaway motto is, "Disconnect to reconnect…Unplug from work, wifi, and routines". They purposely don't have wifi and it's very refreshing to unplug. There are even cell phone lock boxes if you are brave enough to use them!
All of the tiny cabins have "everything you need and nothing you don't". There are minimal distractions to help you to truly get away and reset! The queen size beds are right in front of a dreamy wall-length window so that you can easily admire the scenery. Loft beds are also available in some cabins for larger families or groups. These cabins are even dog-friendly so you can bring your four-legged children along as well.
What You Need to Bring to Your Getaway Cabin
There's a kitchen with all of the essentials where you can easily prep and cook your meals on the stove-top. Or you can bring your own crockpot to easily make something delish! The cabin has a small bathroom with a shower stocked with shampoo, conditioner, and soap for you to use too.
Outside the cabin, there is a picnic table, chairs, and a fire pit with a grate so you can spend some time outside relaxing by the fire and cooking up some s'mores! You do have to pay a small fee for using their firewood and fire starters but it is worth the convenience of not having to bring your own (in my opinion).
There are "provisions" available for purchase inside the cabin as well, like pasta and sauce, oatmeal, and pour-over style coffee. They have a tea kettle in all of the cabins too so no need to bring your own! We did choose to bring our own food, drinks, coffee, and teas for the night. On our way to the cabin, we stopped at Trader Joe's to stock up on some essentials for our stay. We decided to make our favorite white chicken chili recipe in the crockpot we brought with us.
Best Staycation
Getaway House
Escape into nature and unplug with Getaway House. Use our code LAURELLAND for $25 off your stay!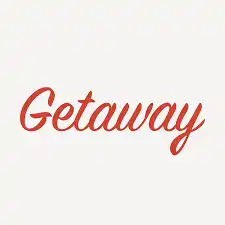 We earn a commission if you make a purchase, at no additional cost to you.
A Place to Escape Reality
It was a bit rainy while we were there so we didn't end up going on a hike but we definitely will next time! Instead, we just took it easy and relaxed inside. There was a short break in the rain so we made a little campfire and had a nice fireside chat until it got a little bit too cold out!
Because it was so close to Christmas, I brought some twinkly lights, poinsettias, and a wreath to make the cabin even cozier! We listened to She and Him Christmas music, lit our Cleveland Candle Company candle, and chatted the evening away. They have a few games, books, and Bluetooth radio on hand so we did play a round of poker (even though I can never remember how to play).
Read More: Everything You Need To Know About Dwell Box Treehouse Village
The bed was super comfortable and the pitter-patter of the rain outside was so relaxing to fall asleep to. We both woke up feeling refreshed and energized to take on the rest of the busy holiday season. I would highly recommend a stay at Getaway to anyone who just needs a little break from "the real world". Getaway has truly thought of everything to make your stay as relaxing and unplugged as you would like it to be.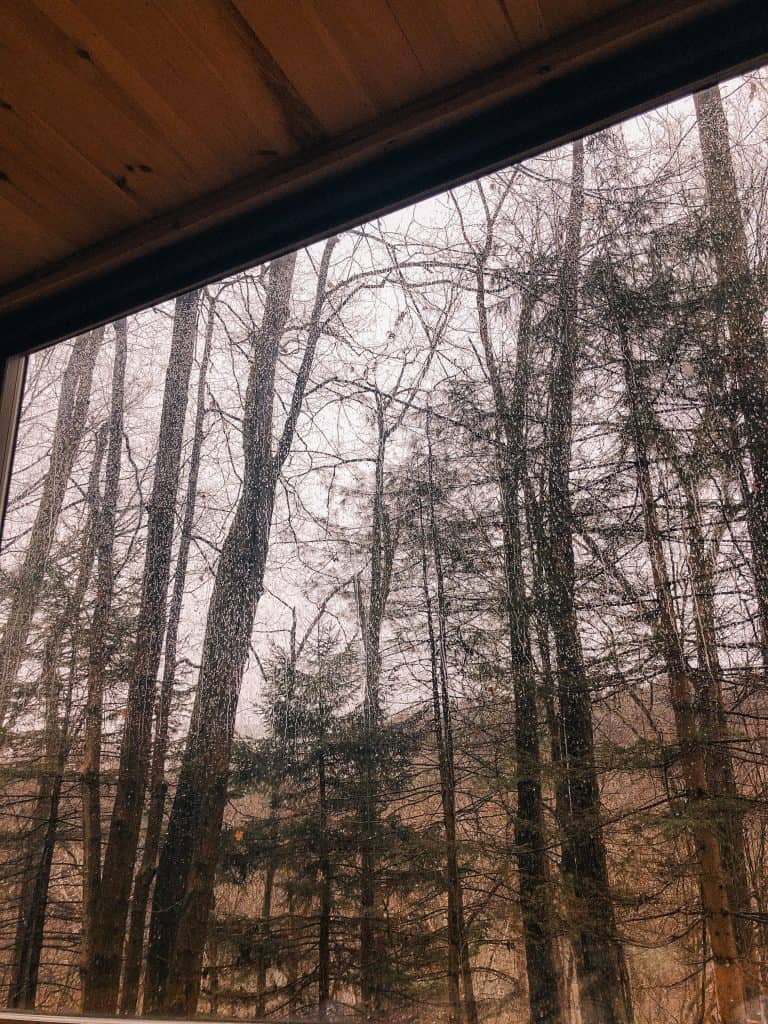 ---
Is Getaway House Worth The Hype?
Some people might ask, is an escape into nature or a silent retreat is worth the hype? Or is it is just a trendy thing to do right now? We felt that it was good for our mental health and relationship to get away from everyday life and de-stress. My Friend, Lisa Ryan, wrote an article for Ideastream about this topic. Its called, "Shhh – The Impact Of Sound And The Health Benefits of Silence". I highly suggest a quick read!
If you feel like you need a little Getaway in your life after reading this, I'm here to help! Take $25 off your next stay with promo code LAURELLAND! Just click here to book your Getaway tiny house. Enjoy your escape into nature!
*Thank you to Getaway for hosting us! We were given a free stay but all opinions are my own and I only promote the things I love!
Read More…
If you liked this article, you may also want to read one of my other recent posts here…
Pin This Article For Future Reference: