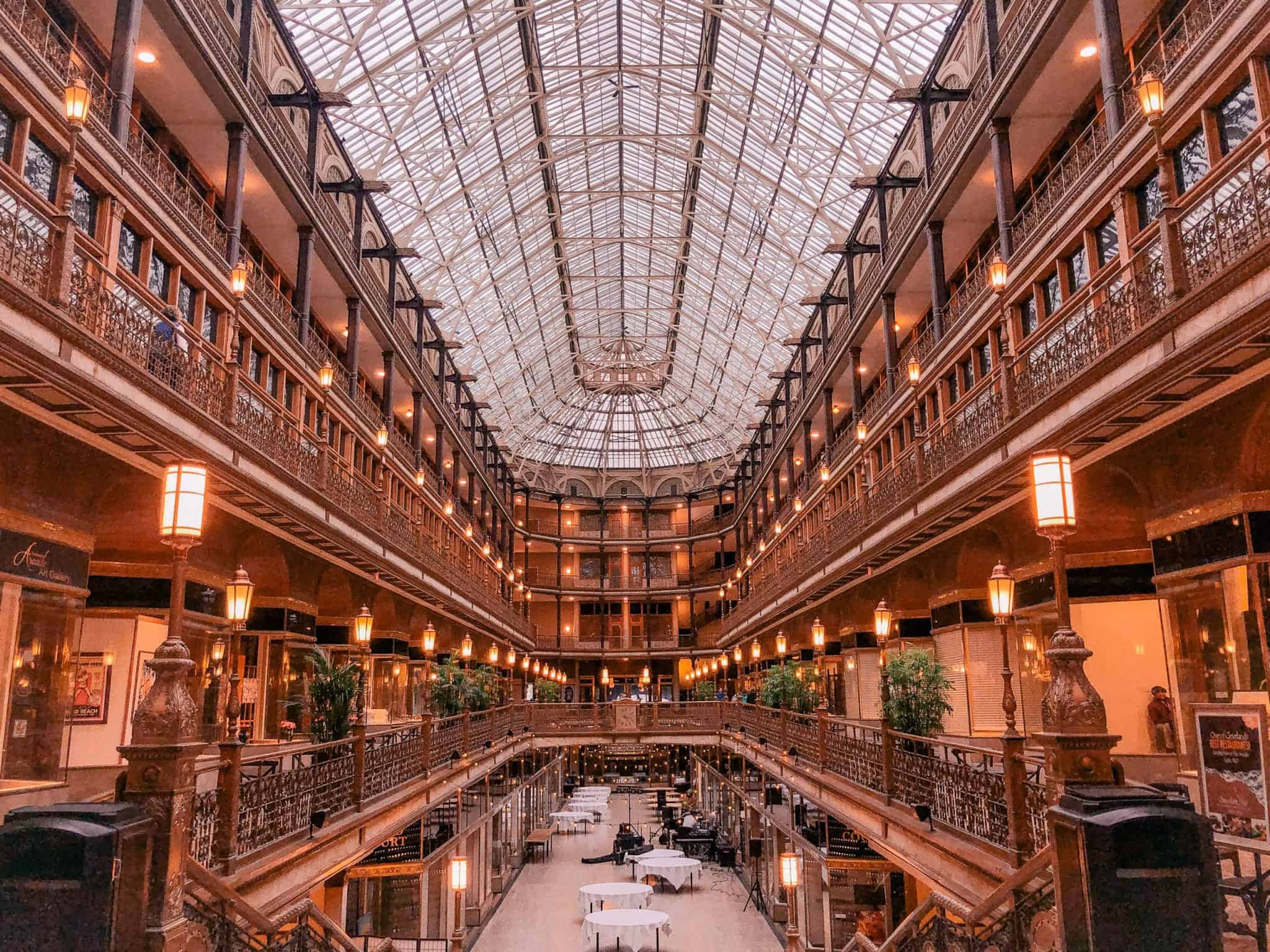 A Snowy Staycation In Cleveland, Ohio
This blog contains affiliate links. I may earn a commission if you use these links to make a purchase. You will not be charged extra. As an Amazon Associate, I earn from qualifying purchases.
Why go on a Staycation in Cleveland, Ohio?
I have been begging my husband for years to take me on a staycation in Cleveland, Ohio. I thought it would be a great opportunity to get away from the distractions of normal life and I wanted the opportunity to plan designated time to talk. Discussions would be centered around the previous year, as well as goals for the new year, planning out our budget for the year, and where we wanted to travel.
Alex, like many husbands, wasn't a huge fan spending money to stay 25 minutes away from home and thought we could do all of that stuff without going away. Even though I totally understood and respected this, the idea was always in the back of my mind. I also thought it would be a fun way to break up periods of time where we didn't have any travel plans and I love being a tourist in my own city.
Little girl, big dreams
Since I was a little girl, I have loved to travel and dreamed of jetting setting off to exciting places. Never did I think that I would grow up and actually want to go on a vacation in Cleveland. It just wasn't somewhere we went very often growing up, unless we were visiting a museum or the zoo.
Honestly, there wasn't nearly as much to do in Cleveland then. A lot has changed about Cleveland in recent years though. It is now a place where people are creating, building new businesses, and thriving. Since we live about a half hour away from downtown on the East side, I wanted to see how it felt to be a part of that energy for more than a few hours at a time.
A few months ago, I got an email invitation to Alex's company holiday party. I saw the opportunity to finally get him on board for a staycation and ran with it. To my surprise, he agreed that it seemed like a good enough excuse for a hotel stay. I began to look into all our options downtown. The party was hosted in the Vault at The 9, so I looked around at different options to try to find a good deal close by.
Where we stayed in Cleveland
I ended up finding the best rate at The Hyatt Regency Cleveland at The Arcade. We were offered a discounted rate because we have the Hyatt credit card and earned 4 points per dollar spent during our stay.
Being very excited to be staying in one of the most beautiful and historic buildings in Cleveland, I did a little research before our trip. I found some interesting tidbits about the building that I never would have known otherwise. For example, The Arcade was the very first indoor shopping center in America and was nicknamed, "The Crystal Palace." If you want to learn a bit about this beautiful and historic building too, check out their website here!
Most of our elaborate plans to explore Cleveland were made impossible by winter storm Harper, which rolled in the day we were heading downtown. Luckily we planned ahead and left early enough to beat the worst of the storm.
What we did on our Staycation in Cleveland
We drove directly to the hotel and decided to self-park at the 200 Public Square garage on Superior Avenue. I highly suggest you do this too if you ever decide to stay at the Hyatt Regency Cleveland. It is right next door and you will save at least $15 dollars by choosing not to valet.
We arrived at the hotel early because of the snowstorm so our room was not ready yet. The front desk workers kindly checked our bags and we were able to explore with no extra weight.
Where we ate in Downtown Cleveland
By this point, I was getting a bit hangry. If you know me at all, you know that I need my food OR ELSE, so we quickly found a place to eat. The snow made choosing a lunch spot very easy as we didn't want to walk very far. We ended up just a couple doors down at Potbelly's Sandwich Shop, ordered some food and planned out the rest of our day.
Eating lunch quickly brought me back to life and I was ready to explore! We walked directly across Euclid Avenue and entered the 5th Street Arcades to keep warm. We window shopped, bought some of our favorite candy at Rocket Fizz Soda Pop and Candy, and hung out at Pour Cleveland.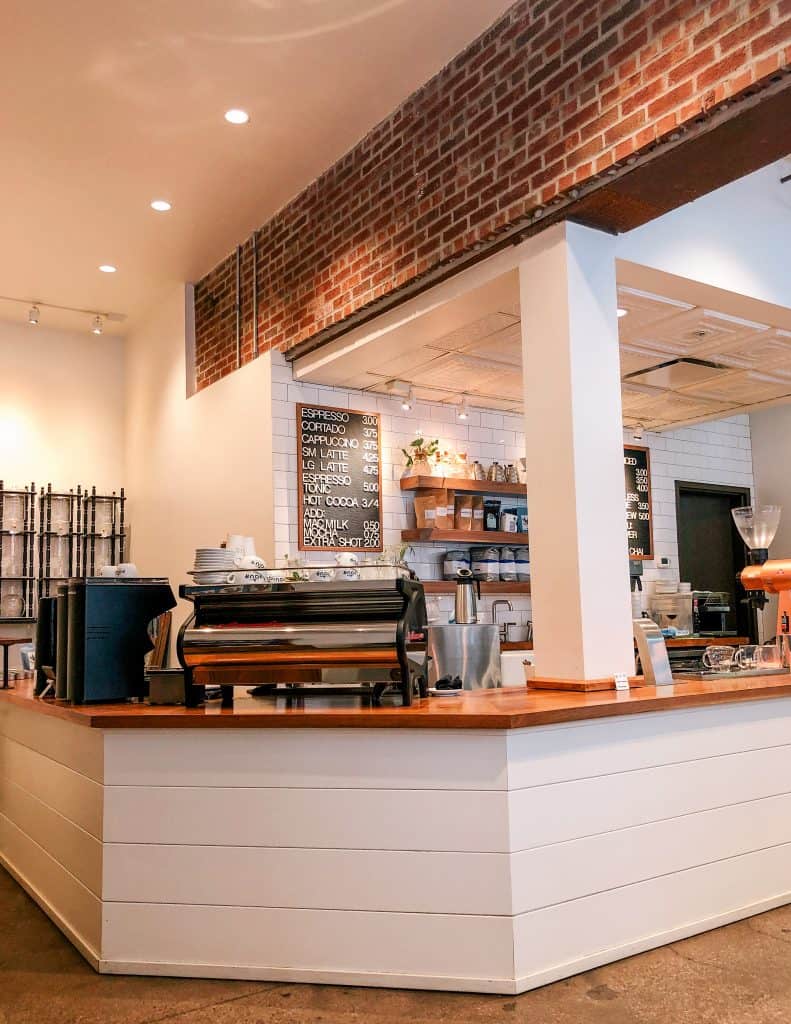 Pour Cleveland is one of my favorite coffee shops in all The Land and is MUST whenever we are nearby. Their pour-overs are the best, but we decided to go with some tea this time. Alex ordered the Masala Chai and I had a green tea. We sat and talked for a while and enjoyed the atmosphere. It was pretty busy as there's not much else to do on such a snowy day, but having everyone packed in just made it cozier inside.
Since we had a caffeine buzz, we decided to brave the cold and take a walk to Public Square. As the wind and snow were pelting us in the face, we kept wondering why on earth we thought this would be a good idea, but we kept walking anyways.
Our idea was to get to the Soldiers' and Sailors' Monument and go inside to get out of the wind, but they had closed early due to the weather. So I did what any reasonable person would have done and made Alex take a photo of me in front of Tower City…in the freezing cold…because Instagram, am I right?? I guess it was worth it though because the photo we got is now my most liked photo on Instagram! And despite the wind, it was still fun to be out and about in what felt like a snow globe.
#VisitMeInCle
On our way back to our hotel, we stopped into the Destination Cleveland office for the first time. Destination Cleveland is currently running a campaign called #VisitMeInCle with the goal of having 20 million visitors by the end of 2020!
If you're a local, you can pick up some free #VistMeInCle postcards to send to friends and family. Many of the postcards even have free postage! We took home a handful of them to invite our friends and family to visit. While we were there, we also grabbed some Cleveland Brewery Passports for future Cleveland adventures.
Staycation at The Hyatt Regency At The Arcade
Luckily by this point, our hotel room was ready for us because we were freezing cold and eager to settle into our room and rest for a while before the big company party. We booked a city view king room so our windows overlooked East 4th street.
The hotel has HBO movie channels so we relaxed and watched Wonder Woman while eating our candy from the soda shop. I was so comfy in my new favorite sweater from Shore Society. It is actually the softest sweatshirt I own. Do yourself a favor and buy one. Like now. You can thank me later.
Party at The Metropolitan Hotel at the 9
After relaxing for an hour or two, we got ready for the party. It was cocktail attire with a masquerade theme. So fun! We forgot to buy masks, and I forgot to take any photos while we were there…oops. If you have never been, I hope you are able to get there at some point! The party was located inside The Metropolitan Hotel at the 9, in a renovated bank vault that was used by the Cleveland Trust Co. in the 1890s. The atmosphere and decor felt like something out of a Bond movie.
It was nice to be able to meet and talk to so many of Alex's co-workers and finally put faces to the names I hear about so often. I even made a couple new friends! The only downside to the evening was that we decided to walk the 5 minutes to the party instead of paying a ridiculous $12 to Uber one block away.
The snow hadn't been cleared from the sidewalks and I swear Euclid Avenue was a giant wind tunnel. I thought I had never been so cold in my life (until the Polar Vortex hit soon after and proved me wrong). Luckily, one of my new friends took pity on us and drove us back to the hotel after the party.
Going home
After a great night's sleep at the Hyatt, we decided to stay warm and eat brunch at the hotel restaurant, 1890. Although it was a bit overpriced, the buffet had some great options that included eggs served any way you like them. Not having to go out into the snow was also a bonus.
Another amazing perk of the Hyatt credit card was the 2 pm checkout option, so we went back to our room, packed our bags up, and took a little siesta until it was time to leave. When we arrived home, we were greeted by so much snow that we could not even pull into the driveway. Alex got out and went to shovel and I ran to Heinen's (our local grocery store) while it was actually sunny out for an hour!
I loaded up on snacks and we made sheet pan nachos for dinner (recipe here), sipped on homemade hot cocoa, and watched our current Netflix obsession, The West Wing. It is an older show, but we love and recommend it!
Goal setting
We must have been having too much fun because we didn't end up making any solid plans for our budget or travel for the year while we were in Cleveland. Fortunately, Alex's company always has off work on MLK day. Because of this, Alex and I were still able to discuss our personal and professional goals for the year and set our budget for 2019. We love a good budget over here, which I will probably discuss in another post soon.
I have become obsessed with travel hacking over the last couple of years and have earned us a ton of travel rewards without spending any extra money than we normally would. I also want to teach you how to do the same, so stay tuned for future blog posts about travel hacking. We fully intend to use our rewards this year to do some fun (and FREE) trips!
Takeaways
Overall, it was an amazing weekend even though it didn't really go according to plan. We were able to get away for a night and relax, reset, and have some fun staycation in Cleveland, Ohio. After doing this, I would highly recommend setting aside time at the beginning of the year to get on the same page with your partner and make some plans for the year ahead.
Not only was our staycation in Cleveland a good time, but it also set our marriage up for continued success. And who doesn't want to start planning their next big trip?! I know I am always scheming and planning for future adventures.
Have you ever done a staycation in your city? Do you guys plan out your budget and travels at the beginning of the year? Let me know in the comments below!
---
Read More…
---
Pin This Article For Future Reference:
---