How Travel Hacking Saved My Marriage
This blog contains affiliate links. I may earn a commission if you use these links to make a purchase. You will not be charged extra. As an Amazon Associate, I earn from qualifying purchases.
The title of this post may sound a bit dramatic, but travel hacking truly did save my marriage. I am going to share with you how opening various travel rewards credit cards helped us earn points towards free travel, and how those points ended up helping our marriage.
To give you a bit of context, I was very young when I married my husband, Alex. He was 24 years old and I was only 20. It hasn't always been easy, but I will never regret our choice to get married when we did.
It was 2010 when my parents told me that they were moving the family to Park City, Utah. I was in my first year of college, but I still lived at home so this posed a big problem for me. Alex and I had just started dating in October of 2009 and there was no way I was leaving him, my friends, my school, or my church to move allll the way across the country.
I was very mad at my mom and dad for making the choice to move, but they had always dreamed of going west and I was old enough to decide where I would call home. So, I ended up staying in Cleveland, moving in with a couple of friends, and said goodbye to my parents and 3 younger siblings. I never thought the separation would be easy, but it ended up being much harder on me than I ever thought possible.
On July 29, 2011, Alex and I got married. It was the best day ever, and leading up to the wedding festivities, my family was in Cleveland more than usual. I got used to seeing them in person, but as time went on, and our schedules got busier, years between visits became more regular.
My parents were able to pay for my ticket to visit them a couple times, which was great, but it wasn't the same without Alex there too. I don't think that my entire family has been back to visit us all at the same time since our wedding, and to this day, Alex has only been able to visit Utah once!
We just could not afford to fly both of us to see my family very often. We really didn't travel together much at all. There was no money for travel. It KILLED me. My family had always prioritized travel and I had all these big hopes and dreams to see the world someday and it just did not seem like it was ever going to happen.
If we couldn't even afford to visit my family, then there was no way to justify going to Europe or on a tropical vacation together. I mean, for our honeymoon we ended up staying at my grandparent's house for free in Florida while they visited friends up north after our wedding. (Thanks Grandma and Grandpa!)
Alex felt really badly about us not being able to see my family. He was always supportive of me seeing them when I could. And it isn't like we were destitute or anything, but we were trying to save for a house and every extra cent had to go towards that.
Even though I knew it wasn't Alex's fault, I would tend to hold it against him that we couldn't ever see my family. I unfairly accused him of not wanting to make it a priority to see them. Most of the fights in our entire marriage have stemmed from not being able to see my family, travel and money.
I was feeling really down about everything. We had been fighting about it more and more and I felt like he was starting to shut down my ideas before I had even spoken them out loud. Finally, in 2016, something shifted. Alex was making a career change and had a lot of vacation days saved up that weren't going to be paid out when he left.
I convinced him that not taking some of these vacation days was like giving up free money. He agreed that we could go somewhere, and we had been putting some more money aside for travel after we bought our house.
I did some research on where to go and I had a crazy idea. London…it was our 5 year wedding anniversary and It had to be London! I knew I had to present it to Alex in the perfect way for him to go for it. I spent all my free time for a week researching the cheapest possible ways to travel.
It was that week that I found my first travel rewards credit card…The Chase Sapphire Preferred card. Now this was also going to be a hard sell as Alex hated credit cards. Alex and I had only one credit card each to build credit so that we could buy a house. We started off just paying for gas with them and sometimes restaurants and would never carry a balance and paid them off every month. We were Dave Ramsey people and that meant that credit cards were the enemy.
I decided that I still had to try. If I could convince him to take me to London but he didn't buy into the credit card thing, then I would let it go. I wrote everything out on paper. From beginning to end, what we would do and where we would stay, how we could afford the airline tickets to Europe (because of Norwegian Air), and how the credit card would help us save money in the long run and give us points to help us pay for another trip down the road. I have never been more prepared in my life…I had also never been more prepared to be told that I was crazy and that it would never work.
It was a lovely Spring day, so Alex and I sat out on our back deck in the sun. I told him that I had an idea that I had been working hard on and that I wanted him to listen and not say a word until I was done with my spiel. He reluctantly agreed to my terms and I dove right in.
I went through it all and gave him reasons why now was the perfect time to go to London…His vacation days, my flexible work schedule, the fact that we had no kids or pets to think about, and we had never gone on a proper honeymoon so this would be perfect timing!
I explained the credit card rewards, and how I found an airline with budget flights that would get us there and back for less than a one-way ticket at a bigger airline. When I was done, I said, "Okay, what do you think?" I braced myself for a big fat "no" but he said, "Okay, let's do it!"
I was shocked. My jaw was probably on the ground. It was a yes to all of it. London and the credit card and a trip I had been looking forward to for my whole life. With my favorite person. I will never forget that day. It was a turning point for us that would change so much about our future.
I opened the Chase Sapphire Preferred credit card the next day and booked our trip. Did I mention that we only had 3 weeks in between making our decision to go and our flight taking off?? It was the most spontaneous thing we had ever done and we had the greatest time!
If only I knew then what I know now about travel hacking. Once we got home from London, we had spent a lot more money than we had anticipated. We felt it was worth it for that trip, but knew it wasn't sustainable for our future travels. I decided to be grateful for the huge trip we had taken together and thought I would not go back to Europe for a very long time.
We had the Chase card for almost two years and our points had just been hanging out in our account. We didn't have enough for both of us to do anything together, so we just let them sit and the issue of seeing my family more often was still a bit of a problem. One evening in late 2017, Alex came home raving about this podcast he had started listening to. It was called, ChooseFI, and I just had to listen to it.
I rolled my eyes. I hated talk radio. I hated listening to people talking unless it was a British person reading an audio book to me. Jim Dale's reading of the Harry Potter series anyone??? SO GOOD. There was no way a finance podcast was going to change any of that! BORINGGG.
Alex then told me that the episode he wanted me to listen to was about traveling for free. My interest was piqued but I didn't want to get my hopes up. I decided to listen. This podcast episode changed my life. It changed our marriage. And has since changed many of my friends and families lives as well.
Again, it sounds dramatic, but it was a total game changer. We found out that by opening a few travel rewards credit cards and using them to pay for our regular spending to hit the minimum spend requirements, we could earn points for free travel. Just by going about our normal lives!
We all have bills to pay monthly, groceries to buy, and fun activities that cost money. Why not turn that spending into some free travel? Alex was actually on board with opening a few credit cards in order to do this so you know I created a strategy and dove in head first to learn everything I could about how to do this the right way.
Since that day in 2017, we have been able to accumulate over 500,000 points/miles between a few different credit cards and have a companion pass on Southwest Airlines that gives us buy one get one free ticket every time (for 2 years).
Using points and miles, we have flown to London and home from Paris, Myrtle Beach round trip, Florida round trip, and I flew to Portugal, then Belgium and home from Paris again for almost free and all in 2018!
All I had to pay for was the taxes for the flights. It was the biggest travel year of my life and I spent way less money on the total from all of those trips combined than we did on our "BUDGET" trip to London in 2016.
The moral of the story is, travel hacking saved my marriage. We were at odds about how to spend our extra money for so long that any time we had to talk about the budget, I would cry. It was not Alex's fault, but I did not feel like traveling was a priority to him.
Because of the world of travel rewards, we were FINALLY able to get on the same page about our finances. After almost 7 years of marriage we were able to agree on a budget that made us both happy because the pressure to save thousands of dollars to travel no longer existed. Now we are able to save so much more money towards retirement, car replacement, etc. than ever before.
So what do you think? Is it too good to be true? Are we crazy for opening multiple credit cards each? Would you like to know more about how you can do this too? Let me know in the comments below!
Also, If you would like to learn more about how to get started with travel hacking, please let me know! Send me an email through my "About" page or DM me on Instagram (@laurelwilson) so we can get the conversation started!
---
---
Read More…
If you liked this post about travel hacking, check out my other posts where I tell you more about how to get started with travel hacking and see if travel hacking is the right for you!
---
Pin This Article For Future Use: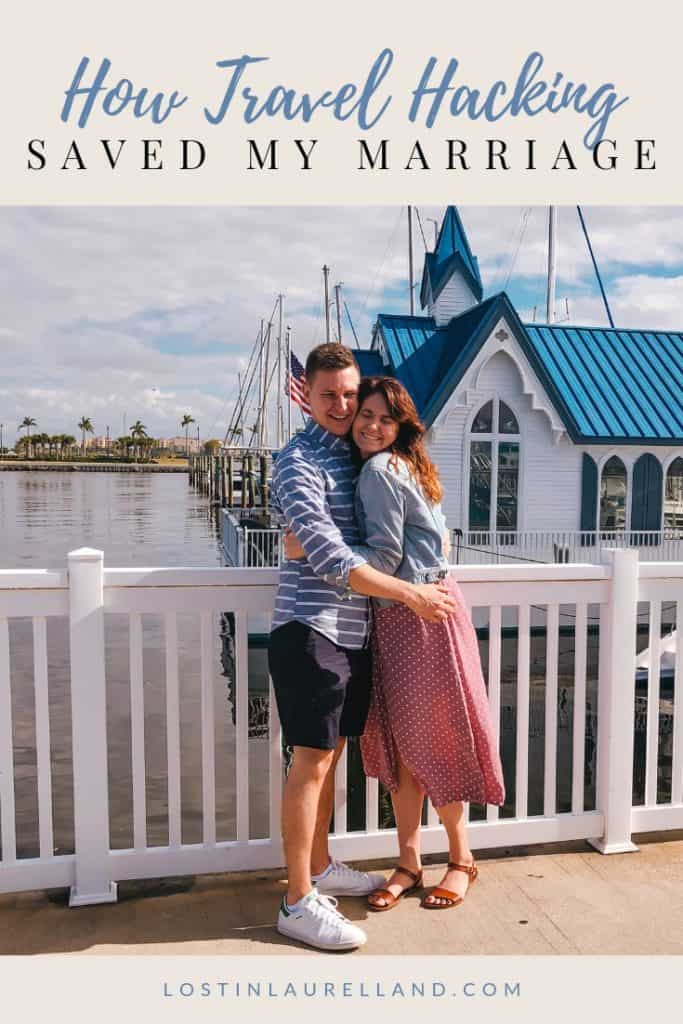 ---