Holiday Activities to Enjoy in Cleveland This Year
This blog contains affiliate links. I may earn a commission if you use these links to make a purchase. You will not be charged extra. As an Amazon Associate, I earn from qualifying purchases.
Christmas in Cleveland, Ohio
It's hard to believe that Thanksgiving and Christmas are right around the corner, and I am excited to be partnering with Ohio. Find It Here. to bring you this article about some of the best holiday activities to enjoy in Cleveland this year! This year has gone by so quickly, but the holidays are always some of my favorite times of the year. Traditions with family and friends make it so special. I love to see life-long friends who come home for the holidays and making traditions with new friends has been amazing too. Whatever your holiday traditions are, there is so much fun to be had at this time of year around Northeast Ohio. I'm going to share a few of my favorites as well as what is on our list for this year.
Christmas Themed Bars
I love a good Christmas themed pop up bar. We have already visited the new XMAS pop up in The Flats and had an amazing time there. They went all out with the decorations and music and the staff are even dressed super festive. I definitely suggest trying to get in early because it is already a very popular spot and lines start forming early. We also really like the Christmas Corner Bar at Around The Corner in Lakewood. This year we also want to try out Society Lounge's Miracle on 4th Street, Great Lakes' Secret Cellar, and Sleigh at Jack Casino.
Playhouse Square
Seeing a Christmas show at Playhouse Square in Downtown Cleveland always really gets me into a festive mood. Seeing The Nutcracker and A Christmas Carol is on my wishlist this year. After seeing White Christmas a couple of years back, it is becoming a new tradition for us to go each year.
There is also an amazing event at Playhouse Square that is free! It is called The Festival of Trees and it looks incredible. Walking around and admiring beautifully decorated Christmas trees is my love language so I cannot wait to attend! This event takes place in the Allen Theatre Lobby and runs from December 3 – December 22 from 12 pm to 5 pm.
Cleveland WinterLand
Going to WinterLand in Public Square (formally known as WinterFest)  for the tree lighting is one of my family's favorite pastimes. It is so much fun and there are always so many families gathered to enjoy the pre-lighting show, free ice skating, and all the lovely decorations in and outside of Tower City. This year the tree lighting event kicks off the holidays on Saturday, November 26 from 9 -11 pm.
Read More: A Festive Cleveland Holiday Itinerary
Christmas Themed Bar Crawl
I have always wanted to join in on a Christmas themed bar crawl with friends. There are a couple crawls that I am looking to go on. First up is Dive Bars' 12 Bars of Christmas which happens on December 3rd and the second is the Ugly Christmas Sweater Crawl on December 16th. Both sound super fun!
Shop Local for Gifts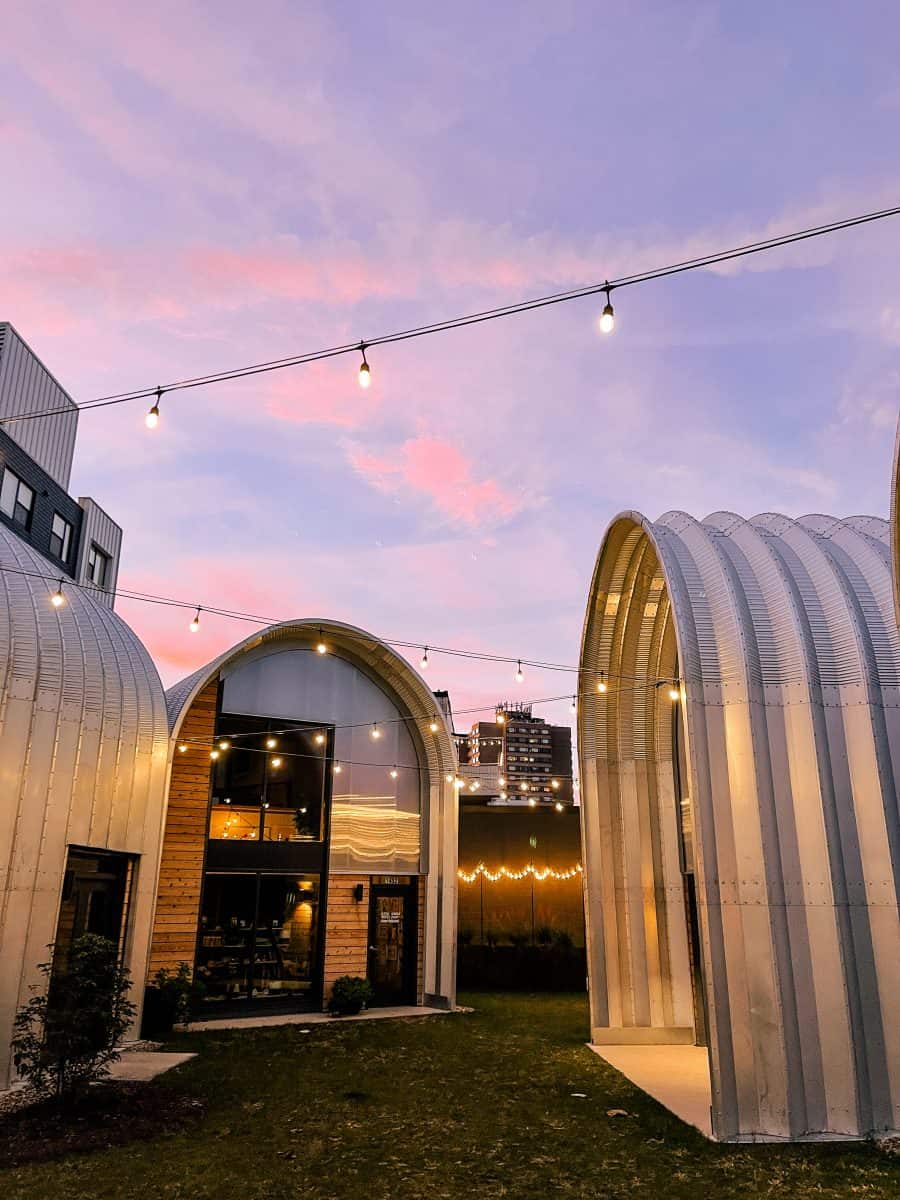 Shopping locally for holiday presents is a great way to support the local community and also the best way to find something unique to gift your loved ones. It is always so special to find that perfect gift and know that no one else will be giving them the same thing. I love shopping at local markets and there is a new permanent shopping destination in Hingetown called City Goods. It consists of multiple buildings filled with treasures from local vendors ranging from self care, to art, to apparel and so much more. City Goods is open Tuesday – Saturday from 11 am – 7 pm and Sundays from 10 am – 6 pm.
For even more amazing local gift ideas, check out the Ohio. Find It Here. Made in Ohio page.
Read more: Ultimate Small Business Gift Guide
Wild Winter Lights at The Zoo
Another tradition I have loved since I was a child is visiting The Cleveland Metroparks Zoo for Wild Winter Lights. They do such an incredible job creating magical Christmas light creations to walk around throughout the whole zoo. They are synched to some of your favorite Christmas carols too! There are two options for experiencing Wild Winter Lights, walking or driving. I prefer walking through because it is more of an immersive experience but driving through in a vehicle is also a great way to see everything lit up (and much warmer). Wild Winter Lights is running November 15 – December 30 on select days. Get tickets now!
If you love Christmas lights as much as I do, you will also want to check out Ohio's Holiday Lights Trail which includes 55 stops around the state for you and yours to enjoy!
Read more: Ultimate Holidays in Ohio Weekend Itinerary
Holiday Tea at The Ritz
I am planning to go to a Holiday Tea at The Ritz this year. It just sounds so magical and festive. There is a regular Holiday Tea option and also a Teddy Bear Tea for your little ones as well. The Holiday Tea events are December 27 – 28 at 11 am and 2 pm and the Teddy Bear Tea is December 13 – 14 at the same times. While you are there, you can enjoy the festive Gingerbread Village Display which is also a tradition for the hotel.
Twinkle in the 216
Twinkle in the 216 is another great annual event here in Cleveland located at the Cleveland Botanical Garden. This event opens Saturday, November 19 and goes until Saturday, December 31. This is another event that is on my list to go to this year and I don't know how I have missed out on this for so long!
Holiday Traditions
Whatever your holiday traditions may be, I wish you a very happy holiday season! Please consider making one of these amazing events or activities a new tradition with your friends or family. Cleveland and Northeast Ohio have so much to offer in terms of events and culture and many more things that I haven't listed here. Did you get a new idea of something to do this year?
Read More…