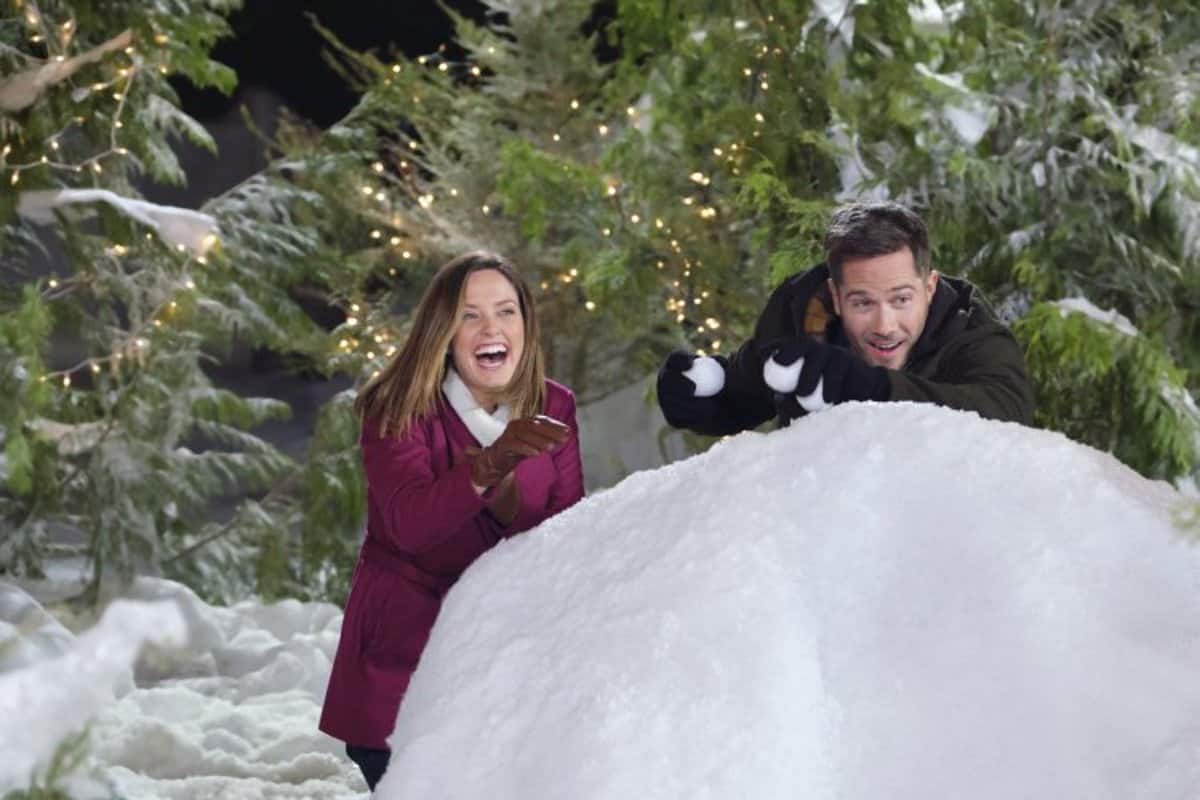 Greatest Hallmark Christmas Movies To Watch in 2022
This blog contains affiliate links. I may earn a commission if you use these links to make a purchase. You will not be charged extra. As an Amazon Associate, I earn from qualifying purchases.
I have always enjoyed watching Christmas movies. Growing up, my family and I would look forward to watching the 25 Days of Christmas on ABC Family (now Freeform) every year. I couldn't get enough of Christmas specials. Watching these charming movies has always helped me get into the holiday spirit! I'm a self-proclaimed Hallmark Christmas movie expert (read junkie…), so I want to share my research in hopes of sharing the holiday spirit with you all. So here are the 50 Greatest Hallmark Christmas Movies to watch in 2022. Because let's be real, we deserve to start the cozy holiday festivities early after this crazy year we have been living through!
The 50 Greatest Hallmark Christmas Movies for you to enjoy in 2022
Like I said before, I have been, oh so selflessly, doing the research on this list for YEARS. I have watched enough of the duds and want to help save you time. Trust me to find you the greatest Hallmark Christmas movies for your viewing pleasure this year.
I've organized this list in no particular order, but if you start from the top, you will find a few favorites out of my top 50 greatest Hallmark Christmas movies list. As Hallmark has been releasing around 30-40 brand new Christmas films each year, I obviously have not seen every single one. I'm obsessed but not crazy! If I missed any winners, please let me know in the comments so that I can add it to my watch list for this year.
Hallmark Christmas Movies Challenge
I made a checklist of all of the following 50 Greatest Hallmark Christmas movies so I thought it might be fun to challenge all of you Hallmark lovers to see who has seen the most of these movies…or who can watch the most this year!
Sign up for the challenge below and I'll send you the checklist!
Tips For Choosing the Greatest Hallmark Christmas Movies
Before we get started, here are a couple of tips that I have found helpful while searching for the greatest Hallmark Christmas movies…
Firstly, don't judge a Hallmark movie by its name. None of the names are good and they're all almost exactly the same.
Instead of judging the name, look the title up on IMDb.com first. If it isn't rated 6.2 Stars or above, it's probably not worth your time. The greatest Hallmark Christmas movies are usually rated 6.6 stars or higher on IMDb.
While you're on IMDb, check out which actors are in the movie. I have my favorites and least favorites and watch/don't watch accordingly. I'm sure you will have your own favorites as you watch, too!
The Best Hallmark Channel Actors
Speaking of my favorite Hallmark Channel actors, I figure I should share a few of them with you to get you started! There are other Hallmark Stars that are always amazing, like Candace Cameron Bure and Danica McKellar, but here are a few other actors you may like while watching through my 50 greatest Hallmark Christmas movies list!
Bethany Joy Lenz
Andrew W. Walker
Merritt Patterson
Daniel Lissing
Nikki DeLoach
Brooke Nevin
Jen Lilley
Tamera Mowry-Housley
Meredith Hagner
Brooke D'Orsay
Paul Greene
Danica McKellar
Lacey Chabert
Ryan Paevey
So without further ado, here are the 50 greatest Hallmark Christmas movies…
1. Picture a Perfect Christmas (2019)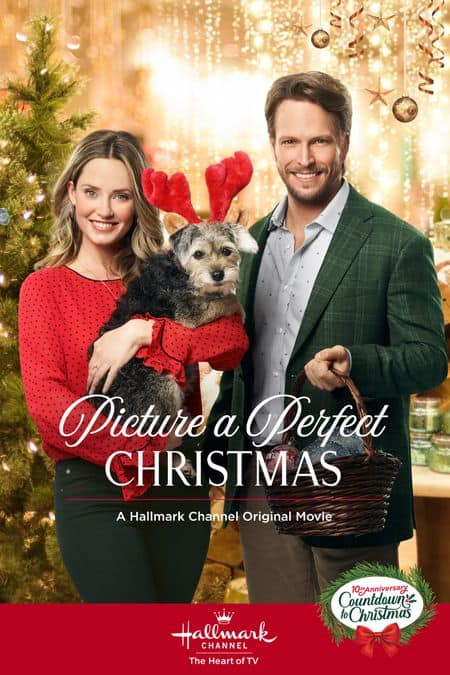 Picture a Perfect Christmas follows the story of Sophie, a jet-setting photographer who comes home for Christmas to stay with her grandmother. While in town, Sophie meets her Grandmother's neighbor, David, and his nephew. David is his nephew's guardian and Sophie grows close to them both while she's in town which makes her question her lifestyle of non-stop travel. Will she decide to finally settle down?
*Starring: Merritt Patterson and Jon Cor
2. Christmas in Love (2018)
In the movie, Christmas in Love, a small-town girl, Ellie, and big-city CEO, Nick, have conflicting opinions on what's best for their local bakery's future. They'll have to learn to work together and compromise while trying their best to make a successful future for the business. As they spend more time together, they realize there may be more to their relationship than just business.
*Starring: Brooke D'Orsay and Daniel Lissing
3. My Christmas Love (2016)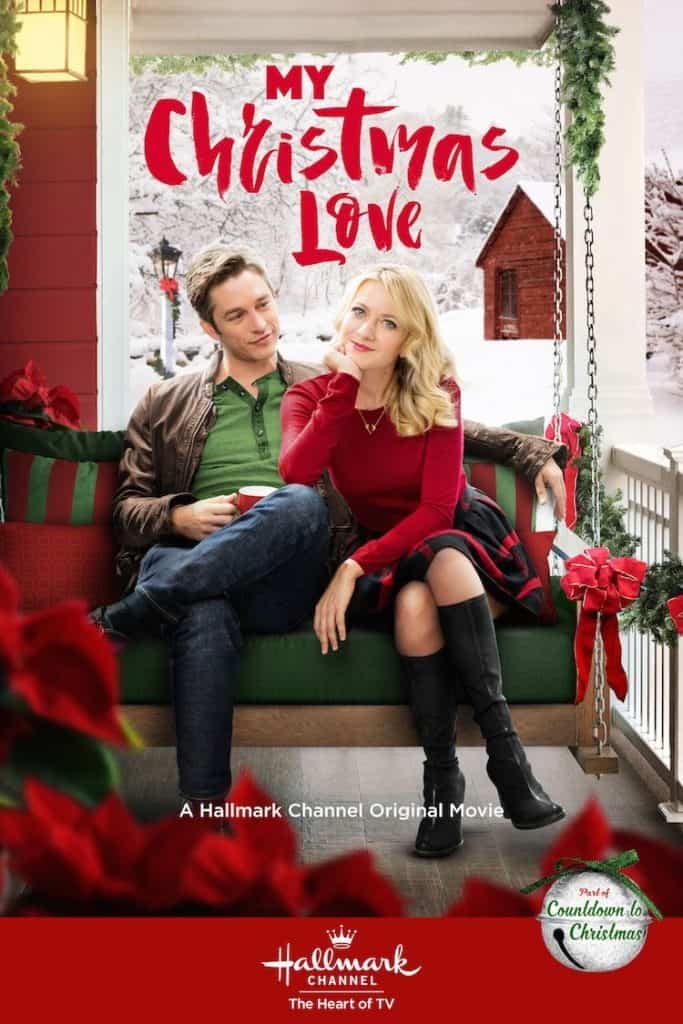 My Christmas Love is a classic tale of Cynthia and Liam who are "just friends". Cynthia brings Liam home with her for the holidays so that they can work on her upcoming book together. When 12 Days of Christmas-themed gifts start showing up at the door every day, Cynthia decides she has a secret admirer and sets out to learn who her mystery man is. As she searches for her true love, will she notice the Liam has been right there all along? What will happen when this hopeless romantic finds out her best friend might want more? Find out in this super sweet movie!
*Starring: Meredith Hagner and Bobby Campo
4. Christmas Getaway (2017)
Christmas Getaway is the story of writer, Emory, who is double-booked for the same cabin as, Scott, a handsome single-father. When no other rooms are available in town, they decide to share the cabin for a few days and keep their distance. But there's not really anywhere else to go, so Emory ends up doing all the fun Christmas activities with Scott and his daughter. Before long, sparks fly and Emory wonders if she can really leave when she finally has the chance.
*Starring: Bridget Regan and Travis Van Winkle
5. The Christmas Cottage (2017)
The Christmas Cottage follows two exes, Lacey and Ean, who are in the same wedding party after not seeing each other for two years. There's a legend that says if two people stay in the Christmas cottage together, they'll find true and lasting love. Will that be the case for these two? Or has too much time passed to make it work?
*Starring: Merritt Patterson and Steve Lund
6. Christmas at the Plaza (2019)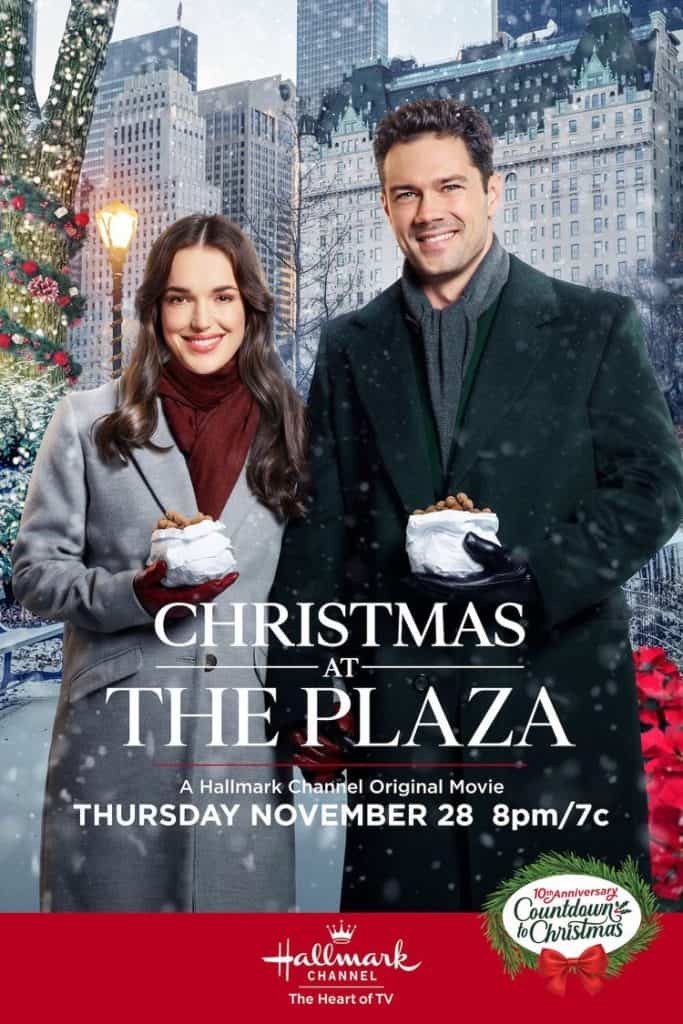 In Christmas at the Plaza, Jessica, a historian, and Nick, a Christmas decorator work together on a special Christmas Display for the Plaza hotel. Jessica is all about facts and history and Nick is all about the Christmas spirit. Can Christmas magic at The Plaza bring these two opposites together?
*Starring: Elizabeth Henstridge and Ryan Paevey
7. The Nine Lives Of Christmas (2014)
In The Nine Lives Of Christmas, a cat appears on Zachary's doorstep one day. He tries to get it to leave but it appears the cat is there to stay. When Zachary meets Marilee and offers to rent her (and her cat) the apartment attached to his house. Marilee reluctantly agrees and eventually, Zachary and Marilee start to fall for each other. The cat that adopted Zachary ends up bringing love to a bachelor who never thought he wanted or needed it.
*Starring: Kimberly Sustaud and Brandon Routh
8. Coming Home For Christmas (2017)
In the movie, Coming Home For Christmas, Lizzie is hired as the new house manager for the Marley family. As such, she is in charge of selling the Marley's estate and planning their annual Christmas Gala. The Marley sons, Robert and Kip come home for their last Christmas at their estate. The longer Lizzie is around, the more she brings the joy of Christmas back to an estranged family and gains the affection of both brothers. But which brother will she choose? Watch the movie to find out!
*Starring: Danica McKellar, Neal Bledsoe, and Andrew Francis
9. Road to Christmas (2018)
In Road to Christmas, two movie producers, Maggie and Danny, are forced to work together on a famous TV Christmas Special. They have differing opinions on just about everything at first, but eventually, they learn to appreciate each other's ideas…and each other.
*Starring: Jessy Schram and Chad Michael Murray
10. Miss Christmas (2017)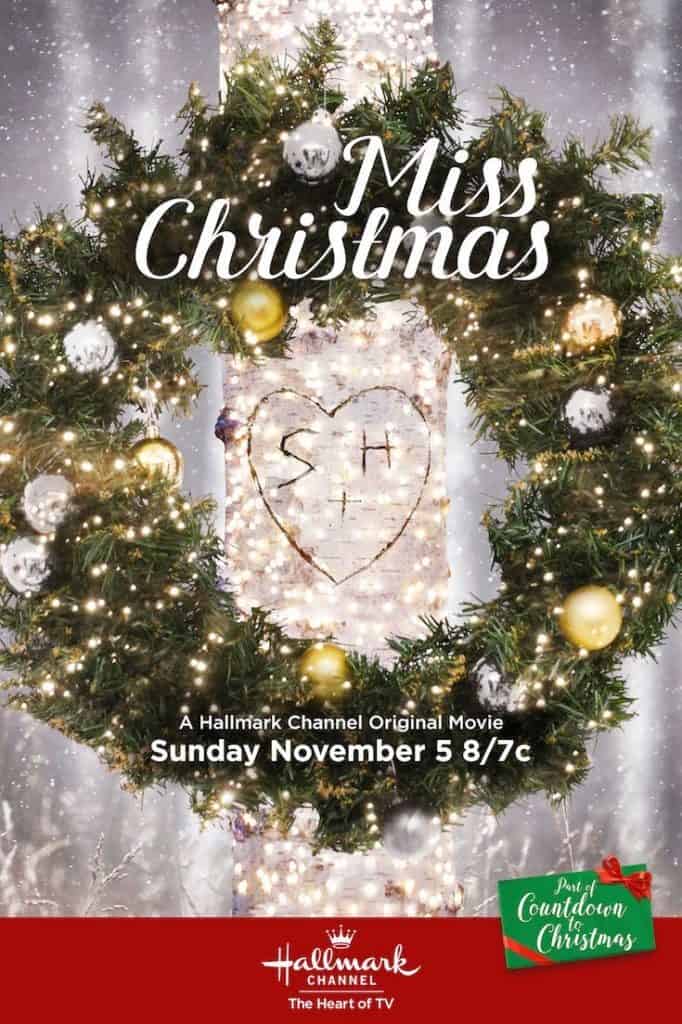 Holly, aka, Miss Christmas, is in charge of finding the best Christmas tree for the Radcliffe Tree lighting in Chicago. Each year she must find a bigger and better tree, but she is always up to the task. Until now…the perfect Christmas tree belongs to Sam, a stubborn man who doesn't want to give up the tree. Will she be able to find a new tree in time? And will they fall for each other despite their differences?
*Starring: Brooke D'Orsay and Marc Blucas
11. A Royal Christmas (2014)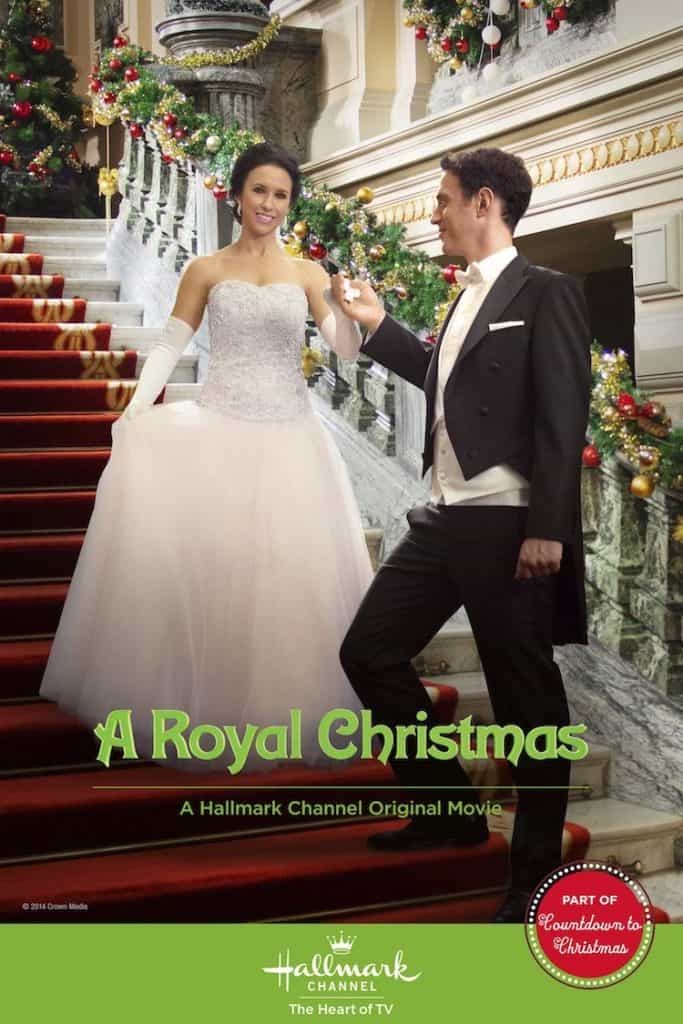 A Royal Christmas is centered around the Prince Leopold of Cordinia and Emily, a seamstress from Philly. Leo wants to marry Emily, his true love, but his mother, Queen Isadora, has other plans. Will Emily be able to fit into Leo's royal world or will she go back to Philadelphia heartbroken?
*Starring: Lacey Chabert and Stephen Hagan
12. A Bride for Christmas (2012)
A Bride For Christmas is about Jessie, who has been the runaway bride from all 3 of her engagements, and Aiden, a betting man who tells his friends he can get Jessie to agree to marry him by Christmas. But will he fall for her unexpectedly instead? And can she forgive him for the bet? Watch to find out. 😉
*Starring: Arielle Kebblle and Andrew W. Walker
13. Jingle Around the Clock (2018)
Opposites attract in Jingle Around the Clock when Elle and Max, two advertising execs, are thrown together on a holiday campaign. She loves Christmas…he doesn't. Can they make the ad a success and gain Elle the promotion she's been dreaming about? And will Elle be able to get Max to open up to the Christmas spirit…and love…before her big Christmas party? You'll see what happens if you watch it so what are you waiting for?!
*Starring: Brooke Nevin and Michael Cassidy
14. A December Bride (2016)
Seth kind of ruined Layla's life by introducing her fiancé to the woman he would marry instead of her (who was her cousin, of course). Feeling bad for the part he played in Layla's heartbreak, he offers to pretend to be her fiancé for the holidays and be her date to her cousin's wedding…if she decorates his home for a big Christmas competition he entered to impress his boss. Emotions get complicated in A December Bride.
*Starring: Jessica Lowndes and Daniel Lissing
15. Crown For Christmas (2015)
After Allie gets fired from her job as a maid at a fancy hotel a week before Christmas, she finds a job as a governess for a royal family in Europe. She misses home until she bonds with the difficult princess…and falls for her father, Max. Allie knows she doesn't have a chance with the King…or does she? Find out what happens in Crown For Christmas.
*Starring: Danica McKellar and Rupert Penry-Jones
16. Snow Bride (2013)
Greta, a tabloid reporter in search of her next big scoop, is invited into her subject's home by accident. Thinking this is her big break, she accepts but quickly realizes that people aren't always portrayed as their true selves in gossip columns. She becomes fond of the family and falls for Ben, one of the sons…will she be able to break their trust and go through with writing the story? And when Ben finds out Greta is really there to spy on him, will he ever forgive her? Watch how the story unfolds in Snow Bride.
*Starring: Katrina Law, Jordan Belfi, and Patricia Richardson
17. Let it Snow (2013)
Let It Snow is about Stephanie, a self-proclaimed Grinch, who is representing a large corporation taking over the Snow Valley Lodge. Brady, the son of the Lodge owners, and Stephanie are not big fans of each other at first. Once they spend time working together and getting to know each other, romance is in the air. Will Stephanie be able to follow through with her big Corporate plans after finding Christmas magic at Snow Valley Lodge. And will her boss, and father, allow her to keep the lodge as it is? Watch this heart-warming movie to see how it all unfolds.
*Starring Candace Cameron Bure and Jesse Hutch
18. Christmas at the Palace (2018)
In this film, former professional skater, Katie, is invited to help, Alexander, the King of San Senova's daughter for her upcoming skating competition. At first, all she wants to do it get back home. After some time in the Palace and with King Alexander, they feel a romantic connection growing between them. Will she choose to stay and be with Alexander, or return home to follow her dream of opening a skating rink? Find out how Christmas at the Palace ends.
*Starring: Merritt Patterson and Andrew Cooper
19. The Christmas Ornament (2013)
The Christmas Ornament is a sweet story about finding love after loss. Recently widowed, Kathy, decides not to celebrate Christmas because it was her late husband's favorite time of the year and their memories make her too sad. After she meets Tim, a Christmas Tree Farmer, and Kathy finally allows the Christmas spirit back into her life. And realizes that maybe she can be happy again with someone new.
*Starring: Kellie Martin and Cameron Mathison
20. Naughty or Nice (2012)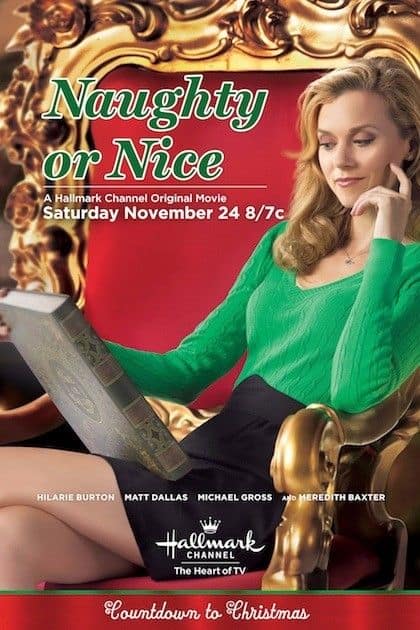 In Naughty or Nice, Krissy Kringle is given an interesting gift…The real-life Naughty or Nice list! After being let go from her job, Krissy has to work as Santa's helper at the mall. With her life feeling out of control, she hopes that her boyfriend, Lance, will finally propose over the holidays. She gets caught up in the magic of the Naughty or Nice list and chaos ensues. Will she be able to make everything right? Or will it ruin her life and relationship with Lance?
*Starring: Hillarie Burton and Matt Dallas
21. Debbie Macomber's Dashing Through The Snow (2015)
In Dashing Through the Snow, flight delays limit rental car availability, Dash offers Ashley a ride to Seattle. Little does she know, she's a suspect in an FBI investigation and the feds are tailing them on the road. She doesn't really seem like a hardened criminal and romance begins to spark between these two on their journey. This couple may have a few obstacles on their journey to love. Based on the book Dashing Through the Snow: A Christmas Novel by Debbie Macomber.
*Starring: Megan Ory and Andrew W. Walker
22. The Christmas Secret (2014)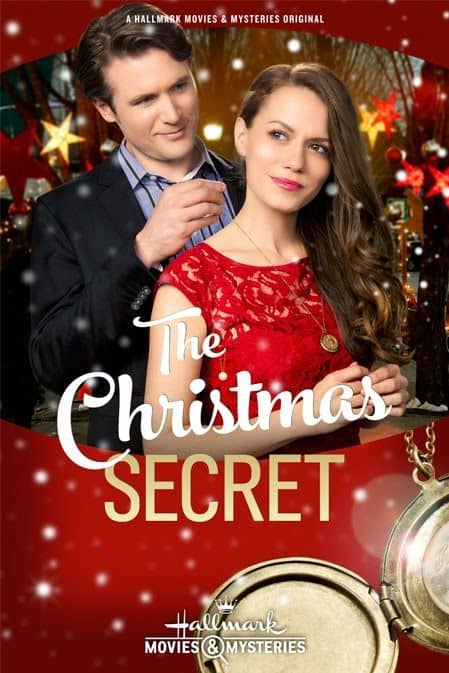 Christmas should be a time of love and joy, but it doesn't seem likely for single-mom, Christine. Her life seems like it couldn't really get any worse and then she loses a very important family heirloom. But not all hope is lost when Christine meets Jason and things start falling into place. Can Christmas be saved? Watch The Christmas Secret to find out!
*Starring: Bethany Joy Lenz and John Reardon
23. Love Always, Santa (2016)
In Love Always, Santa, a little girl writes a letter to Santa asking for her mom, Celia, to find love this Christmas. Celia's husband had died a few years earlier and her daughter just wants her to be happy again. As it happens, the little girl's favorite author, Jake, finds her letter when he comes to town for a reading at their bookstore. He is intrigued by Celia right away and they start spending time together. Will Celia be able to let go of the past and move on with Jake, or will something happen to prevent her from opening up again?
*Starring: Marguerite Moreau and Mike Faiola
24. Christmas Under Wraps (2014)
In Christmas Under Wraps, Lauren, a city doctor decides to move to a small Alaskan town after not getting the job of her dreams. She realizes that there's more to life than that job and finds out an interesting town secret and just might find love along the way.
*Starring: Candace Cameron Bure and David O'Donnell
25. Christmas on My Mind (2019)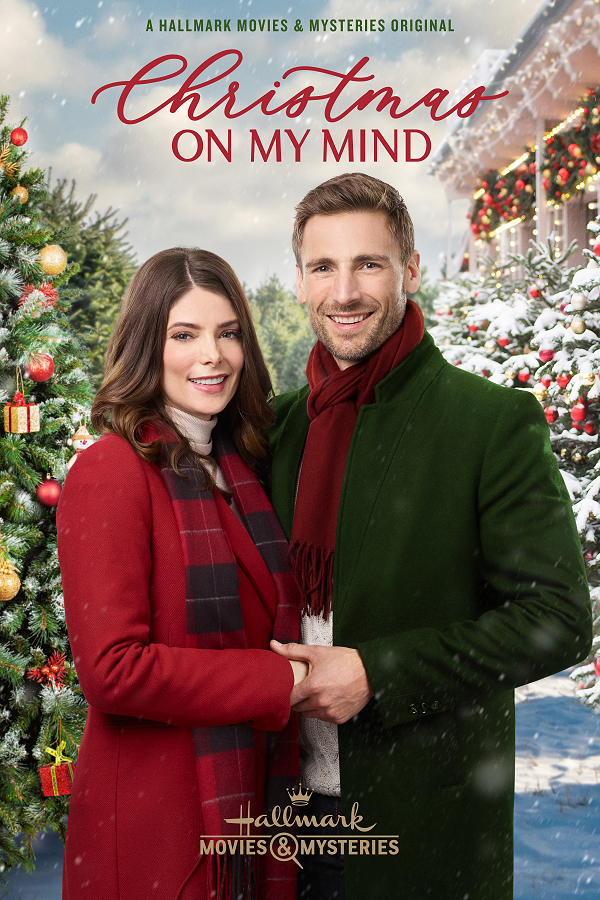 Christmas on My Mind is about Lucy who has an accident and loses her memory of the last two years. When she wakes up, she doesn't remember her life as it is now…or her fiance. All she remembers is being engaged to her ex, Zach. She decides to visit her hometown to try to find her memories and figure out what happened between her and Zach. Maybe Lucy and Zach can have a fresh start and fall in love all over again.
*Starring: Andrew W. Walker and Ashley Greene
26. Finding Father Christmas Trilogy (2016-2018)
The story of Miranda and Ian plays out in three movies, starting with Finding Father Christmas. I don't want to give the other two away, so I'll just share about the first installment in the trilogy. Miranda has always wondered who her father was, but her mother would never tell her anything about him. Her mother was an actress and traveled often so Miranda never even knew where to start looking for him. When her mother passes, she finds a clue and decides to follow it all the way to a small town where she meets, Ian. He helps her with her search, and in the process, they grow closer. Will Miranda find the family she's been searching for all her life?
*Starring: Erin Krakow and Niall Matter
27. Cross Country Christmas (2020)
*Starring: Rachael Leigh Cook and Greyston Holt
28. Mingle All The Way (2018)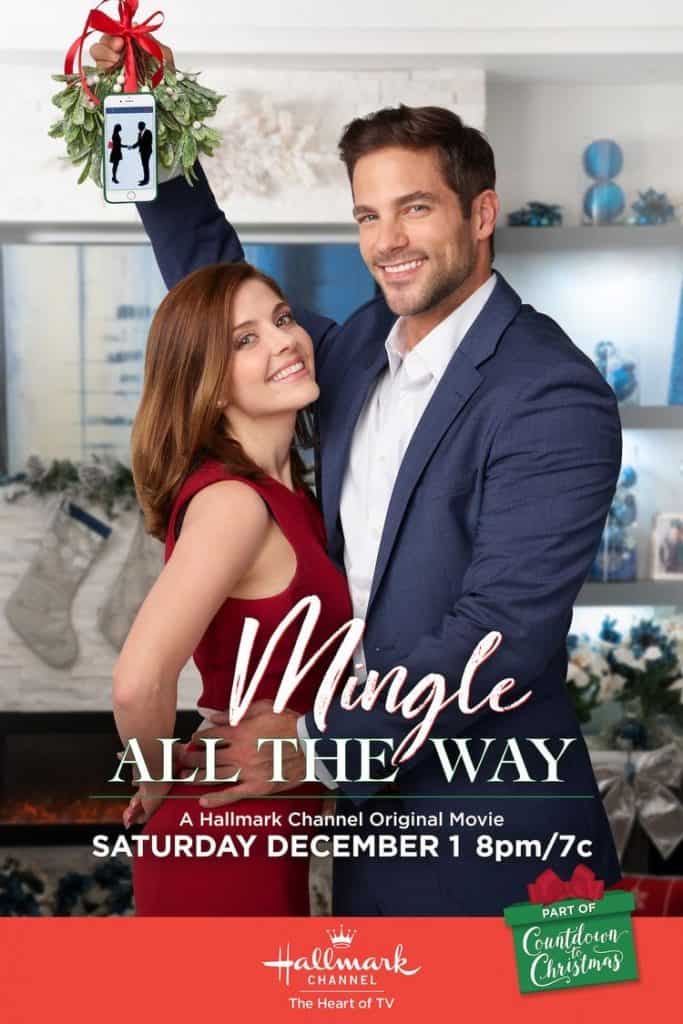 Molly creates an app for busy young professionals who don't have time to date but don't want to show up to holiday parties alone all season long. Her dating app takes away the romance and long term commitment to make things easier. In order to sell the project, her investors force her to try it out to prove to them that it works. When her app pairs her up with Jeff, a man she has had unpleasant run-ins with in the past, she worries about the success of her app. As the two spend more time together, they realize that they're more compatible than they think. Watch Mingle All The Way to find out if the app Molly created to remove the romance actually brings her love?
*Starring: Jen Lilley and Bryant Daugherty
29. A Dream of Christmas (2016)
In A Dream of Christmas, Penny, a frustrated wife wishes she had never gotten married. To her surprise, her wish comes true and she finds out what her life would have been like if she had never gotten married. At first, it seems like a dream come true. After a while, she starts to miss her husband and has to try to figure out a way to get him back. If she can't make it happen, how will she live with herself and live life without Stuart?
*Starring: Nikki Deloach and Andrew W. Walker
You can't watch Christmas movies without fuzzy socks!
30. Marry Me At Christmas (2017)
A Bridal shop owner, Madeline, is planning the perfect Christmas wedding for a client. Everything is business as usual until she meets the bride's brother…famous actor, Johnny Blake. As hard as she tries, she can't resist Johnny and he also can't resist her. But does she really want a relationship with a Hollywood star? See what happens in Marry Me At Christmas.
*Starring: Rachel Skarsten and Trevor Donovan
31. Merry & Bright (2019)
In Merry & Bright, Cate is the CEO of a candy company whose mother keeps setting her up on blind dates. When Gabe comes to town, she mistakes him for one of her dates, but really he is from a corporate recovery company that is there to help her business. They work together to try to increase the candy company's profits and discover a connection between them along the way.
*Starring: Jodie Sweetin and Andrew W. Walker
32. Write Before Christmas (2019)
In Write Before Christmas, Jessica gets dumped right before Christmas, she decides to send 5 Christmas cards to people who have made a positive impact on her life. One of those people is her high school music teacher, but her son, Luke, is the one who opens it. The two of them meet serendipitously and grow closer. But Jessica just vowed to take a break from love and dating…will she still give Luke a chance?
(One Tree Hill side note- Chad Michael Murray's name is Luke in this movie and his love interest is Nanny Carrie…WHAT…Also, she still scares me a little bit, honestly. If you know you know.)
*Starring: Torrey DeVitto and Chad Michael Murray
33. On The Twelfth Day Of Christmas (2015)
On The Twelfth Day of Christmas, follows the story of Maggie who has had a crush on Mitch since College. She thought they had a connection but he didn't return to school after Christmas break a few years back. When Mitch moves back to town, he has lost his Christmas spirit. Maggie decides to send him secret gifts every day, based on the 12 Days of Christmas. Will she be able to cheer him up with her presents? Maggie isn't sure how Mitch will feel when he finds out that she is the one sending them.
*Starring: Brooke Nevin and Mitch O'Grady
34. Christmas in Rome (2019)
Christmas in Rome is about two Americans who meet in Rome over the Holidays. Oliver is trying to close a big business deal with an Italian client, but they do things differently than he expected. Angela, a tour guide, will help him learn the ways of the Italians while showing him the magic of Rome during Christmastime.
*Starring Lacey Chabert and Same Page
35. A Timeless Christmas (2020)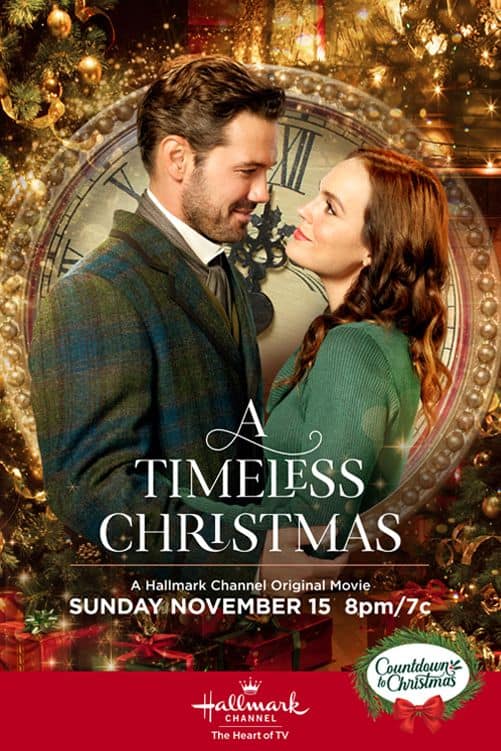 *Starring: Erin Cahill and Ryan Paevey
36. Christmas Next Door (2017)
Eric is an author who is famous for writing books about how to stay a bachelor. April is his extremely Christmas-obsessed neighbor. When Eric ends up watching his niece over the holidays, April is there to help him out…and teach him a thing or two about Christmas and falling in love. Watch Christmas Next Door to see how this story unfolds.
*Starring: Jesse Metcalfe and Fiona Gobelmann
37. A Wish For Christmas (2016)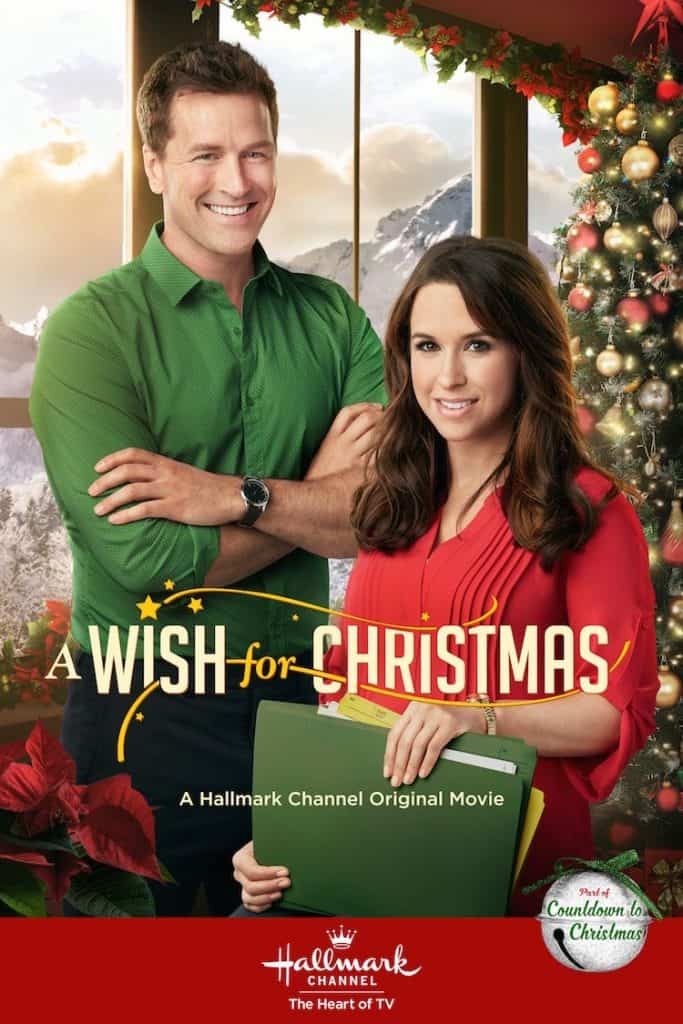 Sarah is a bit of a pushover. Her boss is always stealing her ideas and passing them off as her own, she does other people's work for them, and she rarely has to confidence to speak to the CEO of the company, Peter. Sarah finally hits her breaking point and makes a Christmas wish that she would have to speak her mind. To her surprise, she finds that her wish came true and that she HAS to tell the truth about what she thinks. It catches the attention of Peter and her wish will either be the best or worst thing that has ever happened to her. See what happens between Sarah and Peter in A Wish For Christmas.
*Starring: Lacey Chabert and Paul Greene
38. Two Turtle Doves (2019)
Dr. Sharon Hayes was raised by her grandmother. When she passes away, Dr. Hayes comes home for Christmas and soon begins looking for a missing family heirloom – the Two Turtle Doves ornament that her ancestor made before moving to America. She enlists the help of her neighbor, Sam, and his daughter to help her in her search. They soon realize that Christmas miracles really can happen and find love in the process.
*Starring: Nikki Deloach and Michael Rady
39. Romance At Reindeer Lodge (2017)
When Molly wins an all-expenses-paid vacation to Jamaica, she is excited to escape the Christmas madness. What she doesn't realize until she's on the plane, is that her plane is going to Jamaica, Vermont – not her dream beach destination. The accommodations are also a very festive place called Reindeer Lodge. When she meets Jared at the airport, the last thing she expected was to be going to the same place and finding love. Maybe Christmas isn't so bad after all with Jared by her side. Check out Romance At Reindeer Lodge for the full story!
*Starring: Nicky Whelan and Josh Kelly
40. Switched For Christmas (2017)
Switched For Christmas is about sisters, Kate and Chris, who don't get along very well despite being identical twins. When their mother dies, they decide to do something different and switch places until Christmas. They're both unhappy with their current lives and where they are and think switching will be a fun adventure. What they find is that they have more in life than they ever realized before and a newfound appreciation and love for each other and their own lives.
*Starring: Candace Cameron Bure, Eion Bailey, and Mark Deklin
41. 12 Gifts of Christmas (2015)
In 12 Gifts of Christmas, Marc is very busy with work and Anna is barely scraping by as an artist so Marc hires Anna to become his personal shopper for the holidays. Their ideas on what makes a perfect gift clash, but Anna is able to make Marc loosen up enough to see the importance of Christmas and that a great gift isn't measured by its price tag, but rather the meaning and thoughtfulness behind it.
*Starring: Katrina Law and Aaron O'Connell
42. My Christmas Dream (2016)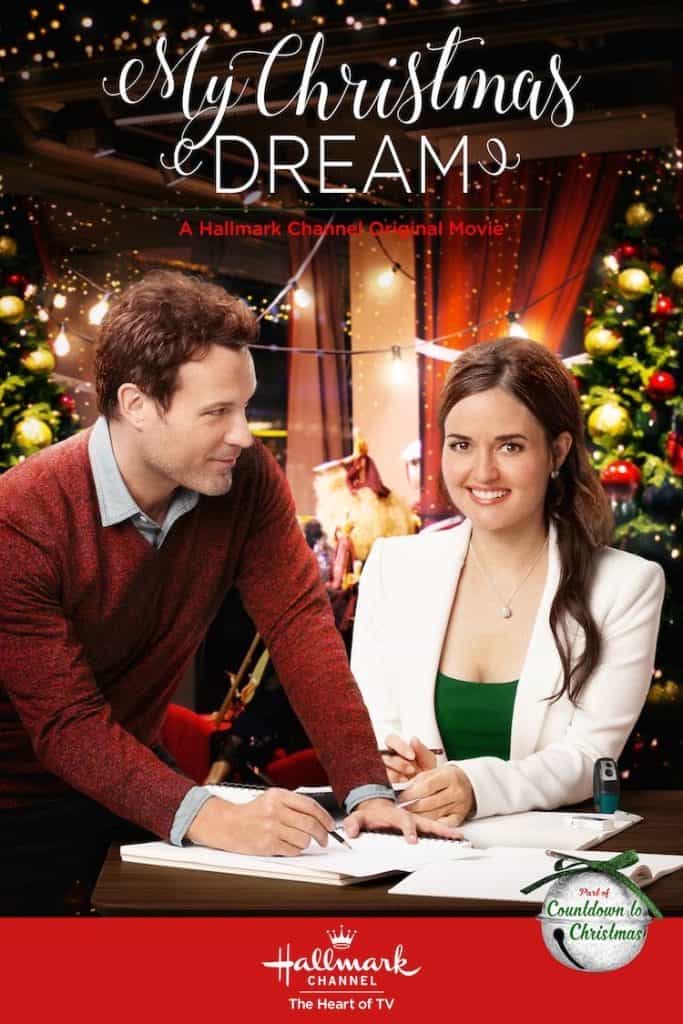 In My Christmas Dream, Christina works at a famous department store and is charged with creating the greatest Christmas display ever. If she wants her dream promotion, she has to nail this project. Kurt is hired to help build the display, but things don't get off to a good start between him and Christina. Luckily, they're able to smooth things over and work on the Christmas display together. Through the process, Christina gets to know Kurt and his son and grows attached. She starts to wonder if she gets offered the job if that is still her dream…or maybe it has changed.
*Starring: Danica McKellar and David Hadyn-Jones
43. A Christmas Detour (2015)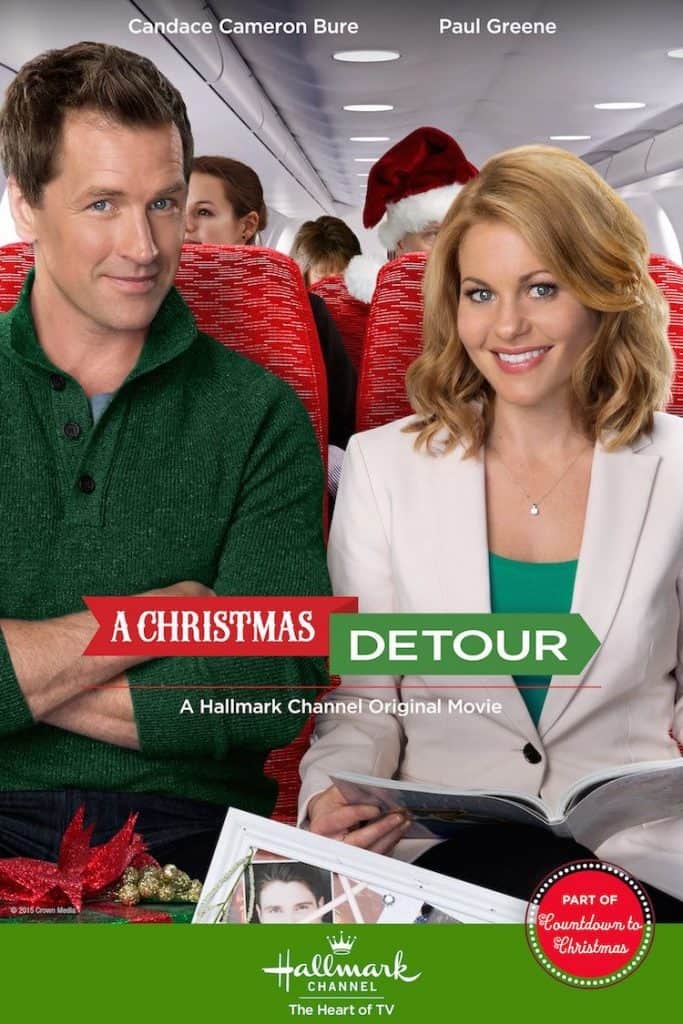 Through an unfortunate series of events, Paige randomly ends up traveling home for Christmas with Dylan and a married couple. Dylan is not exactly someone that Paige is excited to be traveling with as she is newly engaged and traveling to meet his family for the holidays. Along the way, there are plenty of misadventures that bond the group, especially Paige and Dylan, in unexpected ways. Watch A Christmas Detour to see how their story ends.
*Starring: Candace Cameron Bure and Paul Greene
44. A Christmas Miracle (2019)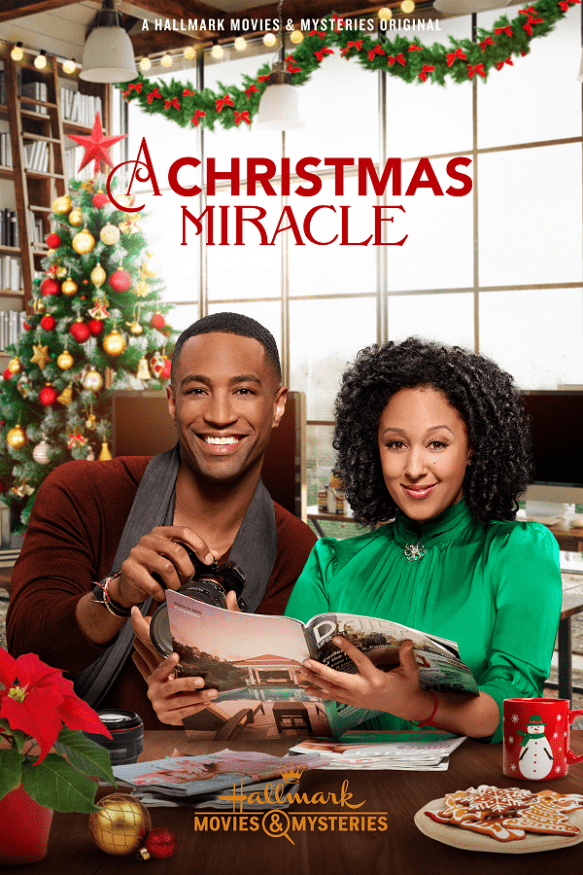 A Christmas Miracle is about a single mother, Emma, and her son who move to a new city just before Christmas. Emma wants to get back to her career aspirations after taking time off to raise her son. On her first day back to work, she meets Marcus, one of her co-workers and they end up working together to find a story about a Christmas miracle for their magazine's cover story. Can they pull it off and bring the magazine it's best Christmas cover story yet? And will they open up to the love they're beginning to feel towards one another?
*Starring: Tamera Mowry-Housley and Brooks Darnell
45. Sense, Sensibility, and Snowmen (2019)
Sense, Sensibility & Snowmen obviously draws inspiration from Jane Austen's Sense and Sensibility…but with a Christmas twist! Ella and Marianne Dashwood inherit their Father's party planning business after his death. Edward Ferris has just become CEO of his family's Toy Company and is looking to prove himself when he meets Ella and decides to throw a big holiday party to impress his potential new International clients. They work together to make the party a success and hit a few bumps along the road. Can the magic of Christmas come through for them?
*Starring: Erin Krakow, Luke MacFarlane, and Kimberly Sustad
46. Christmas Incorporated (2015)
In, Christmas Incorporated, Riley is doing everything she can to find a job and isn't having very good luck with the process. When she is called in for an interview for a great job, she jumps at the chance to prove herself and is hired on the spot. The only problem…they think she is a different Riley. She plans to tell them what happened until she meets her new boss, William and gets caught up in the work…and trying to bring back his Christmas spirit. Can she be forgiven after they find out the truth? Watch to find out!
*Starring: Shenae Grimes-Beech and Steve Lund
47. A Bramble House Christmas (2017)
In A Bramble House Christmas, a nurse named Willa is given an incredible gift from one of her patients after he passes away…a whole $100,000. When the patient's son, Finn, hears about this, he suspects that she tricked him into giving her the money. Finn travels to Bramble House, where she and her son are staying for Christmas to find out the truth. HE doesn't tell Willa who he is at first, but when she finds out what he thinks she did, there may be no turning back for them.
*Starring: Autumn Reeser and David Hadyn-Jones
48. The Perfect Christmas Present (2017)
Tom is known as "Mr. Christmas" because he can find The Perfect Christmas Present for anyone. People hire him to find gifts for their loved ones and he lets them get all of the credit. His friend from college approaches him about finding a gift for his girlfriend, Jenny. As Tom and Jenny get to know each other, they grow a little bit too close. Will Tom let his buddy have the credit for the perfect gift he found for Jenny? Or will he be able to win her over for himself?
*Starring: Sam Page and Tara Holt
49. Small Town Christmas (2018)
In Small Town Christmas, Nell is a famous author on a book tour and one of her stops is the town where her old college flame, Emmett, lives. Emmett also happened to help inspire the book, and it seemed like there was something between them. One day, Emmett just disappeared and Nell always wondered what if? So when they meet again, and she finds out the reason he left, will the spark between them be reignited?
*Starring: Ashley Newbrough and Kristoffer Polaha
50. Memories of Christmas (2018)
Noelle's mother was labeled "The Queen of Christmas" in her home town. When her mother dies, she returns to her home with the intention of selling it. She soon meets Dave, the man her mother hired to decorate her home for Christmas every year. He convinces her to let him decorate and she allows it even though she is not really into the holidays. The longer she is at home, the more she starts to soften towards Christmas and grows closer to Dave. See how this story ends by watching Memories of Christmas this year!
*Starring: Christina Milian and Mark Taylor
---
How To Watch The Greatest Hallmark Christmas Movies Without Cable
You can obviously check Hallmark's cable schedule to see when these movies will be playing. Bonus points if you have a DVR and can record it ahead of time! If you don't have cable, you may be wondering how you can watch any of the greatest Hallmark Christmas movies this year. There are a few options:
Amazon Prime Video has some of the Hallmark Movies available for streaming, renting, or purchasing.
Frndly TV offers Hallmark, Hallmark Movies & Mysteries, and Hallmark Drama channels for $5.99 per month. There's a 7-day trial that you can use to watch for free.
Hallmark Movies Now is Hallmark's own streaming service and the movies change seasonally so there will be some of the greatest Hallmark Christmas movies on their platform. It is $4.99 per month and also has a 7 day free trial period. You can add Hallmark Movies Now to your Amazon Prime Account for easy use as well!
Share your greatest Hallmark Christmas Movies
Now you have to let me know which of my greatest Hallmark Christmas movies and actors you have seen too in the comments below! Let me know which ones I've missed so I can watch them this year. And please share this with your friends and probably your Grandmas! 🙂

Read More…
If you liked 50 Greatest Hallmark Christmas Movies To Watch In 2020, and you're a big Christmas fan, read about my Christmas adventure weekend here or check out one of my most recent posts…
Pin for later or share with friends!