Try These Amazing Black Owned Businesses In Cleveland
This blog contains affiliate links. I may earn a commission if you use these links to make a purchase. You will not be charged extra. As an Amazon Associate, I earn from qualifying purchases.
I've partnered with Ohio. Find it Here. to share this amazing list of Black owned businesses in Cleveland, Ohio. If you have been following my blog for a while, you will know that I am always talking about supporting local businesses (especially in these crazy Coronavirus times) but today I want to specifically call attention to some of the wonderful Black owned businesses in Cleveland that we are blessed to have in Northeast Ohio. Many of these are Black female-owned businesses as well, and you know I love a girls supporting girls moment over here!
---
Kiri Chic
About Kiri Chic
Kiri Chic is a brand of beautifully patterned and colorful sandals created in Cleveland but inspired by Africa. On their website, I learned that "Nkiri" means "something to behold" in the Nigerian Igbo language, and that is where they got the name Kiri Chic from! These pretty sandals are definitely something to behold!
There are so many amazing designs available online, I could barely choose one! I ended up ordering the new Ireti style sandal in blu/blk. I was very impressed by the quality, fit, and comfort of my sandals at such an affordable price point! Kiri Chic has definitely gained a loyal customer in me and I will be back for more soon!
I know you guys will love them as well, so what are you waiting for?? Click here to see more colors and styles and use code: FREESHIP for free shipping!
How to support Kiri Chic
Like on Facebook
Follow on Instagram
Order from their website
Shop one of their in-person pop-ups
Share Kiri Chic with your friends!
---
Winery at Chateau Hough
About Chateau Hough
This contemporary winery is located in the Historic Hough neighborhood of Cleveland. Chateau Hough boasts 7 types of wine that can be purchased individually or in by the case (6). There is a type of wine for everyone at this winery, from sweet to dry, white to red, even rose!
Chateau Hough also has a non-profit called, Neighborhood Solutions, Inc. You can read more about on their website here, but it exists to support veterans, at-risk youth, and people who have returned from incarceration and foster a thriving community. They also have a dream of seeing the Hough neighborhood revitalized into a thriving mixed-race, and mixed-income area for people to live.
My favorite thing about Chateau Hough Winery is that they offer Virtual Wine Tasting. All you have to do is order 4-6 of their wines online and they will ship them directly to you! Then you can set up a Zoom meeting and the experts at the winery will go through the virtual wine tasting with you! It has all of the fun of an in-person wine tasting, but in the comfort of your own home! I love this offering, especially as we struggle to find interesting things to do at home during the pandemic.
Chateau Hough Winery Hours & Location:
How to support Chateau Hough Winery:
---
Dreamz Cafe
About Dreamz Cafe
Dreamz Cafe is located in Old Brooklyn and makes some of the BEST Soul Food in Cleveland, Ohio. No, really…it's on the list of Top 20 Soul Food Restaurants in Cleveland according to Cleveland.com and Yelp!
The storefront art is even cooler in person and the staff was very kind and welcoming. But I know you really just want to know about the food, right?? It was delicious and well-deserving of the accolade mentioned above!
We ordered the catfish bites appetizer, a perch meal, fries, cornbread, mac n' cheese, and some Polish Boys. All I can say is "WOW". We loved every delicious bite. Yes, we were stuffed afterward but in the best way!
Dreamz Cafe Hours & Location
How you can support Dreamz Cafe
Follow on Instagram
Like on Facebook
Call ahead to order for carryout: (216) 303-9125
Order on Grubhub
Share Dreamz Cafe with your friends!
---
Sauce the City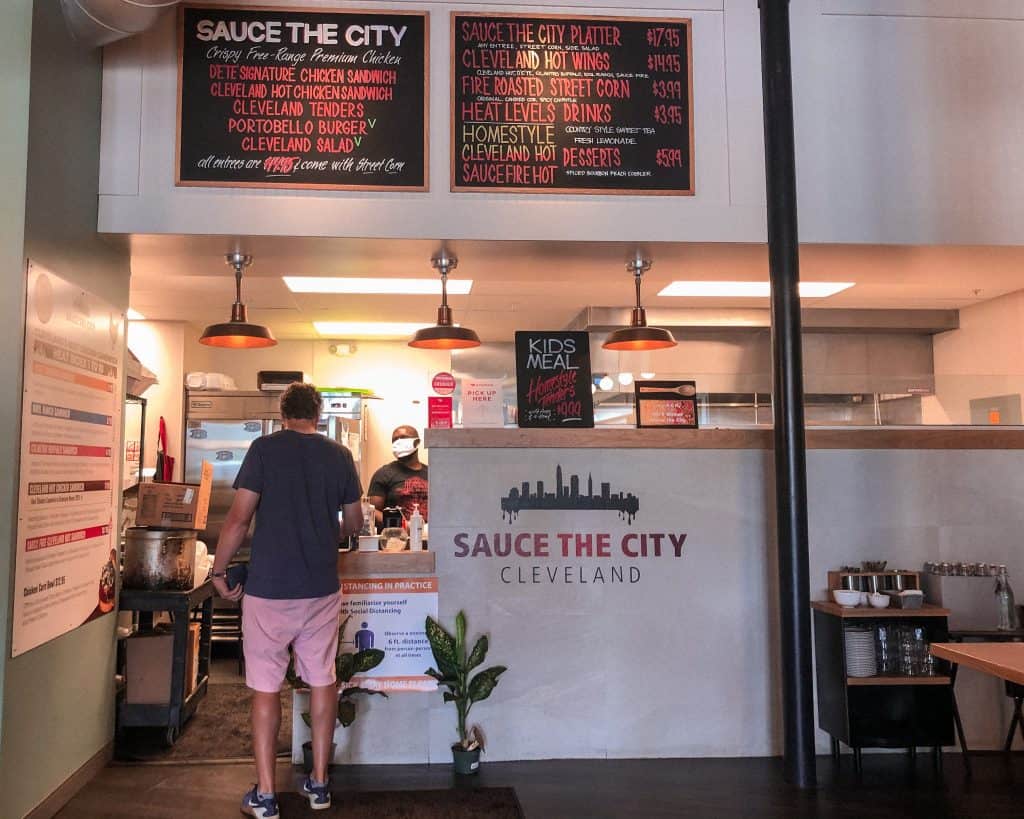 About Sauce the City
Sauce the City is located inside the Ohio City Galley building and has some incredible dishes. This restaurant is home to the "Original Cleveland Hot Chicken" and winner of the Best Chicken Sandwich in Cleveland! After tasting the D'e'te Signature Chicken and the Cleveland Hot Chicken Sandwiches, I can see why they won that prize for sure! Honestly, I'm completely hooked and already trying to make plans to go back for more!
Sauce the City sources all of their ingredients from within a 12-mile radius of their restaurant, and only ever use locally sourced, farm-raised chicken – never any antibiotics either. The quality of the ingredients and care they take to create their food very much shows in the overall presentation and taste.
Their menu includes lunch/dinner, brunch, dessert, and drinks. They have also started catering, so keep them in mind for your next event! The dining room is back open to customers or you can call ahead or use GrubHub to order for carryout.
Sauce the City Hours & Location
How you can support Sauce the City
Follow on Instagram
Like on Facebook
Call ahead to order for carryout: (216) 795-5033
Order on Grubhub
Share Sauce the City with your friends!
---
The Vegan Doughnut Company
About The Vegan Doughnut Co. (Temporarily Closed)
The Vegan Doughnut Co. is owned by sisters, Kharisma and Kyra, who started making doughnuts in their home in 2014 and eventually opened their storefront in 2018. They realized when they became vegan that there were not very many donuts available to them and thus The Vegan Doughnut Co. was born! To learn even more check out their website here!
The Vegan Doughnut Co. is actually the first and only fully vegan doughnut shop in all of Ohio! Having these delicious doughnuts as an option makes this lactose intolerant girl very happy as they are obviously dairy-free! And also, seriously delicious.
Their menu rotates on a monthly/seasonal basis so there are always fun new flavors for you to try! That being said, if you want your pick of all the available flavors, make sure to arrive early because they tend to sell out quickly! And rightly so, because did I mention that these doughnuts are GOOD?! Well, they are! For vegans and non-vegans alike.
The Vegan Doughnut Co. Hours & Location
How you can support The Vegan Doughnut Co.
---
Flour Child Bakery
About Flour Child Bakery
Flour Child Bakery is owned by the lovely, Gabrielle, who runs this impressive bakery out of her Tremont home. She offers a variety of vegan, non-vegan, and gluten-free cakes and bread with numerous flavor options and combinations.
I placed an order for an 8″, 2-layer vegan pink rosé cake with vanilla frosting and strawberry preserve filling. Yes, this is real life. I cannot wait to dive into this delicious masterpiece soon!! You can order different sizes as well, including 10″ and 12″, or add more layers to your cake for a larger group.
If sweets aren't your thing (are you okay?) try some of Gabrielle's home-baked bread! I am very intrigued by the Bahamian "Johnny Bread" and of course a classic sourdough. To see all of the current flavor options for cakes and bread, check out their Instagram highlights under "cake list" and "bread list".
Flour Child Bakery Hours & Location
Hours: n/a
Located in Tremont, Ohio – Curbside pick-up
How you can support Flour Child Bakery
Follow on Instagram
DM on Instagram or email [email protected] to order a delicious treat
Share Flour Child Bakery with your friends!
---
Choate BODY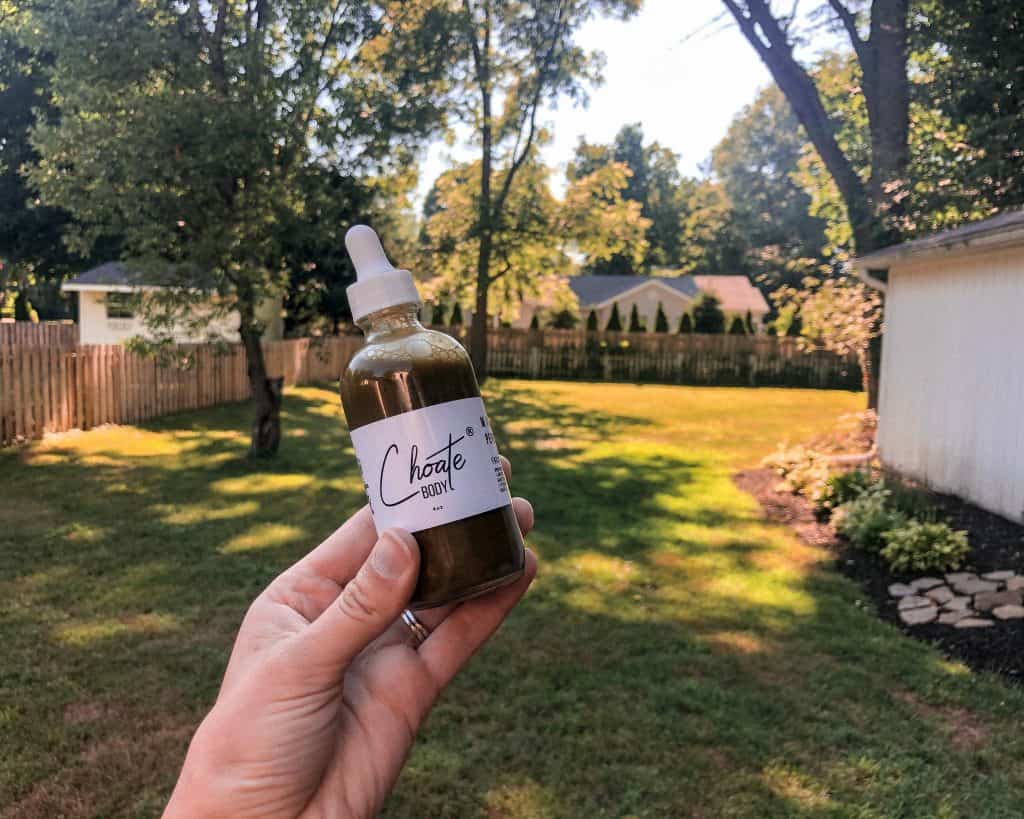 About Choate BODY
The term "Choate" (pronounced ˈkō-ət, -ˌāt) means "to be complete and perfect in your skin alone" which makes it the perfect name for a handmade skincare brand! This brand was founded after the owner, Rhandi, created a product line that helped cure her eczema. She decided to share these products helped her skin with the world and has since helped others to attain clear skin too! I absolutely love that she only uses organic ingredients as I have been on a path to finding a cleaner skin care regimen.
I've just received my Choate BODY order in the mail and I am so excited to add the Matcha Peppermint Facial Cleanser to my clean beauty routine! I do tend to struggle with acne breakouts somewhat regularly, so I am ready to try a new product, especially with the incredible rave reviews I read on her website! Whatever your skin type, Choate BODY has an option for you. There's even a line of beard care for men as well, so there really is something for everyone here!
Choate BODY Hours & Location
Hours: n/a
Location: online or in-person pop-ups
How you can support Choate BODY
---
Elizabeth's Bookstore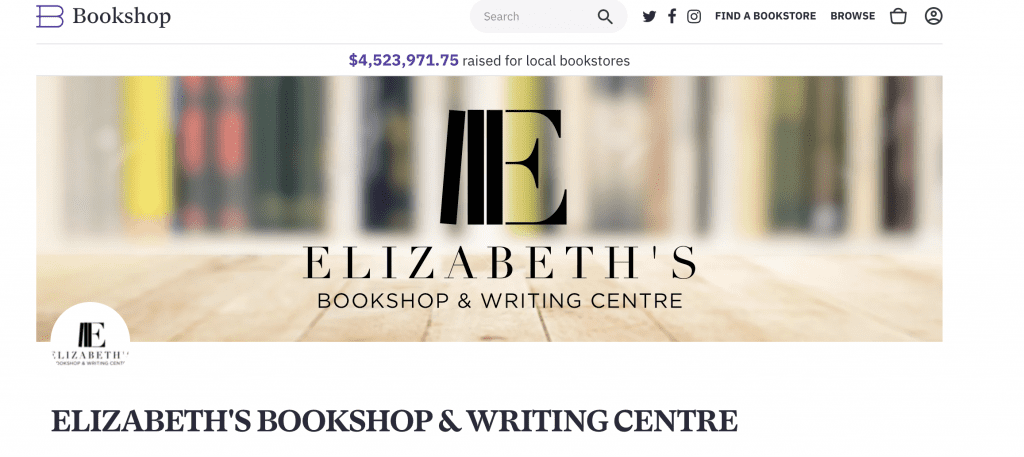 About Elizabeth's Bookshop & Writing Centre
Elizabeth's Bookshop & Writing Centre is owned by Author and Activist, Rachel E. Cargle. On her Bookshop page, you can find books by underrepresented authors and amplify marginalized voices. She decided to create a space for the community in Akron, Ohio which is her hometown. The storefront will open eventually when things are safe enough after the pandemic passes.
When you make a purchase, a percentage of your purchase will be donated to the Loveland Foundation which lives to serve Black women and girls by giving them access to free mental health care.
There are several reading lists on the bookshop site curated by Rachel which include the "#Revolution Reading List" and "The Great Unlearn" if you are looking for more educational books on racial justice. There are also fiction and children's books and much more! Why not go that extra step and purchase some new books through a Black-owned business instead of Amazon? I ordered one educational book, and one fun fiction book to start.
Elizabeth's Bookshop & Writing Centre Hours & Location
Hours: n/a
Located in Akron, Ohio – COMING SOON
How you can support Elizabeth's Bookshop & Writing Centre
Follow the shop on Instagram
Follow Rachel on Instagram
Order your racial justice education books here instead of Amazon to support a Local, Female, Black-owned business
Visit Elizabeth's Bookshop & Writing Centre when it opens!
Share Elizabeth's Bookshop & Writing Centre with your friends!
---
Support Black Owned Businesses In Cleveland!
Thanks for reading! I have really enjoyed learning more about the stories behind these Black-owned businesses in Cleveland and I hope you have too. Please continue to support these local Black owned businesses in Cleveland…not just today, but forever! I know many of us have committed to listening, learning, and being better allies, so let this be a reminder to myself and to you to continue with our support. We still have work to do and things to learn, and we will for the rest of our lives. For even more Black owned businesses in Cleveland, read this article on Ohio. Find It Here. Please share your favorite Black owned businesses with me in the comments below and I'll share them here in the "updates" section!
---
Update: More Black Owned Businesses in Cleveland To Support
These are the businesses I'll add as readers comment on their favorite Black Owned businesses in Cleveland…
---
Read More…
Pin this post for future reference: