Things You Must Do In Ohio This Fall
This blog contains affiliate links. I may earn a commission if you use these links to make a purchase. You will not be charged extra. As an Amazon Associate, I earn from qualifying purchases.
Ohio in the Fall is one of my favorite times of year. I have traveled to many other places, but there is just something special about it here as the weather starts cooling off and the leaves start to change. So that you get the most out of this Autumn season, I've teamed up with Ohio. Find It Here. to bring you this fun list of things to do in Northeast Ohio this Fall.
Visit Some Haunted Places
Ohio has plenty of haunted places for those who love Spooky Season! There's haunted tunnels, paranormal hot spots, and did you know we have a haunted park? Read more about these freaky sites here.
Leaf Peeping
There are not many things that I like more than driving around on country roads in the fall to do some leaf peeping and seeing where I can find the prettiest fall foliage. We love driving around in Kirtland and Chardon especially.
Watch A Browns Game Downtown
Watching a Browns game downtown at a bar or outside on West 6th is always a fun time, especially with a big group of friends. For the first Browns game of the season, we walked over there from Ohio CIty with a few friends and ended up watching them win at Dive Bar. It was such a fun and exciting energy that you have to experience if you haven't already!
Go Apple Picking
There are some really great farms and orchards in Northeast Ohio that you must try out! Patterson's is a family favorite but I also love Eddy's Fruit Farm and Quarry Hill Orchards. There is something so charming about going to a local farm during the fall and something I don't think I'll ever get sick of doing.
Enjoy The End Of Patio Season
I am a huge fan of patio season and one of my favorites in Cleveland is Market Garden Brewery's beer garden. It is so pretty when the ivy and plants are all changing color and they have nice outdoor heaters to keep you cozy. Market Garden's Franklin Castle Pumpkin Spice Ale is one of my favorites ever, so definitely give that a try as well.
Rent Out A Brew Boat
Just because summer is ending doesn't mean that fun on the river has to! Brew boats are so much fun and they still run on the Cuyahoga River through October 3rd.
Take a trip to Columbus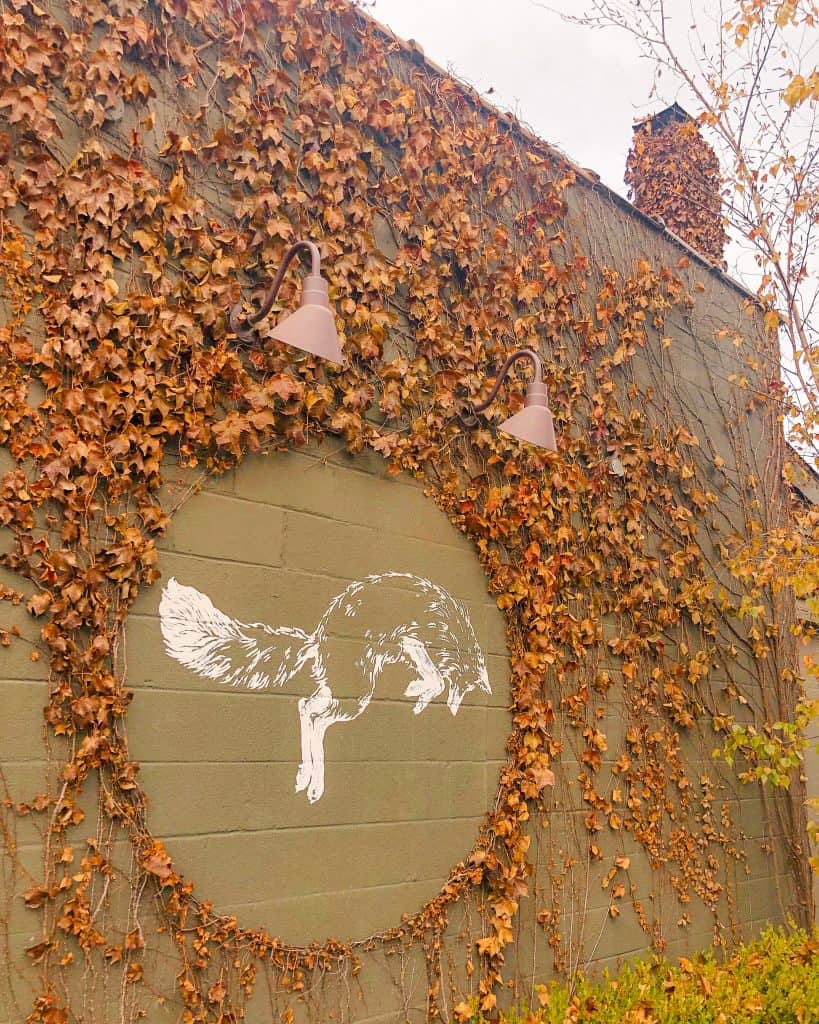 Take a quick road trip to Columbus and walk around German Village. It is so adorable in the fall! Tailgate for an OSU game, have a cappuccino and pastry at the cozy Fox In The Snow Cafe, visit the botanical gardens. There's so much to do there!
Enjoy The Decor At Brewellas
Brewellas Coffee and Crepe shop in Lakewood is a must-visit for me in the fall. They go all out with seasonal decorations and have a delish autumnal menu that never disappoints.
Hang Out At The Van Aken District
Autumn is a great time to visit The Van Aken District. Their Market Hall has so many yummy restaurant stalls and everyone in your group will find something they love. And because I believe it is never too cold outside for ice cream, you have to stop by Mitchell's Ice Cream for a seasonal flavored scoop!
Visit A Sunflower Field
I love sunflowers, they're one of my favorite flowers and I always try to make time to stop by Prayers From Maria: Field of Hope in Avon. There is also one in Sandusky by Cedar Point. It really sets the tone for fall and it's a great activity to do with kids, families, or friends!
Make A Custom Fall Scented Candle
Who doesn't love lighting a candle on a chilly fall evening? Believe me, it's even better when you are able to pick your own scents and create a custom scented candle to burn all season! Cleveland Candle Co. has over 200 scents to choose from and has locations in Coventry, Mentor, and Ohio City.
Go Hiking/Biking Through The Metroparks
The Metroparks are an amazing perk of living in Northeast Ohio, don't miss out on the gorgeous fall foliage and opportunity to get out into nature for a few hours a week. On the East Side, I love Indian Point and on the West Side I'm a big fan of Rocky River Reservation.
Support Your Local Grocery Chains
Need a fall dish for a party? Or a Pumpkin Pie? Why not support your local grocery chain and stop to grab the ingredients for a festive fall snack or dessert. I love Heinen's and they have such a great bakery! We also really like Lucky's in Cleveland.
Host A Pizza Night
Whether your favorite local slice is from Edison's, Il Rione, or Angelo's, order up some local pizzas for your next take-out night and host a pizza party/fall movie night! Hocus Pocus or Harry Potter marathon, anyone?? Extra points if you go to a couple different places and vote on your favorites!
Visit The Holden Arboretum
The Holden Arboretum is incredibly beautiful during Fall and it is one of the best times of the year to go up the Emergent Tower and Canopy Walk. Keep an eye on the weather when you go as it can close from time to time during inclement weather. The views on a nice day are hard to beat though as you can see all the way to Lake Erie from the tower and be surrounded by fall leaves on the canopy walk.
Explore Downtown Cleveland's Coffee Shops
Downtown Cleveland has some really great local coffee shops. I'm looking at you Phoenix, Rising Star, and Milk + Honey! So walk around Downtown, have a coffee date, and you'll be surprised how many lovely autumn sights you will see.
Do A Getaway To One Of Ohio's Inviting Regions
Last, but certainly not least, and my favorite option…Go on a getaway to one of Ohio's Inviting Regions. A few of these areas that are great for a fall road trip in Ohio are Amish Country, Hocking Hills, and Appalachia! I have still never been to Hocking Hills (shocking, I know!) so that is on my list for this season.
Fall In Ohio
Whatever you do in Ohio this Fall, I know you're going to have an amazing time. Ohio is so underrated for Fall foliage and outdoor activities. Add in the Midwest comfort and football parties and you're in for an epic fall season!