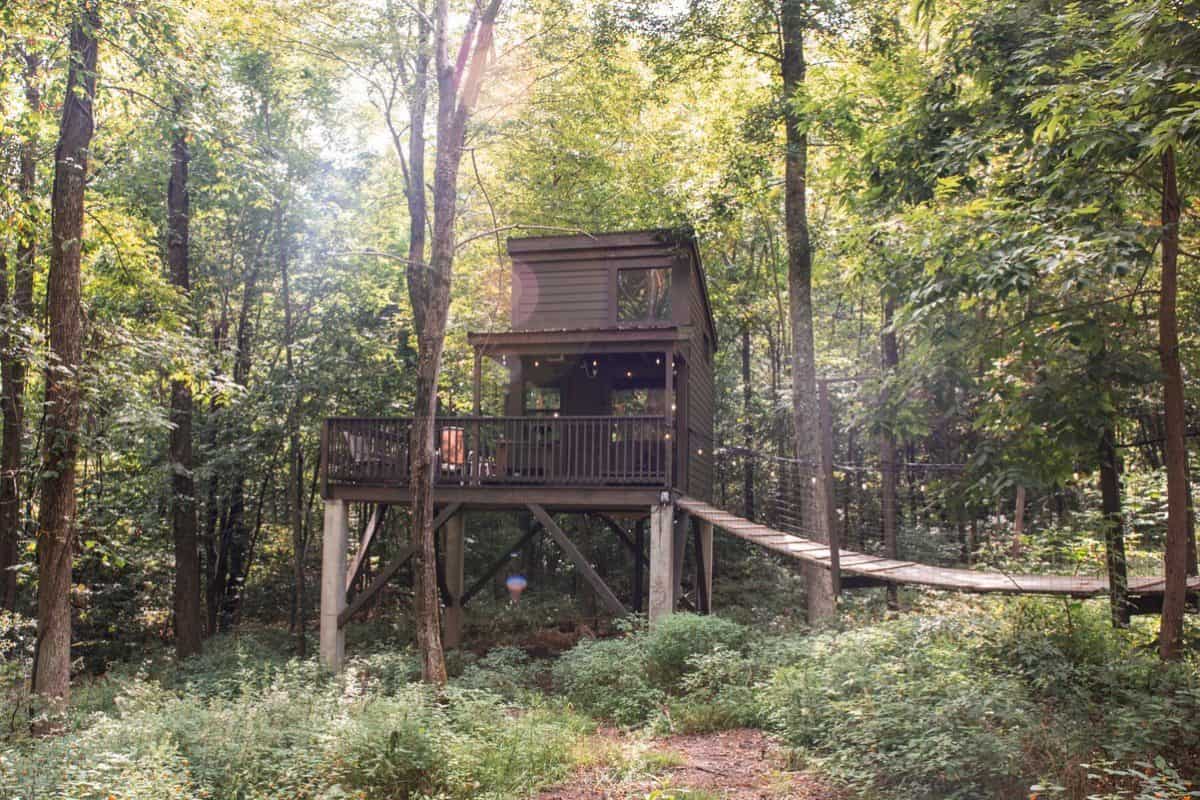 Everything You Need To Know About Dwell Box Treehouse Village
This blog contains affiliate links. I may earn a commission if you use these links to make a purchase. You will not be charged extra. As an Amazon Associate, I earn from qualifying purchases.
Here's everything you need to know about Dwell Box Treehouse Village before your visit! Nestled peacefully into the stunning landscape of Ohio's Amish Country is the Dwell Box Treehouse Village. When my husband and I were researching a unique place to stay in Ohio, we found these neat, modern accommodations on Airbnb. There are so many trendy AirBnbs now and we were super excited to get away for a night and try one out. We ended up staying at "The Shack" in Dundee, Ohio. It was the perfect size for the two of us to stay comfortably and it was very cozy! A peaceful retreat to Dwell Box Treehouse Village in Ohio was just what we needed.
Dwell Box is a lovely small accommodations business run by the Hershberger family. They have three different groupings of charming lodging experiences; The Dwell House, Forest Havens, and Treehouse Village. These incredible homes are all built and designed with such care to be a peaceful retreat from the "real world". It was lovely to escape into nature for a couple of days!
---
Dwell Box Amenities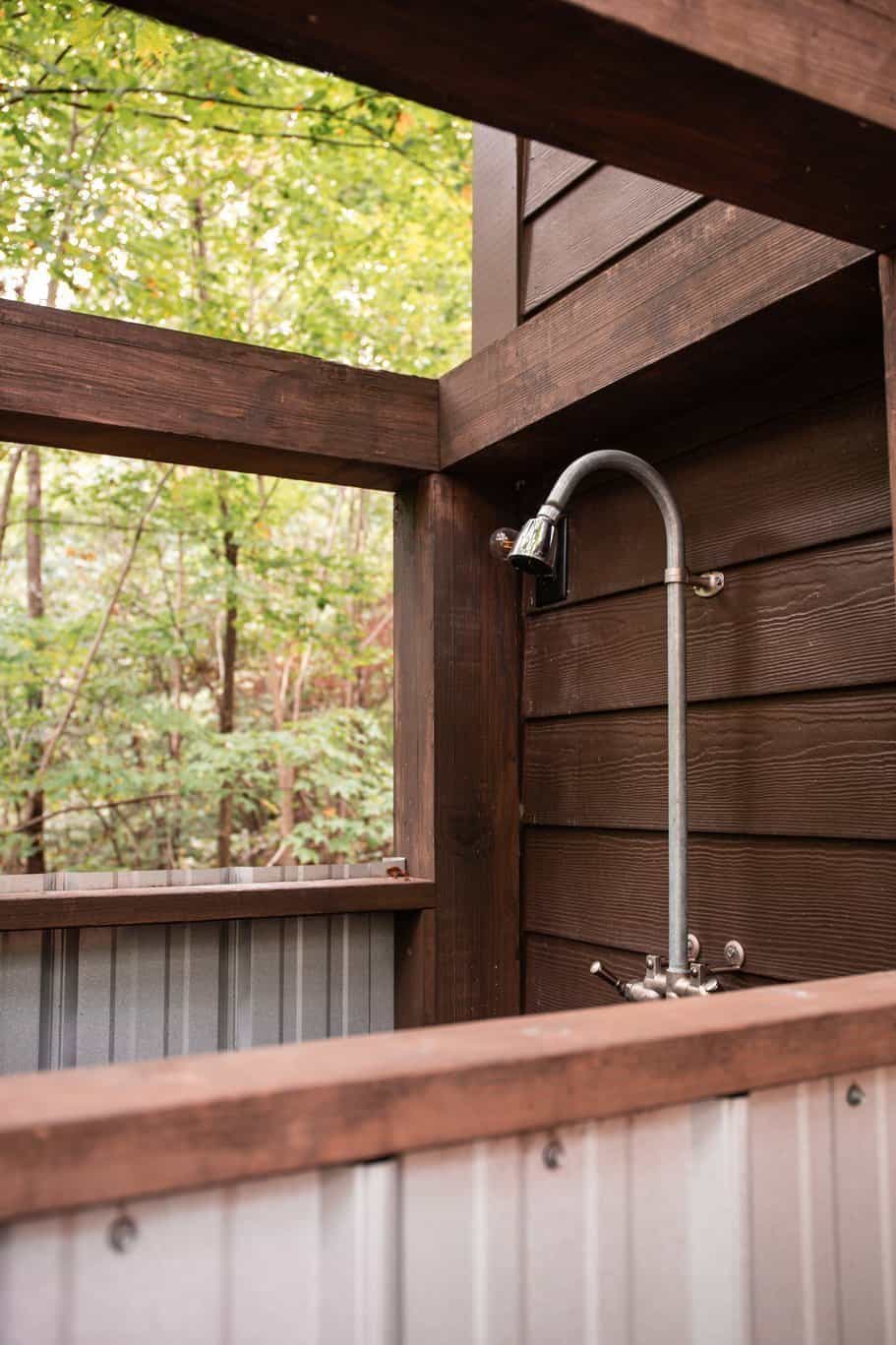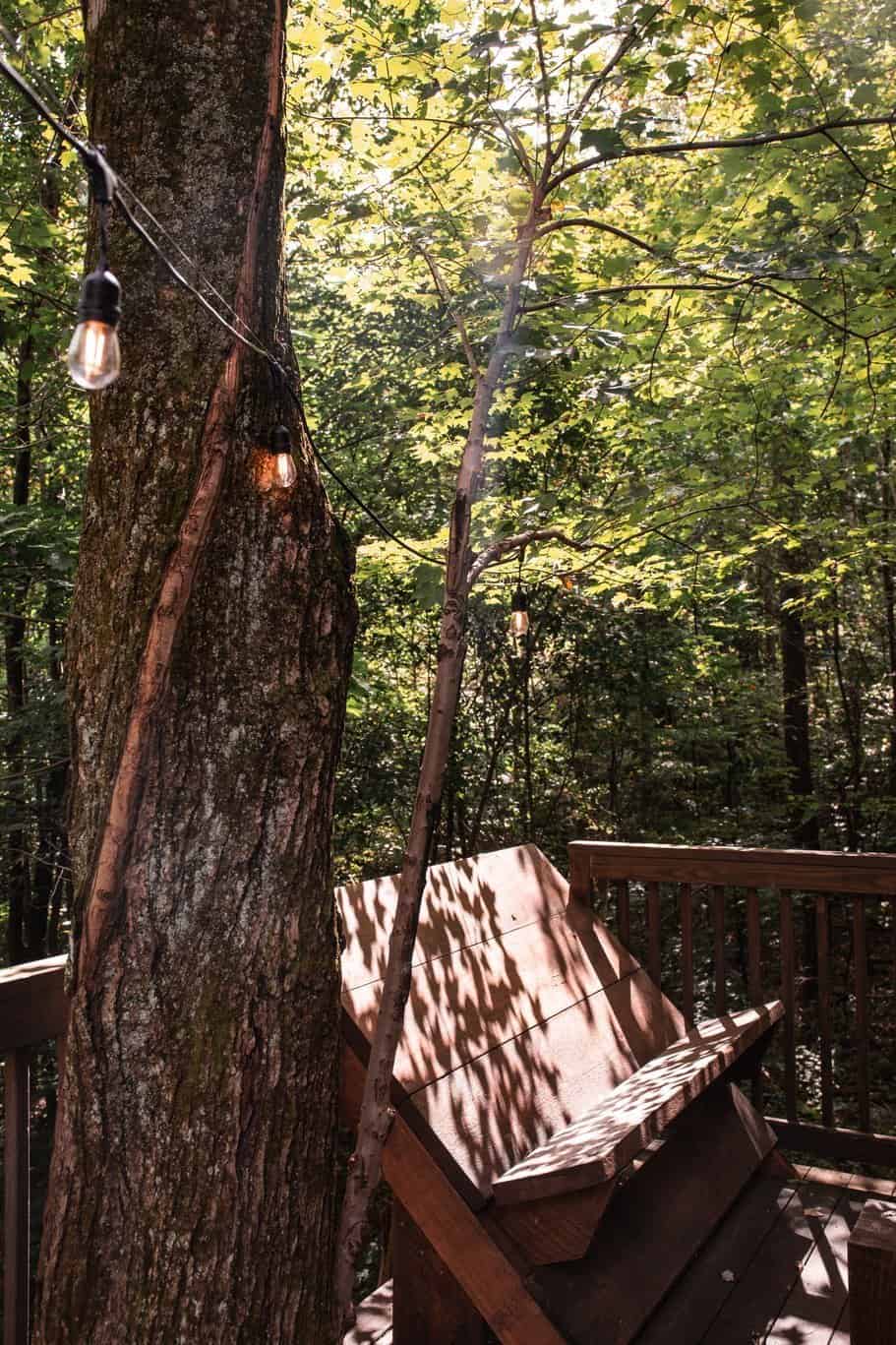 Each of the lodging experiences has their own unique flair, but you will find some amenities will be the same throughout all of the homes. For example, the relaxing outdoor soaking tubs and showers are amenities worth mentioning. There's something about them that is just so much fun! If showering outside isn't your thing, no worries, the accommodations also come fully equipped with full indoor bathrooms as well.
Across all of the Dwell Box lodging options, you'll also find kitchenettes or full kitchens, depending on which accommodations you choose. There's also super comfy Amish made mattresses, indoor wood stoves or fireplaces, and outdoor fire pits too! All of these locations are pet friendly too for an additional cleaning fee.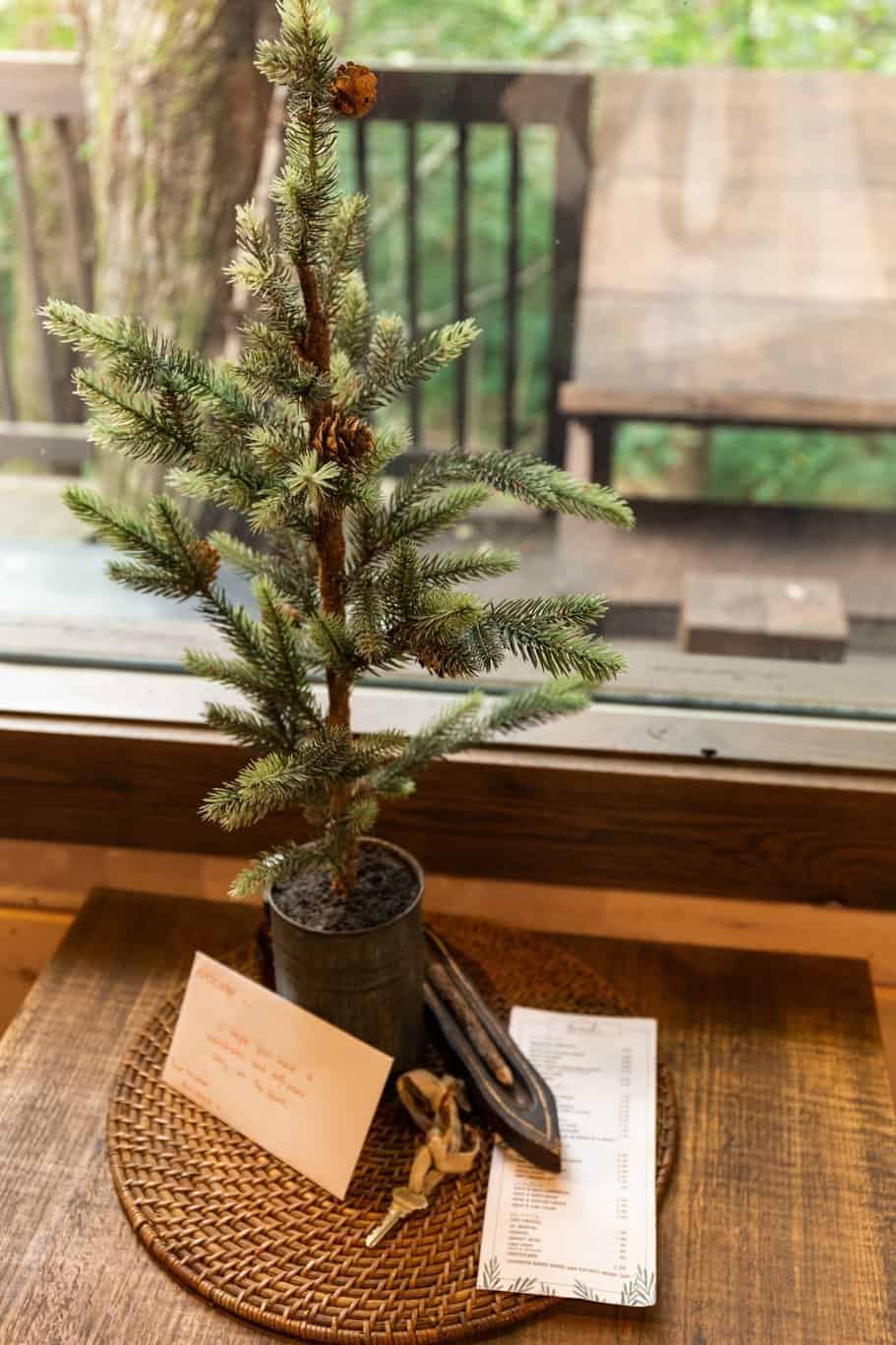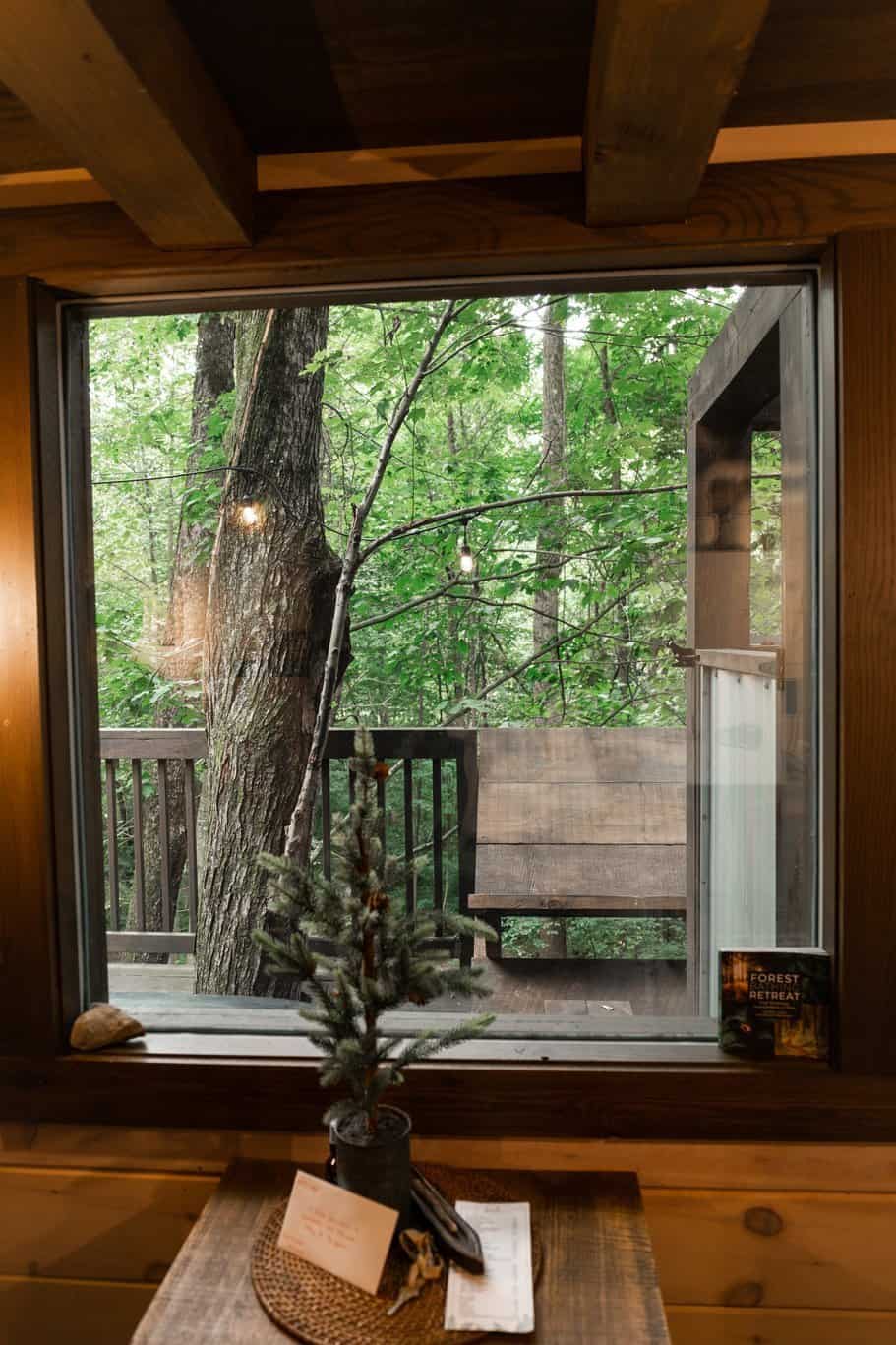 ---
What To Pack
While all of the Dwell Box amenities are great, there are still a few things you should bring. If you want to spend most of your time in your treehouse rather than ordering takeout or eating out.
A good cooler – there is a small fridge but you will probably need a bit more room if you plan to cook and keep all your drinks cold.
Food, drinks, snacks – anything you want to drink, eat, or cook/grill out you will need to bring with you. There is a french press, tea kettle, and a hot plate provided.
Toiletries – bring anything you need, there's no shampoo or anything provided for you so bring your own!
A laptop or tablet – there is pretty good wifi in the treehouse if you want to watch a movie at night (there are no tv's).
Bathing Suits – you will want a suit to wear in the soaking tub!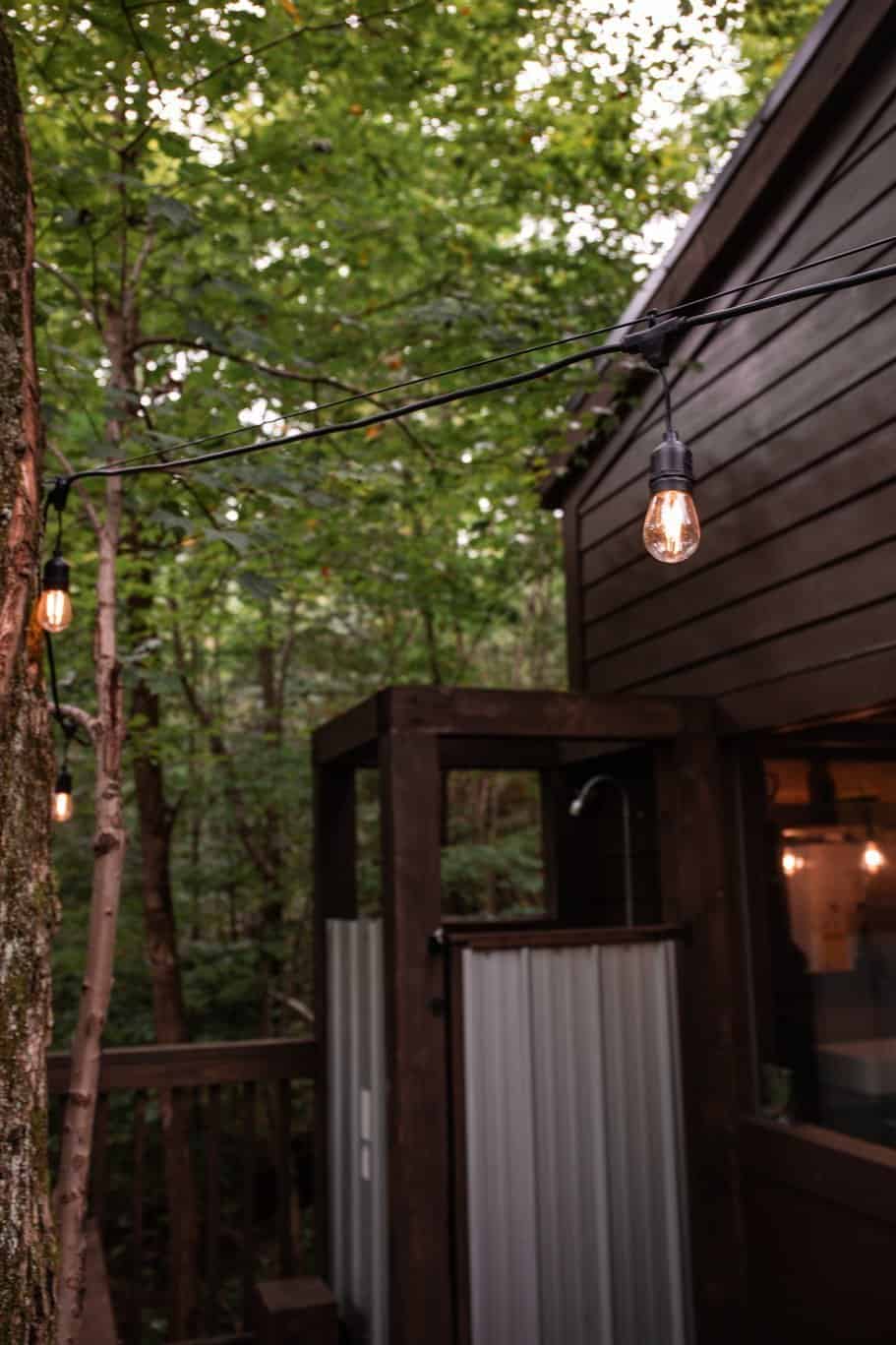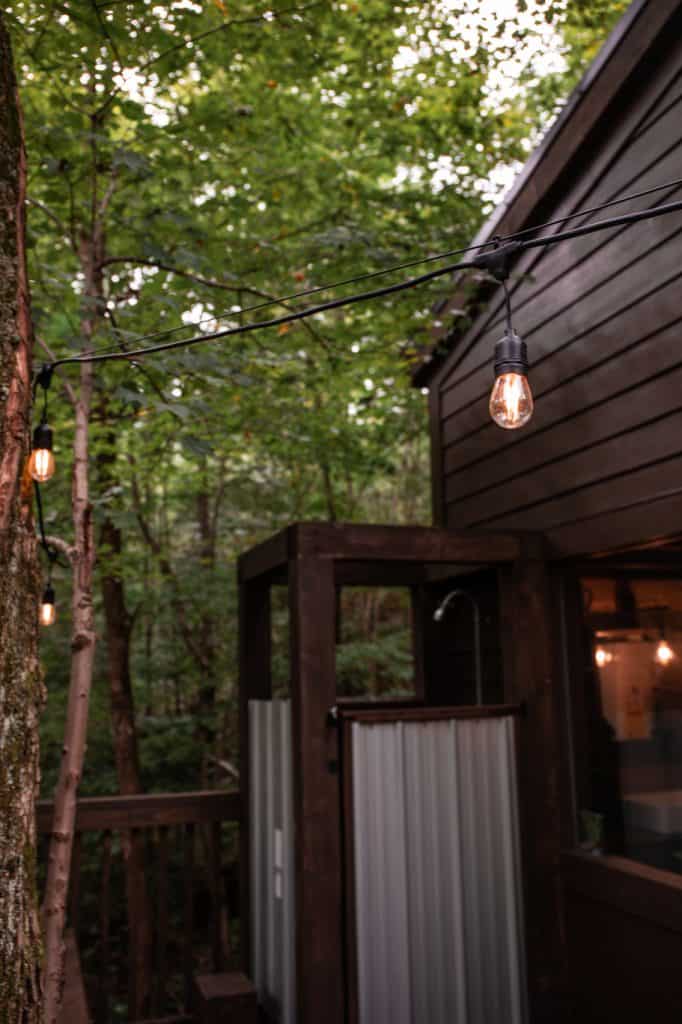 ---
Things To Do Near Dwell Box Treehouse Village
Wondering what else there is to do during your peaceful retreat to Dwell Box Treehouse Village? Other than relaxing in your charming treehouse, there's plenty to do in Ohio's Amish Country!
What to Do in Ohio's Amish Country
Hike to Dundee Falls
Take a scenic drive through Amish Country
Wine tasting at Breitenbach Wine Cellars
Shopping on Main Street in Berlin
Visit Hershberger's Farm and Bakery
Visit Coblentz Chocolates
---
---
Where to Eat in Ohio's Amish Country
Beacon Cafe
Hershberger's Farm and Bakery
Red Mug Coffee
Park Street Pizza
Whitmer's Pizza
Millersburg Brewing Company
Der Dutchman Walnut Creek
Honey Bee Cafe
Amish Country Donuts
Areas to Explore in Ohio's Amish Country
Sugarcreek
Walnut Creek
Berlin
Millersburg
Charm
---
How To Get To Dwell Box Treehouse Village
From Cleveland via I-77 S and OH-21 S, distance 69 miles, 1 hr 20 min
From Toledo via I-80 E / I-90 E (tolls), distance 137 miles, 2 hr 43 min
From Columbus via OH-16 E, distance 105 miles, 1 hr 52 min
From Cincinnati via I-71 N, distance 212 miles, 3 hr 34 min
From Youngstown via I-76 W, distance 95 miles, 1 hr 35 min
---
What We Did in Ohio's Amish Country
Lunch at Beacon Cafe
Since check-in time at Dwell Box is 3 pm, we decided to head over to Amish Country a bit early. We wanted to have lunch and do some fun activities before settling into our treehouse for the night. It was a nice, easy drive for us from Cleveland and the sun was shining. Locals know that if the sun is actually shining, it's going to be a great day!
We decided to grab some take-out from Beacon Cafe upon our arrival. We both ordered delicious sandwiches and some iced tea and ate outside at a cute picnic table. Everything tasted amazing and you could tell it was super fresh and homemade like you would expect from Amish Country. After we were done with our lunches, we drove around the back roads for a while admiring the rolling hills, farms, and lots of cows!
Exploring Hershberger's Farm and Bakery
Next, we ended up at Hershberger's Farm and Bakery. This place had just about everything, from a petting zoo to shopping, to carnival-type food stands and a farmers market. Not to mention the bakery! We walked around for a while before buying out their stock of fry pies. Just kidding, but y'all, we bought A LOT of fry pies!! We decided to get away from the crowds and enjoy a fry pie and some fresh, sweet lemonade under a willow tree. We hadn't been away from home for a while, so it was fun to just sit and talk somewhere other than our house!
---
Our Dwell Box Treehouse Village Experience
Checking In
By the time we were done with our first couple of Amish Country activities, it was almost time to check-in to Dwell Box Treehouse Village! We were ready to relax and have a peaceful evening by the fire pit. The check-in process was contactless and super easy. At 3 pm, we are given a code to open the lockbox and enter the Treehouse.
As I mentioned earlier, we stayed in "The Shack" in the Treehouse Village. It was quite cozy, but it had everything we needed and with the outdoor space and loft bedroom area, it was the perfect size for two people. To get to the treehouse, we had to walk up some stairs and across a bridge. It was super fun and I felt like a kid at a playground again.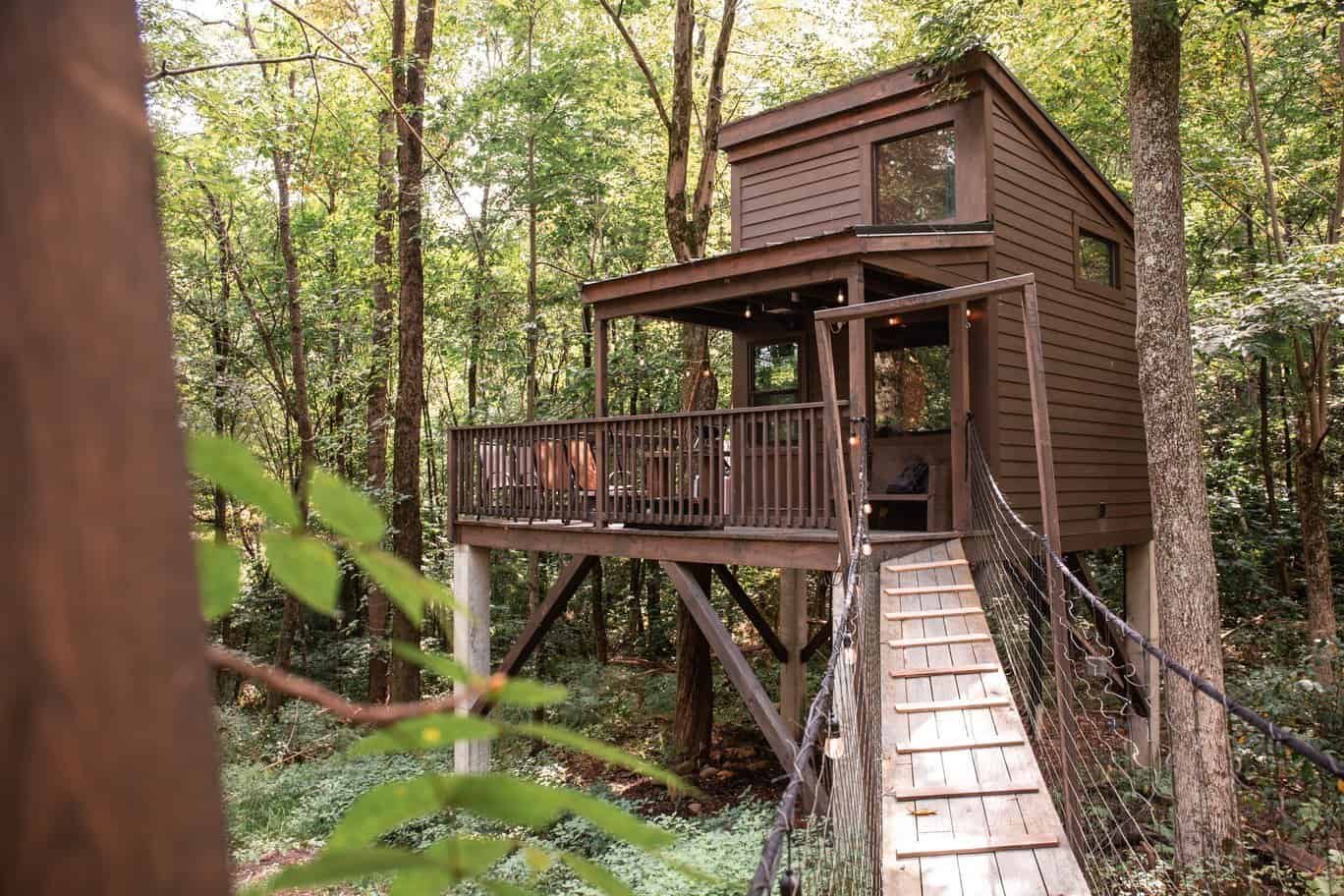 Our Evening at Dwell Box
For dinner, we ordered a pizza from Whitmer's Pizza. It was only a mile down the road so it was super convenient (and delish)! We ate our meal by the fire under the twinkly lights, then took a dip in the soaking tub! It is basically a hot tub, but you fill it up and empty it yourself so the water is extra clean and fresh and there's no need to use chemicals in it like a hot tub.
The next morning, we enjoyed the last bit of time in the Treehouse before checking out at 11 am. We didn't really bring any breakfast food, so we stopped for takeout coffee and bagels at The Red Mug Coffee Co. on our way out of town. It was a cute little shop and had a lot of great options on its menu.
Overall, we had such a nice time staying at Dwell Box Treehouse Village and would love to go back again! I highly recommend staying in one of these fun cabins if you are looking for a cool getaway!
---
Read More
---
Pin for later!
Please hit the social buttons share this with your friends!
---