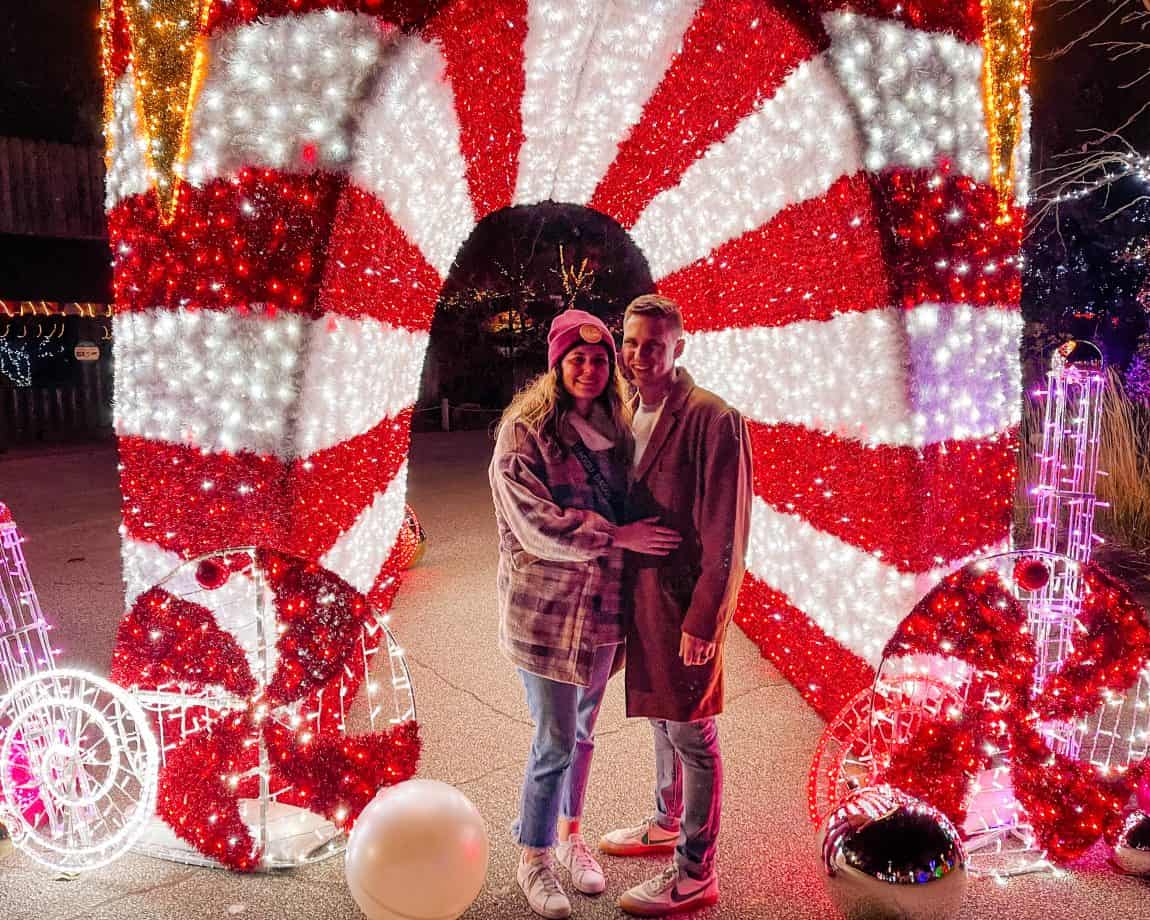 A Festive Cleveland Holiday Itinerary
This blog contains affiliate links. I may earn a commission if you use these links to make a purchase. You will not be charged extra. As an Amazon Associate, I earn from qualifying purchases.
The Christmas season is already upon us here in Cleveland and there is plenty of holiday cheer to be found! This city continues to up its game and the amount of festive things to do is no different! My husband, Alex, and I just had a very fun weekend full to the brim with yuletide activities and I know you will love this Cleveland holiday itinerary too! Thanks to Ohio. Find It Here. for sponsoring this post.
A Festive Cleveland Holiday Itinerary
A festive holiday itinerary would not be complete without a little staycation. Of course, you don't have to stay over somewhere if you live nearby, but it does make things extra fun! We decided to stay in the Kimpton Schofield Hotel in Downtown Cleveland so that we could be right in the middle of all of the Christmas hustle and bustle of the city.
Day 1: Check In To The Kimpton Schofield Hotel
To kick things off, check in to the Kimpton Schofield Hotel and get settled into your cozy room. Don't forget to take advantage of the complimentary drinks they offer in the lobby. This historic building turned boutique hotel is the perfect place to stay for a Cleveland staycation. They also have a Winterfest Package right now which includes 2 local Christmas beers, 2 hot cocoa bombs, and valet parking. Read my full Kimpton Schofield Hotel review here.
Enjoy Christmas Decorations Downtown
Next, you'll want to bundle up and explore Downtown Cleveland to see some of the best holiday displays and decorations. Stop into the historic Cleveland Arcade for a lovely holiday scene. You will also want to walk over to Tower City to see the giant Christmas tree and walk around. Afterwards, enjoy some time in Public Square for WinterFest. You can even go ice skating!
Dinner and Drinks Downtown
After you have had enough time to wander around and see all the holiday sights of Downtown Cleveland, I'm sure you will be wanting something to eat! Make dinner reservations for Betts (at Kimpton Schofield Hotel) and then head over to East 4th Street to Society Lounge for festive cocktails at their Christmas Pop-up bar, Miracle on 4th. Or, just order some takeout and enjoy a relaxing evening at your hotel. We decided to order pizza from Saucy Brew Works and watch Harry Potter in our room (because that is obviously a Christmas movie!).
Day 2: Brunch In Ohio City
After a good night's sleep, it's time for an amazing brunch at Le Petit Triangle Cafe in Ohio City. This cute little spot is our favorite and we love their french toast! We ordered coffee, french toast, an omelette, sausage, and a cinnamon croissant. Everything tasted delicious as always!
Local Christmas Shopping
Next on the itinerary is an afternoon of local Christmas shopping! We started West and made our way back home to Ohio City, but do whatever works best for you!
Stop 1: Rocky River
Up first, was Rocky River at Lovely Paperie and Gifts. This is seriously the CUTEST gift shop! You will find greeting cards, decorations, apparel, jewelry, and more! I could have looked arounds here for hours. I ended up buying some pretty Christmas wrapping paper from here.
Next, we headed over to Colour Theory Collective (so closeby!). This is one of my favorite places to buy clothes lately. Everything in the shop is so cute and affordable. I love the sweaters, Cleveland Browns gear, and accessories here!
Stop 2: Lakewood
Lakewood is another great place to do some holiday shopping. I went to the pop-up shop Home For The Holidays which has a large assortment of gift and decor items from local brands all in one convenient location. I love all of the ornaments and had to pick up a Cleveland Against The World globe ornament for our tree this year!
Another local favorite of mine is Fetch & Co. This size inclusive boutique always has new and cute clothing and accessories which make for the perfect gift or for yourself!
Just across the street, you will find Lakewood Plant Company. Take a walk around and get the plant parents in your life a new plant baby! You know that's what they really want for Christmas!
Stop 3: Gordon Square Arts District
After shopping til you drop in Lakewood, make your way over to Gordon Square Arts District! I love walking around Oceanne Jewelry and looking at all the pretty jewels and apparel there. There is definitely something to be found for all of the ladies on your Christmas lists there!
Fount is across the street and worth a visit! Fount's leather handbags are definitely an investment but they're incredibly beautiful and hand made right here in Cleveland! A Fount bag is definitely on my own wish list this year too!
Stop 4: Ohio City
Your final shopping destination for the day is Ohio City. I might be biased because I live here, but I love Ohio City and it has been so fun to see how many new shops and restaurants have been opening in the area recently!
At this point in the day, you might be feeling the need for a little caffeine hit. If so, you should definitely stop into Lekko Coffee on Detroit Avenue. It has only been open for a few months but it has already become one of my favorite coffee shops in Cleveland! It has such a cute aesthetic and is complimented by their amazing locally roasted living wage coffee.
Next, walk down the street to Hingetown and stop into the new pop up shops, Shore Society and Him and His. Shore Society has great coastal apparel and gifts, and Him and His has super fun home decor items.
Read my local gift guide for even more amazing local businesses to shop this year!
Dinner and Drinks
Once you have done all the shopping you can handle, you deserve a delicious dinner! I suggest trying out the new Immigrant Son Brewing in Lakewood. With a full food menu and many local craft beers to try, it is sure to please everyone in your group! We went for the first time and loved it… we will definitely be back soon!
Wild Winter Lights At Cleveland Metroparks Zoo
Your final event on this festive Cleveland holiday itinerary is visiting the Cleveland Metroparks Zoo for Wild Winter Lights. This is a stop on the Ohio. Find It Here. Holiday Lights Trail which highlights some of the very best holiday light displays to see in Ohio this year!
We met up with our friends and their son and walked through the zoo together. Their 4 year old loved all of the lights, especially the ones that were synced to music! There were Christmas lights everywhere you turned, special photo opps, snacks and drinks, and a dance party. You can even check out the North Pole and see Santa! This is a great event for all ages that you won't want to miss out on seeing this holiday season. Grab your tickets here.
A Festive Cleveland Holiday Itinerary
I hope you have an amazing time on this festive Cleveland holiday itinerary like we did! It's always important to support our local businesses but even more so after the past couple of years. They need our help and you can always find thoughtful gifts for your loved ones at these shops.

Have a happy holiday season and thank you to Ohio. Find It Here. for sponsoring this post.
Save This Post For Later…
Read More…
---