A Kimpton Schofield Hotel Cleveland Staycation & Review
This blog contains affiliate links. I may earn a commission if you use these links to make a purchase. You will not be charged extra. As an Amazon Associate, I earn from qualifying purchases.
Kimpton Schofield Hotel + Bett's Restaurant Review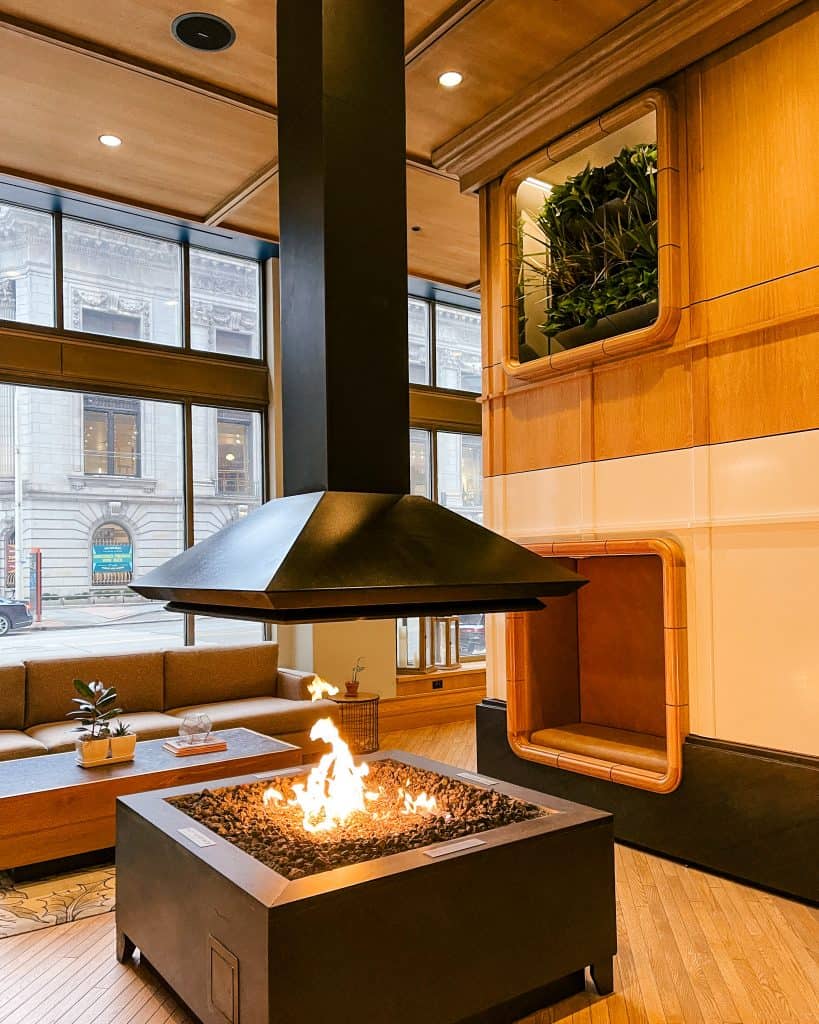 This year was definitely the year of the "staycation" for me personally and I'm sure it was for you as well! To be honest, though, I loved a nice staycation before the pandemic hit. It is always good to get away for a night or two for a change of scenery and to reset. I had been wanting to stay at the Kimpton Schofield Hotel in Cleveland to do a staycation for a while, so I finally made it happen. Now, I'm excited to share a Kimpton Schofield Hotel and Bett's restaurant review so that you can do a Kimpton Schofield Hotel staycation too!
The Historic Schofield Building
The Kimpton Schofield Hotel is located in Downtown Cleveland on the corner of E 9th Street and Euclid Avenue. It is the perfect central location for an exciting Cleveland adventure! This boutique hotel is housed inside the beautiful and historic Schofield building that has been around since 1902. The Kimpton Group has done a wonderful job in creating a space that blends the historic with the contemporary styles, making it one of the chicest hotels in the area.
Kimpton Schofield Hotel Amenities
Some of The Kimpton Schofield Hotel's most notable amenities include complimentary bikes, an onsite fitness center, in-room spa services, and a nightly wine hour. The Schofield also offers free guitar rentals, valet parking, and in-room yoga mats. We were offered a complimentary glass of wine upon our arrival which we enjoyed in our room while we got settled in for the evening.
Our Room For Our Kimpton Schofield Hotel Cleveland Staycation
The room we stayed in during our staycation at the Kimpton Schofield Hotel was a Corner City View with a King size bed. The bathroom had a huge double vanity with a mirror above the whole wall and a nice rain shower. The details were so lovely!
The bedroom area was super chic with fun and trendy vintage style car and butterfly wall art. I loved how cozy the room felt while still having an elevated look. There were also floor-to-ceiling windows along the entire wall facing the bed which was a nice touch.
During our Kimpton Schofield Hotel staycation, we took a walk around Downtown Cleveland to see Public Square. Decorations for Christmas had just started being put up which made it feel very festive and magical in Cleveland.
After our walk, we ordered a pizza from Saucy Brew Works and had it delivered to the hotel. We devoured our delicious dinner while watching Harry Potter on TV before turning in for the night.
Bett's Restaurant Review
The next morning, we had a reservation to eat brunch at Bett's which is the restaurant connected to The Schofield Hotel. Bett's has individual greenhouses set up outside for either a group of 2 or 6 people.
The greenhouse was very cheerful complete with a heater and twinkle lights. It was a moody, rainy Cleveland day which made us feel very cozy. I decided to order the Rancheros Benny which is a delightful cross between eggs benedict and huevos rancheros. My husband, Alex, ordered the classic Bett's Breakfast which he very much enjoyed. We also had bottomless coffee refills while we sat and enjoyed our meal together. We didn't want the morning to end because we were having such a fun time during our Kimpton Schofield Hotel staycation in Cleveland!
Things To Do Near The Kimpton Schofield Hotel In Cleveland
The Kimpton Schofield Hotel is also the perfect central location for visiting all of the major Cleveland attractions. If you haven't been to The Rock 'N Roll Hall Of Fame yet, it is a must-see during your Cleveland staycation! I can't believe I grew up in the Cleveland area and didn't make it there until early 2020! It was a super cool experience and there is so much more to see than I imagined.
You could also stop for a visit to the Cleveland Museum of Art during your time in CLE. It is a world-class museum and one of the finest in the United States. My very favorite piece of art to see there is Monet's Water Lilies. Monet is one of my all-time favorite painters and I love to see his work whenever I can.
The Cleveland Arcade is also worth visiting for sure! It was originally the first indoor shopping hall in the country and to this day it is has some of the most beautiful architecture in all of Cleveland. We did another staycation at the Hyatt Hotel there – read more about that experience here.
More Things To Do In Cleveland During Your Staycation:
See a show – Cleveland's Playhouse Square is home to our city's glam theatre district. With major broadway shows and musicals coming through all the time, you will never be short on entertainment
Visit the Botanical Gardens – one of Cleveland's most beautiful attractions
Go to Little Italy – spend an afternoon exploring (and eating your way through) one of Cleveland's most historic neighborhoods
Take a walking tour of Cleveland – learn more about Cleveland's history and architecture
Visit some local breweries – Cleveland has an amazing brewery scene that you won't want to miss out on
Eat like a foodie in Lakewood, OH – a suburb just West of Cleveland that is known for some of Cleveland's best restaurants
Visit the West Side Market – located in Ohio City, this iconic landmark is full of history and incredible food. Walk upstairs to see one of the most instagrammable locations in Cleveland
Our Cleveland Staycation
All in all, we had a lovely stay at The Kimpton Schofield Hotel in Cleveland during our Staycation. We felt totally safe with their COVID-19 protocols and it was a very trendy location to call home for the night. I would definitely recommend a stay at The Kimpton Schofield Hotel and Brunch at Bett's restaurant to anyone wishing to feel like they're on vacay without actually going very far. Whether you drive a few hours to visit somewhere new, or you decide to be a tourist in your home town, there's something to excite everyone in the hidden gem that is Cleveland, Ohio. If you would like to book a stay, click this link to search for the best deals and date availability. Enjoy your trip!
Read More…
---