A Charming Kelleys Island Getaway
This blog contains affiliate links. I may earn a commission if you use these links to make a purchase. You will not be charged extra. As an Amazon Associate, I earn from qualifying purchases.
I'm back from another amazing Ohio vacation. This time we went on a Kelleys Island getaway for 2 days. It was a wonderful time exploring a new area along the Lake Erie Shores and I can't wait to tell you all about it! I've teamed up with Ohio. Find It Here. again to bring you this post about all the things to see and do on your next Kelleys Island Vacation! Kelleys Island is a stop the Ohio. Find It Here. Charming Towns Road Trip, and for good reason! It is such a beautiful destination with a very charming downtown area, bed and breakfasts, and sites to see!
Getting to Kelleys Island
Being that it is an island town, you need to take a ferry to get there. The drive from Cleveland to the Kelleys Island Ferry in Marblehead, Ohio is about 1 hour and 20 minutes. Once you get on the ferry, the ride is a quick 20 minutes with stunning views of Lake Erie and you can even see the roller coasters at Cedar Point. We chose to take our car across the ferry so that we could drive around, but some people choose to park their vehicles and ride across as a passenger. Once you arrive on Kelleys Island, you can rent golf carts or bikes for getting around if you so choose!
Where To Stay On Kelleys Island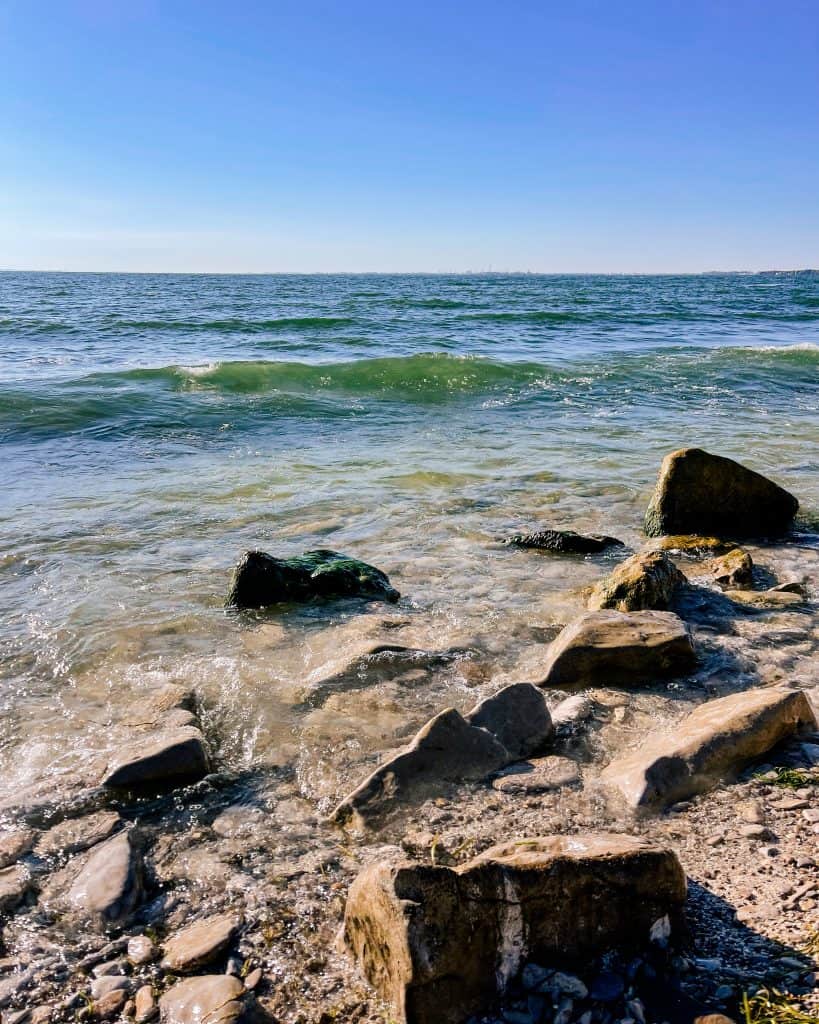 We decided to stay at A Water's Edge Retreat which is an excellent bed and breakfast to stay at during your Kelleys Island Getaway! When we arrived on the Ferry, we went straight there to check-in and get settled in before finding somewhere to eat for dinner. The owners, Rick and Tricia Kody were so lovely to talk with and very knowledgeable about the island. They gave us a tour of the property and a map of the island when we checked in, along with many great recommendations for dinner and activities to keep us busy during our Kelleys Island getaway!
Before heading out to dinner, my husband and I decided to head down to the lakefront deck on the inn property to admire the Lake Erie views for a few minutes. The waves washing over the rocks made the most relaxing sounds and we almost felt like we were looking out at the ocean!
Dinner Overlooking Kelleys Island Marina
After we got our fix of the view, we drove about 3 minutes to Downtown Kelleys Island where we decided to eat at Dockers restaurant on the recommendation of some friends. Dockers restaurant is right on the Kelleys Island Marina so it was the perfect place to eat dinner while watching the sunset and watching boats come in and out. Dockers was on the pricier side of the restaurant options but we had good meals and drinks and the view made it worth the money to us.
After dinner, we headed back to A Water's Edge Retreat where a couple of delicious homemade chocolate chip cookies were waiting for us upon our return! We were also able to make some tea and pick out a movie from their DVD collection to watch in our room. We obviously chose to watch The Lord of the Rings because we are obsessed and it seemed like the perfect movie to watch in our cozy room.
Our Stay At A Water's Edge Retreat
We stayed in the Sunrise room which was appropriately named for the great sunrise view out the window over Lake Erie. We like to wake up early when we are traveling so that we can fit everything in that we want to do, so we loved this room! If you don't like to wake up early though, definitely choose a different option (there are plenty to choose from!). Breakfast is served out on the front porch on nice days at 9:00 am but before that, there is a pastry and coffee ready for you to hold you over until your big breakfast.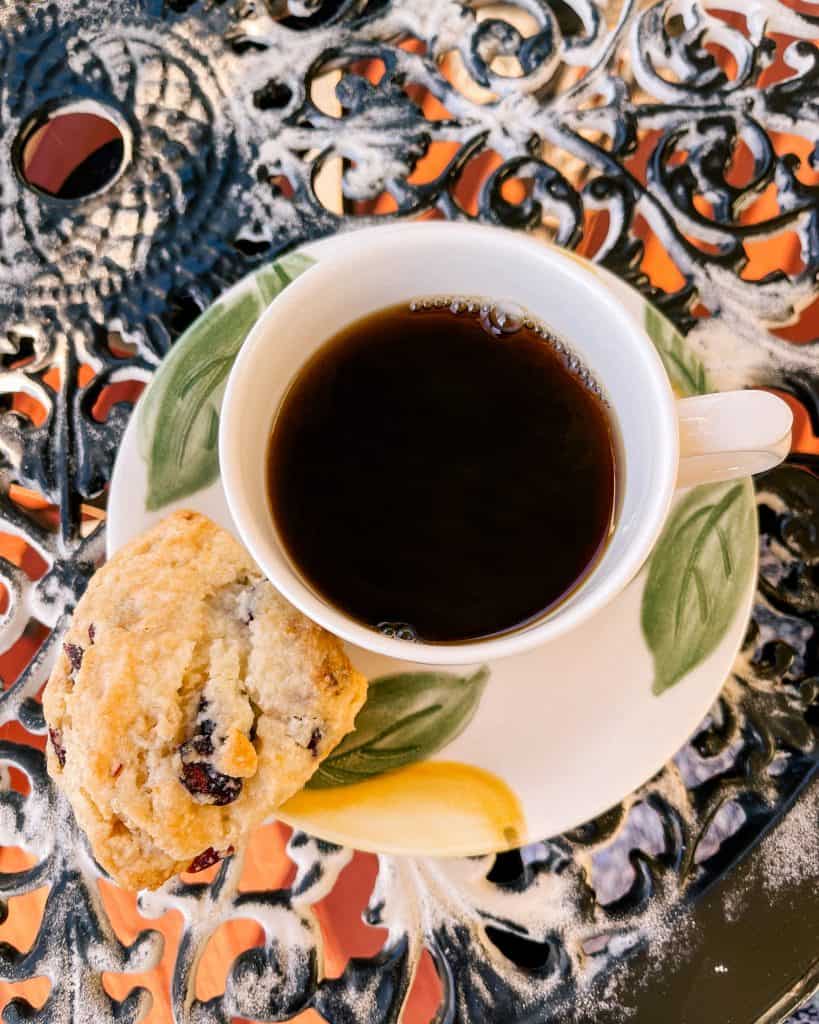 They had blueberry scones for us and they were amazing. I loved just sitting on the porch drinking my coffee and disconnecting from my phone for a little while before breakfast. When our meals were ready, Rick and Tricia brought everything outside and served us at our tables. We had coffee, homemade apple cider (from their apple trees!), fruit, breakfast potatoes, and a Tex-Mex dish called Migos. Everything was ridiculously delicious, especially the Migos which was an egg dish with crispy corn tortillas. I had never tried that before and now I want to try to make it at home because it was so good! The Inn also has complimentary bikes that you can borrow during your stay which is a nice perk! At 11 am, we checked out and started exploring.
Exploring Kelleys Island
We started in Downtown Kelleys Island and walked around that area for a while. There are a lot of restaurants there and some very pretty historic homes to walk by and admire. Because we are coffee addicts, we of course found a cool espresso bar inside of Island House Restaurant and ordered a couple of drinks. It was a fun place to hang out for a while before driving over to see the Glacial Grooves Geological Preserve. The limestone Glacial Grooves are 400 feet, 35 feet long, and up to 15 feet deep in some areas and a National Natural Landmark. Definitely, a must-see experience to add to your Kelleys Island Getaway checklist!
Kelleys Island Wine Co.
Next, we were ready for some lunch and decided to visit The Kelleys Island Wine Co. They had a full menu and bar, as well as their own wines. I opted for the fresh chevre flatbread and Alex ordered grilled cheese and tomato soup. I also ordered a glass of their Glacial White wine which is a lovely and crisp semi-dry German-style wine and loved it! Their Sangria is also very popular and you can order it by the pitcher to share. The outdoor seating was very pretty and it was a perfect fall day to hang out on the patio! Right next door, they also own KI Cantina which is Kelleys Island's only Mexican restaurant. It wasn't open while we were there, but I have heard really great things about it!
Scheele Preserve
The final stop on our Kelleys Island getaway was Scheele Preserve which is on the Northeast side of the island. When you arrive, you take an easy half-mile walk through the winding tree-lined path of the preserve. In the end, the trail opens up to a gorgeous Lake Erie scene that will almost make you think that you were in the Caribbean and not Ohio! The water there is so clear blue and peaceful on a nice day like we had. There is a bench you can sit at or you can bring your beach accouterments to spend a little more time along the sunny Lake Erie Shore! We stayed for a while and skipped rocks and walked along the beach. It was the perfect end to a quick Kelleys Island vacation before getting back on the ferry.
More Things To Do On Kelleys Island
A few more things to do on Kelleys Island that we want to check out next time we visit are:
-Horseshoe Lake
-North Pond
-Sandy Beach
-Herndon Galleries & Sculpture Gardens
-Renting kayaks from Kelleys Island Kayak Rental
-KI Cantina, The Casino Restaurant, and The Village Pump
Charming Towns Road Trip

We had an amazing time on Kelleys Island and the only thing that would have made it better would have been staying longer! We will definitely go back and visit again but stay for at least 3 days next time. Thanks again to Ohio. Find It Here. for sponsoring this post and be sure to check out their Charming Towns Road Trip for more fun places to see in Ohio!
Pin this for later…