A Romantic Staycation At Gervasi Vineyard
This blog contains affiliate links. I may earn a commission if you use these links to make a purchase. You will not be charged extra. As an Amazon Associate, I earn from qualifying purchases.
I recently arrived home from a romantic staycation at Gervasi Vineyard in North Canton, Ohio. It was the perfect, scenic destination for a getaway that was both close to home and also made us feel like we were on vacation. It was very important for me to find accommodations that would be taking state mandates and guidelines very seriously. We also wanted to stay somewhere with outdoor spaces to explore and Gervasi was a perfect choice! I have teamed up with Ohio. Find It Here. again to bring you some inspiration for a romantic socially distanced getaway and give you some tips for traveling safely amidst COVID-19.
Safety Standards At Gervasi Vineyard
I was so impressed with Gervasi's safety standards, and the consideration they took to ensure everyone was able to have an enjoyable time while also maintaining social distancing guidelines. From the moment we arrived to the moment we left, Alex and I felt completely at ease. Gervasi Vineyards did an excellent job of prioritizing social distancing guidelines while also making all guests feel welcome and valued.
While safety measures were in place, it did not at all take away any of our fun! We were warmly greeted in The Welcome Center upon arrival where we got checked in and then went to settle into our room in The Casa. It was the perfect change of scenery, and much-needed getaway, as this was our first time away from home since February! The room was lovely with a King size bed, cozy seating area, a rain shower, and a beautiful patio overlooking a fountain.
I am not just saying this, but I have NEVER stayed in a cleaner hotel room than at Gervasi! It was absolutely pristine and everything sparkled! There was hand sanitizer readily available everywhere we went, and all employees and visitors were all wearing their masks and doing their part to keep each other safe!
---
What To Do At Gervasi Vineyard
Now, let's talk about the fun stuff! Here's what you can find to do at Gervasi Vineyards…
Walk around the 55 acre property.
You will find some lovely views and areas to roam while at Gervasi. There are 2 vineyards you can walk through, a beautiful waterfront stroll (you may even see a swan or two!), or take a nature walk through the State Park entrance near The Still House.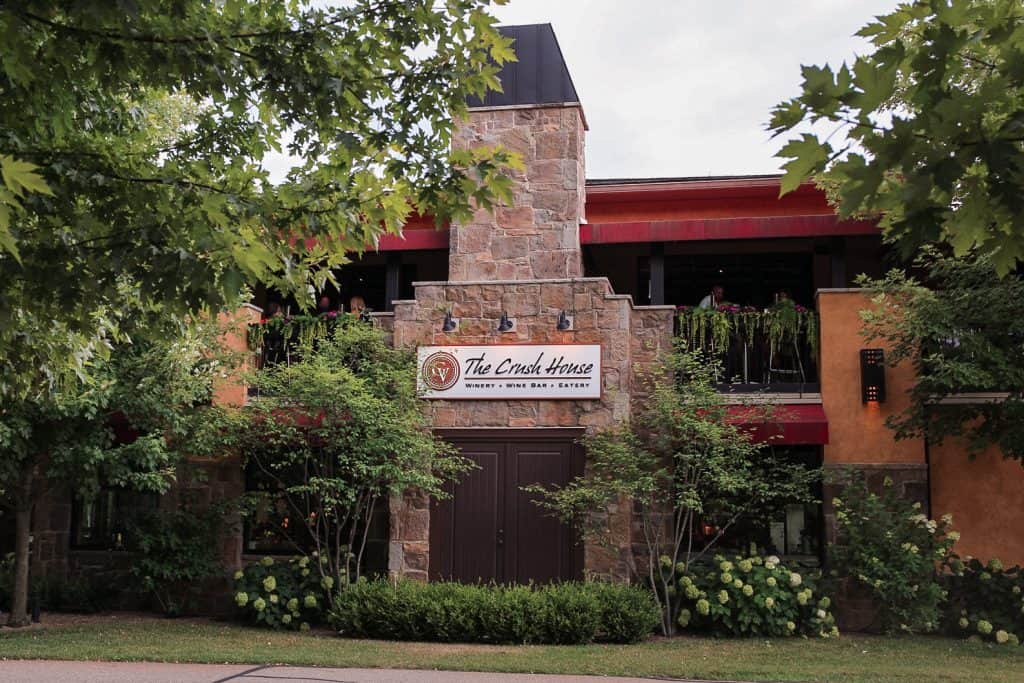 Order Takeout From The Crush House
Grab some takeout from The Crush House restaurant and a bottle of wine and have a picnic. Like I said above, there's plenty of beautiful areas to choose from, but might I suggest somewhere on the small lake behind The Villas? It's just lovely over there.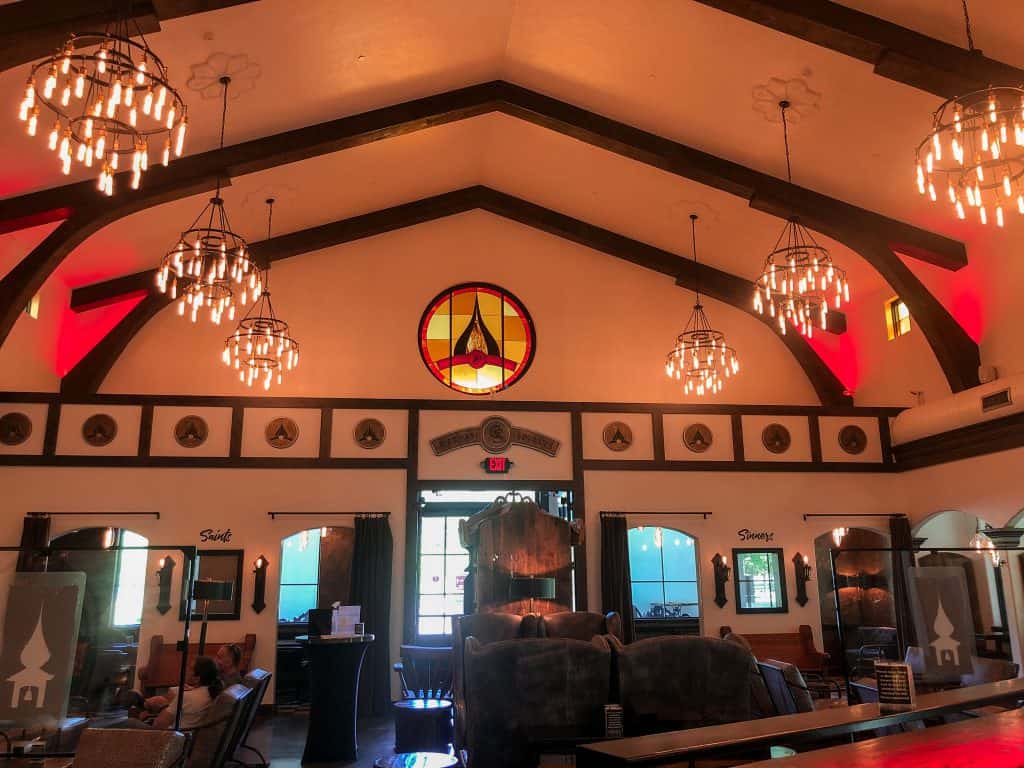 Drinks At The Still House
Next, sit at the bar and taste some of Gervasi's best wines. Or order a bottle of wine to go and take in the scenery with a nice red or white. If wine isn't your thing, you can grab a cocktail made from spirits produced inside Gervasi's own distillery. Enjoy while admiring the cool modern decor inside or drink it on the patio outside.
Go Shopping
The Marketplace near The Bistro has some super cute home decor and gift items as well as wine, spirits, and coffee that you can purchase to bring home with you!
Get A Caffeine Buzz
The Still House also offers coffee drinks from 7 am that you can order at the bar. Gervasi not only makes wine and spirits, but they have multiple types of coffee that they roast and sell. Stay at The Still House and kick back, or take it to go.
Eat A Delicious Meal
Depending on the day and time of your visit, there are many dining options for you to choose from. The Still House has light options to go with your coffee, for a small snack, or to indulge your sweet tooth. The Crush House is a great option for lunch or dinner and does have some patio seating as well. The Bistro is closed on Mondays so we were not able to eat here, but the menu looks amazing. You will find a variety of delicious Italian meals here. Finally, The Piazza is a new patio restaurant behind The Bistro. It boasts spacious outdoor seating areas with stunning surroundings. You will often find live music here in the evenings.
Sit On Your Own Patio
Don't forget to slow down and take some time to relax and refresh during your getaway at Gervasi! This year has obviously been a tough one for most of us. I believe that it's always a good idea to stop and reflect to help you circle back to the positives in life. Despite the hardships that 2020 has brought along with it, there are always good things that have happened too. We just have to stop and remind ourselves of them! Sitting and staring out at the idyllic view is the perfect place to gain perspective and get your positivity back. It definitely helped us to do that and I hope it helps you too!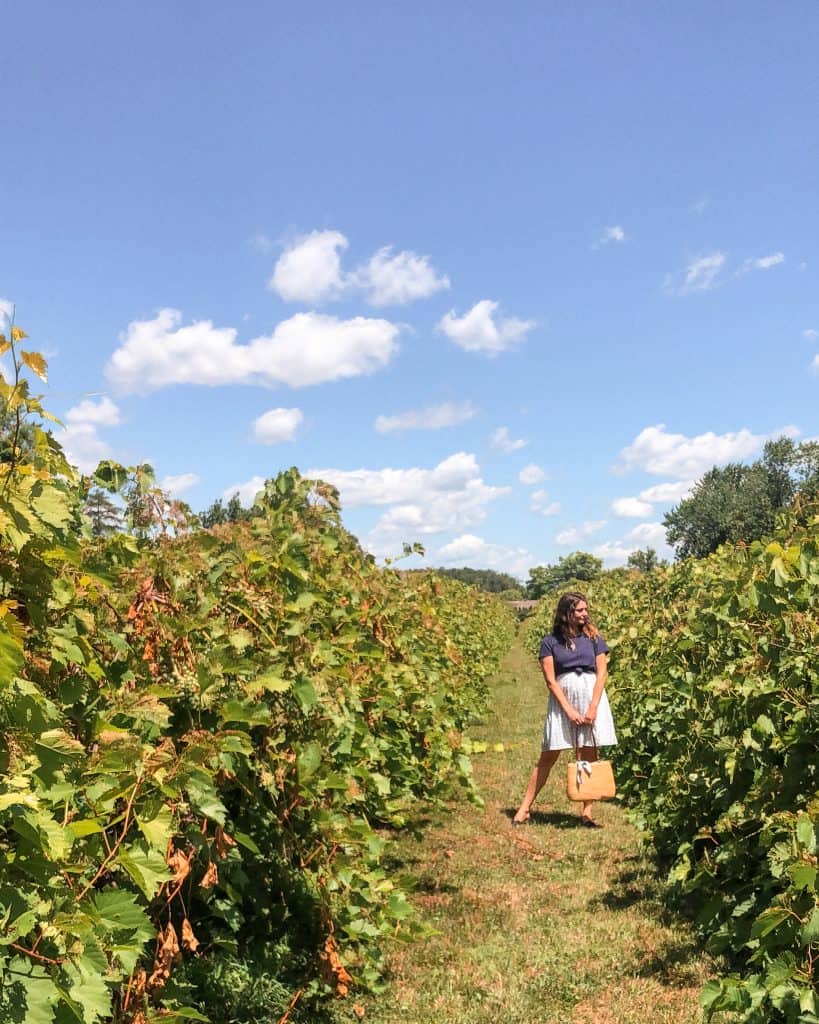 ---
What We Did At Gervasi Vineyard
After check-in and settling into our room, we headed back over to The Still House for an afternoon pick-me-up. I ordered an iced coffee with coconut milk and my husband, Alex, ordered something more adventurous called a Gervasi Mintspresso and both were very good and gave us the extra energy we needed!
Unfortunately, while we were ordering our coffees it started pouring outside. We tried not to let it bother us and sat on the patio and laughed at our luck and classic Ohio weather. Once the rain slowed down we opened up our trusty umbrella and went back to our room to order dinner from The Crush House for curbside pickup. After picking up our food, the rain stopped for a while and we were able to eat dinner on our lovely patio. Everything was delicious and we had a nice time relaxing and chatting the night away.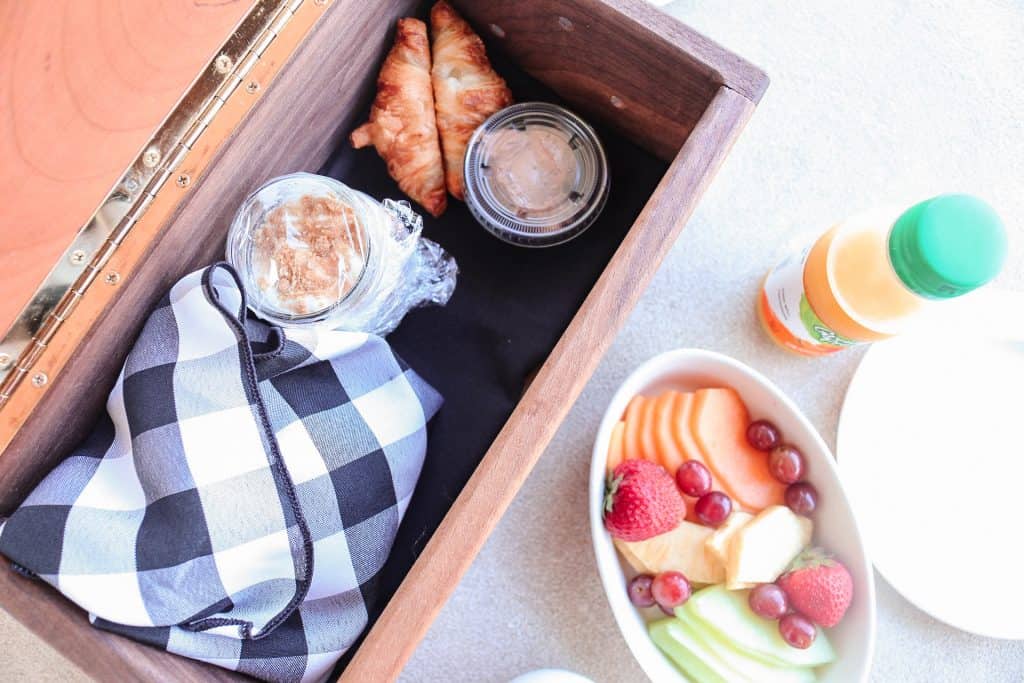 The next morning, we had breakfast delivered to our room, which is a standard perk that is included with every room night at The Casa! We again ate on the patio and had a slow morning before checking out at 11 am. Next, we grabbed some more coffee (because we're addicts!) before exploring more of the property for a few hours.
It was an absolutely gorgeous day which was so welcome after the rain the day before. We walked around the vineyards and took a walk down the path to the State Park. We also really enjoyed walking around behind The Villas (another area you can stay in!).
The scenery was so lovely and the weather was perfect, which made for a great afternoon. We also walked through The Marketplace which was so cute inside and we ended up buying a few bottles of wine to take home with us.
What I forgot to mention is that my husband and I are were actually celebrating our ninth wedding anniversary this week, so this visit to Gervasi was the perfect romantic staycation for us!
Now that we have had some fun, let's get practical…
---
How To Travel Safely During A Pandemic
While we all miss the ease of past travels and how things used to be, things are just different right now. Honestly, we can still have plenty of fun while wearing masks and practicing physical distancing, but I want to reiterate a few tips on how to travel safely during a pandemic…
Don't forget your masks – and actually wear them! Be aware of your State mandates and guidelines and follow them so that we can all stay healthy and get through this.
Wash your hands! I know you have heard it a million times, but it is still one of the best ways to prevent getting or spreading Coronavirus.
Practice social distancing and be respectful of others while in public.
Bring your hand sanitizer and use it frequently when you are unable to wash your hands with soap and water.
Keep an eye on the most recent CDC and state updates/guidelines and try to follow them the best that you can. Don't travel to areas that are seeing large spikes in cases if you can help it.
When planning to visit a different state, look up their guidelines and restrictions. If the state is reporting positive test rates of 15% or more, consider staying home or going somewhere else. If you want to visit Ohio from out of state, you will find the most recent COVID-19 updates here.
---
The Perfect Getaway At Gervasi Vineyard
I am so thankful for our night away and would definitely suggest a socially distanced staycation! It was really great for my mental health to (safely) be somewhere other than my home for a couple of days. For more Ohio inspiration, you can always read about all Ohio has to offer on Ohio. Find It Here., or check out my Ohio Blogger friends' similar posts if you're near Toledo or Cincinnati.
---
Read More…
Thanks for reading! If you liked this post, check out Escape Into Nature With Getaway Cabins, or A Snowy Staycation In Cleveland, Ohio, or one of my most recent posts below.
Pin This Post For Future Reference…
---