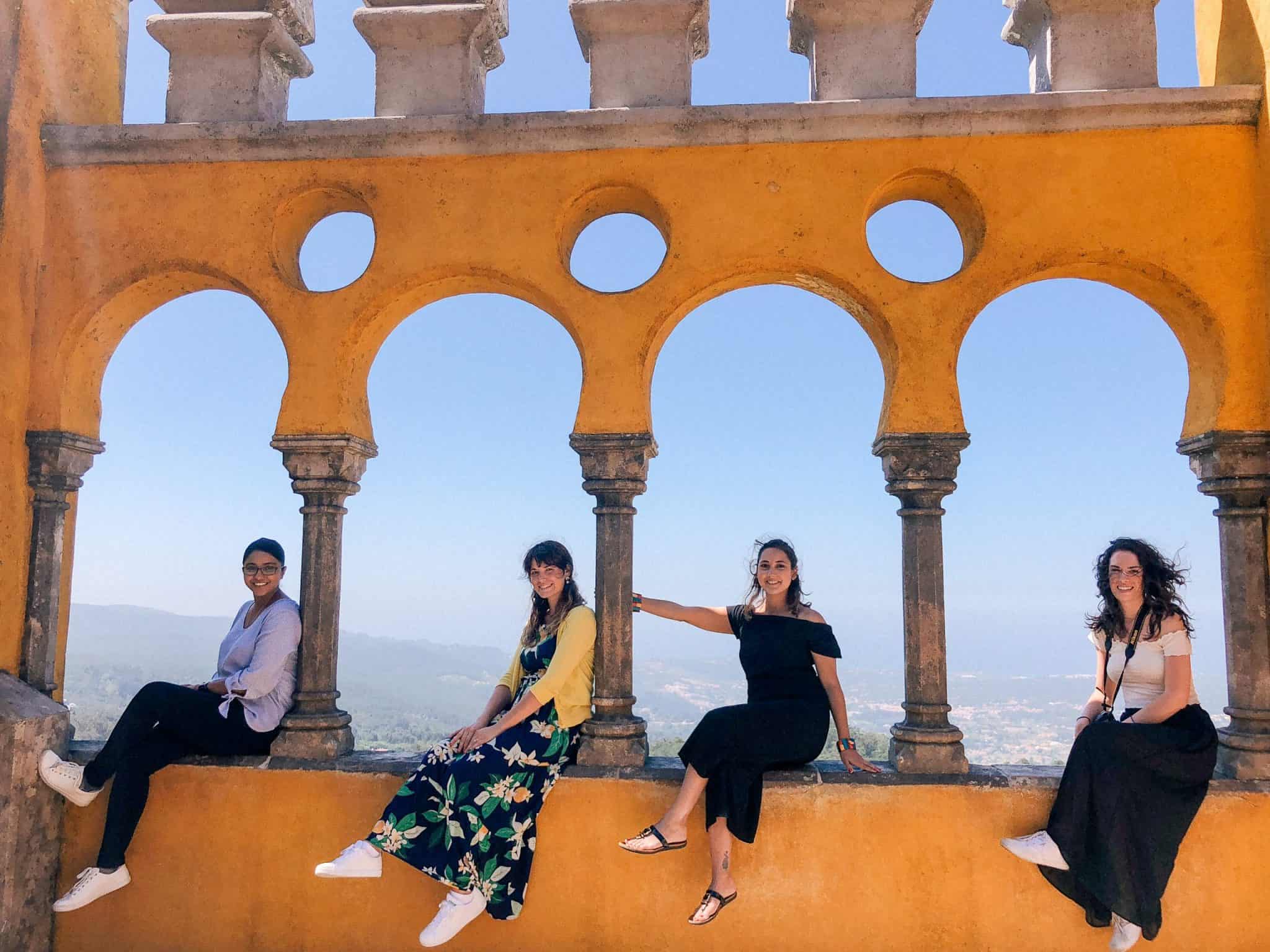 TrovaTrip Review: 10 Reasons Why You Should Try Group Travel
This blog contains affiliate links. I may earn a commission if you use these links to make a purchase. You will not be charged extra. As an Amazon Associate, I earn from qualifying purchases.
Last year I won Helene In Between's $2,000 travel giveaway. I had been wanting to go on her trip to Portugal with TrovaTrip for months but had decided that I really couldn't afford it. When I won Helene's giveaway, I was floored! I couldn't believe it! Never had I won so much as a bridal shower bingo game, but I had won $2,000 towards travel. I ended up using the money to go to Portugal with her. It was one of the best decisions I've ever made for myself.
I was a bit terrified to travel alone to a new country and meet up with a group of people I've never met before in my life. I was actually regretting my decision to go as my travel anxiety hit the day before I left.
When I finally arrived at the airport in Portugal, I messaged one of the other girls so that we could share an Uber to the hotel. As soon as I met her, something shifted in my mind. I knew that I was going to have an amazing time and meet even more cool people. So today's post is all about group travel and why I think you should do it!
1. The whole trip is planned for you
One of the best things about group travel is that your itinerary and accommodations are already taken care of for you. It takes the stress and time out of planning a trip and you're able to relax and let someone else take the reins.
I wasn't sure how I would feel about that because I do love to plan trips myself, but I actually loved it. After planning out most of the itinerary for my family trip to England earlier that year, it was a welcome break from all the details.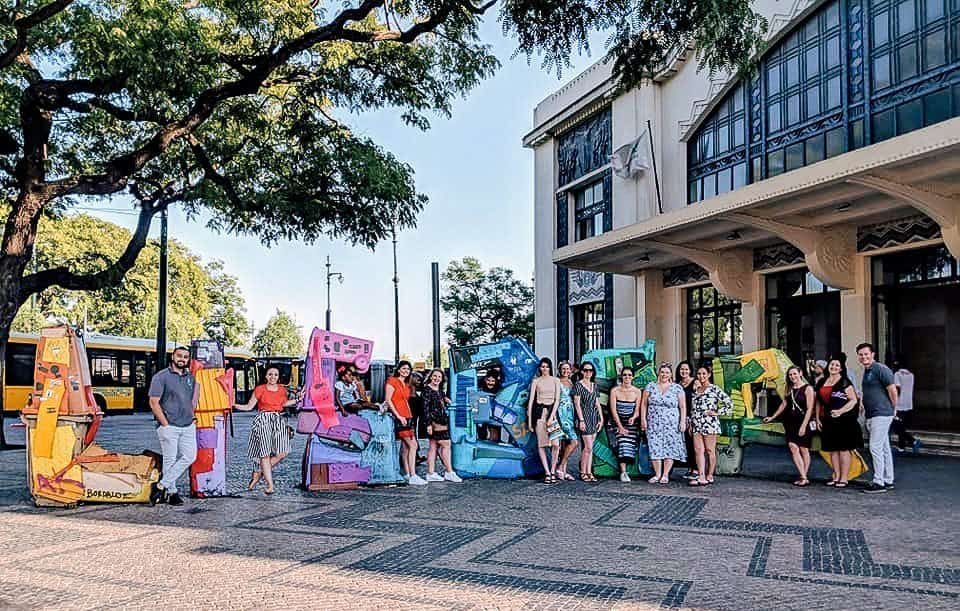 2. Booking with an expert travel company
One of the best aspects of our Portugal trip was that Helene partnered with TrovaTrip to plan everything and be our guides for the week. I can't imagine a better experience working with a travel company.
Not only did they think of everything, but they were so helpful with anything we might need along the way. They took into account what we wanted to do, but also knew when we needed to stick to our itinerary.
The founder, Nick, and his team planned a wonderful trip for us during which, we were able to see, do and eat at so many great places. The members of the TrovaTrip team were super cool and down to earth. They were amazing guides and always fun to chat with about all of their travel experiences. I would highly recommend booking a trip with them if you are able. They have new trips becoming available all the time.
3. It pushes you out of your comfort zone
Personally, I have really struggled in situations that push me out of my comfort zone. Meeting new people has always felt so awkward. I would never go into a situation without my husband or a really outgoing friend as a security blanket, and also someone to hide behind so that I didn't have to do much talking.
Living that way really didn't benefit me at all. Deciding to go solo on this trip was a HUGE deal for me. It has changed me in so many ways. It forced me to talk and I've learned so much from having to do that.

4. It's a confidence booster
I have a lot of fears that have crippled me for most of my life. I was scared to talk to people because I believed that they wouldn't like me if they got to know me. Don't get me wrong, I have always had a lot of friends, but most of the time it was because they made the first move in talking to me and trying to break me out of my shell. I knew this was something that I needed to get past and this trip gave me the perfect opportunity to try.
I mentioned before that this trip changed me. Once I was out of my comfort zone, I was meeting and talking to amazing women from all over the world. I realized how much I had been holding myself back in life by not talking to more people.
After having to do this, it made me realize that I am capable of talking to people I don't know. I learned that it's not the worst thing to have to talk to new people and that it's actually one of the best things! I left Portugal with a confidence that I have never had before and a commitment to myself to stop holding myself back for fear of people not liking me.

5. It's a really fun way to network
I didn't go on this trip thinking of it as a networking opportunity. Obviously, I knew that I would meet new people but I didn't think it wouldn't affect my work life at all. I met people who have been invaluable in helping me get my blog started and have been blown away by how supportive they've been along the way.

6. There's safety in numbers
If you're not yet ready to be one of the many amazing solo female travelers, group travel is the next big step you can take. If you're concerned about safety while traveling alone, it's nice to know there's safety in numbers.
Once you meet up, you really don't have to be alone again until you leave if you aren't comfortable. There's always someone willing to venture off with you if you've got specific places you want to see during your free time.

7. Meet like-minded people
For those of us who love to travel as much as we like breathing, it can be hard to find people at home who relate to our extreme wanderlust. It is truly amazing to meet others who love travel as much as you do and to exchange travel stories. There's a camaraderie among travelers that can't really be explained, but you know it when you feel it.

8. See the world from another perspective
While we may be like-minded travelers, we are still all from different places and different cultures. Learning more about the way others live and see the world has always been fascinating to me and is also one of my favorite parts about traveling.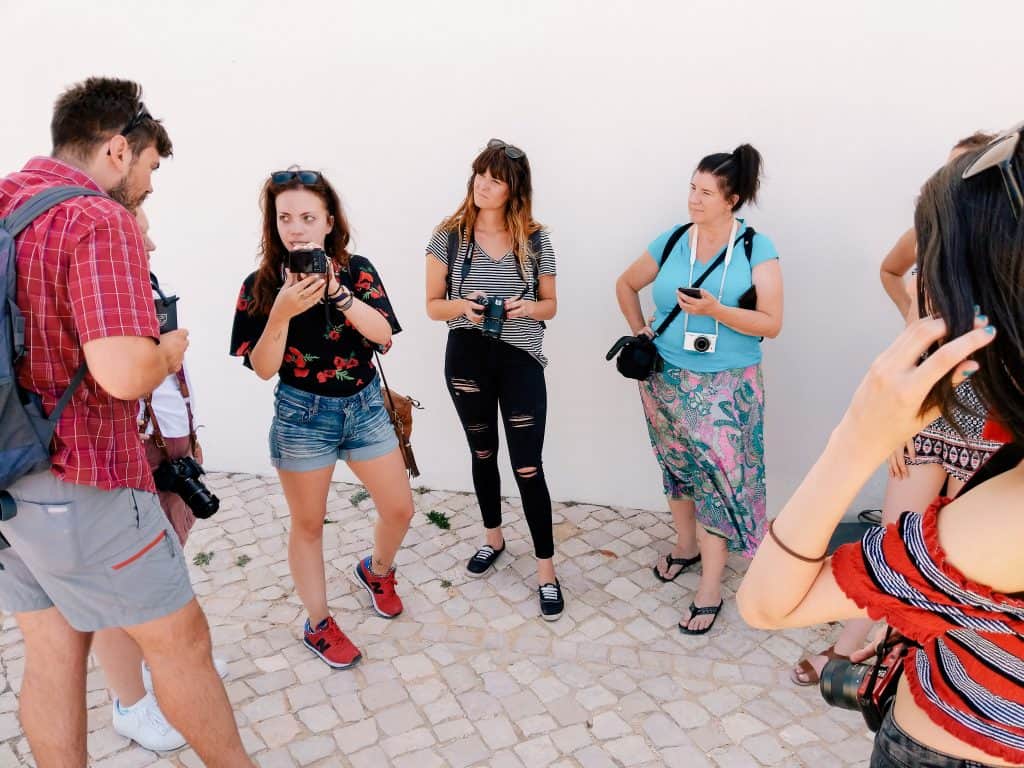 9. Learn something new
Not all group travel companies do this, but I have seen a lot of people going on trips that center around a topic. TrovaTrip is one of those companies and all of their trips all have a topic expert(s).
In our case, we went with Helene and Michael Sula of heleneinbetween.com and had workshops on Instagram, blogging, and photography. Not only will you see a new part of the world and learn more about the people and culture there, but you can also learn useful skills for your everyday life.
I learned so much from Helene and Michael that has helped me start this blog! There are all kinds of trips like this one, including yoga retreats in Croatia, photography-centered trips in Costa Rica, or learn some videography tips in Peru! Or come to Italy with me and Helene in May!

10. Meet lifelong travel besties
I mentioned that I met some pretty cool people on my trip to Portugal, but I want to tell you a little bit more about them. The women I met and became friends with on this trip are some of the most incredible people I have ever had the opportunity to meet. Each person had their own unique personality and story and we all meshed so well together.
Our friendships and connection were almost instant. When you spend 10 days straight with people, you end up getting to know a lot about each other. We laughed, we cried, and we laughed until we cried. We ate gelato 3 times a day, played ridiculous games, and went dancing until 3 am.
It is hard to explain our bond, but suffice it to say that I would welcome any and all of them into my home for a visit any time. I've already discussed future trips with many of them and I know that I have met my lifelong travel besties.

Just do it!
Because of my amazing experience the first time around, I decided to go on Helene's second trip to Italy in May of 2019! Some of the ladies I just mentioned also traveled back to Europe for another wonderful trip. I was so excited to reunite with my long-lost friends from my Portugal trip, and to meet all my new friends too (speaking of new friends, check out my girl Sarah's review of TrovaTrip as well).
If you are interested in learning more about TrovaTrip or you want to book a trip with them, you can check out their website here.
---
Read More…
---