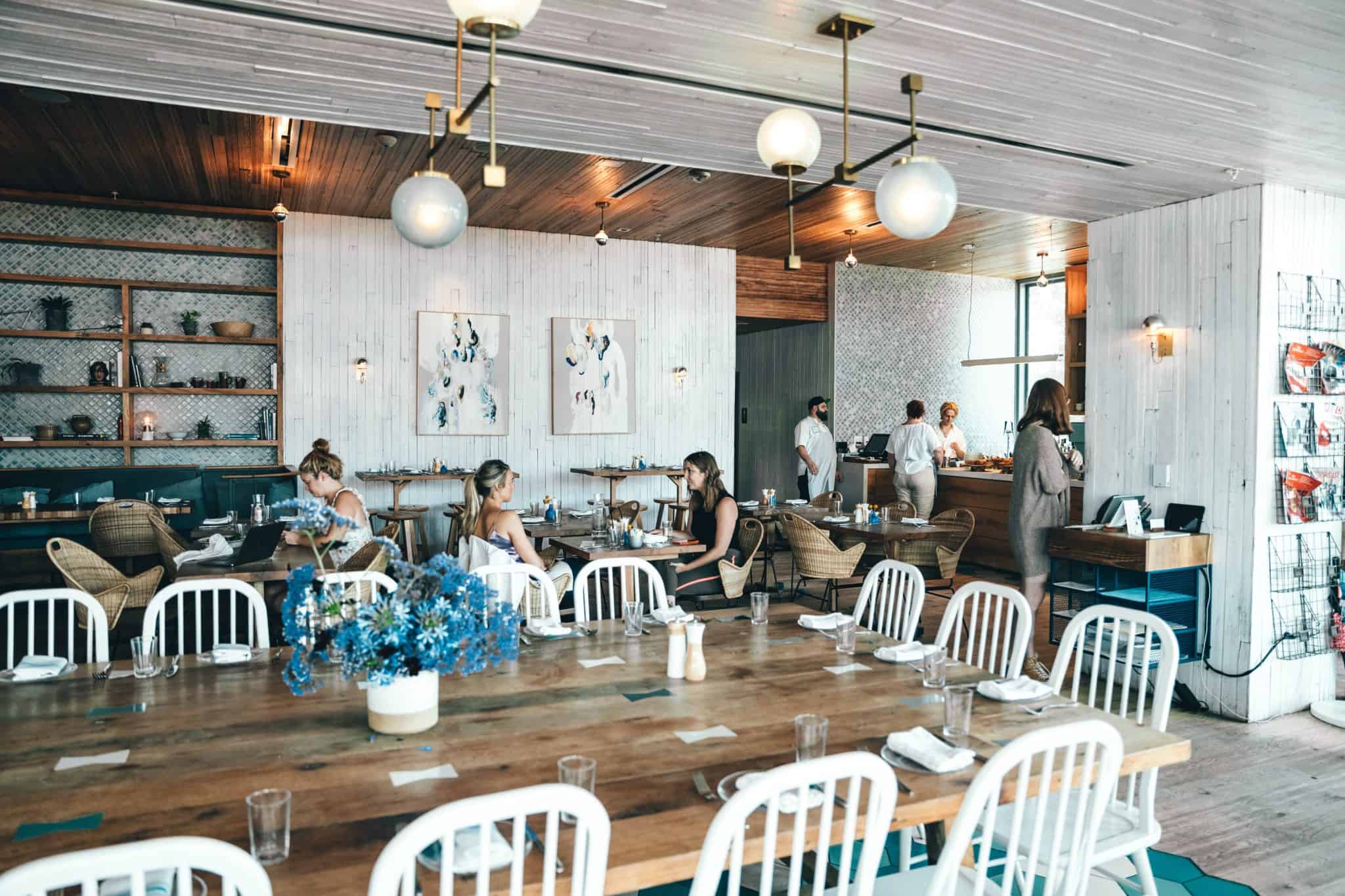 The Best Anna Maria Island Restaurant Guide By An Insider
This blog contains affiliate links. I may earn a commission if you use these links to make a purchase. You will not be charged extra. As an Amazon Associate, I earn from qualifying purchases.
Anna Maria Island Restaurant Guide
When visiting Anna Maria Island you will want to try as many of the amazing restaurants as possible. Anna Maria Island does not allow many large national chains to come onto the island so you won't have any trouble supporting small local businesses at this vacation destination! As someone who has visited Anna Maria Island frequently for the past 10 years, I have compiled a list of the best places to eat on Anna Maria Island (or AMI) that I will share in this Anna Maria Island restaurant guide!
What To Eat On Anna Maria Island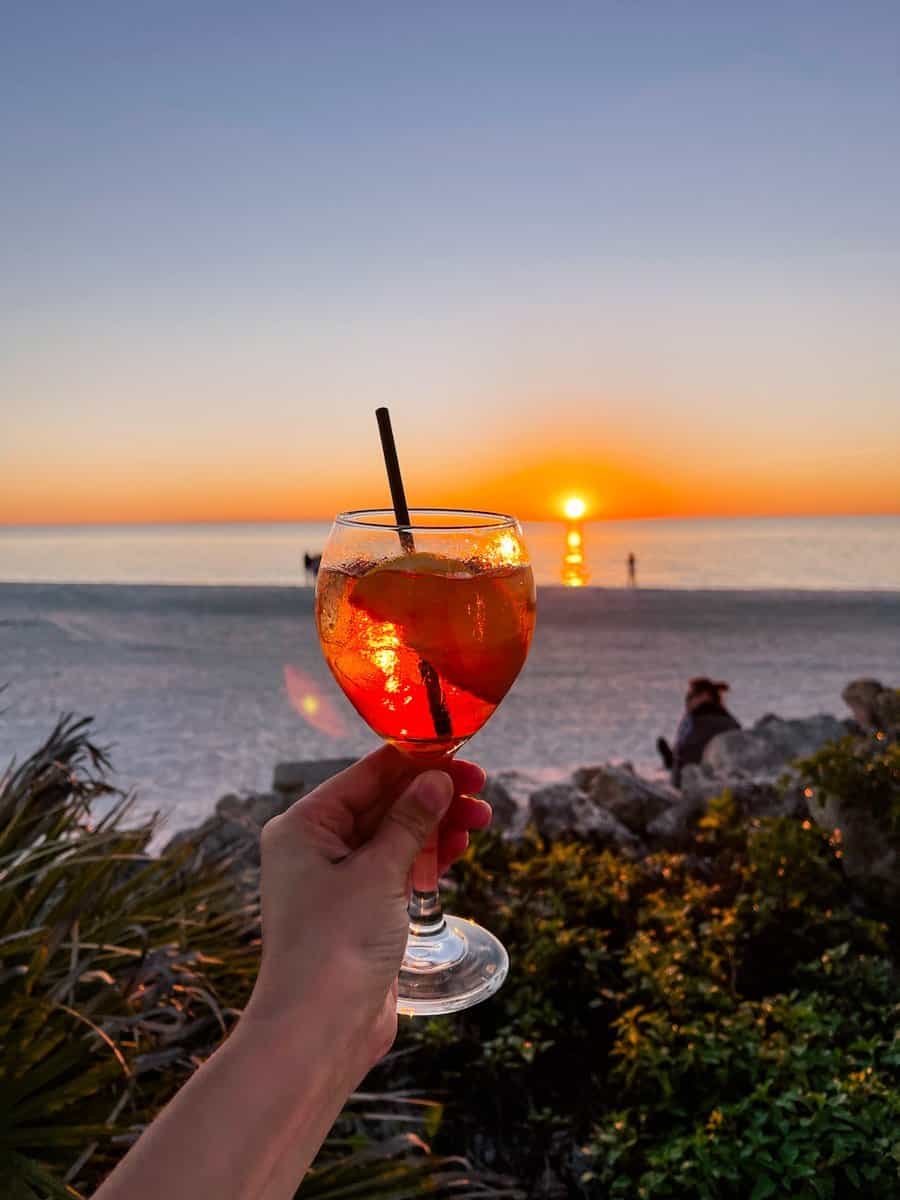 Anna Maria Island has some seriously delicious restaurants and food that you need to try but you're probably wondering what Anna Maria Island is KNOWN for, right? AMI is known for its…
Fried Foods
I know, I know, fried food isn't all that healthy, but you're on vacay! Have that fried shrimp or calamari if you want to. I'm sure all the beach walking and biking around the island will even it all out, right?
Fresh Seafood
While there are a lot of seafood options on Anna Maria Island that are fried, there are plenty of non-fried, fresh seafood options that are to die for! Whether you love shellfish, oysters, a classic Frutti di mare, or grouper, Anna Maria Island has it all. Anna Maria Island boasts some of the very best seafood in Florida.
Key Lime Pie
Now, I am lactose intolerant (sad day for me!) but my friends and family absolutely RAVE about the key lime pie that Anna Maria is known for! You can get it at most restaurants on AMI, but they say that the Publix grocery store actually has the best award-winning slice of key lime pie in the area! Other notable places to order a great key lime pie on Anna Maria Island are Anna Maria Oyster Bar and Scott's Deli.
Coconut Cake
You can also find the most delicious cakes and sweets on Anna Maria Island. Many of the restaurants on AMI order their desserts fresh daily from Hometown Desserts on Pine Avenue, and every flavor is ridiculously good. The coconut, coconut key lime cake, and chocolate cakes are definitely fan favorites. Order at a restaurant or stop in their bakery on Pine Avenue.
Read next: Ultimate Anna Maria Island Travel Guide – Things To Do On AMI
Best Places To Eat On Anna Maria Island
Breakfast & Brunch On AMI
Ginny's and Jane E's Cafe
Ginny's and Jane E's Cafe is famous locally for its incredible cinnamon rolls, but you will find a full menu of great breakfast, brunch, and lunch options. There's also a very cute shop inside to buy fun souvenirs or to window shop while you wait for a table.
Blueberries Cafe
Blueberries Cafe & Wine is a newer addition to the Anna Maria Island food scene. Serving coffee, and healthy menu items such as smoothies, acai bowls, avocado toast, and more! Blueberries Cafe also serves lunch (empanadas, anyone?) and the owners are very lovely people. This cafe is our new must-visit multiple times during the week location.
The Waffle Press
The Waffle Press is a newer spot on Anna Maria Island serving Belgian waffles, bakery items, smoothies, and artisanal coffees. They also have a good breakfast and lunch menu. We took a break from riding our bikes around the island and ordered smoothies. They were super refreshing on a warm, sunny Florida day!
The Donut Experiment
The Donut Experiment is a cool donut shop on Pine Avenue selling made to order donuts. They have around 15- 20 topping options available and at least 6 different types of icing to choose from. The flavor possibilities are endless and so yummy!
Anna Maria Island Beach Cafe
Anna Maria Island Beach Cafe is a casual beachfront restaurant located at Manatee Public Beach. AMI Beach Cafe is known for their all you can eat pancake breakfast. It is a great place to eat on Anna Maria Island, especially if you are enjoying a beach day on the public beach there. It is also connected with a gift shop and Anna Maria Island Welcome Center.
Casual Dining on AMI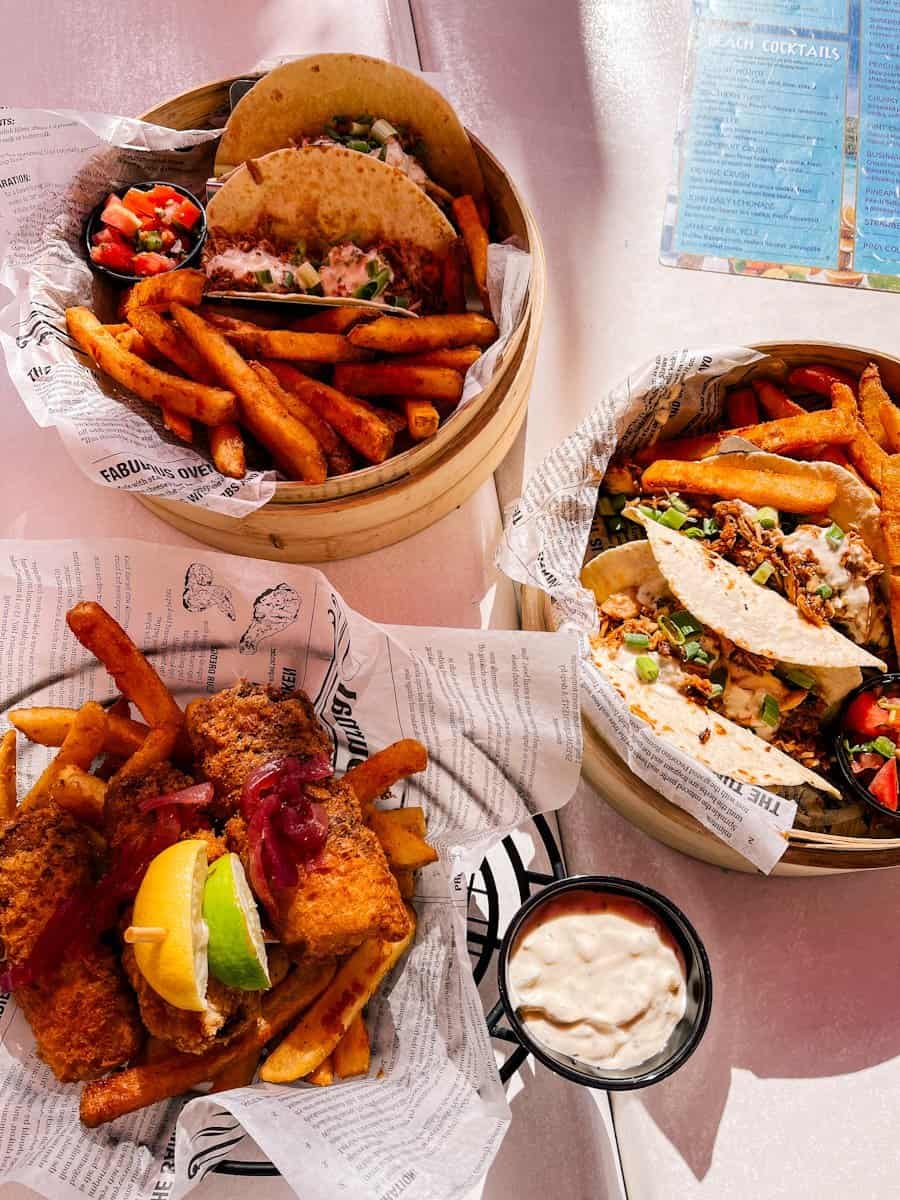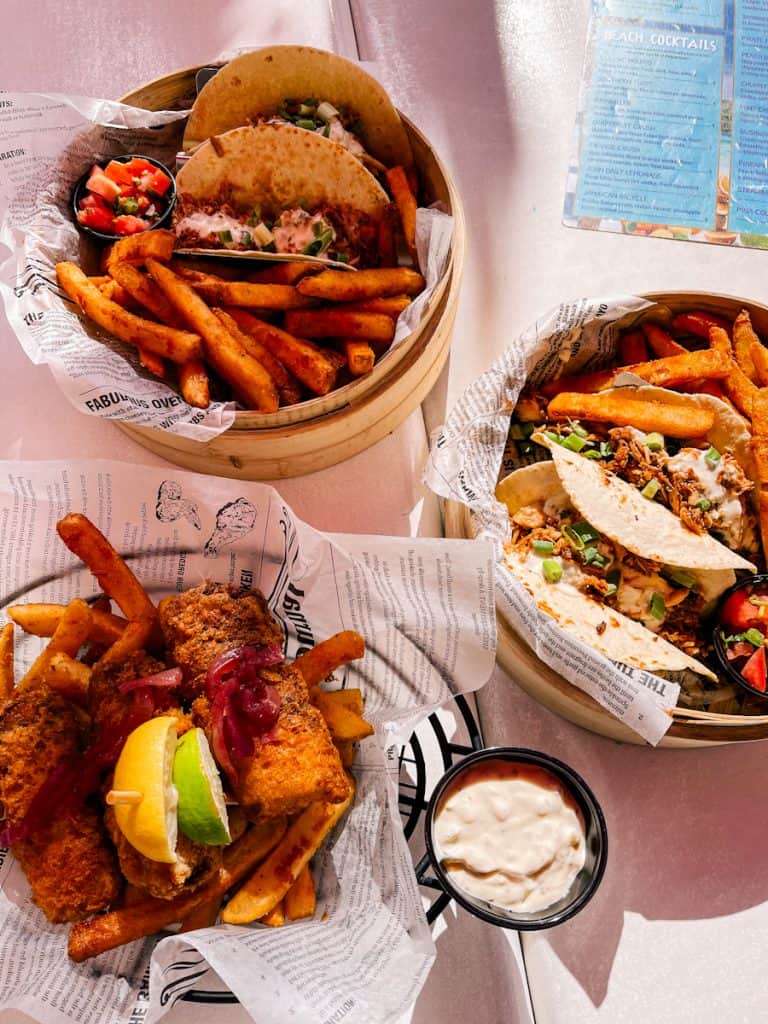 Skinny's Place
Skinny's Place is known by the locals as the best burger on the island! Nothing fancy here, just a casual bar and grill style restaurant with a killer burger and fries. Skinny's makes for a great lunch on Anna Maria Island.
Rod & Reel Pier
Rod & Reel Pier is a great place to grab a casual bite. Open for breakfast, lunch, and dinner, you're sure to find something delish there! Perhaps some of that delightful fried food we were talking about before??
Anna Maria Oyster Bar On The Pier
Anna Maria Oyster Bar On The Pier is a family-friendly restaurant at the end of the Historic Bridge Street Pier. The Oyster Bar has been around for 20 years and has 2 other locations in the Sarasota/Bradenton area. My family and I have been eating at these restaurants together for the past 10 years and it has always been a favorite of ours. Try the coconut shrimp – it's a crowd-pleaser for sure!
Pappo's Taqueria
Pappo's Taqueria is a local fast-casual style restaurant chain in the area. It is the perfect choice for quick take-out on nights that you don't really feel like cooking, but you also feel like you have eaten a bit too much fried food, ha! It is a fresh, delicious Mexican style fare with a lot of options for everyone in your group. We loved their burritos and burrito bowls but they also have tacos and quesadillas too! We usually eat here at least two times on our trips to Anna Maria Island.
Grub Tropical BBQ
Grub Tropical BBQ is a new addition to the Pine Avenue options on AMI. It is a great place to eat on Anna Maria Island because they have so many delicious options. If you're looking for Happy Hour on Anna Maria Island, look no further! Grub Tropical BBQ Happy Hour is full of great deals. They even have amazing and refreshing wine slushies! If you bring your reusable cup back you get a discount on your next drink as well. It is a fun new spot on AMI that you should definitely give a try.
Pizza Social
Pizza Social is a great place to eat on Anna Maria Island if you're craving a good pizza. There are a lot of different topping options, seating indoors and outdoors (although it tends to be busy) or you can order it for take away. Pizza social is the perfect place to grab a delicious lunch or dinner when you are not feeling like cooking.
The Ugly Grouper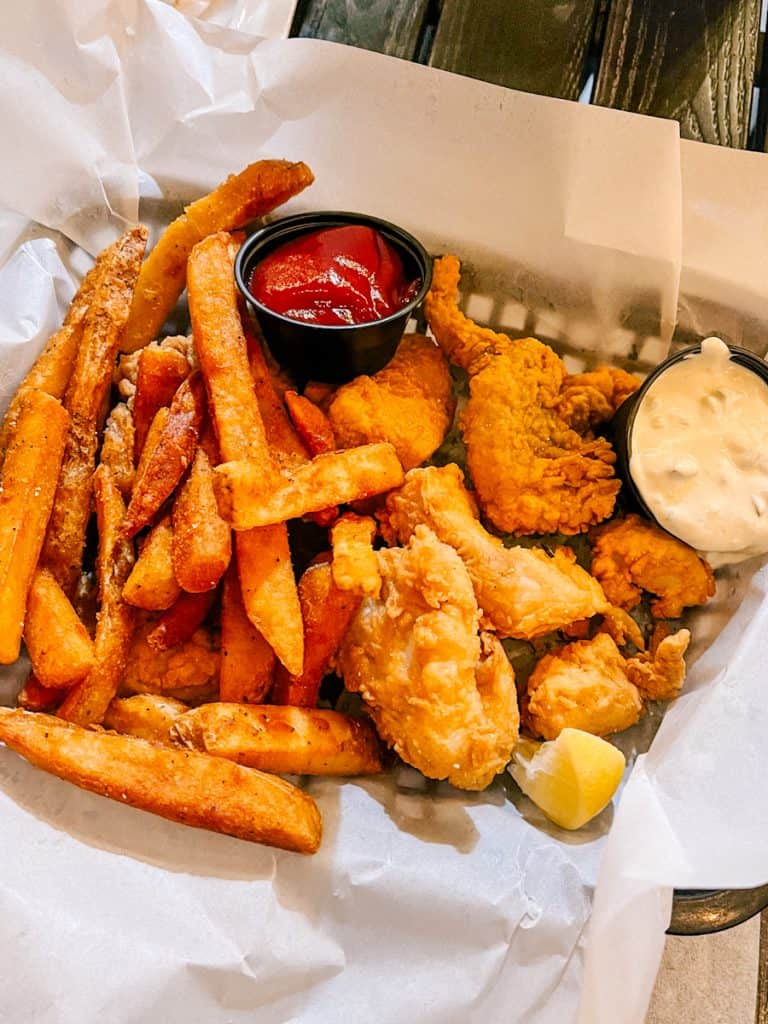 The Ugly Grouper is an upbeat bar and restaurant on AMI. You will find great live music here every single night! And their specialty is, you guessed it, grouper! Try it fried, fresh, or in a taco! I opted for the grouper nuggets and I have to say they were quite delish!
Island Time Bar and Grill
Island Time Bar and Grill is on historic Bridge Street and serves up traditional burgers and sandwiches, but also has a lot of fresh seafood and island fare. The patio is cute and situated under beautiful palm trees directly across the street from the beach. I ordered the fish tacos which were very tasty!
North Shore Cafe
North Shore Cafe is another cute spot on Pine Avenue. With a nice cafe menu, acai bowls, coffee, tea, and a small bar, you will want to stop by and sit in the nice patio area. Pro Tip – there's a cool AMI mural on the side of North Shore Cafe, so get a cute pic!
Coquina Beach Cafe
Coquina Beach Cafe is a great spot on the beach to grab a drink, lunch, or snack. There are tables on the beach and it is a perfect casual location for those beach days when you just need a quick refreshment. They have really good chili cheese fries if you're into that sort of thing!
The Feast Restaurant
The Feast Restaurant blends a casual feel with fine dining for a relaxed ambiance. All of the food and service are excellent here too! Try the steak, hogfish, or a gourmet pizza!
Eat Here
If Beach Bistro is a little bit out of your price range, but you still want to eat a delicious meal, check out Eat Here on Anna Maria Island. It has the same owners but a more affordable price point. You'll find American fare with a twist at Eat Here and a fun atmosphere. If you're looking for a place to order take-out pizza, this is definitely one of the best local places on the island for it.
Fine Dining on AMI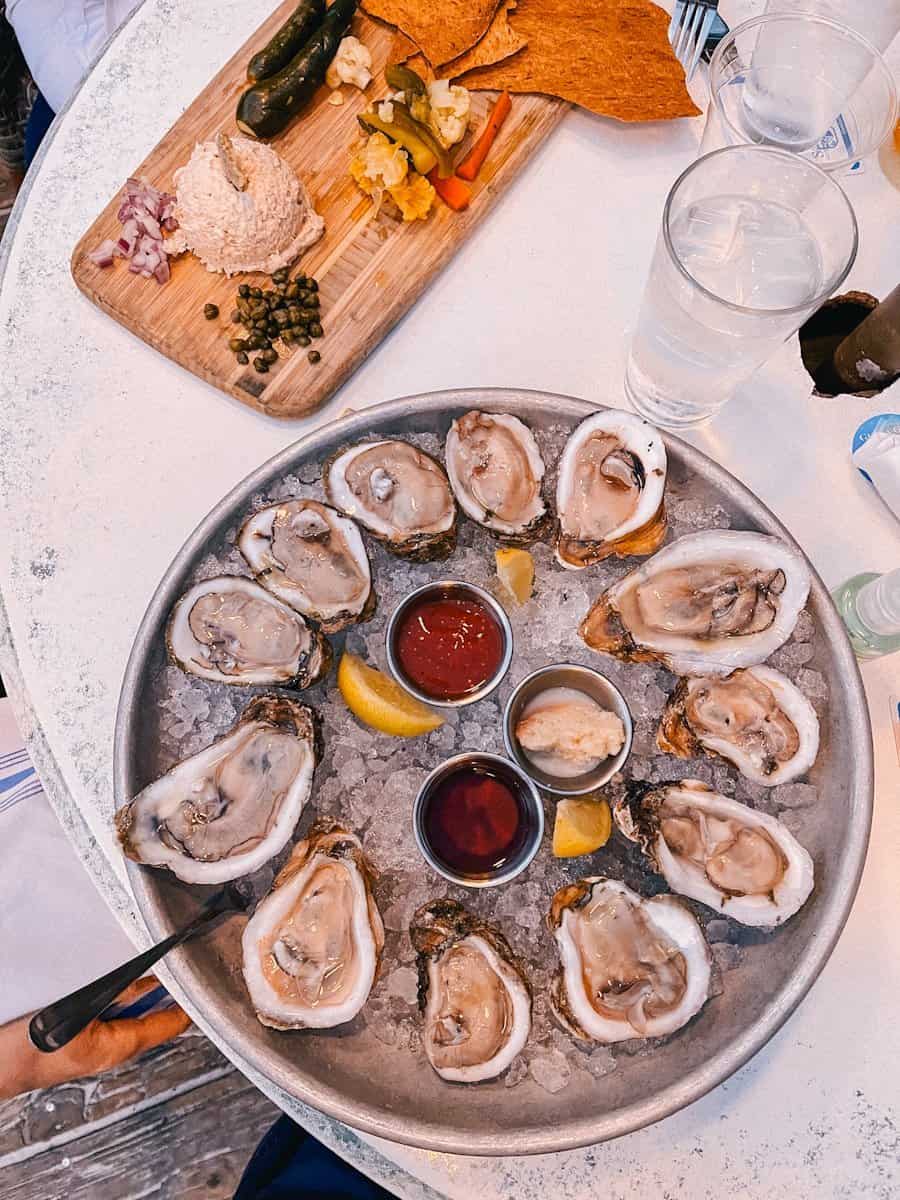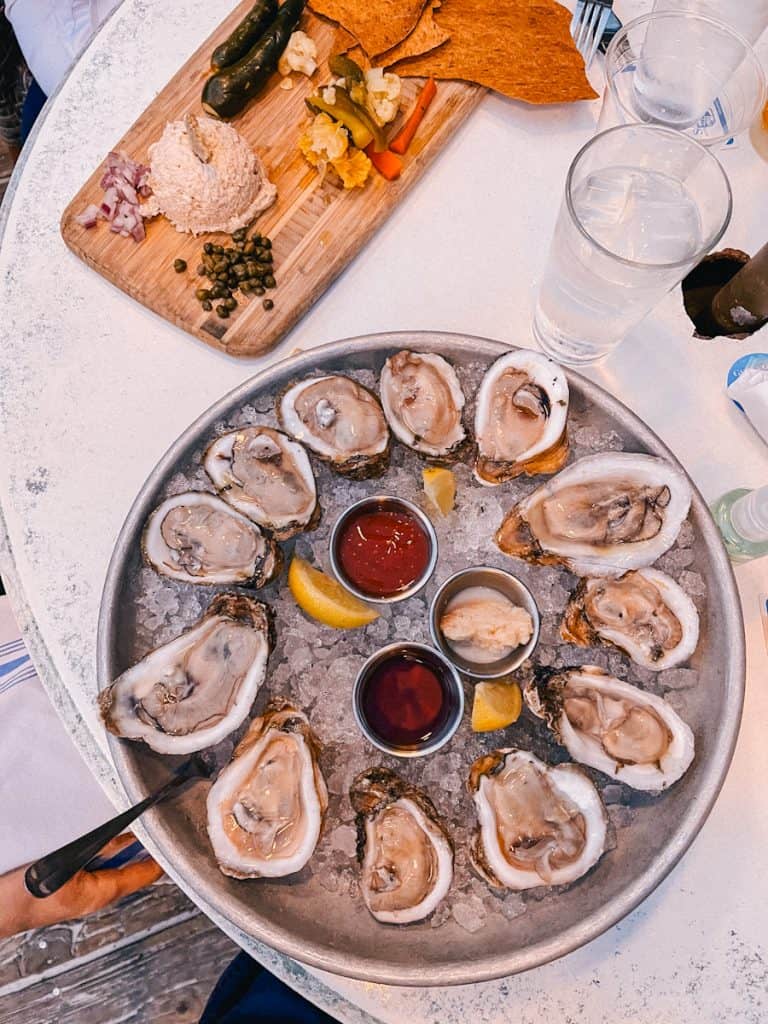 The Sandbar
The Sandbar is a must-visit during your stay on Anna Maria Island. It is one of the most well-known, iconic restaurants on the island, and for good reason. The Sandbar is directly on the beach, has an incredible menu, and you might even catch a beautiful wedding ceremony happening on the beach. They also ethically source all of their ingredients which gets an A+ from me!
Beach Bistro
Beach Bistro is oh so fancy! You'll want to dress up if you eat here. You can dine on the beach and watch the sunset over Holmes Beach. It is one of the most high-end restaurants on the island so it is a bit more formal than most other AMI establishments. Try the Bistro Experience tasting menu if you're feeling extra! Beach Bistro is great if you're celebrating a special occasion.
Beach House
The Beach House has such an amazing vibe and is one of the restaurants where you can eat an amazing dinner with your toes in the sand because, as the name suggests, it is literally RIGHT on the beach. Try one of their seafood towers or seafood gumbo and enjoy your meal overlooking the beautiful Gulf of Mexico.
The Waterfront
The Waterfront Restaurant is on the Tampa Bay side of the island, just a short walk from Anna Maria City Pier. The menu is absolutely incredible and I had the best meal on the island here. The Waterfront has rotating seasonal menus to ensure you're getting the freshest and most mouth-watering dishes. I highly recommend eating here! Pro tip: go for lunch if you want to save a few bucks.
Bridge Street Bistro
Bridge Street Bistro is on historic Bridge Street, as the name suggests. It is a nice restaurant with a classic menu. Bridge Street Bistro is sure to delight seafood lovers. It is located directly above the more casual Island Time Bar & Grill.
Bars on AMI
The Doctor's Office
The Doctor's Office is a fun little craft cocktail bar on Anna Maria Island. The name is a nod to the local doctor's office that used to be housed in the building for decades. This cozy cocktail bar now has a cool atmosphere and a bar food menu to boot. It's a part of the Beach Bistro and Eat Here family so you know it is going to be good! It is highly recommended that you make a reservation, even if there are only 2-3 people as the bar fills up quickly!
The Kokonut Hut Tiki Bar
The Kokonut Hut Tiki Bar is just like you would imagine from the name. Situated on the gulf, under tiki-style roofs, and very casual. It's a super fun place to hang out and grab a cocktail complete with a signature boozy slushie and relax.
Slim's Place
Slim's Place is Anna Maria Island's local sport's bar. The menu at Slim's is just what you would think of a sport's bar with burgers, sandwiches, and wings. They also have award-winning lobster mac & cheese, yum! Check them out for a game, or visit for good Happy Hour deals during weekdays.
The Freckled Fin Irish Pub
The Freckled Fin Irish Pub is a great place to hear live music on Anna Maria Island. They have a classic bar food menu in a lively and upbeat atmosphere. It's in the same plaza as The Doctor's Office so you might like to visit both on the same evening! Honestly, I wasn't expecting much when we went here for dinner but the food was so delicious and we had so much fun that we went back multiple times during our trip. I highly recommend it!
Ice Cream & Sweets On Anna Maria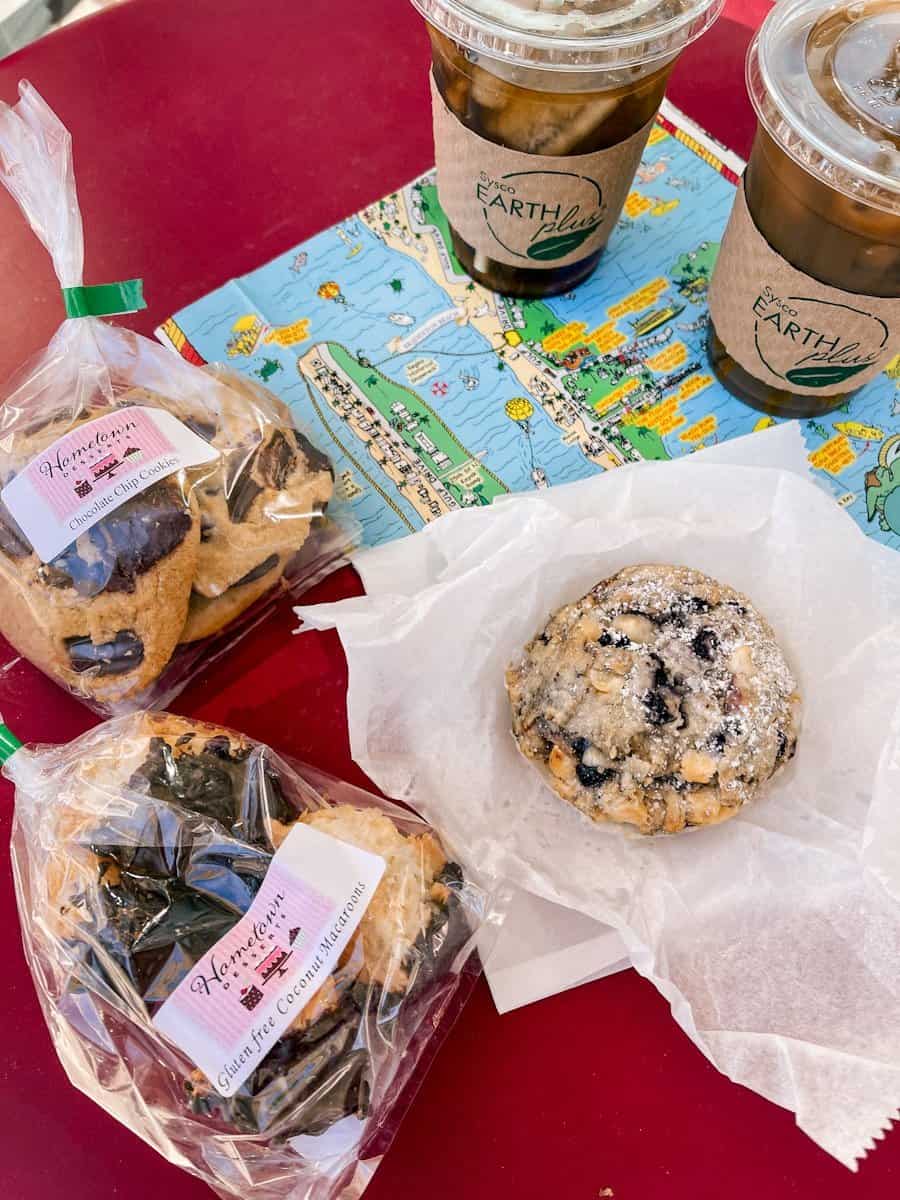 Sweets
There is definitely not a shortage of sweets on Anna Maria Island! From ice cream shops to bakeries to creperies, there's a little something for every sweet tooth on AMI!
Hometown Desserts
Hometown Desserts is the bakery I mentioned above that makes the incredible cakes and pastries found in restaurants all over Anna Maria Island. They also have a shop on Pine Ave where you can buy cakes, pastries, desserts and more!
The Island Creperie
The Island Creperie is located on Bridge Street and serves French crepes and treats. You'll find both sweet and savory crepes here and it's a fun Anna Maria Island staple.
The Donut Experiment
As I mentioned above, The Donut Experiment is a must-visit for donut lovers while visiting Anna Maria Island. The classic cake donuts and build your own toppings make this a great place for foodies and families alike.
Ice Cream
You really cannot go wrong when choosing an ice cream shop on Anna Maria Island. Over the past decade, I have been to almost all of these shops and have never been disappointed! I really like Small Town Creamery and Two Scoops. Here's the list…
Small Town Creamery
DIPS
Two Scoops
Island Scoops
Joe's Eats and Sweets
Tyler's Gourmet Homemade Ice Cream
Anna Maria Island Creamery and Bakery
Coffee Shops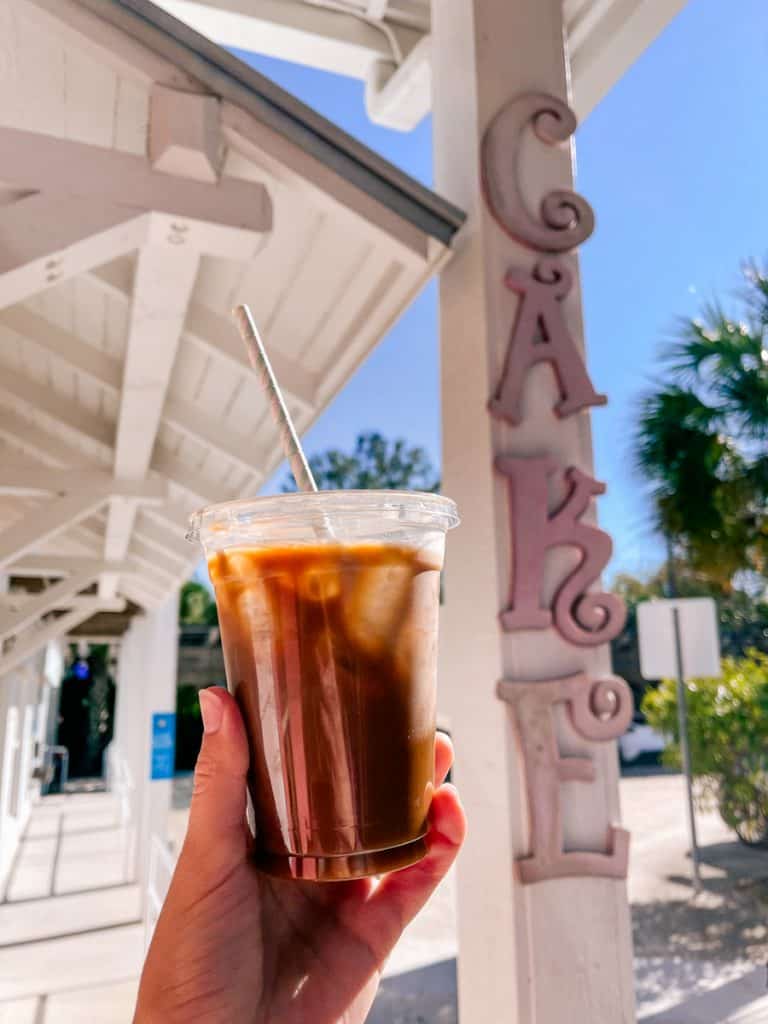 Many of the shops and restaurants I've already mentioned in this Anna Maria Island restaurant guide have great coffee and tea menus to get you that dose of caffeine you need to start your day. Here are some of the more popular options that you will love…
Local Markets on Anna Maria Island
City of Anna Maria Island Farmer's Market
The City of AMI Farmer's Marker is located at City Pier and is open every Tuesday from 8:30 am – 2:00 pm, October 13 – May 11. You can get some fresh local produce and more so stop by if you can!
Vinny's Italian Kitchen and Market
Vinny's Italian Kitchen and Market is a super fun local spot on Anna Maria Island where you can find plenty of Italian fares! You can grab some sandwiches, pizza, or stromboli for take-out. Or you might like to stay awhile for a wine tasting. Either way, you won't be disappointed!
Grocery Stores On Anna Maria Island
There is only one grocery store on Anna Maria Island! There is one lone Publix near the middle of the island. If you had to choose one grocery store though, wouldn't you want it to be a Publix?! I wish we had them in northeast Ohio where I live, but alas, I have to wait until I'm on AMI to shop there. And don't forget to try their famous key lime pie!
Are There Delivery Services On Anna Maria Island?
There are delivery services on Anna Maria Island, yes! If you would rather not bother with grocery shopping during your trip to AMI, you can order your groceries through Instacart and have them delivered to the door of your rental property.
If you would like to order takeout while visiting AMI, you'll find that GrubHub and DoorDash are available at many of the restaurants. Although these services can be very convenient and it is nice to have around, if you are close to the restaurant that you want to order from, consider ordering directly from the restaurant and picking it up yourself. It is a great excuse for an island walk or bike ride!
As I mentioned, Anna Maria Island is composed of almost entirely locally owned businesses. We all know that it has been a struggle for them to survive through the pandemic. Delivery services often take up to 30% of the order cost as commission, leaving the local shops with minimal profits. I don't want to beat anyone up for using GrubHub or DoorDash, I myself have definitely used these services before, but it is just something to keep in mind.
Where The Locals Eat On Anna Maria Island
If you want to eat like the Anna Maria Island Locals do, be sure to check out Rod & Reel Pier, Anna Maria Pier, Skinny's, and Scott's Deli.
My Personal Favorite Places To Eat On Anna Maria Island
I can't share an Anna Maria Island restaurant guide without calling out some of my very favorite restaurants to eat at on AMI! If you only want to eat out a few times or only have a short amount of time on the island, these are the places I would recommend trying out first.
The Waterfront Restaurant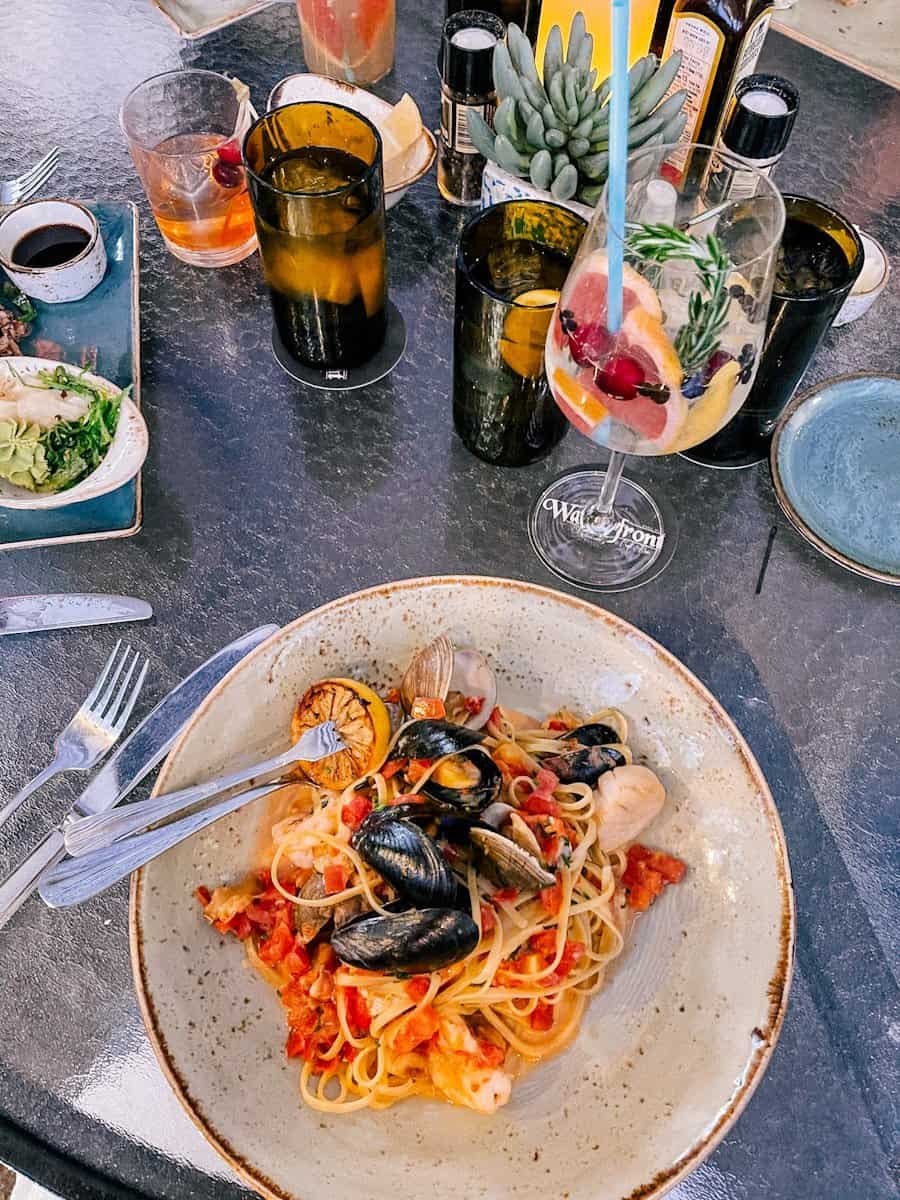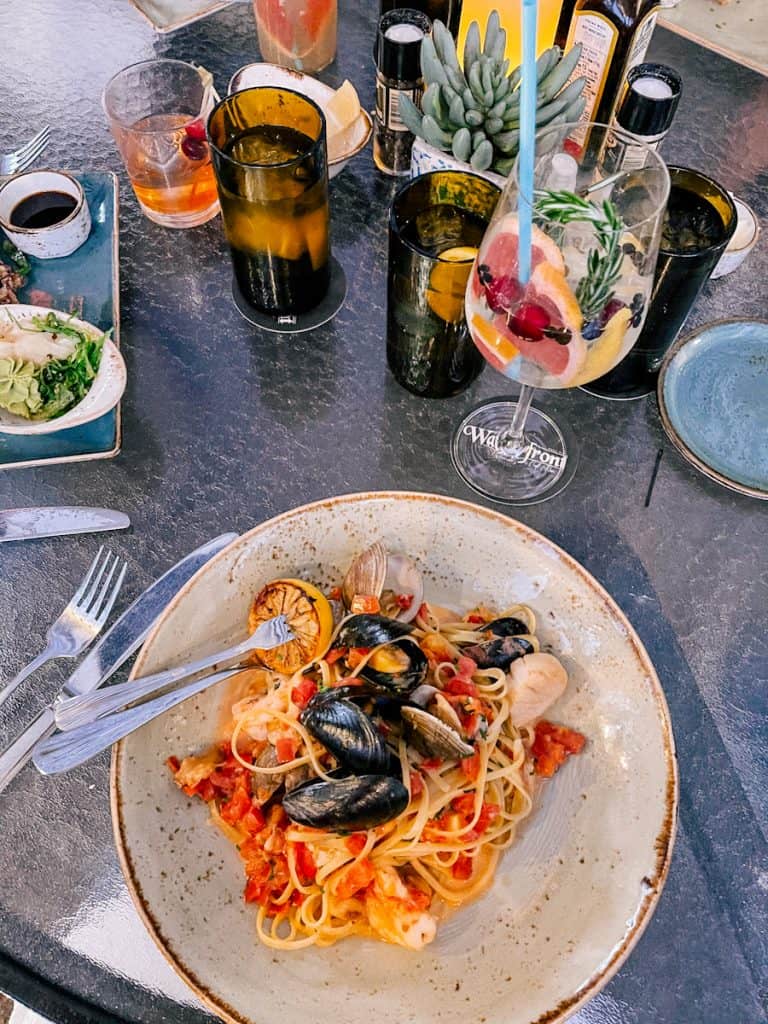 As I mentioned above, The Waterfront Restaurant was my absolute favorite meal on Anna Maria Island. It was everyone at the table's favorite meal of the week, to be frank! This Frutti di Mare (pictured above) made all of my dreams come true. All five of us ordered different menu items and loved every single delectable bite. I would obviously, highly recommend eating here!
The Sandbar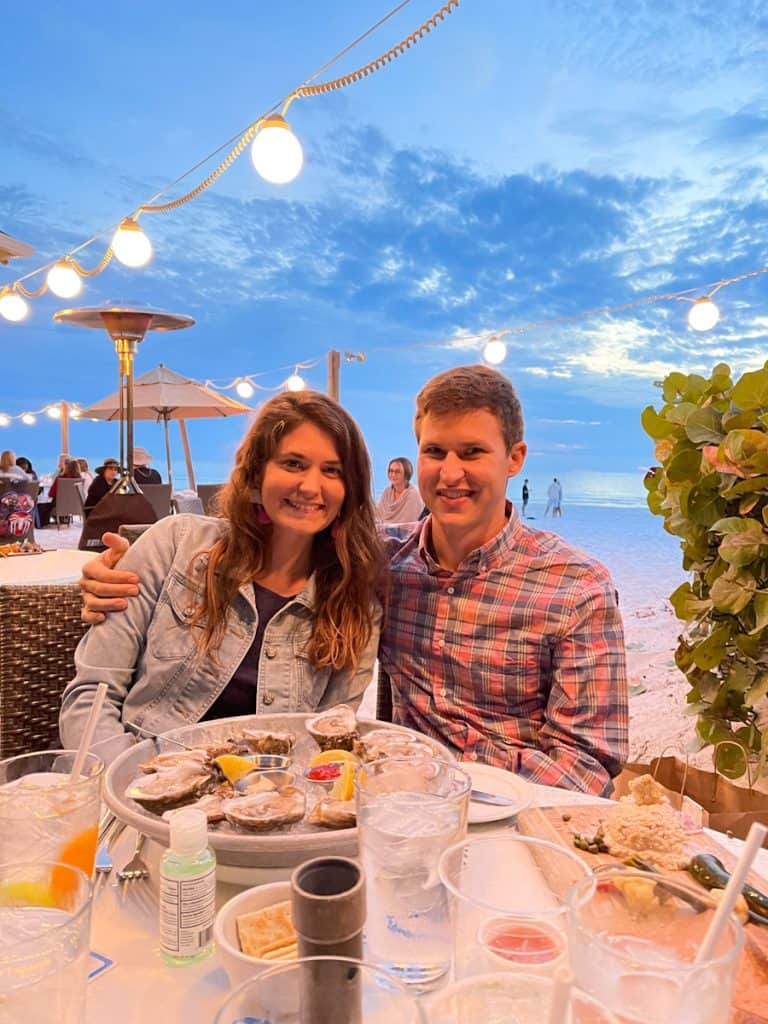 No Anna Maria Island restaurant guide would be complete without mentioning The Sandbar restaurant! My second favorite meal of the week goes to The Sandbar! This restaurant is iconic to Anna Maria Island because it is located directly on Holmes Beach. We went there on our first night in town for a lovely sunset dinner. We ordered appetizers and we even won their contest of the day by choosing the exact time of sunset (to the second!) and were rewarded with a free bottle of champagne for the table! The ambiance and the food were both stellar.
Beach House
Beach House is under the same ownership as The Sandbar and Anna Maria Oyster Bar. They are definitely in the right biz because they always hit the mark on the menu and ambiance for me! Beach House can get quite a long wait time, so go early to avoid crowds, grab a cocktail, and walk over to the beach while you wait for your table. The waitress and chef also went out of their way to ensure that I got a meal I loved despite my dairy allergy which always earns a restaurant bonus points with me!
Pappo's Taqueria
My family actually ordered Pappo's Taqueria takeout on two different nights during our stay on Anna Maria Island! It was super easy to order online for curbside pickup. We ate at our rental home on our beautiful lanai and it was delish!
Two Scoops
Two Scoops is the only ice cream shop we went to during our last visit (it was December and a bit chilly after all!), but we have truly been to them all over the last decade…you really cannot go wrong! But Two Scoops really hit the spot this last trip. I ordered the lemon sorbet, like I said, I'm lactose intolerant so no dairy for me!
What To Wear To Go Out To Eat On Anna Maria Island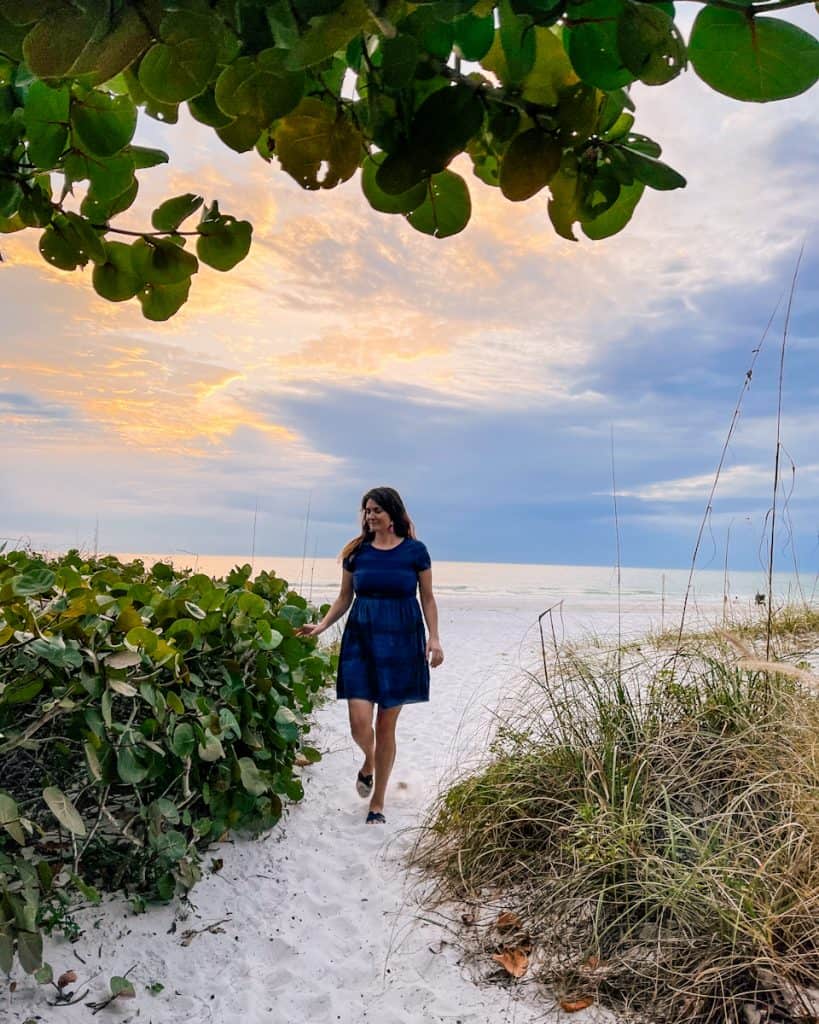 I won't go too in-depth as this post is an Anna Maria Island restaurant guide, but I will share a few tips on what to wear on AMI here. Anna Maria Island is a very laid-back and casual Island with its "Old Florida" vibe. At most restaurants, it is completely acceptable to walk right off the beach in your cover-up and be seated at the restaurant if you want to. Most of AMI's restaurants have outdoor seating as well so anything goes.
Personally, I like to dress up a little bit if I am going out to dinner! It just makes me happy so I usually opt for a nicer sundress or skirt if I'm going out to eat on the island. At places like Rod & Reel Pier or The Ugly Grouper, I usually go casual with jeans or shorts depending on the weather.
It really is a matter of personal preference though. Shorts and a t-shirt are great for most establishments, but I would really dress nicely if you plan to eat at Beach Bistro.
Best Places To Eat On Anna Maria Island
I hope you find this Anna Maria Island restaurant guide helpful and that you enjoy eating some incredible seafood, sweets, and more during your visit. Let me know in the comments below if you think anywhere else deserves a mention on the best places to eat on Anna Maria Island list! If you want all of these restaurants in one easy list, click here for my Google Maps list.
Things To Do On Anna Maria Island
Click here for a free Google Maps list of all of these restaurants and more!
Thanks for reading this Anna Maria Island Restaurant Guide! If you are looking for a full travel guide to Anna Maria Island, check out my super in-depth dive into all of the best things to see and do on AMI, as well as the best places to stay! Enjoy your trip and let me know if you do any of these activities I suggest. I love hearing from you guys, it's the best! Follow me on Instagram for more tips and inspo!
Read Next…
Pin It For Later…