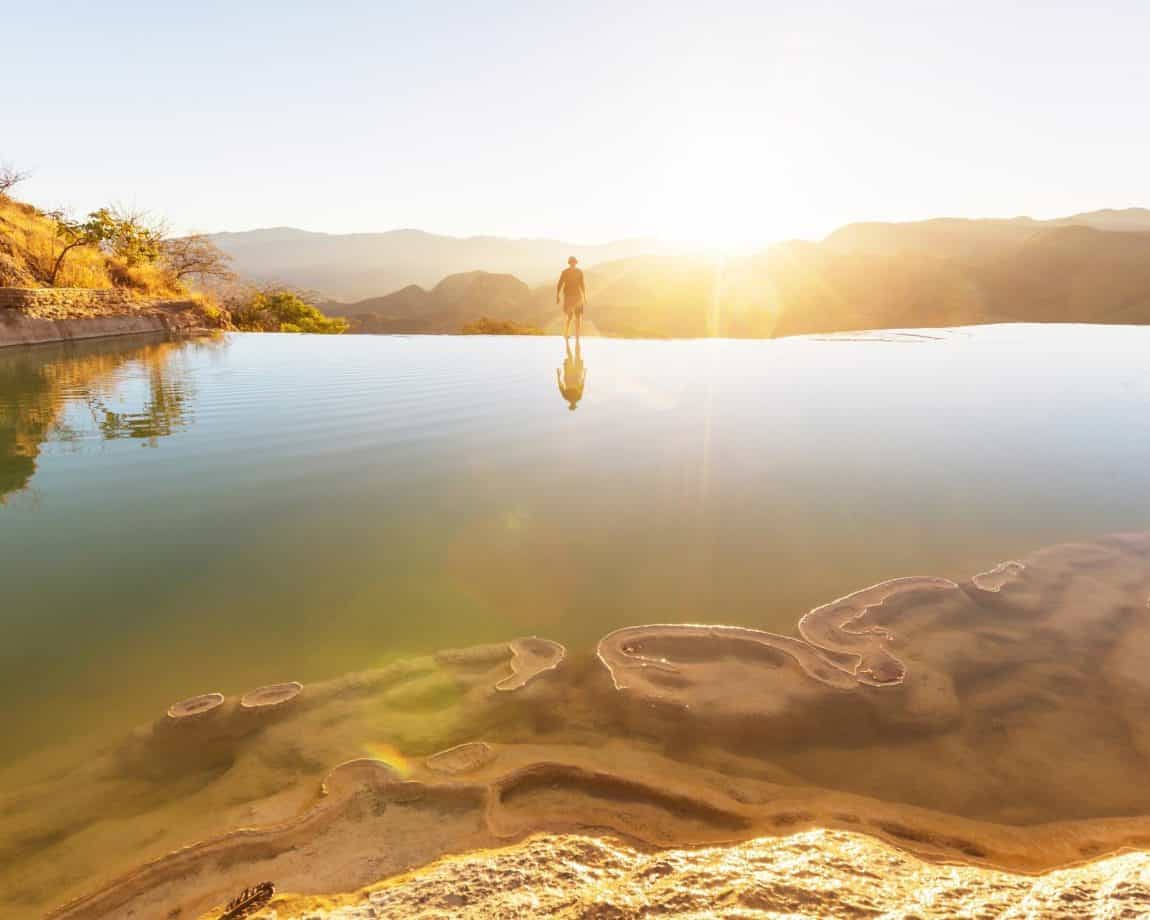 Ultimate Oaxaca, Mexico Bucket List: Things To Do In Oaxaca
The Ultimate Oaxaca, Mexico Bucket List
The state of Oaxaca in Mexico has always been very popular with tourists, but right now it's really having a moment. Top travel bloggers and writers are shining a well-deserved spotlight on Oaxaca right now and honestly, it's about time! Oaxaca is one of my all-time favorite places in the world so I am very excited to share the ultimate Oaxaca, Mexico bucket list to help you find the best things to do in Oaxaca for your next trip.
Oaxaca, Mexico: How To Pronounce It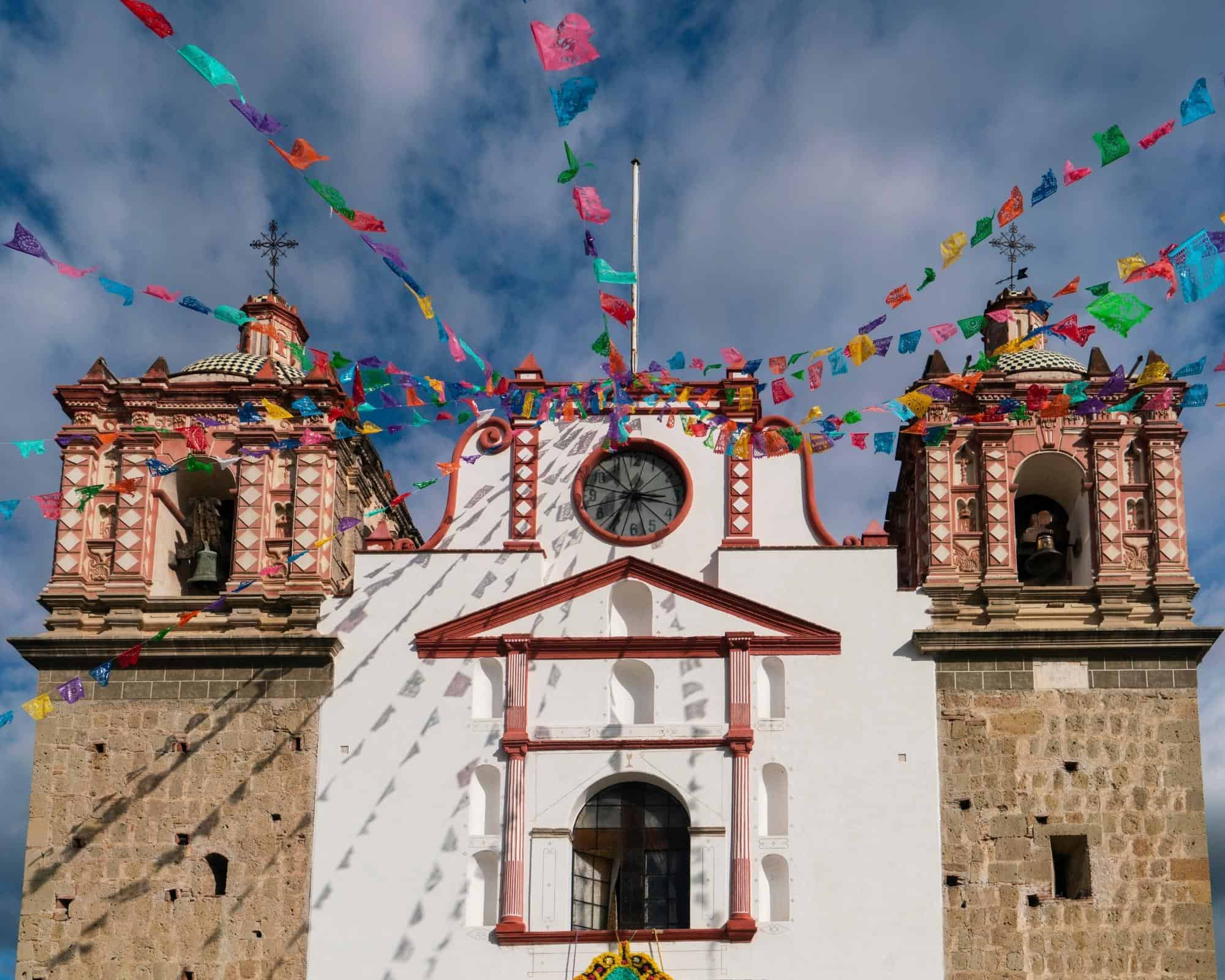 First things first, you need to know how to properly pronounce the name Oaxaca before planning your big trip there! I know it is a tough word, but I'm here to help! Oaxaca is pronounced waa-haa-kuh. Now, say that a few times to keep it in your memory. Now that we've got that covered, let's move on to the best things to do in Oaxaca so that you can add them to your own Oaxaca bucket list!
Oaxaca, Mexico Bucket List: Best Things To Do In Oaxaca
Here is a great list of must-see and do activities for Oaxaca, Mexico…
1. Visit Hierve el Agua
Hierve el Agua is located in the mountains of Oaxaca and it is one of the most unique and beautiful places I have ever visited. There is a petrified waterfall that you can hike up to see and the view from the pools looking out over the mountains is incredible. Take a dip in the water, admire the view, and hike over to the waterfall. There is a public restroom and changing area and there are usually stands selling food, drinks, and snacks. I always get a coconut to drink on the way out! Book a tour through Get Your Guide.
Location: Oaxaca de Juárez, Oaxaca, Mexico
2. See The Arból del Tule
El Tule is a Montezuma Cypress and the widest tree in the world. It is a fascinating sight to see because it is truly so massive. It's 2,000 years old! El Arbol del Tule sits inside the grounds of Templo Santa Maria de Asunción in Santa Marie del Tule, Oaxaca. The church and town square is lovely and it is definitely worth a visit! Take a tour with Get Your Guide.
Location: 29W7+JG Santa María del Tule, Oaxaca, Mexico
3. Take A Tour Of Monte Albán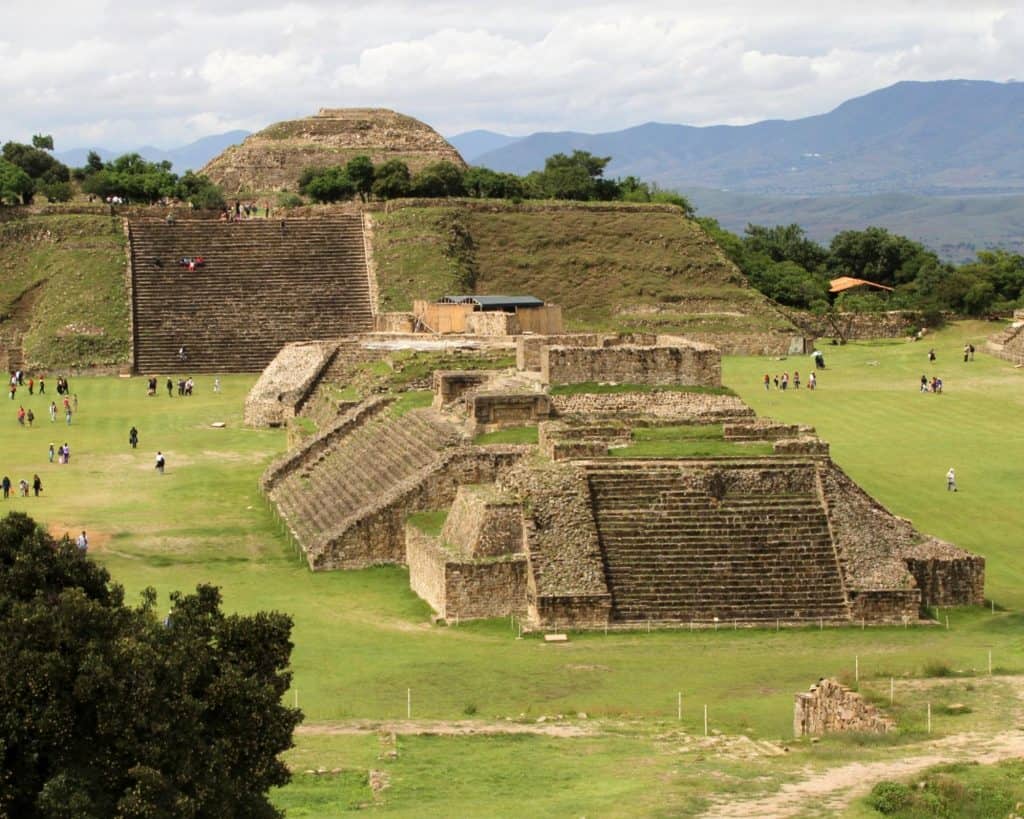 Monte Albán is a UNESCO world heritage site and the archeological area has been around since the sixth century B.C. It has a rich history for Zapotec and Mixtec cultures. Monte Albán is located only a few minutes away from Oaxaca City. and is a very easy tourist destination to reach. It's a place you need to add to your Oaxaca, Mexico bucket list! Take a tour with Get Your Guide.
Location: 26WM+JJ San Pedro Ixtlahuaca, Oaxaca, Mexico
4. Go To The Tlacolula Sunday Market
The Sunday Market in Tlacolula is one of the oldest markets in Oaxaca. It is only 45 mins east of Oaxaca City and you will find vibrantly colored textiles as well as amazing food and produce. There is so much to see and Tlacolula is a must-visit place as well! This is a great place to buy your souvenirs and try some authentic Oaxacan fare such as barbacoa, chicharrones, chapulines, or pan de cazuela. Take a tour with Get Your Guide.
Location: 70400 int mercado municipal, 70400 Tlacolula de Matamoros, Oax., Mexico
5. Visit Mitla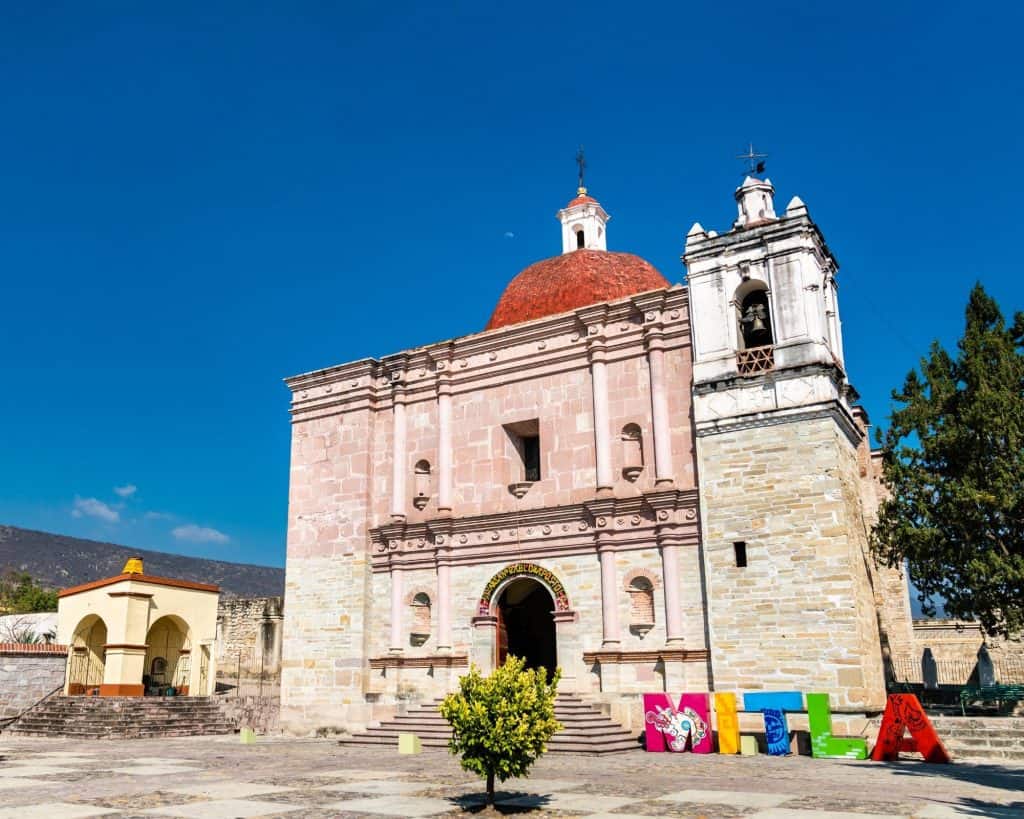 During your trip to Oaxaca, Mexico, you need to visit Mitla to see the ruins and shop the market. The ruins in Mitla are another very important archaeological zone in the state of Oaxaca. You can also find amazing cotton textiles and also mezcal, of course! I love shopping at the markets in Mitla and have found some great souvenirs here! Take a tour with Get Your Guide.
Location: Vila de, Cam. Nacional, San Pablo, Centro, 70438 San Pablo Villa de Mitla, Oax., Mexico
6. Take A Traditional Oaxacan Cooking Class
The way to my heart is always food. Some of the best meals I've ever eaten have been in Oaxaca, Mexico so I highly recommend taking a traditional Oaxacan cooking class to learn how to make some delicious Oaxacan dishes. You won't regret it! Book a class through Get Your Guide
7. Shop The Mercado Benito Juárez
Mercado Benito Juarez is one of the most popular markets to visit during your trip so you will definitely want to add this to your Oaxaca, Mexico bucket list! I love to walk around this market and see all of the beautiful things the artisans have created. They. are so talented! This is a great place to buy a few souvenirs to take home with you. A great way to see the best of the markets is to book a walking tour around Oaxaca City. Book a tour with Get Your Guide.
Location: Las Casas S/N, OAX_RE_BENITO JUAREZ, Centro, 68000 Oaxaca de Juárez, Oax., Mexico
8. Take A Trip To Teotitlan Del Valle
Another amazing shopping spot in Oaxaca is Teotitlan del Valle. This region is famously known for its intricate, handwoven textiles and fabrics. It is such a fascinating process to witness the artisans in their element, creating impressive and colorful masterpieces. Teotitlan del Valle is also a great place to try some of Oaxaca's finest mezcal. Take a tour that includes both visiting Teotitlan del Valle and a mezcal tasting through Get Your Guide.
Location: Market Teotitlan del Valle – Tecutlan, 70420 Teotitlán del Valle, Oax., Mexico
9. Explore Oaxaca Centro And The Zocalo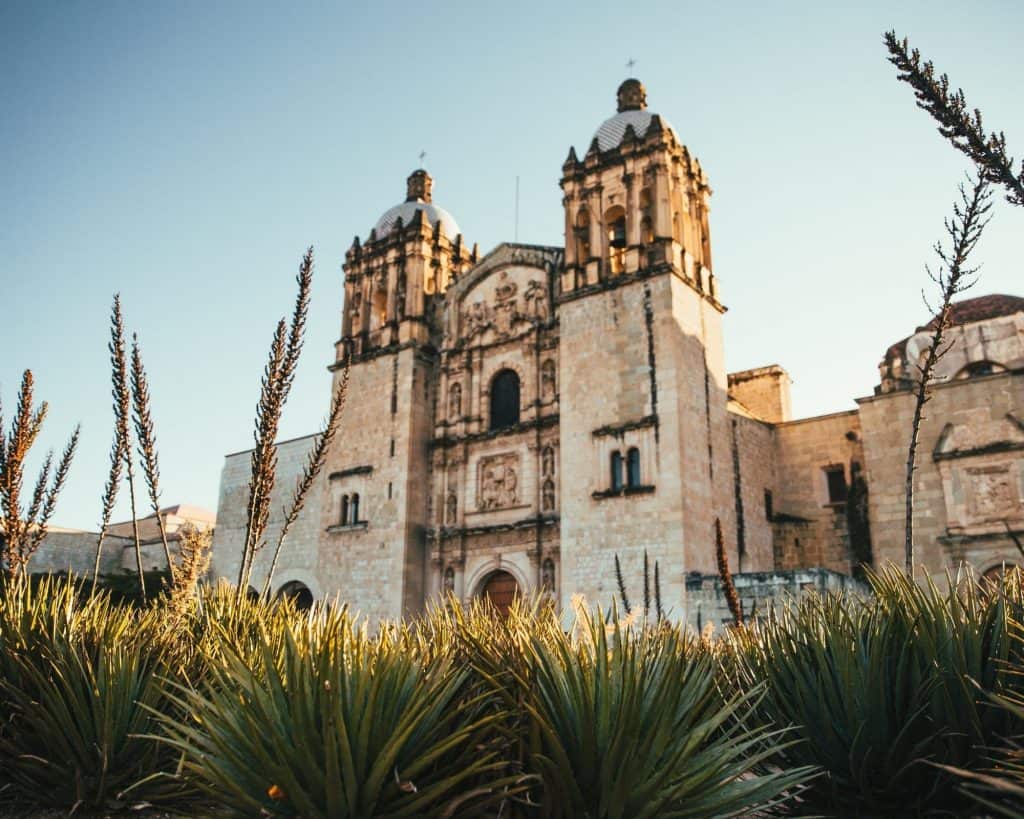 You truly never know what surprises you might see when walking around The Zocalo and Oaxaca Centro area. There is always some celebration or another which usually means you might end up in the middle of a parade. It is so fun to see all of the locals dressed up in traditional Oaxacan clothing and dancing along to live music. You may witness a wedding procession or be serenaded by a mariachi band. The architecture and colors of Oaxaca are so vibrant and the energy of the city is so energetic. There will be street artists and food vendors, shopping, and markets to explore. You definitely can't miss out on wandering around Oaxaca City during your trip. Book a tour with Get Your Guide.
Location: Portal del Palacio, OAX_RE_BENITO JUAREZ, Centro, 68000 Oaxaca de Juárez, Oax., Mexico
10. See The Templo De Santo Domingo De Guzmán & Ethnobotanical Garden
Another can't miss activity for your Oaxaca, Mexico bucket list is to see the Santo Domingo de Guzman and explore the. ethnobotanical gardens located behind the church. You will marvel at the beautiful architecture and history of Santo Domingo and then enjoy nature outside in the botanical gardens! Book a tour with Get Your Guide.
Location: C. Macedonio Alcalá s/n, RUTA INDEPENDENCIA, Centro, 68000 Oaxaca de Juárez, Oax., Mexico
11. Take A Guided Walking Tour Through Oaxaca City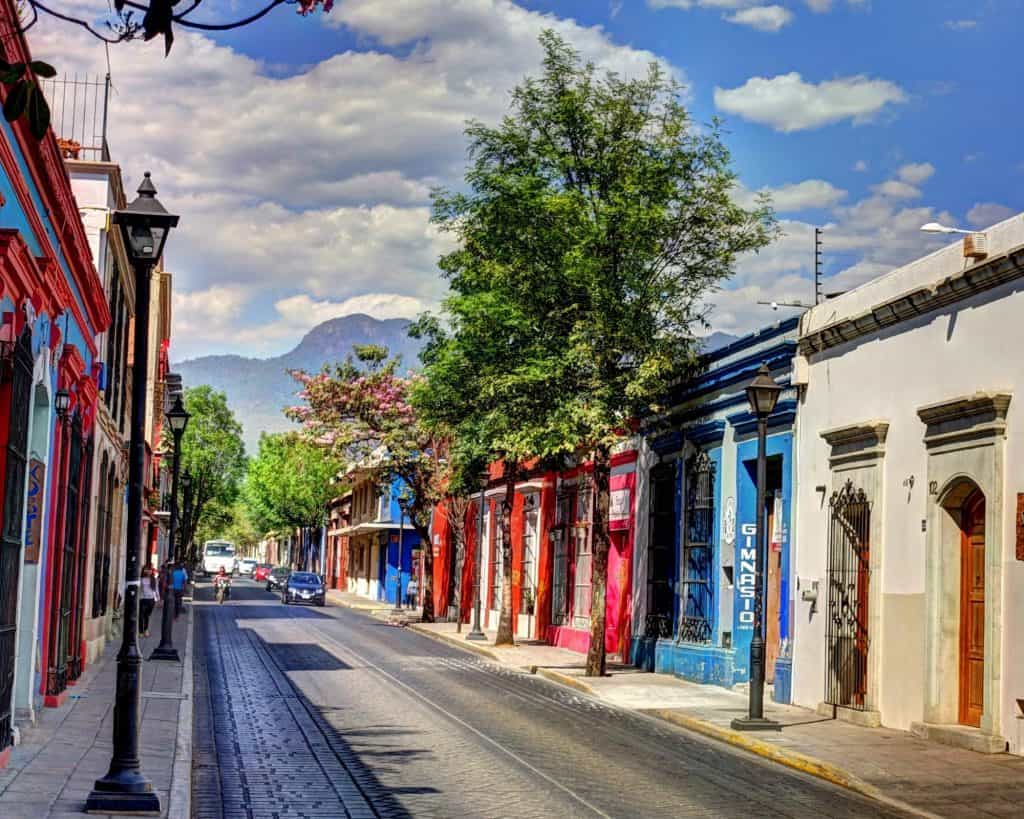 Start your day at the Templo de Santo Domingo in Oaxaca City and enjoy a guided tour of the best places to see in the city. I always find that taking a walking tour at the beginning of a trip helps me to get my bearings and a good feel of the culture of the place I'm visiting. Book a walking tour through Get Your Guide!
12. Participate In A Temazcal Ceremony
Temazcal is a traditional Mexican ceremony led by a shaman. It is a cleansing ritual and massage that takes place in a Mexican sweat lodge. It is an ancient ritual that is meant to promote healing. Book a Temazcal Ceremony through TripAdvisor.
13. Escape To The Beach
Who doesn't love a beach vacation?! Did you know that Oaxaca has some of the most amazing beaches in Mexico? They are the hidden gems of Oaxaca and are definitely worth a short plane ride from Oaxaca City to enjoy some beach adventures in Huatulco. It's also an incredible place to witness bioluminescent Plankton at nighttime! Book a tour with Get Your Guide!
Location: Santa Maria Huatulco, Oaxaca, Mexico
14. Yagul Archaeological Site
Yagul is another important archaeological site in Oaxaca, Mexico that you must see! It was a thriving area after the fall of Monte Alban. It is located very close to the Tlacolula Sunday Market as well, so you can easily visit both in one day! Book a tour of Yagul Archaeological Site through Get Your Guide!
15. Visit A Coffee Farm
Oaxacan farms some of the best coffee beans in the world. I always love to bring home fresh Oaxacan coffee beans with me and enjoy them after I get home. It makes me feel like I'm extending my trip in a way! But one of the coolest things you can do if you are a big coffee drinker is to do a tour of a coffee farm in Oaxaca. Book a coffee farm tour through Get Your Guide!
16. Street Art Bike Tour
Oaxaca is also well-known for its street art. It has become a way for artists to use powerful imagery to make political statements or stand up for. people without a voice. You can read an interesting article all about Oaxacan Street Art here. It is very interesting to see all of this street art so of course, you can book a tour to see some of the most famous murals. Book a street art bike tour through Get Your Guide!
17. Visit Ex Convento De Cuilapam
Cuilapam is an ex-convent and ruins in Oaxaca that you can visit and explore. The architecture is incredible and dates back to 1555! There is a lot of history to be learned here and some stellar views of the surrounding mountains to admire. If you want to just visit this location, that can be easily managed, but you can also do a full day-trip through Get Your Guide to Cuilapam, Monte Alban, and a few other very historic villages in Oaxaca!
Location: 71240 Cuilapan de Guerrero, Oaxaca, Mexico
18. Oaxaca, Mexico Bucket List: Buy Some Black Pottery (Barro Negro)
If you are an arts and crafts lover, then you will surely enjoy seeing Oaxaca's traditional barro negro aka black pottery in person. This Oaxacan black pottery is an ancient art form made by molding black clay and cutting out sections to create beautiful designs. You will definitely be wanting to bring some black pottery home with you! Book an art tour through Get Your Guide!
19. Do A Mezcal Tasting
You haven't visited Oaxaca unless you have tried mezcal! No, it is not the same as tequila! Tequila is actually a type of mezcal – fun fact! Mezcal usually has a much smokier taste than traditional tequila. Oaxaca is famous for its production of mezcal and this, of course, is the perfect reason to do a mezcal tasting (or two!) during your visit to Oaxaca.
20. Try All The Oaxacan Foods
As I mentioned before, Oaxaca has some seriously incredible food. I was blown away by how delicious the food is here! Some great authentic Oaxacan foods to try during your trip are chapulines, tacos al pastor, tlayudas, oaxacan cheese, mezcal, hot chocolate, mole, oaxaca coffee (cafe pluma). Book a food tour through Get Your Guide!
Save This For Later…
Read More…
If you liked this post, read the Ultimate London Bucket List or one of my most recent posts…