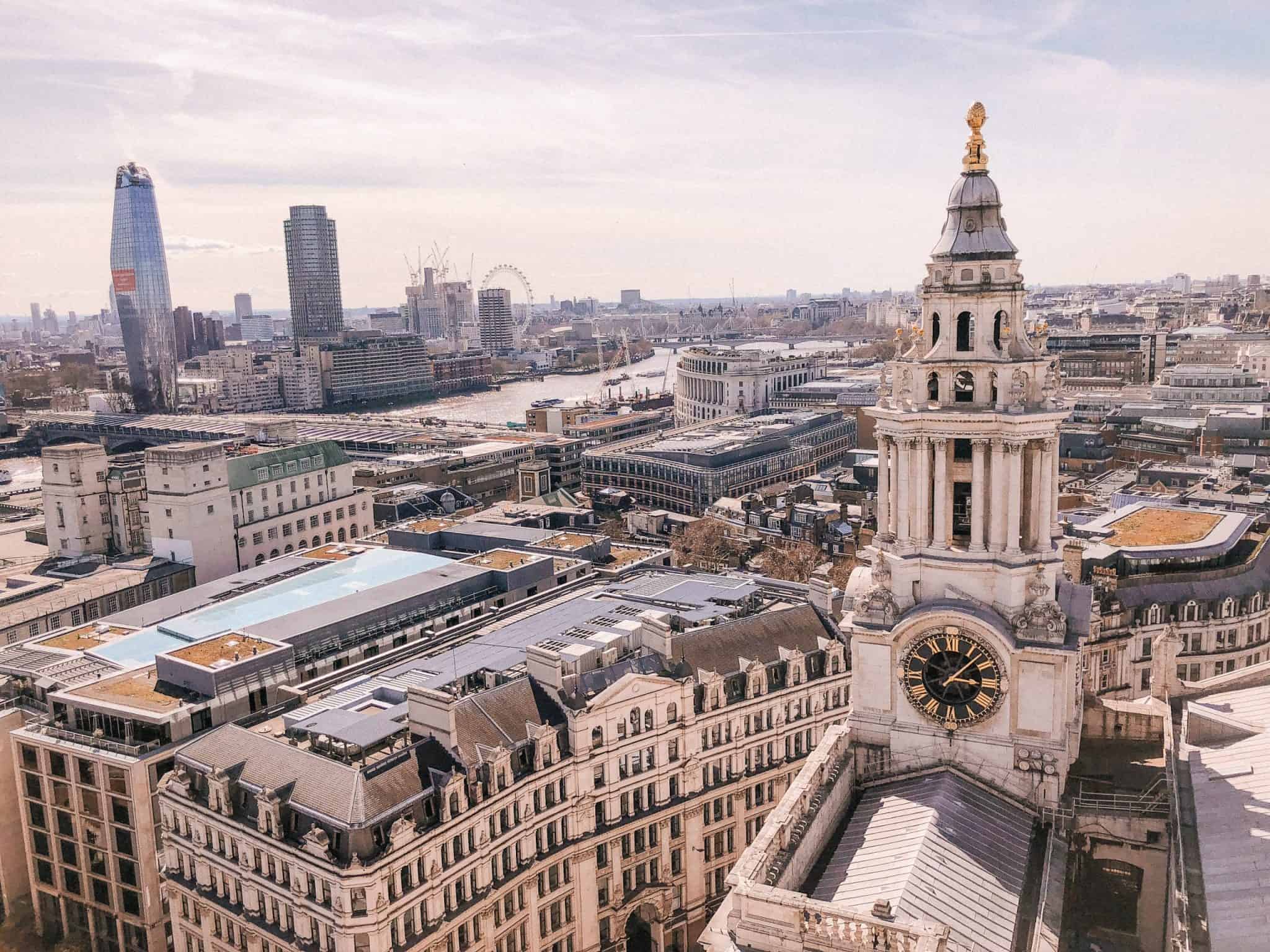 The Ultimate London Bucket List
This blog contains affiliate links. I may earn a commission if you use these links to make a purchase. You will not be charged extra. As an Amazon Associate, I earn from qualifying purchases.
One of the questions I get asked the most is, "What do I need to do while I am in London?" and I am here to give you my best London suggestions! I am sharing my favorite things to see, do, eat, and a few tips I've learned during my visits to my favorite city!
This is my ultimate London bucket list and I am so excited to share it with you. To make things a little bit easier for you, I also added all of these locations (over 100 places!) to a Google Maps list for easy reference. Just read to the end to get the link and enjoy your trip to London!
Things to see & Do:
Buckingham Palace
Kew Gardens
House of Mina Lima (for Harry Potter fans!)
Afternoon Tea
Rent a Santander Bicycle
Tower of London
Warner Bros. Studio Tour – The Making of Harry Potter
The British Library
Tower Bridge Exhibit
Drinks at Box Park
Chelsea Stadium Tour
See a play
St. Paul's Cathedral
Big Ben/Parliament
10 Warren Mews
Eat a traditional Sunday Roast
Shakespeare's Globe
Westminster Abbey
Picadilly Circus
Kensington Palace
Millennium Bridge
Order a Full English Breakfast

Instagrammable Cafes:
Aubaine Selfridges
EL & N Cafe
Saint Aymes
The Dayrooms Cafe
Farm Girl Cafe
Monmouth Cafe
The Local's Cafe
Afternoon Tea:
Chelsea Ivy Garden
Sketch
Claridge's
Mad Hatter Tea
Fortnum & Masons
Museums:
Natural History Museum
British Museum
National Gallery
Victoria & Albert Museum
Tate Modern
Parks:
St James Park
Hyde Park
The Regent's Park and Primrose Hill
Holland Park
Kensington Gardens
Greenwich Park
Richmond Park
Markets:
Borough Market
Portobello Road Market
Camden Market
Columbia Road Flower Market
Covent Garden Apple Market
Old Spitalfields Market
Views:
Take in a breathtaking view of London at one of these fun locations! Whether you choose to watch the sunset at The Shard, stay out till all hours at Duck and Waffle, or climb to the whispering gallery of St. Paul's Cathedral during the afternoon, you really cannot go wrong with this list!
Sky Garden
The Shard
Top of St. Paul's Cathedral
The London Eye
Tower Bridge Exhibition
Coppa Club – read all about how to eat here without a reservation.
The Ned
Girl With A Dolphin Fountain
Dalloway Terrace
Duck and Waffle Restaurant in The Gherkin

Shopping:
When visiting London, one thing you will definitely notice is how stylish people look. Visiting London always inspires me to try a new look or elevate my style in some way. Take advantage of the inspiration, and shop as the Londoners do!
Oxford Street
Carnaby Street
Seven Dials / Neal's Yard
Bond Street
Liberty London
Harrod's Department Store
Coffee Shops:
If you have ever been to Europe, you know that regular coffee is almost impossible to find and an americano is about the closest thing you can get to it. This isn't always the case though in London. They have an amazing coffee scene with cute local coffee shops all over the place! You can get your Starbucks fix at home so I dare you to try somewhere new!
A Wanted Man London
Grind Coffee
Paper & cup
Kaffeine
Soho Coffee Co.
Carter Lane Coffee House
Neighborhoods to explore:
I've never really wandered anywhere in London that I didn't love. Do your research and see which areas look the most appealing to you and explore! I will list some of our favorites here.
Covent Garden
Notting Hill
Soho
Fitzrovia
Chinatown
Southbank
Camden Town
Shoreditch
Food & Drink:
England didn't use to be known for having the best food. That is no longer the case! There are too many delicious restaurants and bakeries to name, but here are a few to get you started!
Master's Superfish – best fish and chips we have had in London!
Duck and Waffle
Dishoom
Biscuiteers
Bread Ahead
Eggbreak
Peggy Porschen
10 Greek Street
Angie's Little Food
Bens Cookies
The Good Egg
Drury's
Doughnut Time
The Sun In Splendor Notting Hill
The Original Maids of Honour

Day Trips:
The great thing about Europe is all of the trains! Just hop on a train and you'll be somewhere new in no time at all. You can plan day trips on your own, or you can book through a company like Viator to take the stress out of planning for you!
Windsor Castle
Oxford
Stonehenge
Brighton
Cambridge
Bath
Paris
The Cotswolds (but I promise you'll want more than a day here!)
(Read more about our Easter weekend in The Cotswolds: Part 1, Part 2, Part 3, and Part 4!)
Where to stay:
Unfortunately, I can't really recommend most of the places we have stayed as they weren't very nice! I loved the CitizenM Hotel in Southwark and would 10/10 recommend any of their hotels! Other locations include Shoreditch and the City of London.
The CitizenM hotels are super modern with such fun decor and art. The beds are super comfy and nice too! They have a great lobby area for working or lounging and a nice bar if you choose to spend some time there in the evening.
To feel more like a Londoner, book an Airbnb in your favorite neighboorhood! Stay right in the middle of all the action, or stay a little bit further outside the city to save a bit more money.
If these places aren't your style, you can search for more accommodation options right here:
Tips:
Get an Oyster card for public transportation! You can use your Oyster card on the Tube, double-decker bus, river bus, tram, DLR, London over-ground, and more! Just pick up a card at a Tube station, add a few quid and just top up when you are running low on funds.
Make sure you stay on the right side of all escalators if you plan to just ride them up or down. It's a big city and people are often in a hurry, so they will want to pass on the left side and you don't want to get in anyone's way!
While I adore public transportation, and would never drive again if I didn't have to, you should still walk as much as you can! It's the best way to see everything and you come across so many more unexpected and spontaneous things to do.
Download the City Mapper app for the best directions to get to all of your destinations. It will tell you all of your transportation options, how long it will take you to get there, and how much it should cost. It will even tell you Uber and Santander bike options! If you don't have international data you can save or screenshot your routes for the day.
Get a London Pass…maybe. Check out The London Pass website and see how many of their attractions align with your plans. Add up how much the tickets are for the individual attractions vs how much The London Pass costs to see if it is worth it for you. Keep in mind that they have more attractions than you can reasonably fit into the day. Look at when things open and close and make an itinerary before buying to make sure you will get the most out of your money. If you have never been to London before, I would usually suggest at least a 1 or 2 day London Pass because you will probably be wanting to visit a lot of the more "touristy" venues on your first trip!
Free Google Maps List:
To receive a link to the free Google Maps list, all you have to do is enter your name and email address below and the link will be sent to you right away! That way you can reference my Ultimate London Bucket List while planning your trip or easily get directions to anywhere on this list during your London holiday!
I hope you love this London Bucket list as much as I do! If you do any of these things be sure to tag me on Instagram and let me know! I would also love to hear all of your favorite spots in London in the comments below so that I can do them next time. 😉
Read More…
If you enjoyed reading this post, you may also want to read: "Creating A Travel Hacking Strategy", "My Favorite Hotel: The Painswick" or one of my most recent articles below next!
---
Pin This Post For Future Reference…