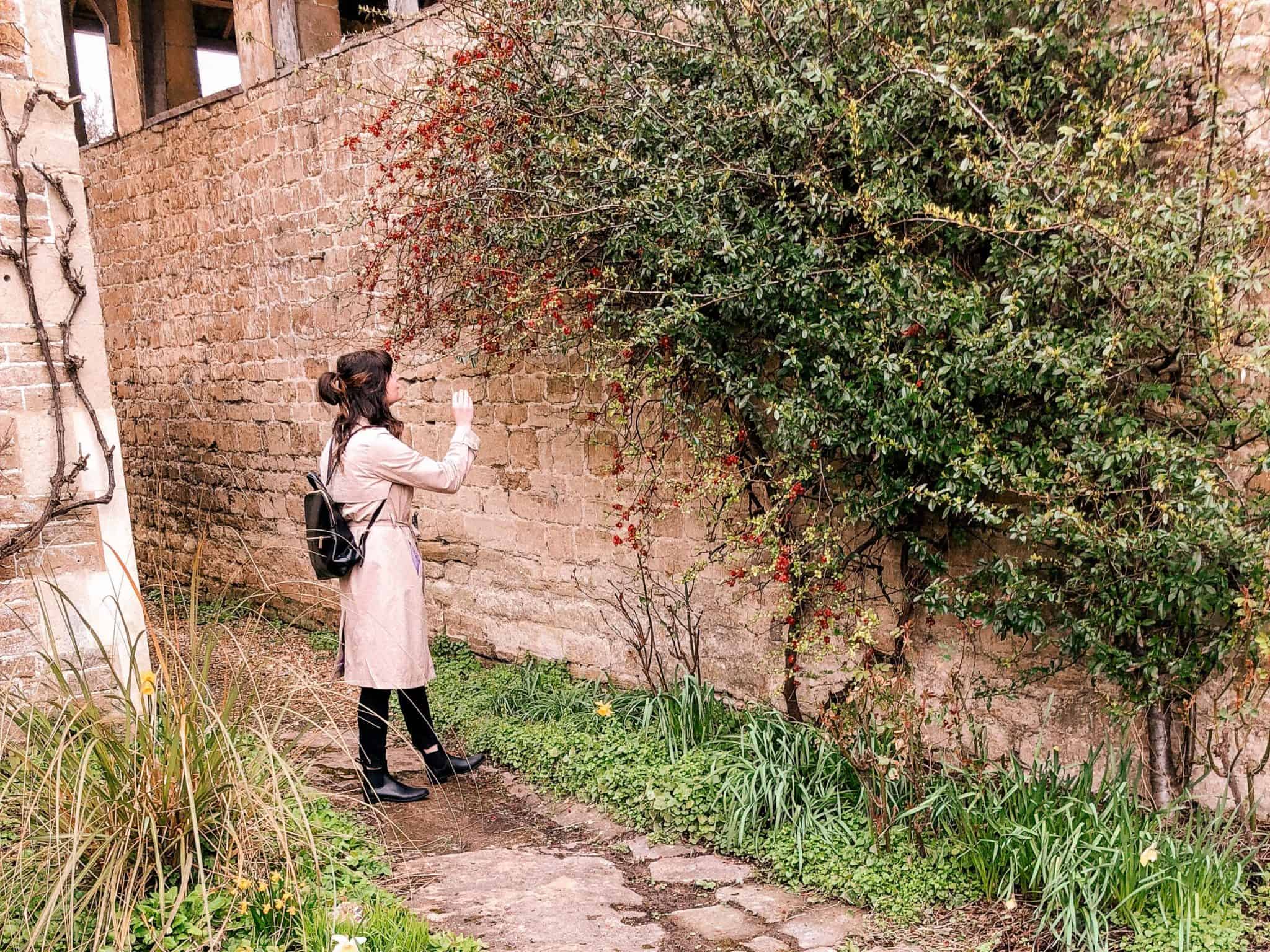 What To Do While Visiting Lacock Abbey In The Cotswolds
This blog contains affiliate links. I may earn a commission if you use these links to make a purchase. You will not be charged extra. As an Amazon Associate, I earn from qualifying purchases.
Welcome back for part II of my Cotswolds series! I shared all about our first day in the English countryside in my last post. If you haven't read it yet, click here to read that one first. This post will be the continuation of our time in the Cotswolds.
As you now know, my husband, Alex, and I had been to the Cotswolds before. This meant that I was in charge of planning the itinerary for our few days there. I love playing tour guide, so I was happy to plan everything out. I used my prior experiences in Painswick, and two of my favorite blogger's Cotswold itineraries as inspiration.
My short list of locations was Painswick, Bibury, Lacock, Cirencester, Castle Combe, Tetbury, Malmesbury, Bourton on the Water, Stowe on the Wold, Upper Slaughter and Lower Slaughter. I knew we probably would not get to all of these places, but it's always good to have a bucket list just in case!
Our first full day in the Cotswolds was Easter Sunday, as I shared in my first post in this series. After a nice family breakfast at our adorable little apartment, we hopped in our Hertz rental van and hit the road.
I searched Lacock Abbey in my Google Maps app and we set off to our first destination. About 40 minutes and a gorgeous country drive later we were parking in the quaint little village of Lacock.
It was surprisingly busy for such a small place and we soon found out that there was a Cadbury Easter Egg Hunt going on. It was fun to see all the families wandering around discovering all of the British charms Lacock had to offer.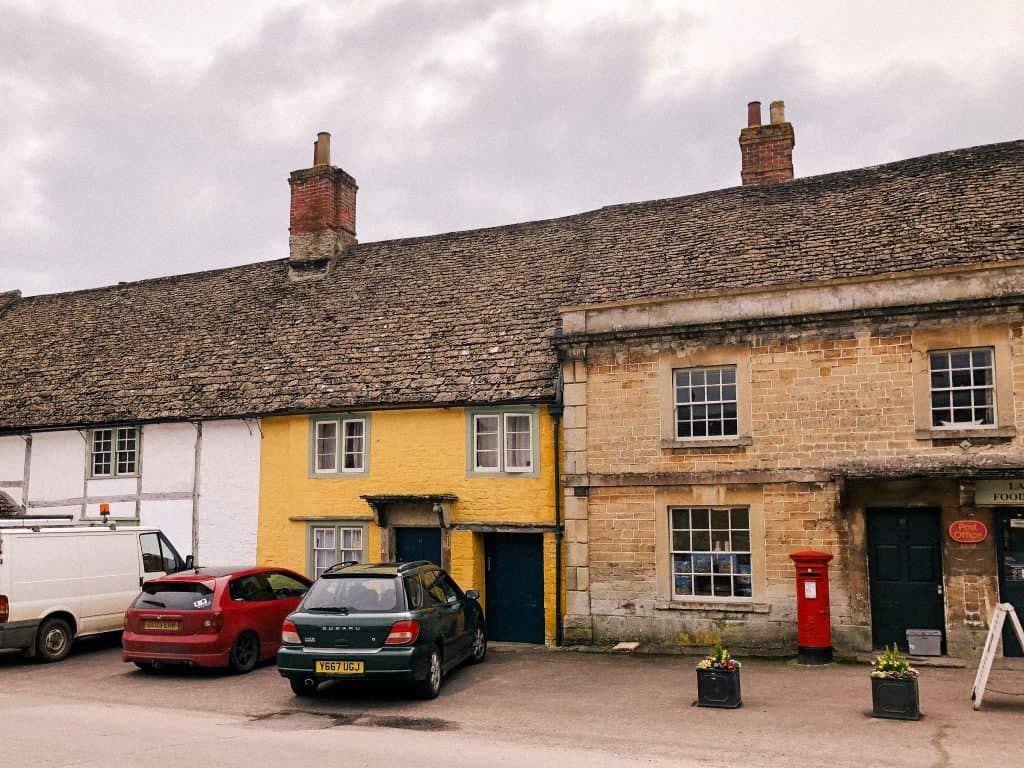 We went into every cute little shop we could find. One of the highlights was an old post office turned grocery store called Lacock Food Store. It had just about every British chocolate bar you could ever dream of. We may or may not have purchased a few to snack on later.
Next, we did some shopping at the adorable National Trust Gift Shop. They had so many beautiful home decor items, greeting cards, postcards, art, and candles.
I bought a few pretty greeting cards and postcards for myself. My best friend and I love sending each other snail mail so I like to stock up when I find cute stores like this one!
After spending far too long sifting through greeting cards, we meandered around the narrow streets lined with beautifully colored doors, stopping to take pictures along the way. When we got to the end of the lane there was an absolutely delicious smell wafting out of Lacock Bakery.
Unfortunately, we only just took a peek inside. By this point, our stomachs were growling, and we were in search of a place to have a traditional English Sunday Roast.
While we were looking for a place to eat, we found an outdoor garden tea room down a path of newly blooming yellow flowers. The tearoom even used my Grandma's (now my) Blue Willow china.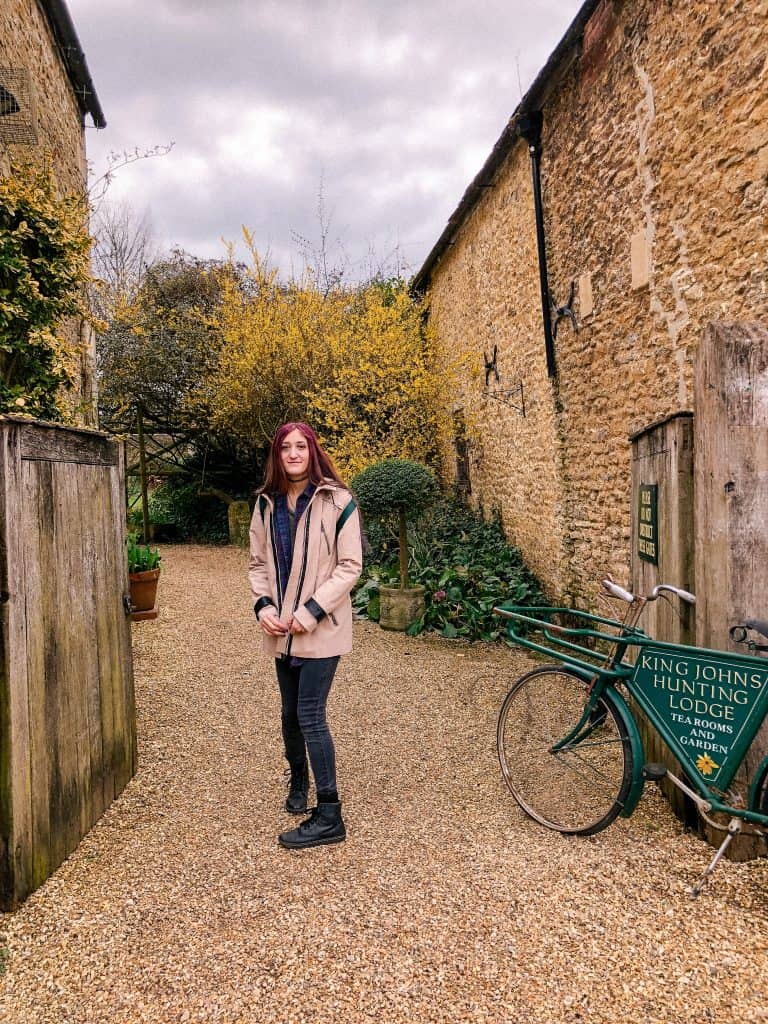 We were so tempted to stay for tea, but we just admired the flowers for a bit and moved on. We were on a mission for Sunday roast after all!
We honestly got very lucky getting a party of 7 seated for lunch on a Sunday without reservations. Everywhere we went was so packed. I would definitely try to make reservations ahead of time if you go.
Just as another large group was standing up to leave, we walked into The Red Lion and were seated right away! We took our time perusing the menu, but most of us ordered the Sunday roast.
Alex and I decided to order the fish and chips AND Sunday roast to share and get the best of both worlds. I cannot even tell you how delicious it was. We ate every single bite of our huge dinners. My Grandpa especially enjoyed his meal and raved about it for the rest of the day! We were so content.
It was a lovely Easter meal shared with family. As strange as it felt not to be at church on Easter (probably for the first time in my life), it was nice to celebrate in our own way together.
One of the biggest attractions in Lacock is Lacock Abbey and the Fox Talbot Museum. After our late lunch, we were cutting it a little close to closing time at the museum and abbey. We almost didn't go in, but I am so glad we did because there was so much to see and do!
Lacock Abbey was most recently owned by William Henry Fox Talbot but is now a part of The National Trust. William Henry Fox Talbot is known for creating the first photographic negative of a photo taken in his home, Lacock Abbey. Now there is a small museum of photography in his honor.
You may recognize some of my photos from movies like HARRY POTTER and PRIDE AND PREJUDICE. Lacock Abbey has become a popular location for filming over the years.
Side note: if you get to know me at all you'll find that I am totally obsessed with anything Harry Potter or Jane Austen related. (I was even born on her birthday!) It was so surreal to stand where some of my favorite Harry Potter scenes were filmed!
You can also tour the inside of the old abbey turned Victorian home and the extensive grounds. There is a courtyard with a bookstore and a small cafe and tea room as well. Since it was Easter, there was a little Cadbury tent set up in the courtyard and there was an Easter egg hunt earlier in the day for all the children.
After walking around the gardens and exploring as much as we could before closing, we ended the day in the Fox Talbot Museum. My younger sister, Kristin, is very into photography and thoroughly enjoyed seeing all the old cameras and photos displayed along the walls.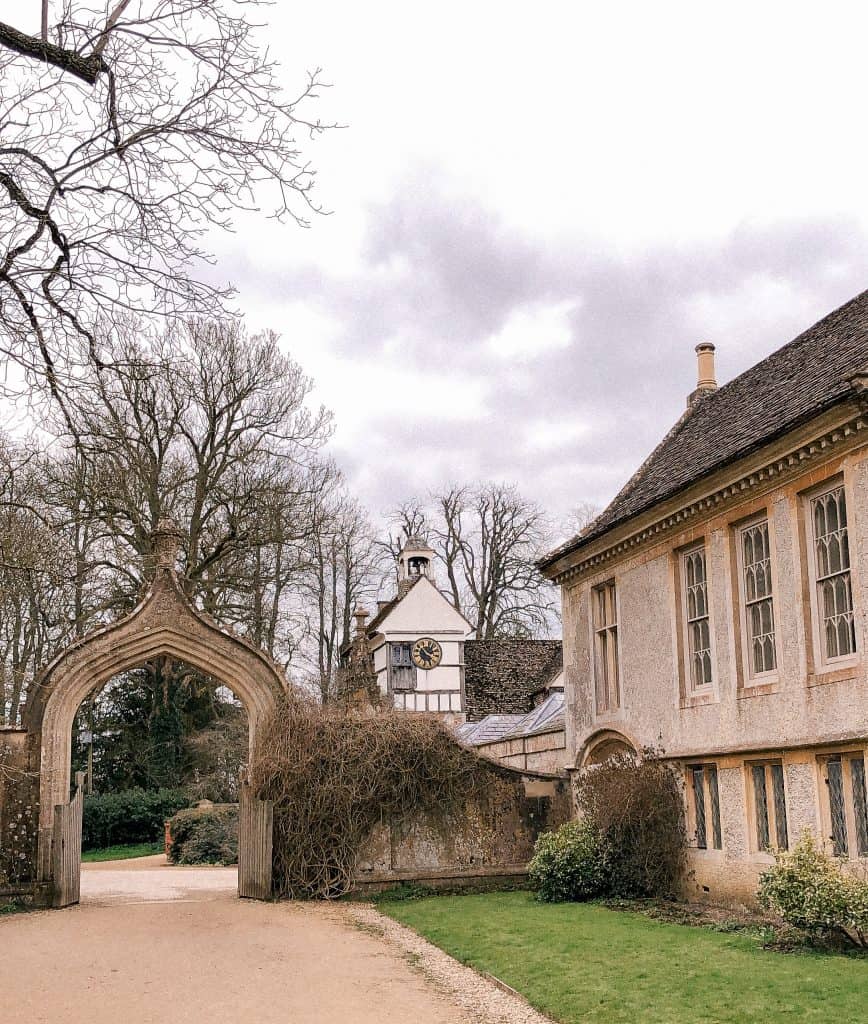 While we didn't intend to spend our entire day in one town, it ended up being the perfect day. There was something of interest for everyone in our group and it was fun to see each person light up at different sites around Lacock.
On our way back to Painswick, we picked up yet another pizza from Domino's to eat back at our apartment. We went to bed early again and dreamed of simpler times.
Up next is Part III of my Cotswolds series! While days one and two only featured one location, day three we ventured to three towns.
---
Read More…
---
Pin This Article For Future Use: