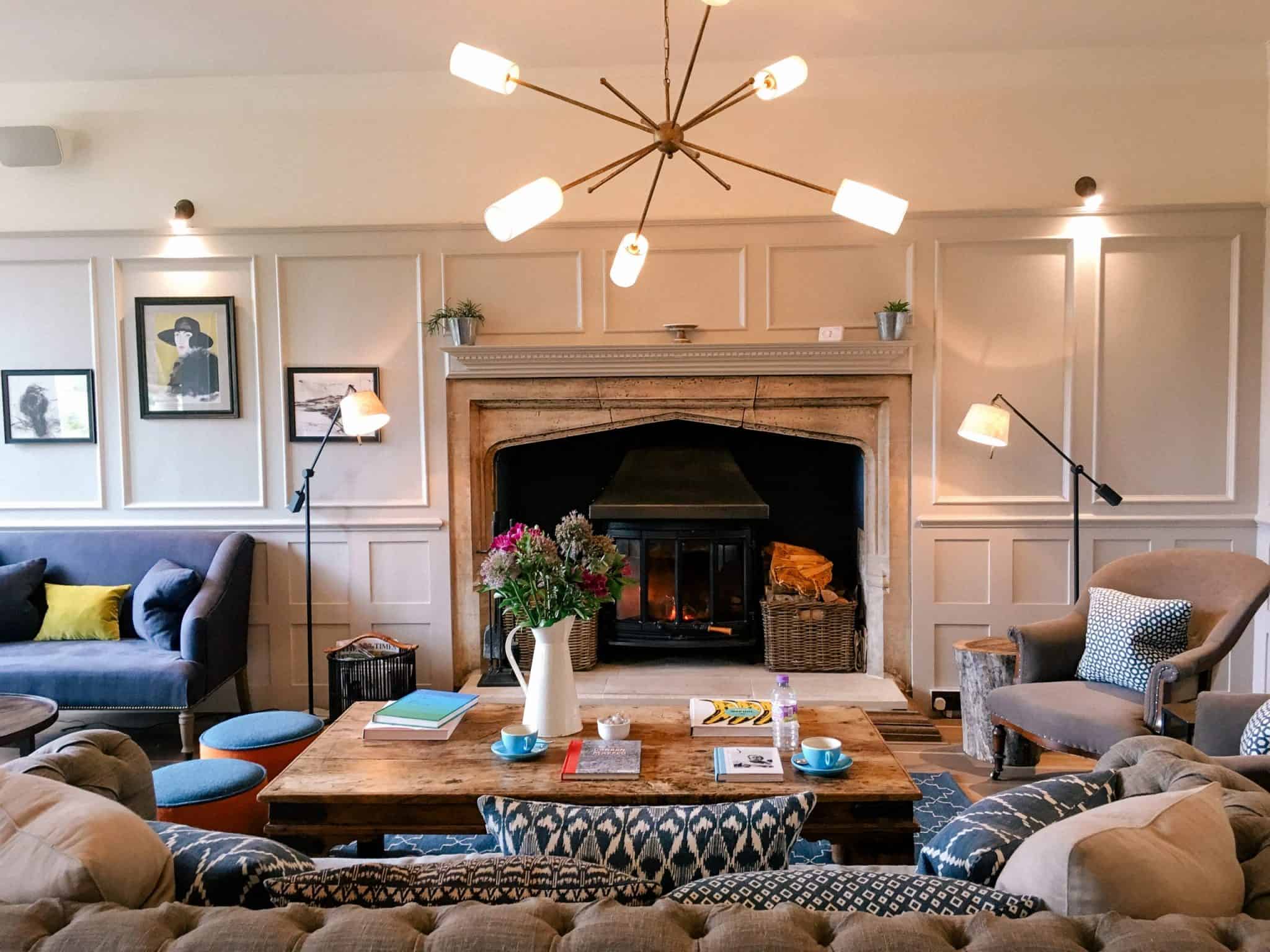 Luxurious Lodgings In Cotswolds – The Painswick Hotel Ultimate Review
This blog contains affiliate links. I may earn a commission if you use these links to make a purchase. You will not be charged extra. As an Amazon Associate, I earn from qualifying purchases.
When Alex and I first went to London together in 2016, we decided it would be fun to get out of the city for a couple of days. I did a little research and came across some photos of the Cotswolds on Pinterest. I immediately fell in love and started to look for the perfect place to stay. Enter The Painswick Hotel. It seemed like the perfect city break and the decor looked so inviting.
Our Plans
We booked one night at The Painswick Hotel and it was just not long enough. When my family was returning to London and talking about taking a few days away from the city, I knew just the place. After seeing our photos from our first stay at The Painswick, everyone agreed that it was just the place to end our trip to the English countryside.
History Of The Painswick Hotel
Before I get into our stay, I want to share a little bit about The Painswick. Named after the charming town it resides in, the Painswick is a beautifully updated hotel with a rich history. It is a part of the beautiful Calcot Collection of hotels which are all located in the Cotswolds. Built in the 18th century, it has held many a purpose, but in the late 1800s, it was turned into a vicarage called Prospect House. Later on, it was turned into various hotels ending with The Painswick Hotel in 2015. The story is actually quite fascinating if you want to give it a read on their website here.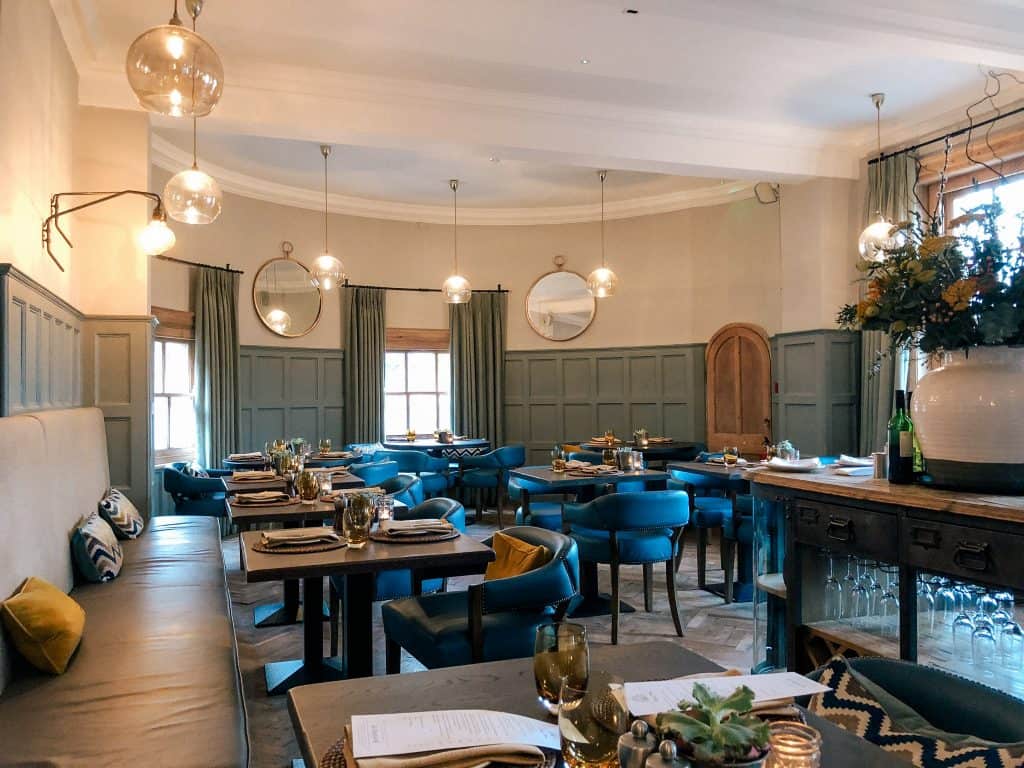 The Painswick Hotel Restaurant & Bar
The Painswick also has an amazing restaurant run by their talented Head Chef, Jamie McCallum. They serve breakfast, lunch, afternoon tea, dinner, and dessert in their stunning dining room.
There is also a bar upstairs where you can have a cocktail before or after your meal. Take your drink or morning cup of coffee and sit on the balcony and listen to the relaxing sounds of the countryside.
Treatment Rooms & Accommodations
The hotel also has two treatment rooms. Book yourself a massage, facial, or mani-pedi for a relaxing escape into a spa oasis. Or grab a walking map and go for a walk in the wellies they provide. They have options from 1 to 10 miles that will take you all over the surrounding rolling green hills.
There are 16 rooms, each one different than the last and cheerfully decorated and given its own name. They all have a beautiful view of the Slad Valley. You can choose between 5 different room sizes. I do have dreams of returning again and staying in George's Suite with its private "Romeo and Juliet" balcony someday.
Our Room At The Painswick Hotel
On our second visit to The Painswick, Alex and I originally booked a small room (like we did on our first trip), but we were kindly upgraded to a medium room. We were very excited and loved the view!
We stayed in "Cuttle's Mill" and I obviously obsessed over all of the purple accents. My parents stayed in Griffin Mill and my Grandparents in Ruskin Mill which were equally as luxurious.
Room Amenities
We had arrived at The Painswick after a long day of exploring the Cotswolds so we decided to rest and refresh in our rooms before our dinner reservation. Alex and I ate some of the homemade desserts left for us in our rooms upon arrival and made a couple of cups of espresso with our in-room coffee maker. I also decided to take a bath in our huge clawfoot tub. It was heavenly.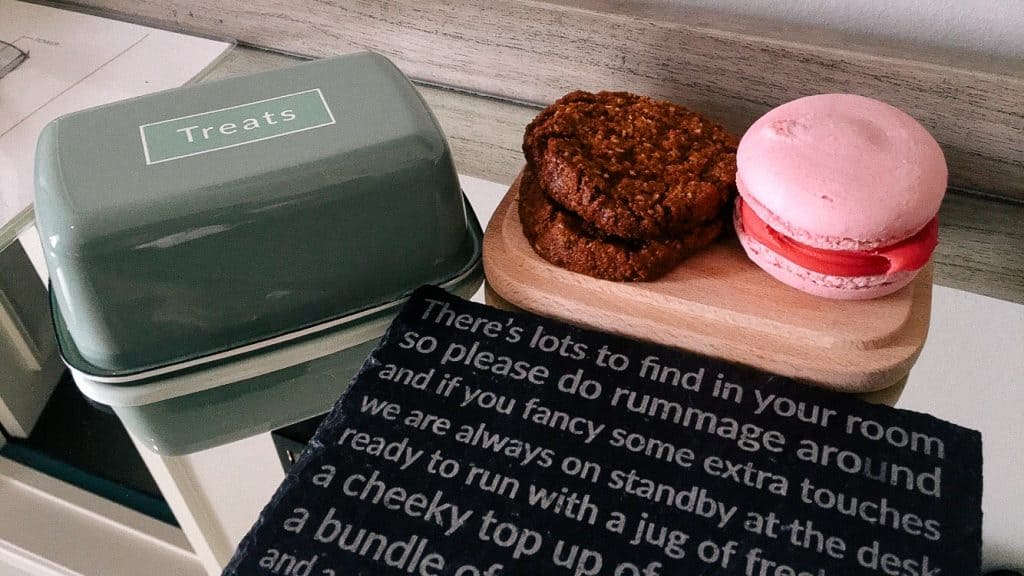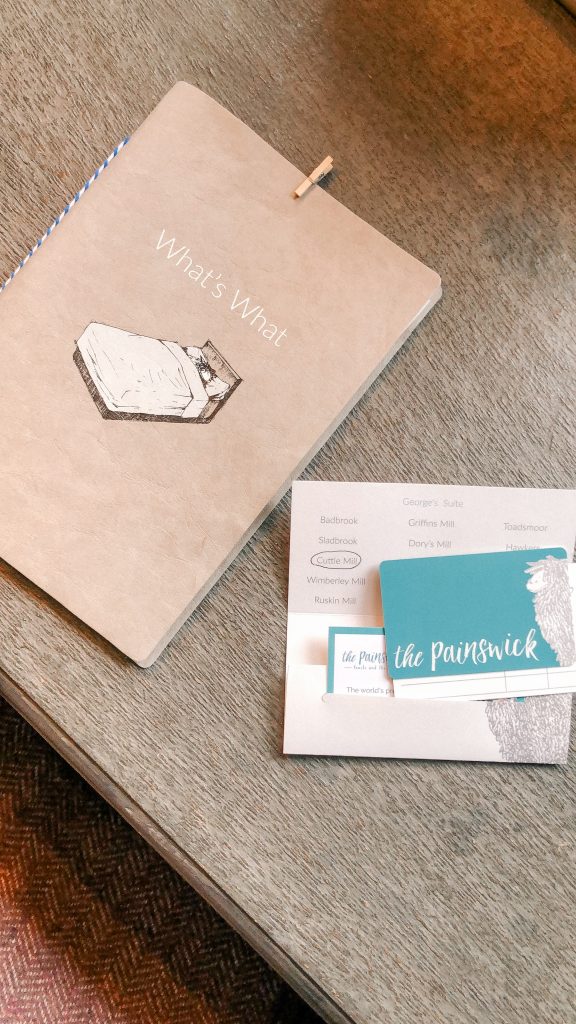 Later on at The Painswick Hotel
Later on, the family met up in the dining room for supper and we all had the most delicious meals. I ordered the rib eye steak and fries and I cannot even tell you how good it was!
Everyone really enjoyed themselves as we all talked about our favorite memories of the last few days. After we were done, we went up to the living room area and sat by the fire and also played some pool. We ended the evening sitting outside on the balcony talking and laughing for hours before returning to our rooms.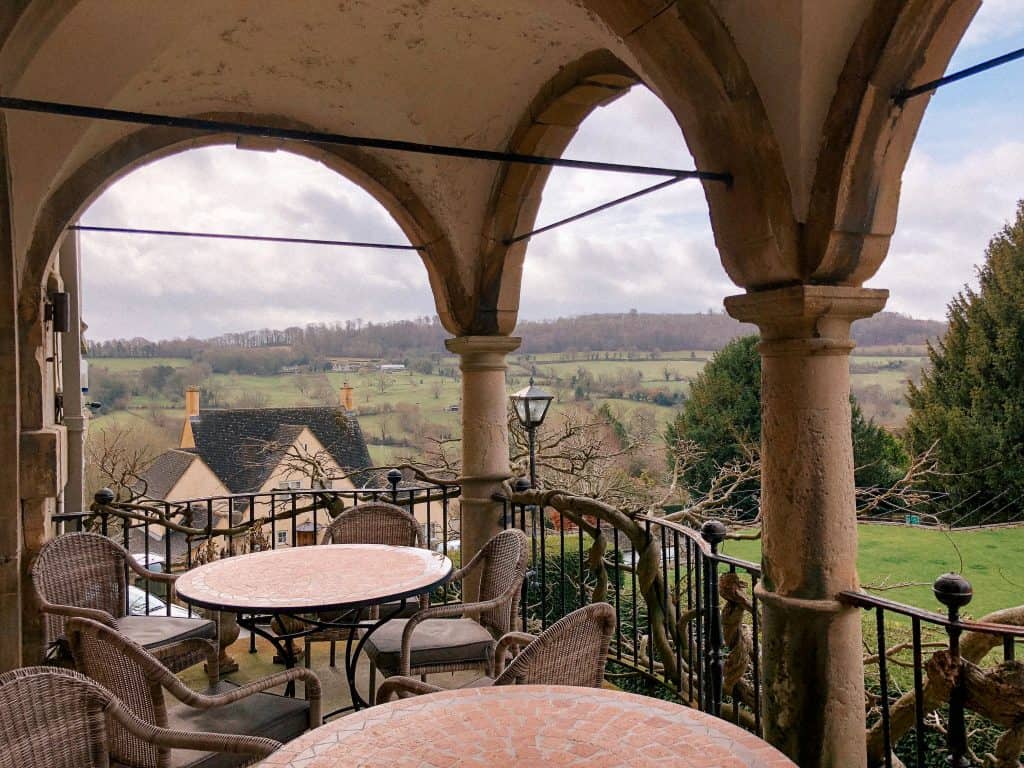 Exploring Painswick
The beds and pillows at The Painswick are so comfortable that it feels like you are sinking into a cloud. I had one of the best nights of sleep I have ever had. A few of us had decided that we were going to wake up early for a hike before breakfast. It was so very tempting to turn off the alarm and stay in bed, but we dragged ourselves up and went out on an adventure.
It was a bit rainy so we borrowed wellies and rain jackets from the hotel and went on our way! We did get a bit lost, but we all know that I like to get lost (in Laurel Land) by now.
Passing by all the centuries-old homes and farmhouses, you can't help but wish you lived a quieter life. There were rivers and bridges and spring flowers popping up everywhere we turned. And sheep. Lots and lots of sheep.
After an hour or two of wandering, we were feeling a desperate need for coffee so we started to make our way back for breakfast. We are a very caffeine-dependent family and going too long without it is a dangerous game to play!
Everyone got ready for the day and met for yet another delicious meal at The Painswick. I opted for the eggs benedict and I would highly recommend ordering them if you're ever in the neighborhood.
We had a bit of time between breakfast and when we needed to get on the road to head back to London so we just hung out in the cozy seating area for a while reading.
Off to London!
It was so hard to leave the beautiful Cotswolds, but London was calling us back, so we packed up our things, said goodbye, and loaded into our rental van for the drive back into the city.
You can probably tell how much I enjoyed my time at The Painswick hotel and I would give it a 10/10 rating. It is a place that I believe Alex and I will go back to again and again not only because it is our favorite hotel, but also because of its location within the Cotswolds. It is the perfect home base for a trip to explore all over the Cotswolds.
If you want to book a stay here you can use Booking.com just like we did!
*This is not a sponsored post, it is just my honest opinion about a hotel I think you will love!
---
Read More…
If you liked this post, check out my English countryside series: Easter in the Cotswolds Parts one, two, and three or one of my most recent posts below…
---
Pin this post for future reference…
---