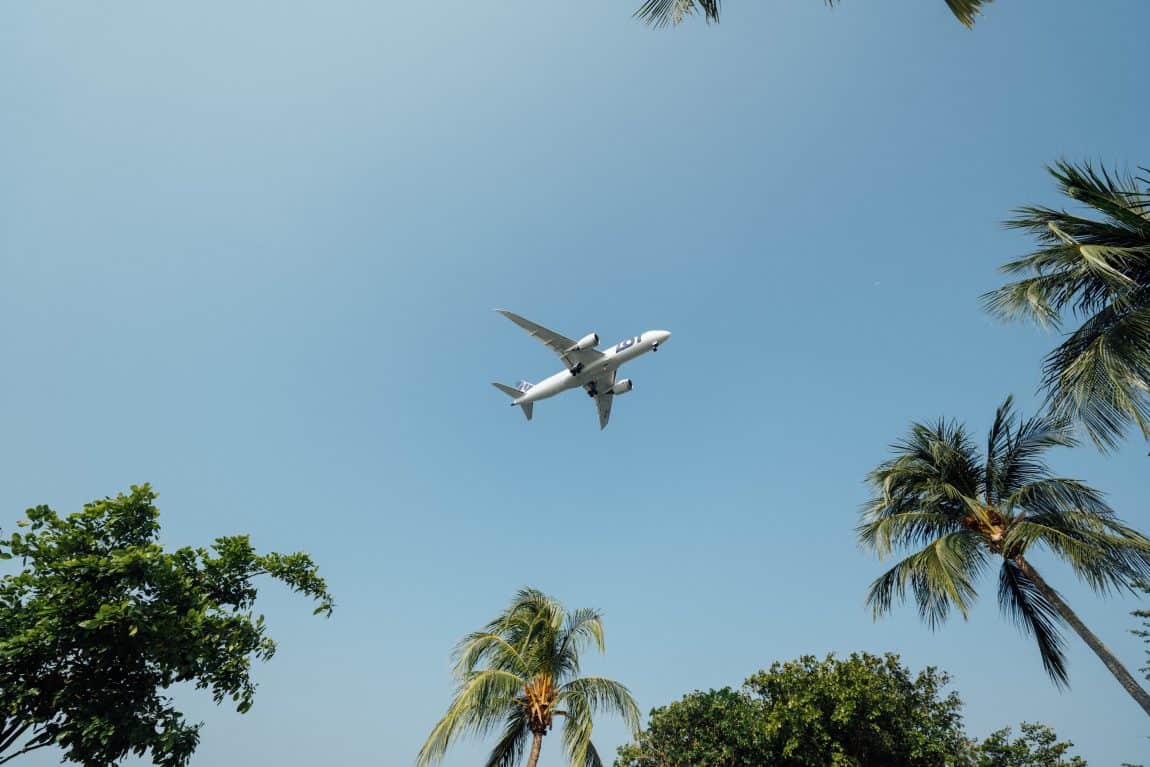 Long-Haul Flight Essentials – Things That Got Me Through My Longest Flight Yet
This blog contains affiliate links. I may earn a commission if you use these links to make a purchase. You will not be charged extra. As an Amazon Associate, I earn from qualifying purchases.
In January of 2020, I embarked on the longest flight I have ever been on. My husband, Alex, and I flew from Cleveland, Ohio to Sydney, Australia with a layover in Houston, Texas. In total, we were traveling for more than 24 hours with our Houston to Sydney flight being 17+ hours. I have flown a lot in my life but the thought of being stuck on an airplane for that long honestly made me super anxious. Luckily, I had done my research on what to bring on a long-haul flight and I'm going to share all of the products that made the longest journey of my life feel like a breeze! Here are my long-haul flight essentials!
What To Wear For A Long-Haul Flight
Think about what will be the most comfortable to sit in for long periods of time. Personally, I like to start the day in one outfit and then change before getting on the longest leg of the journey. This helps me feel a bit more human when I land than I would if I wore the same outfit for over 24 hours. For me, leggings and a couple of layers do the trick. I hate being too cold on a flight.
What I Wear On A Long-Haul Flight
Electronics Essentials For A Long-Haul Flight
Let's face it, long-haul flights can be a real drag if you're unprepared. It's always good to have your favorite electronics around during your flight to entertain yourself with when you aren't sleeping. Here are my favorite electronics to bring on a long-haul flight.
Entertainment Essentials For A Long-Haul Flight
Like I said earlier, being bored on a long flight is the worst! You need to come prepared with a few things to keep your mind off of the time. These are the sources of entertainment that help me survive long flights and sitting in airports.
A Good Book – I usually prefer reading a physical book over an ebook so I don't have a Kindle yet. But if that's your thing, great! Bring that instead!
Music – Listening to music during takeoff and landing is my favorite thing. It really helps me to take my mind off any potential turbulence or motion sickness I might be experiencing. Don't forget to download your favorite playlists beforehand!
Games – I love to play mindless games on my phone while I listen to music. It is one of those things that just does the trick to pass the time. My favorites are Bejeweled Classic, Solitaire, Mahjong, and Flow. Very exciting, I know!
Podcasts or Audiobooks – Sometimes I will be in the mood to listen to a podcast or an audiobook while I play games too. Just make sure you come prepared and have them downloaded before you get on the plane.
In-Flight Entertainment – most long-haul flights will have a large library of TV and movie options for you to choose from. I love it when they have movie series like Lord of the Rings or Harry Potter that I can binge through to pass the time.

Keep in mind that you can download audiobooks, ebooks, movies, and music for free with a library card via the Hoopla, Overdrive, and Libbey apps.
Sleep Essentials For A Long-Haul Flight
I am not a very good sleeper while traveling at all. These are my absolute essentials for actually falling asleep on a long-haul flight that I swear by.
Easy Skincare Essentials To Pack
I definitely do not do my whole skincare routine while I am on a long-haul flight but I do have a few essentials that I keep in my carry-on bag so that I don't show up at my destination too scary or dried up.
Toiletries To Pack For Your Long-Haul Flight
There are a few toiletry items that a person really just cannot do without. Here are my essentials for a long-haul flight to keep you (and your neighbors ) happy.
Covid Essentials For A Long-Haul Flight
I really don't even want to talk about this, because it really sucks that we are still dealing with the pandemic but I am just going to put a few things here just in case it helps anyone who feels comfortable flying now.
Medications To Bring On Your Long-Haul Flight
Motion Sickness Kit – I get a bit motion sick when flying or driving. I never leave for a trip without these motion sickness essentials: Seaband Nausea Relief Wristbands and Anti-Nausea Ginger Gum, The Ginger People Gin-Gins Original Ginger Chews Candy, and some Dramamine. I don't like to be zonked out when I arrive at my destination so I only use Dramamine if my motion sickness becomes severe.
Prescriptions – of course, you will want to ensure you have all the prescriptions that you will need throughout the duration of your trip filled before jetting off.
Ibuprofen – I always bring travel size Advil because I almost always get a headache on travel days. So bring whatever works best for getting rid of headaches for you!
Pepto Bismol – I like to have a few Pepto Bismol Liquicaps with me just in case I get a stomach ache at any point.
Other Essentials to Bring On Your Long-Haul Flight
Gum, Snacks, Water Bottle
Don't forget to bring a few healthy snacks from home on your long-haul flight just in case you are hungry at any point during your flight. I always chew gum during take-off and landing so that my ears don't pop. I absolutely hate that feeling and try to avoid it at all costs, so gum is essential on my long-haul flight checklist!
You should also consider bringing a reusable water bottle with you on your trip. Most airports have water bottle refill stations and it is always good to come prepared in case you are thirsty in-between meal times. I love my HydroFlask and also my LARQ Bottle – read more here about why I think it's the BEST water bottle for travelers. 
The Obvious Essentials For Any Flight
Just because they're obvious doesn't mean we haven't all had to turn around on our way to the airport after forgetting our passport or ID! I have a triple check policy when it comes to remembering my passport, ID, and/or appropriate visa/paperwork – once the night before, once before I walk out the door, and once when I get in the car. You can never check too many times! You can also make sure you have your boarding pass printed out or the digital version loaded onto your phone to speed up your check-in process.
Tips For Staying Organized
Use The Right Luggage – a good carry-on bag is essential. Whether you prefer a suitcase or a backpack, make sure you choose something that will hold up well without breaking the bank! If you're a backpack/carry-on only person, Osprey backpacks are great and come highly recommended by loads of other travelers. If you are a suitcase kind of person (like me) consider a nice Samsonite 4-wheel roller carry-on suitcase. I love mine and have been using it for years!
Come Prepared – use my free long-haul flight essentials packing list to show up for your flight prepared and ready to go.
Contain Your Items – I like to contain my items so that they stay organized and are easily accessible when I need them. Packing my essentials into a few small pouches or pockets helps me stay sane and keeps things from getting too unorganized throughout my trip. 
Relax – try not to stress too much and enjoy the journey. Any inconveniences you might face will be well worth it when you're exploring a fun new destination!
Follow The Rules – for a smooth day of travel, follow all the rules and guidelines put out by TSA, your airline, and the different countries you will be visiting. Measure and weigh your luggage and personal items to ensure you don't have to check your luggage unexpectedly. Follow all TSA guidelines and don't bring any restricted items or full-sized toiletries, and for goodness sake put them in a quart-sized clear bag. Please don't be the one holding up the line for everyone else by not doing things correctly right off the bat. 
Dress Comfortably – don't try to be too fancy. It is possible to look put together while still being comfortable during your travel day. You won't regret it!
SMILE & Be Kind – be kind to the workers you come into contact with. Being rude or yelling at airport/airline employees isn't going to help anyone. Please, be courteous to the people surrounding you as well. Treat people how you would want to be treated and the journey will be so much better for everyone involved!
Happy Travels!
Now that I've shared with you what to wear, pack, and tips for preparing for your travel day, enjoy that trip you're taking! While long-haul flights can feel daunting or nerve-wracking at times, don't worry – you've got this, my friend! I'm so excited for you as you embark on this dream vacation you're about to take! If you want all of this information and all of my long-haul flight essentials in one easy checklist, use the form below and I'll send one right over to you! Bon Voyage!
Pin for later…
Get The Packing List!