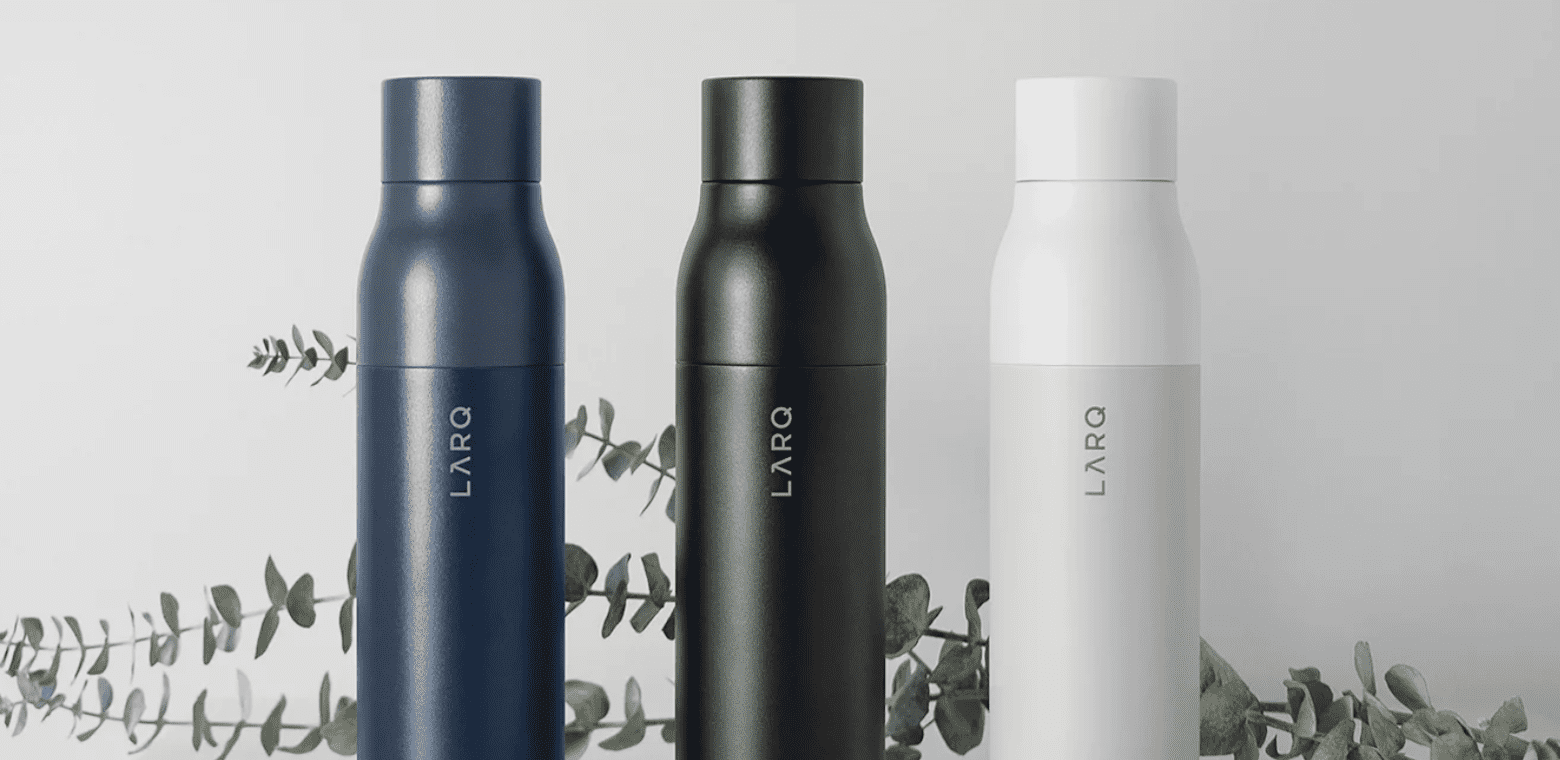 The Best Reusable Water Bottle for Travelers
This blog contains affiliate links. I may earn a commission if you use these links to make a purchase. You will not be charged extra. As an Amazon Associate, I earn from qualifying purchases.
As a travel blogger, I am obviously on the go quite frequently. There are a few things that I ALWAYS bring with me when I travel no matter the length of my trip. The number one item I MUST have with me at all times is a reusable water bottle! I don't know about you, but traveling definitely makes me dehydrated. The LARQ Bottle is the best reusable water bottle for travelers and I bring it with me everywhere!
It is always the worst to be stuck somewhere without water and have to pay the steep airport price for a single-use water bottle. Most airports now have refill stations, and as someone who is striving to live more sustainably, a reusable water bottle is a must for me every time I walk out the door.
The Best Water Bottle
LARQ Self Cleaning Water Bottle
This is the best water bottle, especially for travelers. With the tap of a button, you will have clean and refreshing filtered water and you never even have to clean the bottle. It just doesn't get better than this!
We earn a commission if you make a purchase, at no additional cost to you.
LARQ Bottle – The Best Reusable Water Bottle For Travelers
I love using a reusable water bottle but I loathe cleaning them! I have to admit that there have been times where I have left my water bottle in the sink for days on end because they can be a pain to clean and dry properly. Not only do I dislike cleaning my water bottles, but when you're on the go or on a long travel journey, it can be hard to even find a place to wash it. Now that I have discovered LARQ water bottles, those problems are in the past!
LARQ water bottles have self-cleaning UV-LED technology that eradicates 99.9999% of germs, bacteria, and protozoa. With the touch of a button, your water bottle will disinfect itself and give you pure water in just 60 seconds! Powered by the rechargeable lithium-polymer battery in the bottle lid, you can charge your bottle with its micro USB connecter and be on your way. Your LARQ water bottle will stay cold for 24 hours and hot for 12 hours because of its insulated double-wall design. It is also BPA-Free, of course!
LARQ Bottle Sizes and Styles
I have had the 17 oz LARQ Bottle in Himalayan Pink, but there are 5 other super sleek colors to choose from. I now have the brand new 25 oz LARQ Bottle Filtered which is a great option if you won't have access to electricity to charge your water bottle lid. If you're looking for a lighter weight model, check out the LARQ Bottle Movement which comes in 8 two-toned color combinations and 2 sizes (24 oz and 32 oz). The Movement bottle comes with a silicone sleeve which is great if you're taking it with you on outdoor adventures or are just clumsy like me!
As great a material as aluminum is for a reusable water bottle, you run the risk of dropping it and denting the bottle. I tend to be pretty clumsy, unfortunately, so I will definitely be ordering one of the limited edition neoprene sleeves for my LARQ bottle.
LARQ Donates To 1% For The Planet
Not only is LARQ bringing their customers clean, refreshing water, but they also donate 1% of their profits to the environmental non-profit 1% For The Planet. You will also be helping the planet by reducing your consumption of single-use water bottles. One person really can make a difference!
Are LARQ Bottles Worth The Hype?
These water bottles are an investment, but it is something you will be able to use and keep for many years to come! For me, this water bottle is well worth the hype and the price tag. I prefer to buy high-quality products that will stand the test of time and this water bottle is perfect for that! It would also make a great birthday or holiday gift for your loved ones.
Introducing The LARQ Pitcher
Now that I have shared all about my love for my LARQ bottle and why I think it is the best reusable water bottle for travelers, it is time to chat about the LARQ Pitcher! I am always super excited to use this in my own kitchen when I'm not traveling! It brings all the great design and UV-C LED purifying technology and puts it into a pitcher!
LARQ PureVis™ UV-C LED
This amazing pitcher will give you better filtration by removing contaminants such as lead, mercury, and VOCs with its unique filter. Not only does the LARQ Pitcher filter your water better, it then takes it a step further with LARQ's new PureVis™ UV-C LED purification system that removes all bio-contaminants (think bacteria, viruses, and mold). This super high tech pitcher will be such a game-changer in bringing you crisp, filtered, and purified water.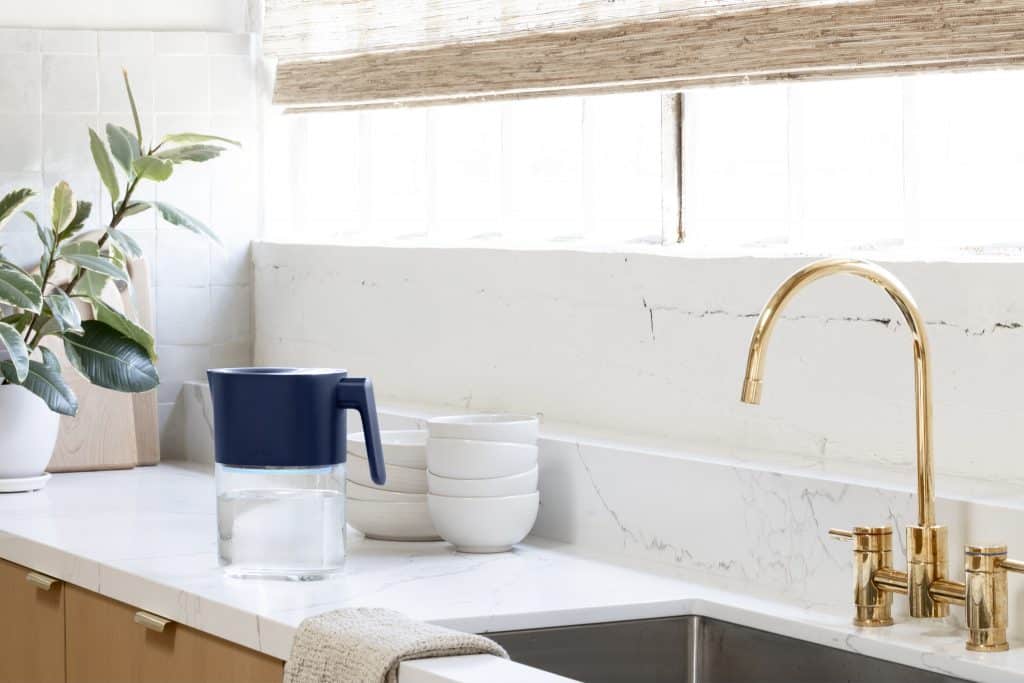 *Disclaimer: LARQ was kind enough to send me this water bottle to review but all opinions are my own.
---
Read More…
Please share this article with your friends if you think they would also enjoy reading it! Or stick around and read one of my most recent blog posts below…
---