The Perfect Gift – JORD Wood Watches
This blog contains affiliate links. I may earn a commission if you use these links to make a purchase. You will not be charged extra. As an Amazon Associate, I earn from qualifying purchases.
When I go on a longer trip, I really like to wear a watch in case my phone dies or I can't get to an outlet in time. Travel requires being on time and missing a flight or train is my least favorite thing ever! I am so excited to be partnering with JORD to bring you guys this fun giveaway, and now I will always know the time! Enter at the end of this post to win a $100 credit to JORD!
Jord Wood Watches Make The Perfect Christmas Gift
Since Christmas is only just around the corner, I have already started to think about what to buy my friends and family for Christmas. A unique wood watch would make the perfect gift not only because they are all so beautifully designed and affordably priced, but also because they offer custom watch and cedar box engravings! They also offer free worldwide shipping so you can even have it sent to your loved ones who live out of town no matter where they live!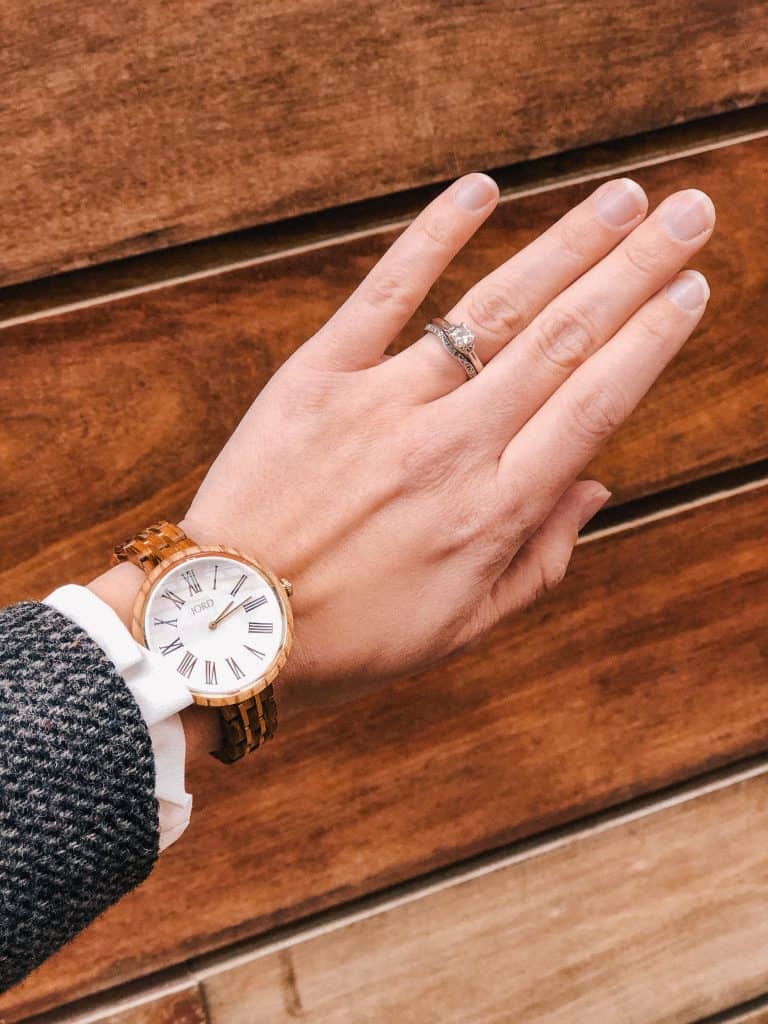 Jord Is Pronounced "Yode"
JORD is pronounced "yode", which is a Norse word for "earth". This company uses nature as inspiration and also to create their products from materials sourced all over the world. With amazing reviews from their customers in 140+ countries, you know that you are getting a valuable product that you or your loved ones will enjoy for years to come.
What I Love About My Cassia Vintage Wood Watch
I love that my new Cassia vintage wood watch has a fully Roman numeral dial! I have gotten really into wearing vintage clothing recently and this new design fits in so well with my personal style. The Zebra & Ivory colored Cassia is a beautiful honey color with gold detailing and the seamless band makes it so comfortable!
I always get some much fashion inspiration when I travel to Europe, so I love that my watch was designed with Scandanavian street style in mind. I have always been obsessed with pearls so it was such a pleasant surprise to see that the white watch face has a pretty pearlescent shimmer to it. It is safe to say that this is the perfect watch for me! I am curious to know which style and color is your favorite too so leave me a comment and let me know.
Enter The Giveaway:
To enter this giveaway, all you need to do is click this link and fill out the simple form! Make sure to scroll to the bottom for an extra entry! Good luck, friends!
*Thank you to JORD for sponsoring this post!*
Giveaway Info & Rules:
This contest will run 11/18/19-12/18/19. JORD Giveaway entrants must be 18 years of age or older. Worldwide shipping is available so this giveaway is open to all!
The winner will receive a $100 OFF code via email after the giveaway is over to put towards any JORD watch. Each person who entered the giveaway will be emailed a 10% off code after the giveaway has concluded.
If you can't wait to buy someone special the perfect gift and want to shop for a JORD wood watch now, you can use code LAUREL10 for 10% off your purchase!
Wooden Wrist Watch
---