Epic Ohio Summer Bucket List
This blog contains affiliate links. I may earn a commission if you use these links to make a purchase. You will not be charged extra. As an Amazon Associate, I earn from qualifying purchases.
This summer, we all deserve to make up for lost time and have some fun! That's why I've partnered with Ohio. Find It Here. to bring you this epic Ohio Summer Bucket List with 50 fun summer activities to do in Ohio this year! Here are some things I want to do and I hope they inspire you to get back out into the world and reconnect with friends, family, and even places that you love. 
Nature-Inspired Activities
Visit Rockefeller Greenhouse or the Cleveland Botanical Garden
Visit a few Ohio State Parks – Hocking Hills, Headlands Beach, Geneva, Mohican
Go Kayaking with friends at Rocky River Reservation
Choose a trail and go hiking at Cuyahoga Valley National Park – it's so cool that Ohio has a national park!
Take in the lovely views and scents of Luvin' Lavender Farm in Madison, Ohio
Have a picnic – on the beach or Whiskey Island
Take a tour of Stan Hywet Hall and Gardens in Akron
See the Marblehead Lighthouse in Marblehead, Ohio
Climb the Emergent Tower and enjoy the Canopy Walk at The Holden Arboretum in Kirtland
Rent a Tiki Barge, Cleveland's only floating Tiki Bar, for a fun day on the Cuyahoga River
Find an electric scooter and ride around Downtown
Join a volleyball league for a fun way to exercise this summer
Foodie Adventures For Your Ohio Summer Bucket List
Spend an evening exploring and eating in Cleveland's historic Little Italy neighborhood
Go on a Columbus foodie adventure – a few suggestions: Momo Ghar, Bake Me Happy, Gemut Biergarten, Fox in the Snow Bakery
Go shopping at the West Side Market in Cleveland
Enjoy a cocktail from the DORA at Legacy Village in Beachwood
Go for high tea at a local tea room
Spend time eating your way through the The Van Aken District Market Hall
Eat on a patio overlooking the Cuyahoga River in The Flats
Support your local farmer's market
Go for drinks at Azure rooftop bar
Check out some local craft breweries – Market Garden, Hamsa, Forest City, Platform
Eat Brunch at Summerhouse Cleveland
Hang out and eat at Lakewood Truck Park
Do a local winery tour in Geneva and try some amazing Ohio wines
Check out Twin Oast Brewing in Port Clinton
Eat lots of local ice cream by doing the Ohio Ice Cream Trail
Visit as many local coffee shops as possible – new ones include Milk and Honey, Blue Sky Brews, and Stone Fruit Coffee
Eat lots of Tacos – a few suggestions: Avo, Momocho, Blue Habanero, Hola Tacos, La Plaza Supermarket
Grab some dinner and drinks on Cleveland's E. 4th St.
Have a date night or girls night at The Marble Room in Downtown Cleveland
Getaways To Add To Your Summer Ohio Bucket List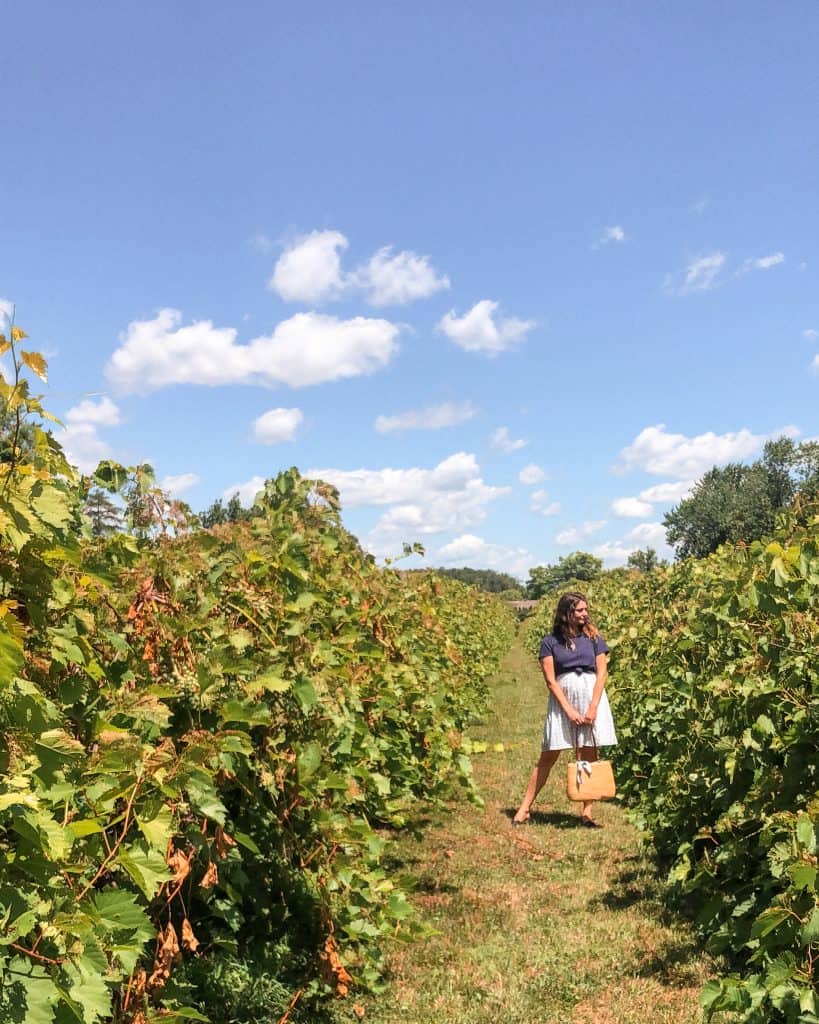 Take a trip to Ohio's Amish Country – don't miss out on the Guggisberg Cheese Factory or the fry pies at Hershberger's Farm
Take a romantic weekend trip to Gervasi Vineyard
Visit the charming and historic Marietta, Ohio
Rent a cabin – try a Getaway House, Dwell Box Treehouse village, or The Mohicans
Go on a Lake Erie Islands adventure
Visit Geneva-On-The-Lake – here's a perfect 3-day itinerary to get you started
Do a Cleveland staycation – I suggest The Kimpton Schofield Hotel, The Metropolitan at the 9, or The Hyatt Regency at the Arcade
Visit German Village in Columbus
Other Summer Activities To Do With Friends
Make a custom candle at The Cleveland Candle Company – it makes for a perfect date night or ladies night
Visit the Cleveland Museum of Art
Meet up with friends on cute patios – some ideas: Nano Brew, Gigi's, Le Petit Triangle Cafe
Go dancing at Good Night John Boy, the new disco bar in The Flats
Go bowling at Pinstripes in Pinecrest
Make a beautiful bouquet at Blossom Cleveland – locations in Lakewood and Shaker Heights
Take a Cleveland Walking Tour
Go to an Cleveland Indians game on dollar dog night
Support local female businesses
Visit the Rock and Roll Hall of Fame
Go to the Columbus Zoo
Download The Epic Ohio Summer Bucket List
If you want all of these activities in one easy checklist, then download my epic Ohio summer bucket list in the form below. I hope you have an amazing summer exploring all that beautiful Ohio has to offer!
---
---
Pin this or share it with friends!