Things To Do In Brussels In One Day
This blog contains affiliate links. I may earn a commission if you use these links to make a purchase. You will not be charged extra. As an Amazon Associate, I earn from qualifying purchases.
Brussels 1-Day Itinerary
When I visited Brussels, I had less than 24-hours to see as much of the city as possible. I was flying from Portugal to Brussels to catch a train to Paris later in the evening and figured I would find as many things to do in Brussels in one day as possible. In this article, I'll be sharing my Brussels 1-day itinerary in hopes that it will help you make the most of your short time in this incredible city.
My best friend, Ali, and her husband Jeff happened to be in Paris and decided to do a day trip from Paris to Brussels and spend the day with me there. We had such a lovely time exploring and eating our way through the city.
What To Know Before You Visit Brussels
There are a few things to know before you visit Brussels.
Currency – Euro
Languages – French, German, and Dutch. French & English will get you by in the city center though. Consider memorizing a few basic French words and phrases and that will be appreciated by the locals.
Store Your Luggage – Just passing through? Store your luggage through Stasher for the day to get the most your of your one-day trip!
How to get to Brussels – by plane into Brussels Airport (BRU), or by train into Bruxelles Midi Station
When To Visit Brussels – you can visit Brussels all year long, but if you are looking for warmer weather, late Spring into Summer would be best. If you want to visit the amazing Christmas markets then you will want to visit in the winter from late November into early January. If you would like to visit to see the famous Flower Carpet outside of the Grand Place, it happens every other year in August. 2021 dates are scheduled for August 13-16th.
Things To Do In Brussels In One Day
See The Grand Place (Grote Markt)
Check out The Grand Place (or Grote Markt) and explore the city center. In this large cobblestone square, you will find the opulent architecture of the guild houses, the Hôtel de Ville (City Hall), and the Maison du Roi (Brussels City Museum). The Grand Place is a UNESCO world heritage site and has been since 2000. It is thought to be one of the most beautiful sights in the world. I have to say that I agree – this building is a hard one to beat. The architecture is so intricate and beautiful!
Eat Belgian Waffles
It is hard to imagine a visit to Brussels without trying a famous Belgian waffle! We enjoyed some delicious waffles from Maison Dandoy and they did not disappoint! Maison Dandoy is also well known for their other baked goods such as speculoos, biscuits (cookies), bread, and more!
Try The Frites
Okay, you just cannot visit Brussels without trying the Belgian Frites (fries). The Frites from Fritland were exceptionally mouth-watering! You will find fries as a side dish all over the city, but a popular one to try is the moules frites (fries with mussels). They also have some of the traditional dipping sauces like ketchup and mustard but there are some others like mayonnaise and samurai sauce that are worth a try!
Drink Belgian Beers
Belgium is also well known for its great beer offerings. If you are a beer drinker, grab a pint of Belgian beer while you're in the city. You might even enjoy doing a Beers and Breweries tour if that's your thing!
Search For The Best Chocolates In Brussels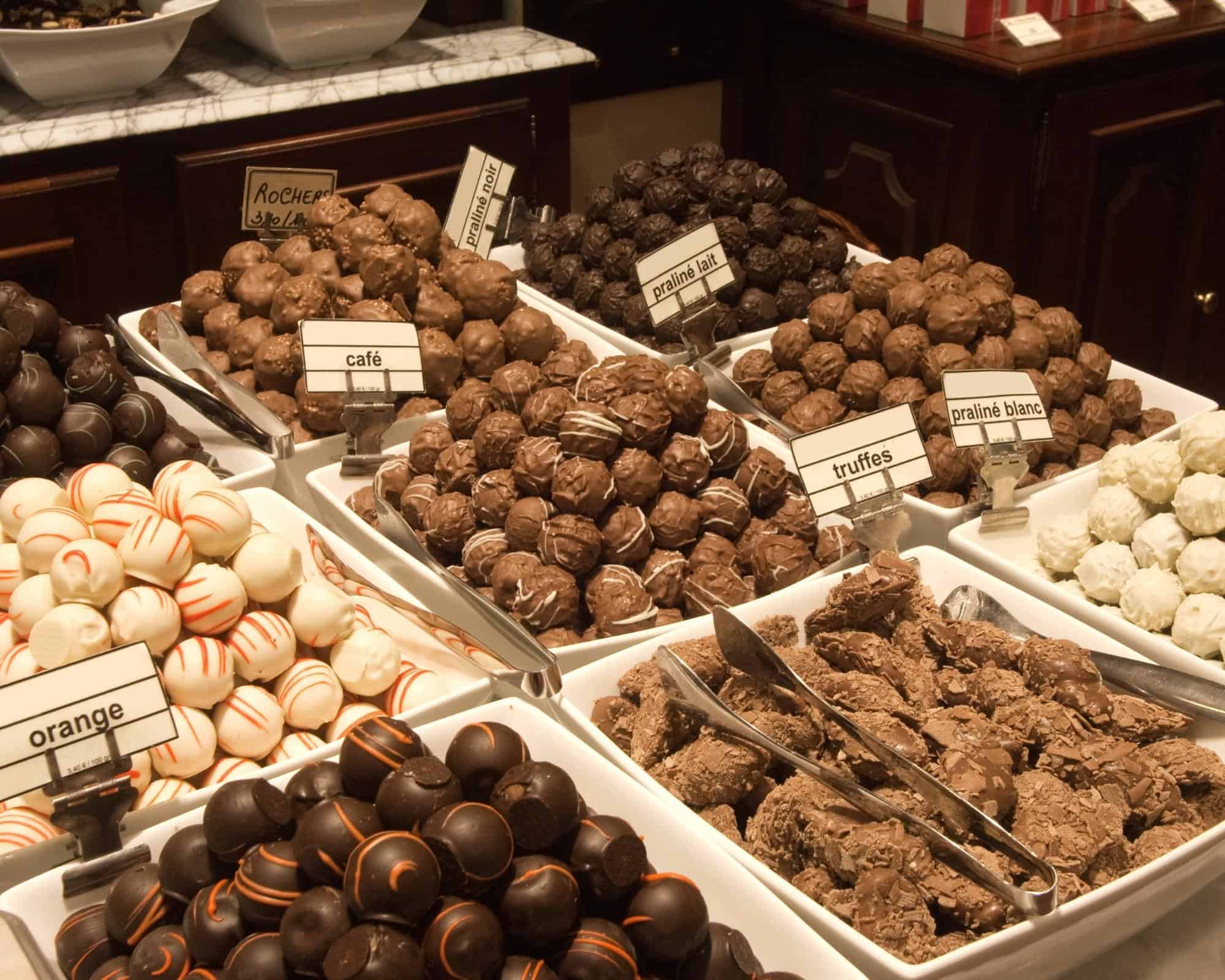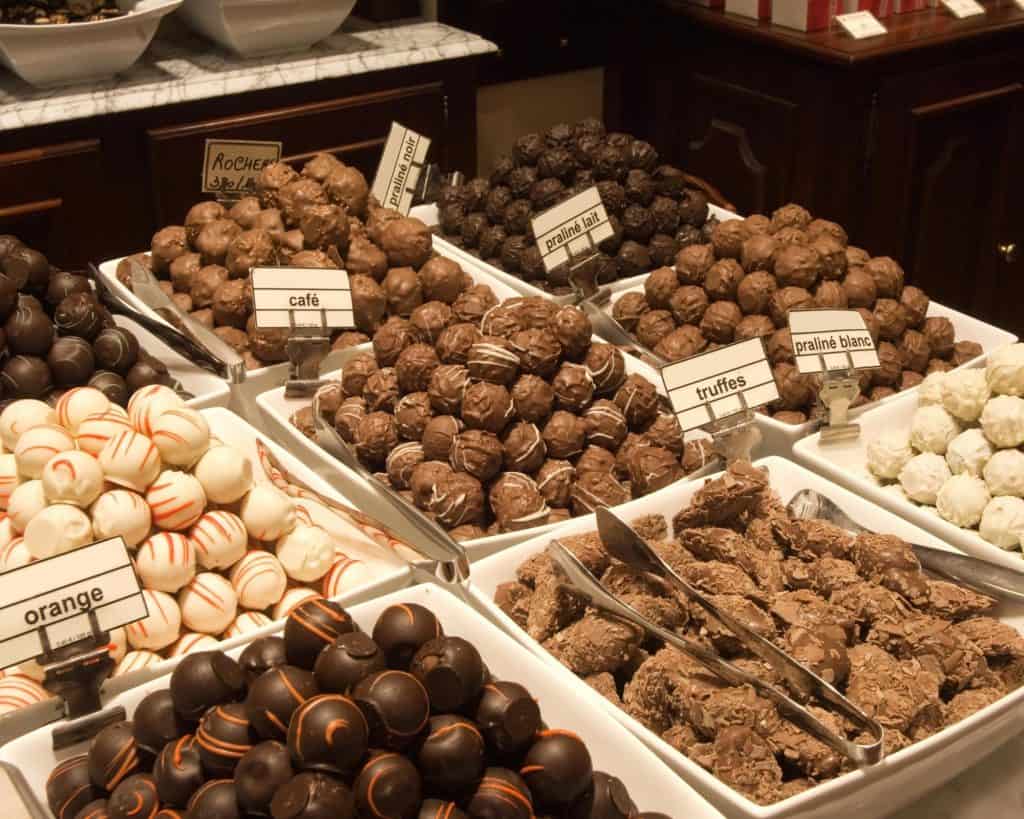 A day trip to Brussels would not be complete without searching the city for the best chocolates in town! We visited Bruyere, Elizabeth, Chocolatiere Mary, and Neuhaus and could not have been more pleased with the sweets we stocked up on for the week ahead.
Chocolate Shops In Brussels:
Bruyere
Elizabeth
Chocolatiere Mary
Neuhaus
Explore The Lovely Parks In Brussels
One of the best things to do in Brussels in one day is to explore the lovely parks! It's a great way to walk through the city and find a few hidden gems along the way. A few must-see parks in Brussels are Parc du Cinquantenaire, Mont des Arts, and Parc des Bruxelles.
Locations:
Parc du Cinquantenaire / Mont des Arts – Pl. de l'Albertine
Parc des Bruxelles – Pl. des Palais 5
Find The Manekin Pis Statues
In Brussels, you will find a famous fountain of a little boy peeing. It is one of the most famous things to see in Brussels so you will want to include this in your plans! There is a lot of mystery and crazy stories about how and why this statue came to be, and how it has been stolen and returned many times. Jeanneke Pis (a peeing girl) and Zinneke Pis (a peeing dog) have also been added in more recent years. These statues are funny sights to see during your 1-day Brussels itinerary.
Locations:
Manekin Pis – corner of Rue de l'Étuve and Rue du Chêne
Jeanneke Pis – Rue des Bouchers
Zinneke Pis – Rue de Chartreux
Admire The Architecture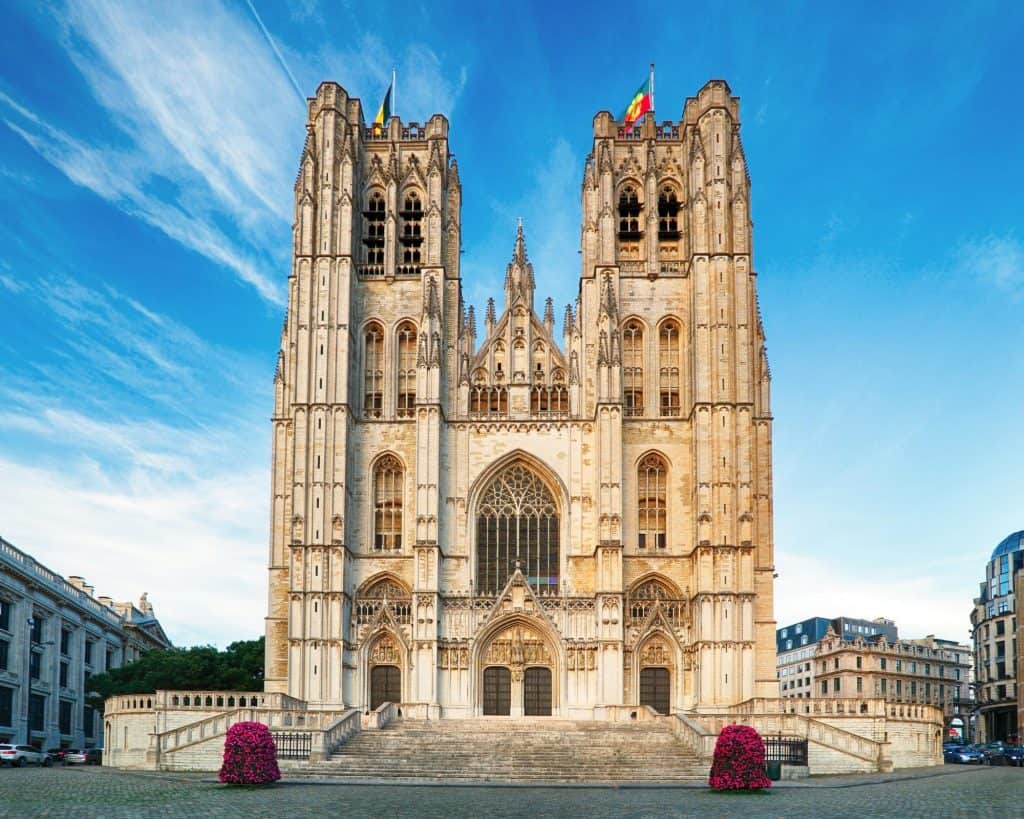 Walking is my preferred method of transportation when exploring a new destination. When you walk around and wander, you can admire and appreciate so much more about a place. You notice little details and see the way that the locals live that you may have missed otherwise. While you walk around on your day trip to Brussels, make sure to stop and smell the roses, as they say. Or in this case, admire the architecture in the beautiful Belgian city of Brussels! Here are a few of my favorite spots from my visit.
Locations:
The Grand Place, Hôtel de Ville, and Maison du Roi – Market Square
The Royal Palace of Brussels – Rue Brederode 16
St Michael and St Gudula Cathedral – Pl. Sainte-Gudule
Brussels In One Day – If You Have Extra Time
If you have extra time and need a few more things to do in Brussels, I have a few more ideas for you! We didn't have a full day even though I took an early flight from Lisbon. By the time I caught my Uber and dropped my bags with Stasher, it was more like lunchtime. It was still so much fun, but these are all things that I wish we would have had time to do and want to visit if I'm able to return for another visit.
Locations:
Botanical gardens – Bd. Saint-Lazare
The Belgian Comic Strip Center – Rue de Sables 20
Galleries Royales Saint Hubert – Galerie du Roi 5
Brussels Atomium – Pl. de l-Atomatium 1
Read More…
Save For Later…