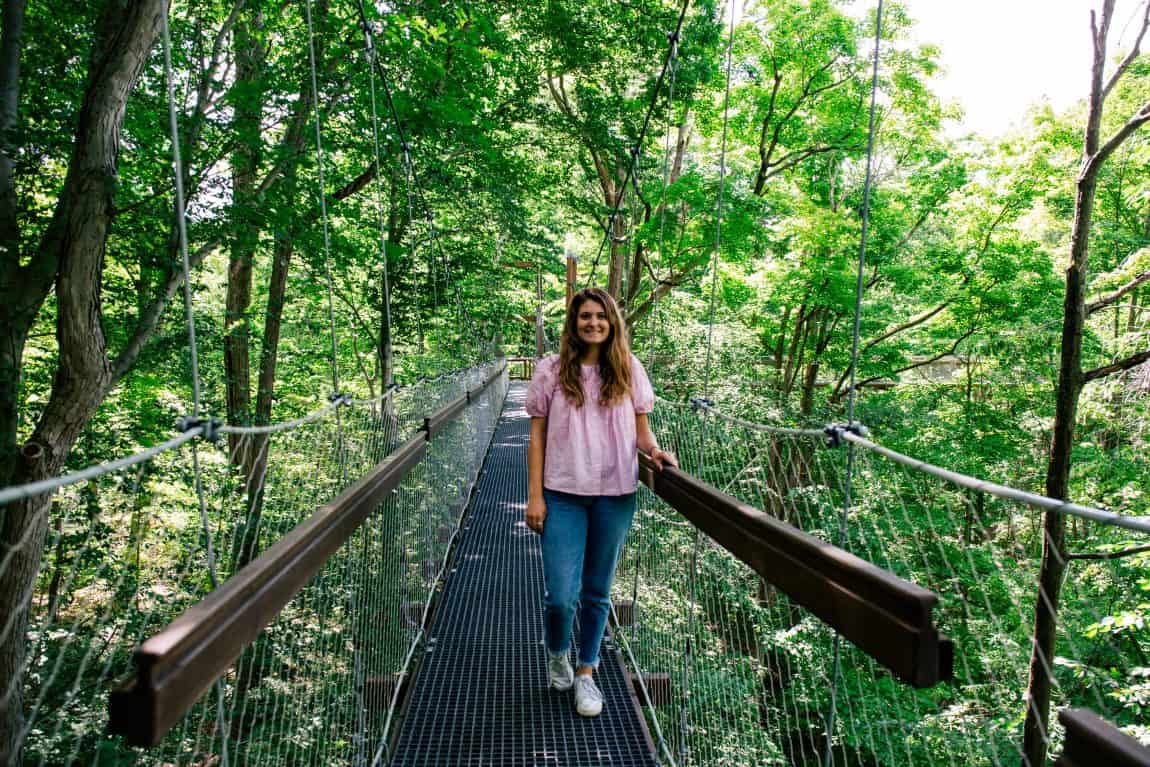 Amazing Outdoor Adventures To Do In Northeast Ohio This Year
This blog contains affiliate links. I may earn a commission if you use these links to make a purchase. You will not be charged extra. As an Amazon Associate, I earn from qualifying purchases.
Ohio is home to a large number of beautiful parks, hiking trails, bike paths, and gardens. You name it, we have it! The Northeast region of Ohio boasts some of the best in the state, so I'm sharing a few fun outdoor adventures to do in Northeast Ohio this summer. I've partnered with Ohio. Find It Here. again to bring you this post.
Ohio has 74 State Parks, a National Park, and countless Metroparks. In Cuyahoga County alone, there are 18 parks in the Cleveland Metroparks which are fondly known as "The Emerald Necklace". In the Lake Metroparks system, there are 35 Lake Metroparks boasting over 60 miles of trails! There is always a new and exciting park to visit and check off your list in the area.
The Holden Arboretum
One of my favorite local gems to visit is The Holden Arboretum in Kirtland Hills. Your drive to this extensive garden will take you through the lush, green, winding back roads of Lake County. The Holden Arboretum is the 12th largest public garden in the country and will keep you coming back again and again to witness the beauty of the trails, flowers, and ponds of this garden!
Murch Canopy Walk and Kalberer Emergent Tower
I had not visited the arboretum for a few years, so I decided to take my mom with me on her birthday for a little outdoor adventure in Northeast Ohio! The Murch Canopy Walk and Kalberer Emergent Tower are newer additions to The Holden Arboretum in recent years and we were excited to finally go and experience these attractions!
The Murch Canopy Walk is 65 feet above the ground and you can take a walk among the treetops on its 500-foot long walkway. It is so much fun to see the world from a different vantage point! Looking around at all the trees and wildlife was a really cool experience. My mom was visiting from out West and she kept remarking how green everything is here in Ohio at this time of year. It reminded me not to take the beauty of this lovely area for granted.
The Kalberer Emergent Tower is another amazing attraction to visit at The Holden Arboretum. After walking up the stairs of this 12-story tower, you can see all the way to Lake Erie and the surrounding area. What a unique activity to add to your summer bucket list!
The Holden Forests and Gardens
The Holden Arboretum is now affiliated with The Cleveland Botanical Garden and the two have formed The Holden Forests and Gardens. You can visit this incredible 3,500-acre wonderland Tuesdays-Sundays from 9 a.m. – 5 p.m. On Mondays, the gardens are open for Members Only. If you're not a member, admission for The Holden Arboretum is $15 per person for adults or $10 per person for children ages 3-12 years old. Children 2 and under are free. This price now also includes the canopy walk and emergent tower attractions.
It took my mom and me about 2.5 hours to walk around the trails and see the attractions. I wish we would have thought to bring a picnic lunch so we could enjoy the gardens for longer. I definitely recommend doing so when you visit!
More Outdoor Adventures in Northeast Ohio
I absolutely loved spending some time in nature, exploring The Holden Arboretum, but that is just one option for your outdoor adventures in Northeast Ohio this year! There are so many other amazing sights to see in the area. I'll list some more ideas for you here…
The Cleveland Metroparks
With its 18 parks and trails, The Cleveland Metroparks has a destination for everyone to enjoy! Try kayaking at Rocky River Reservation, visiting the Cleveland Metroparks Zoo, walking or biking the brand new Red Line Greenway Towpath in Tremont, or eating some food at E55 On The Lake restaurant inside Lakefront Reservation. You can even go golfing at one of Cleveland Metroparks' 8 golf courses!
Ohio State Parks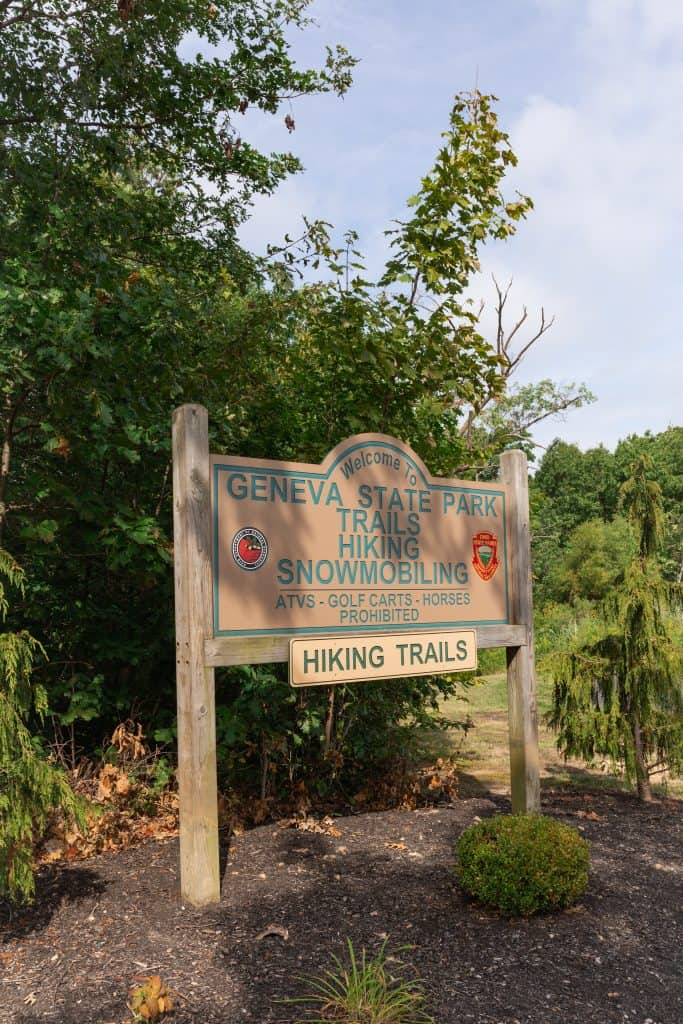 With 74 State Parks in Ohio, you really cannot go wrong in choosing one to visit! Go fishing for walleye at Pymatuning State Park, camp in a cabin at Punderson State Park, enjoy a day in the sun at Headlands Beach State Park, or go boating at Kelleys Island State Park. If you want to try to visit all of the parks, you can order an Ohio State Park Passport to keep track of your visits in a fun and memorable way! 
Lake Metroparks
We can't forget the Lake Metroparks system when discussing amazing options for outdoor adventures in Northeast Ohio! With its 35 Metroparks and 60 miles of trails, there are some incredible sights to see in Lake County. You can go hiking at Chapin Forest, enjoy walking along Paine Creek at Indian Point Park, see the animals at Lake Metroparks Farmpark, bike Greenway Corridor, or go waterfall hunting at Hell Hollow Wilderness Area.
Ashtabula County Metroparks
Ashtabula County also has over 10 Metroparks to explore on your outdoor adventures in Northeast Ohio! Visit Harpersfield Covered Bridge Metropark, see the wetlands and wildlife at Eyring Wetlands Preserve Metropark, or bike the Western Reserve Greenway Trail.
Northeast Ohio Wineries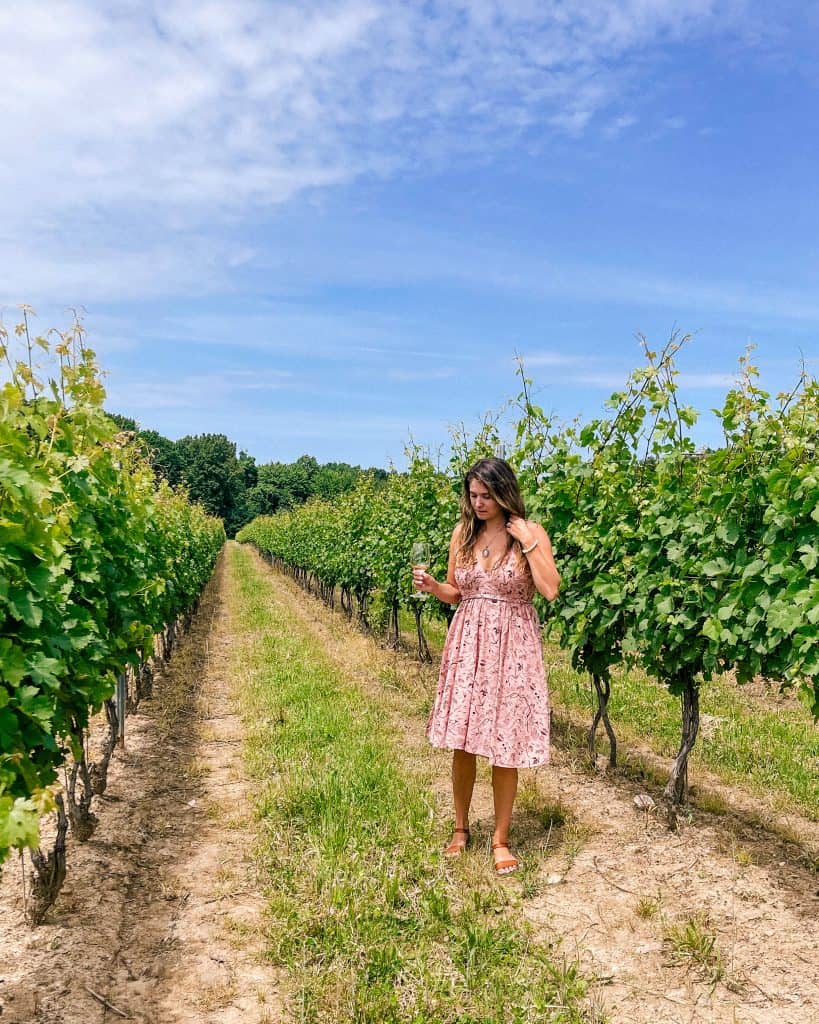 Last, but not least, there are some incredible wineries to visit in Northeast Ohio, especially in the Madison and Geneva area. You can sit outside with vineyard views and relax at one of these wineries if you don't consider yourself an "outdoorsy" person but still want to enjoy the pretty local scenery. A few of my favorites so far are Laurentia Vineyard & Winery, M Cellars (pictured above), Debonne Vineyards, Ferrante Winery, The Lakehouse Inn and Winery, and Old Firehouse Winery. Next on my list to visit are South River Vineyard and Laurello Vineyard.
The Scenic Route Ohio Road Trip
Ohio. Find It Here. has put together The Scenic Route Road Trip which has 16 stops along 786 miles of Ohio. It will take 16 hours of driving to complete the entire road trip or you can check just a few of the destinations off the list. In Northeast Ohio, the stops are:
The Holden Arboretum – Kirtland, OH
Lake Erie Bluffs – Perry, OH
Geneva-On-The-Lake – Geneva, OH
Cuyahoga Valley National Park – Peninsula, OH
Nelson-Kennedy Ledges State Park – Garrettsville, OH
Mohican-Memorial State Park – Loudonville, OH
These locations happen to be some of my favorite spots in Ohio. We live in such a lovely place, so let's get out and enjoy it! I hope you have found something to inspire your outdoor adventures in Northeast Ohio this summer! And be sure to check out all of the Ohio. Find It Here. Road Trips over on their page.
Read More…
Pin This Post…