Try These Awesome Ice Cream Shops In Northeast Ohio
This blog contains affiliate links. I may earn a commission if you use these links to make a purchase. You will not be charged extra. As an Amazon Associate, I earn from qualifying purchases.
In honor of National Ice Cream Month, Ohio. Find It Here. and I are partnering up again to bring you a list of the most delicious local ice cream shops in Northeast Ohio! Some of these are stops on the Ohio. Find It Here. Ice Cream Trail which has 20 stops all over our amazing state. I love meeting up with friends and family at local ice cream shops. It's always the perfect thing to do on a hot summer day! 
I do love ice cream, but I'm lactose intolerant! So if you're like me and have some dietary restrictions, then check out these places I've visited below because they have some of the best dairy-free ice creams I've tried so far!
Ice Cream Shops In Northeast Ohio
Some of my favorite local ice cream shops are in Lake County, Ohio. I grew up in Lake County so there is a lot of nostalgia associated with these shops for me. I also love the bigger name local Ohio ice cream chains as well. Here are a few that I have visited so far this year!
Rosso Gelato
Location: 12407 Mayfield Rd, Cleveland, OH 44106
Rosso Gelato is a super fun gelato and sorbetto shop in Cleveland's historic Little Italy neighborhood. I honestly have not had gelato this good since I was in Italy!
Whip-N-Dip
Location: 4840 OH-534, Geneva-On-The-Lake, OH 44085
Whip-N-Dip is located almost directly across the street from the entrance of The Lodge at Geneva-On-The-Lake. As someone who is lactose intolerant, it has been tough for me to find really good dairy-free ice cream until more recent years. I got the dairy-free mint chocolate chip on a waffle cone and oh my goodness, this was so exciting for me! I haven't had that flavor in years! After we ordered our ice cream, we walked down the street to Lake Erie and watched a gorgeous sunset. Definitely recommend!
Biggie's Custard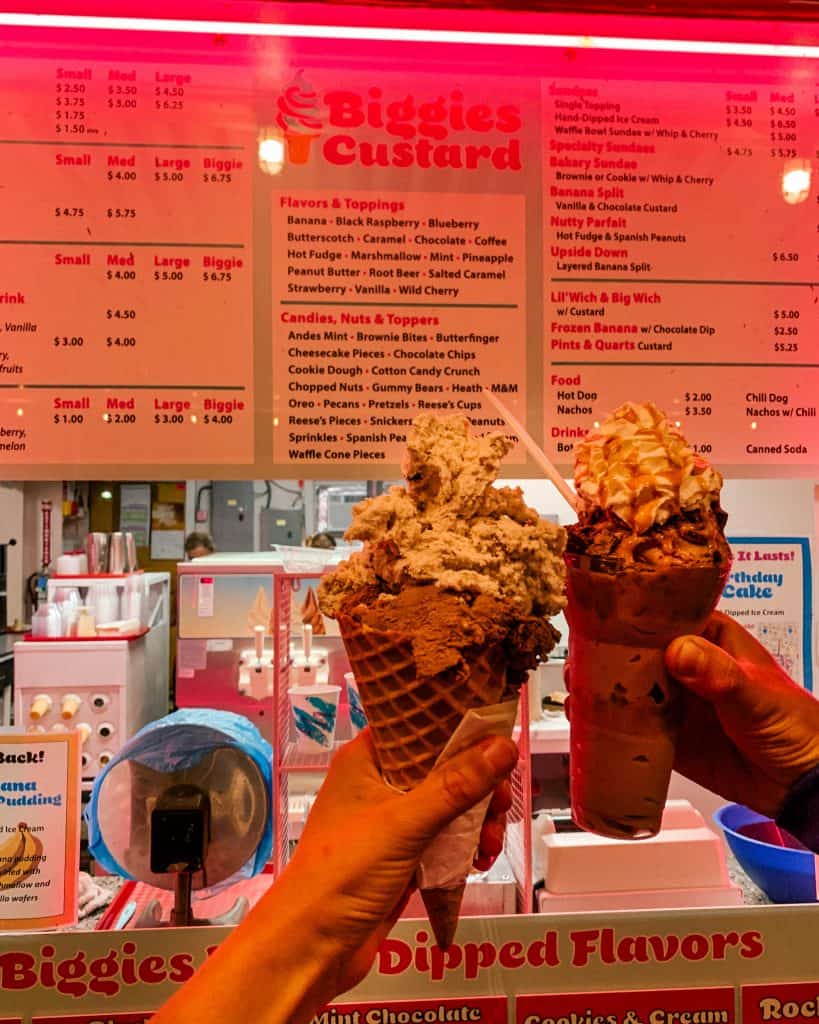 Location: 5665 Andrews Rd, Mentor-On-The-Lake, OH 44060
When my husband and I first got married, we lived in an apartment in Mentor-On-The-Lake and we would go to Biggie's Custard at least once a week. We recently decided to visit this cute ice cream shop again and I was so excited to find that they also had some incredible dairy-free options! I ordered the cookies and cream + the chocolate on a waffle cone and wow, was that a great ice cream cone! It was an A+ for me! My husband ordered from their custom menu and loved it as well!
Jeni's Splendid Ice Creams
Location: multiple but in NEO – 67 N Main St, Chagrin Falls, OH 44022
I love any excuse to go to Chagrin Falls and walk around this adorable town. So the fact that they have a location there and also have incredible dairy-free ice cream options is just the cherry on top!
Mitchell's
Location: multiple
I've been a big fan of Mitchell's Ice Cream for a long time. Their ice cream is incredibly rich and delicious and I love that they have so many flavors! It is super fun to visit their Ohio City location because you can watch them making all of the ice creams from scratch through a huge glass wall. It always smells insanely good too! I love their vegan chocolate but it is super rich and I like to add some raspberry sorbet to keep it a bit lighter.
Graeter's Ice Cream
NEO Locations: In Pinecrest and Crocker Park
I visited the Pinecrest location with a few people and everyone really liked what they ordered! Especially the famous black raspberry chocolate chip flavor!
Scooter's World Famous Dawg House
Location: 9600 Blackbrook Rd, Mentor, OH 44060
I've always LOVED Scooter's Dawg House. It is the perfect stop on the way in or out of Headlands Beach State Park on a beach day. They also have a big food menu with great hot dogs and french fries! But their ice cream is really great too! This one is super nostalgic for me as the building keeps its vintage vibe and we always went here while I was growing up!
Cathy's Gourmet Ice Cream Sandwiches
Location: 401 Euclid Ave, Cleveland, OH 44115
Cathy's is located in The Arcade near East 4th street on Euclid Avenue in Downtown Cleveland. If you love ice cream cookie sandwiches, then this is definitely the place for you! They do have dairy-free ice cream options available as well and the cookies are so delish!
More Northeast Ohio Ice Cream Shops
There are so many more ice cream shops in Northeast Ohio that I still need to try! This is the list of the other highly recommended ice cream shops that are on my list for the rest of the summer!
Mason's Creamery
Location: 4401 Bridge Ave, Cleveland, OH 44113
Honey Hut
Location: multiple
King Kone
Location: 10621 Grant St, Chardon, OH 44024
Remix's Ice Cream & Cereal Bar
Location: 11512 Clifton Blvd, Cleveland, OH 44102
Sweet Moses Soda Fountain and Treat Shop
Location: 6800 Detroit Ave, Cleveland, OH 44102
East Coast Custard
Location: multiple
Kamm's Corners
Location: 3764 Rocky River Dr, Cleveland, OH 44111
Tremont Scoops
Location: 2362 Professor Ave, Cleveland, OH 44113
Handel's Homemade Ice Cream and Yogurt
Location: multiple
Chagrin Falls Popcorn Shop
Location: 53 N Main St, Chagrin Falls, OH 4402
Ohio. Find It Here. Ice Cream Trail
So, have I inspired you to check out the Ohio. Find It Here. Ice Cream Trail yet?! With 20 stops, there are plenty to check off your list for the rest of the summer! And I'm a true believer in ice cream all year long, so why stop when summer is over? I love ice cream and I'm so glad that most places are able to make a dairy-free or vegan alternative for those with dietary restrictions. It just makes life that much better when you can eat ice cream again!
Pin this for later
Read More…